TWO—
MAKING IT STRANGE
---
Literary versions of the Carnival-Lent allegory generally include five segments: presentation of characters, preparation for combat, negotiations between the parties, a battle or lawsuit, and the consequences of the conflict. In Rabelais's episode nearly all the narrative is concerned only with the first two phases, and in this his work is similar to other sixteenth-century examples of the theme.[1] Beyond this, however, he parts company from everyone else by means of three devices that bend the old pattern to the breaking point.
The first deviation is to substitute a descriptive for a narrative approach to his characters. Instead of telling what Quaresmeprenant does — the usual staple of popular tales — Rabelais's narrator describes what Quaresmeprenant is like from different points of view, physical, moral, medical, and metaphysical. The narrator is always Xenomanes, the world traveler, and his audience is Pantagruel and his friends. After and during some of the descriptions the travelers make comments that, instead of unifying the different perspectives offered by each successive description, render those perspectives more perplexing. Bewilderment about the overall nature of Quaresmeprenant seems to augment rather than diminish with the addition of details. Meanwhile, because the monster is at a distance from those discussing him, remaining somewhere on Tapinos Island, which has already been passed by Pantagruel's ships, he becomes more and more imaginary, a creature in people's minds rather than an element of narrative action.
Second, Rabelais breaks the traditional pattern in two by separating his discussion of a Lent-like monster called Carnival from his account of carnivalesque Sausages who resemble Lenten eels. Between the two comes an account of Pantagruel killing a huge "physeter" (Greek, "spouter," adapted to Latin form by Pliny). Why does Rabelais introduce this incident? At the story-telling level it is an adroit move because
---
it breaks the tension built up through the static, suspended descriptions of a figure whom one never sees. It is also appropriate to the tenor of the Fourth Book, one of whose dimensions is the comic imitation of voyages like those of the French explorer Jacques Cartier through whale-infested northern seas. Not only was an account of Cartier's search for the Northwest Passage to India published in the 1540s as Rabelais was composing his book, but Olaus Magnus published at Venice in 1539 an illustrated Carta Marina of northern Europe between Finland and Iceland. On Magnus's Carta a "sea-monster or spouter" is shown near the Faroe Islands which lie northwest of Scotland and southeast of Iceland (pistris sive phiseter: see Fig. 3). As Povl Skorup has pointed out, it seems clear that Rabelais associated Magnus's Faroe Islands (labeled Fare on the map) with Ferocious Island (Isle Farouche ), which he adopted from another of his sources for the Carnival-Lent episode, the Disciple of Pantagruel .[2]
A spouter as described by Pliny, whose Natural History Rabelais read assiduously, was a large species of whale. In Magnus's sketch it has the appearance of a huge sea horse with two spouts instead of ears; the animal dwarfs in size a nearby ship. But this geographical and zoological shaping of the interlude does not explain its relation to the Carnival-Lent theme. If one looks at the passage in symbolic rather than story-telling terms, its relevance to the development of the Quaresmeprenant-Sausage episode becomes obvious. Below the "physeter" on Magnus's map is a huge fish-shaped creature with two spouts, volcanically emitting water like the other monster. It is labeled balena, the usual Latin word for whale. A third fish-shaped creature with the same two spouts and glaring eyes has been hauled up on the Faroe Islands where men hack away at its flesh. In the sixteenth century these giant spouters
---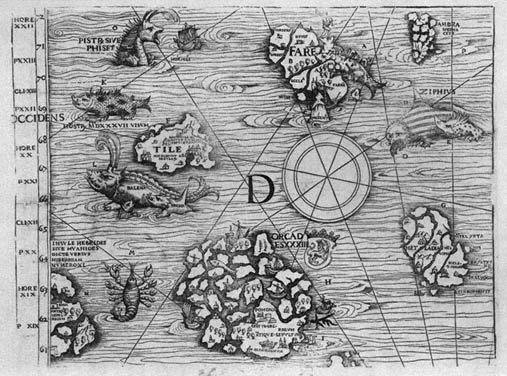 [
Full Size
]
---
must have seemed ambiguously fish- and animal-like. They were the most powerful creatures in the world, whose Biblical prototype was the Leviathan. Insofar as they were fishlike, living in the kingdom of the sea, spouters were in Carnival-Lent terms natural allies of Lent. In the late thirteenth-century French poem alluded to earlier, it is the whale among Lent's allies who takes the lead in the counsels of war at a critical point in the comic combat. In another piece, the "Marvellous Conflict Between Lent and Fleshliness" (i.e., Charnaige ), an anonymous French poem published in the early sixteenth century, Lent summons a whale to come to his aid at the moment when his forces fail, but the whale refuses to "leave his domain" to fight on another's ground when his own life, he explains, may be in danger.[3] Thus when the monstrous spouter charges Pantagruel's ship after they pass Tapinos Island, sixteenth-century readers may have seen the action as an imitation of the traditional Carnival-Lent battles. Mental images of the outsized puppets pulled through public squares in Carnival parades would be reactivated by this fight between two giants; the mock battles that so delighted Carnival revelers would be evoked.[4]
The whale episode, like the descriptive approaches to Quaresmeprenant, breaks away from the usual narrative form of the conflict while preserving its symbols. And in terms of the kind of narrative that Rabelais is telling, the interlude serves well to disrupt but not to destroy the mold of the old conflict tradition. The interlude carries the reader away from the early chapters' obsessive focus on the minutiae of Quaresmeprenant's flaccid, monstrous body toward the more relaxed, narratively diffuse development of contact with the puffed-up Sausages.[5]
---
The belligerent encounter of Pantagruel and his friends with the Sausages is the third of Rabelais's innovations, for in his tale it is not only "Lent" who will be "Carnival's" opponent, as the whale interlude suggests, but also "Carnival" will fight "Carnival": Friar John and his cooks will confront the sausages. This anomaly is the culmination of Rabelais's plot to engage readers by puzzling them. Readers have already been confused, as I will show, by the difference between what they think they know about Carnival-Lent conflict and what the Pantagruelians seem to know. In the first chapter of the episode, Friar John tries to persuade Pantagruel to go fight Quaresmeprenant. Now with equal zeal Friar John fights the Sausages. Readers are thus summoned to abandon the conventional identifications they would have brought from festive experience. By this point Rabelais has compelled his audience either to reassess everything or to abandon hope of discovering the substantifique moëlle[6] concealed in the comedy. Yet substance there must be. If not, why does Rabelais end the episode, after the battle is over, with a dignified, didactic discussion between Pantagruel and the queen of the Sausages about the strange deity of these strange pseudo-people?
In larger terms the inherited combat pattern seems to fade in and out as the episode progresses, by pulling characters who at first act as mere spectators into the middle of the action and then shunting them aside again. The plot, too, instead of moving toward confrontation between the supposed representatives of Carnival and Lent, moves away from it. Chapters 29 through 32 deal with the monster Quaresmepre-
---
nant in isolation from his enemies the Sausages. Chapters 35 through 41 deal with the Sausages, their island, and their attack on the Pantagruelians in isolation from Quaresmeprenant. The chapters on the battle activate the previously passive Pantagruelians. In the final chapter 42 they return to a passive role as their leader and the queen negotiate a settlement that seems to have less to do with Carnival or Lent than with feudal politics and religiophilosophic ideas. At the same time Carnival symbolism is intensified in the chapter on the battle as Pantagruel's cooks "fight" — that is, prepare for eating — sausages by the thousand. Finally, however, no one eats anything. The Pantagruelians sail away.
A double tension is generated between the plot and the coherence of the characters acting in it and between both of these and the symbolic level to which attention is drawn by using metaphorical names for persons, places, and deities. The symbolic level evokes performances and literary patterns loose enough to be familiar to most of Rabelais's readers: there are spectacular figures of some allegorical value, there are ritual battles, there are repeated references to Carnival and Lenten foods. But the plot's dislocations ricochet on such symbolic references to the point where the symbols themselves are placed in question.
---
3—
Who Is Quaresmeprenant?
Xenomanes gives his friends six descriptions of Quaresmeprenant that differ not only in what they say but also in how they are proffered. The first description generalizes about the "half-giant" in a relaxed, conversational manner. But the next three accounts move to doctor's chambers, abandoning the pretense of talk. Lists of anatomical and physiological traits succeed each other, mixing medical diagnosis with references to such a hodgepodge of objects that one seems to zigzag between hospital and junk shop. The fifth and sixth descriptions return to a more general style, but this time the tenor is one of philosophical reflection, speaking of the monster's behavior and speculating about the meaning of such a "strange case."
The first description revels in ambivalence.[1] Quaresmeprenant is called a "guzzler of dried peas," which would seem to identify him with Lenten meagerness. But dried peas were also carnivalesque. They were put in pigs' bladders and rattled by persons in fools' costume to suggest their empty heads. And they were a staple food during the winter and early spring seasons of Carnival and Lent, when fresh vegetables could scarcely be found. Then comes Xenomanes's comment that Quaresmeprenant is "the most industrious skewer and lardstick maker in forty kingdoms." What does he do with them? We are not told, except that we shortly learn that he is the "eternal" enemy of the Sausages. Does he use the skewers to torture and dispose of his prisoners of war? On the other hand, Xenomanes says that he presented a gross of the skewers to the butchers of Cande near Chinon. This detail reinforces the notion that Quaresmeprenant's name means what it usually did because butchers and their activities were for obvious reasons associated with Carnival.[2]
---
Quaresmeprenant, Xenomanes continues, is a "great lanterner," descended from "Lanternland stock." A lanterner is a dreamer who passes the time to no purpose. Rabelais made fun of lanterners in a comically vituperative list of "persons of base estate" in his Pantagrueline Prognostication for 1533: lanterners will, along with adventurers, murderers, sergeants, counterfeiters, alchemists, and such, "make a killing" in the coming year (feront ceste année de beaulx coups ).[3] Xenomanes uses the term almost accusingly in the conversation that follows his first description: that "big lanterner Quaresmeprenant" would like to "exterminate" the Sausages.
Lanterning is not necessarily, within the comic frame of the Rabelaisian text, a negative term. The Pantagruelians are sailing in the Fourth Book to Lanternland to find the Oracle of the Holy Bottle. The second ship in Pantagruel's fleet is named the "Lantern" and carries an image of a lantern on its stern. In an earlier chapter the travelers meet a ship returning from Lanternland where, it is learned, a general assembly of Lanterns is going to meet the following July. "From all the preparations it looked as if they were going to lanternize profoundly." This Lantern or "Lateran" council probably represented the coming sixth session of the Council of Trent, scheduled for July 1546.[4] Church councils had repeatedly been held in the Lateran palace of the popes in Rome, most
---
recently in 1512–1517, a council that Pope Julius II and Leo X used to counter French attempts to revive conciliar government in the church. Thus a punning reference to a Lantern council implied that at Trent the pope would probably try to carry further his pretension to rule over the church monarchically.
Such divergent references to Lanterners and lanternizing are Rabelais's way of communicating different perspectives upon one verbal sign by juxtaposing the points of view of author, narrator, and narrative actors. Is Rabelais the author making fun of the pious hopes of Pantagruel for a resolution to the questions of church reform at the long-awaited council? The Pantagruelians are portrayed as lanterners in the sense of seeking light and wisdom. But perhaps also Rabelais is suggesting that dreamy trust in light from human contrivances like lanterns or Lateran councils is vain. They beam forth not truth but merely the will and intentions of those using them.
The Pantagruelians and Quaresmeprenant share a tendency to dither around and lanternize. But lanterning also had a sexual meaning relevant to Quaresmeprenant. It was a slang word for the penis. In an obscene poem called the "Fricassée crotystylonée," purporting to record a rhyming game of Rouen children in the mid-sixteenth century, one question and answer goes:
— What are you doing there?
— I'm making lanterns
To put in the ass [au cul]
of the fellow asking for it.[5]
Lanterning seems to be understood here as something like the modern "fucking around," or "fooling around" the euphemism meaning the same thing. Panurge uses the word in a similarly aggressive male homosexual sense in the Third Book and again, offensively but heterosexually, in an early chapter of the Fourth Book .[6] When placed in parallel
---
with some characteristics of the monster, which will be described later, this sexual meaning of Quaresmeprenant's Lanternland origin emerges as less than playful.
Quaresmeprenant nourishes himself on war: "his usual foods [les alimens desquels il se paist] are salted hauberks, casques, salted helmets, and salted sallets [salades sallées: punning on "salad"], on account of which he sometimes suffered a heavy hot-piss." Salty things stimulate the appetite: is this how the fellow excites himself for a voracious fight with the Sausages? However that may be, Xenomanes's first description, in spite of the ambivalences in detail, pulls the reader toward identifying Quaresmeprenant with Lent, not Carnival. The meaning of some seeming identifications of Quaresmeprenant with Lent only becomes questionable in retrospect. "He burgeons with pardons, indulgences, and altar prayers [stations ]."[7] "I've found him in my breviary . . .  after the movable feasts," declares Friar John. To what is Friar John referring? Has he concluded that Quaresmeprenant corresponds to Quadragesima (Lent) in his Latin breviary? If he has, should his conclusion be taken seriously by the reader, familiar with Friar John's tendency to jump to conclusions? If Quaresmeprenant is so clearly and simply Lent, why do his mortal enemies the Sausages have fishy characteristics?
The Sausages are identified in this first description merely as the dependents or perhaps the vassals of "noble Mardi Gras, their protector and good neighbor"; they are not equated with Carnival. These Sausages, Xenomanes explains further, are all "mortal women, some virgin and some not," yet they ardently make war. Lent was sometimes identified as a woman in the literary, iconic, and performative traditions of the theme, but only in Rabelais's text is it maintained that Carnival's allies are all female. Indeed the maskers of Carnival in Rabelais's time were in most parts of France all male. What can be the function of such sexual inversion?
---
Pantagruel asks Xenomanes to extend his account of Quaresmeprenant. The three long lists with which Xenomanes accommodates the giant describe first the creature's internal anatomy, then his external parts, and finally their functioning or physiology. Such a move from internal to external description was, as Marie Madeleine Fontaine has shown, common practice in the public dissections forming part of medical training in Rabelais's day. The items of internal anatomy are ordered vertically from the skull's contents down to the base of the intestinal cavity and then outward to muscles, ligaments, and invisible organs of the soul like imagination and intelligence. The items of external anatomy are ordered inversely, from the toes to the head, and then outward to skin and hair. The psychological list moves from upper bodily to lower bodily functioning and then to dreaming and worrying, that is, to a kind of invisible functioning.[8]
"As for his internal parts Quaresmeprenant has — or had in my time" (Xenomanes made a visit to the island some years earlier) — "a brain the size, color, substance, and vitality of a male cheese maggot's left testicle." What a superb example of what Bakhtin has called Rabelais's "grotesquely real" style, in which high, noble objects are debased by comparing human to less-than-human qualities and "high" areas like the brain to "low" ones like the genitals and intestines.[9] But the comparisons move sideways as often as up and down, always with the same unlikely vividness. "His [cerebral] membranes [are] like a monk's cowl  . . .  his pineal gland like a bag-pipe  . . .  his colon like a drinking-cup? Seventy-eight "internal parts" are explained in a series of terse analogies that corresponds stylistically to the dryness and lethargy of the creature being anatomized. The next chapter describes sixty-four external organs in the same way; the chapter after that, still maintaining the one-line style, catalogs thirty-six symptoms of sneezing, coughing, talking, and dreaming.
If one reads these lists at the same pace and with the same contextual framing of the text as one has done with respect to the description in the preceding chapter, most of their effect and meaning is lost. The continuity between one item and the next is frequently hard to see; a
---
sense of the whole is impossible to seize from a list of two hundred similes, read from beginning to end. At one level perhaps the reader's confusion is intended. Read apace, these lists create a strong general impression. Quaresmeprenant is, as one commentator puts it, "pulverised" by Rabelais's linguistic strategies, reduced to an image not merely of immobility but of disjointedness.[10] But how and why is this done?
Both the order and the vocabulary used in the lists follow commonplace anatomical practice in Rabelais's time. Sixteenth-century translations of Galen and of the fourteenth-century French physician Chauliac show the same mixture of Greek, Latin, Arabic, and everyday French nomenclature and also the same kind of comparisons to everyday tools and household accoutrements. But the doctors did not in their serious works animate the parts or offer concrete images of abstract functions: "His animal spirits [are] like fisticuffs  . . .  his consciousness like the fluttering of young herons leaving the nest  . . .  his understanding like a tattered breviary."[11]
Quaresmeprenant is akin, I have suggested, to the terrifying giants displayed in Carnival parades. Like these lumbering, lurid constructions, Rabelais's grammar urges the reader to peruse the monster part by part, enjoying each absurdly pseudo-human detail. Like the disconnected grammar, each organ and each organ's function operate as independently as the everyday tools and accoutrements, the commonplace insects and birds, to which they are for the most part compared.
The description of functions like memory and consciousness, which sixteenth-century medical science thought were related to what would now be called nervous and circulatory systems, produces magnificently comic effects of misplaced concreteness. Playing on the phonetic closeness of reason and resonance (raison, résonne [r ]), for example, Xenomanes returns by means of the last item in this list to his opening com-
---
ment on the monster's stupidity by alluding to Quaresmeprenant's hollow head: "His reason [is] like a little drum." Several ecclesiastical references in addition to the ones about the tattered breviary and the monk's cowl recall satirically Xenomanes's opening comment that the monster is a "good Catholic, thoroughly devout." But they do not substantiate his Lenten identity, if such it is.[12] Quaresmeprenant's warmongering is alluded to indirectly ("his stomach like a sword-belt  . . .  his viscera like a gauntlet  . . .  his bladder like a catapult") and also rather directly ("his repentance like the carriage of a double cannon"). The metal and leather of his intestinal tract contrasts with his soft sexuality: "his spermatic vessels like a feuilleté cake, his prostate gland like a feather-jar."[13]
Quaresmeprenant's sperm, on the other hand, is like "lathe nails," and his progeny is even stranger: "His nurse told me," says Xenomanes, "that when he married Midlent he begot only a quantity of locative adverbs and certains jeunes doubles ." The French words are a pun, "double fasts" or "double young ones." double children, twins perhaps, even Siamese twins, but singularly deprived.[14] As for the locative adverbs, a late sixteenth- or early seventeenth-century commentator, Perreau, refers this phrase to the vogue for indulgences among devout Christians during the latter half of the Lenten season between Midlent and Easter. Locative adverbs indicate the places where one is, where one comes from and where one is going. Begetting locative adverbs would then mean that Quaresmeprenant bustled from place to place at this season, searching for ecclesiastic pardon.[15]
But Midlent in popular terms meant something far different from churchly enthusiasm. Falling on the fourth of the six Sundays in Lent,
---
it was a holiday on which Carnival erupted anew. Parades, picnics, noisy musicmaking, masking, and bonfires marked the date. Here again Rabelais's description of Quaresmeprenant seems intended to puzzle: Does marriage pull the fellow toward or away from Lent? One ritual of Midlent Sunday, documented for later sixteenth-century Italy and presumably existing there earlier when Rabelais might have observed it, was for children to run through streets screaming "Saw down the old woman!" Wooden images of an ugly old female were carried about and then sawed in half to shouts of laughter as a sign that Lent was half-gone.[16] Does Quaresmeprenant marry an aged or even mutilated replica of Lent, or does he marry the Carnival spirit that violates Lent midway?
In either case the monster's action, viewed in its calendrical context, seems masochistic. Midlent was the only occasion between Ash Wednesday and Easter when in most parts of Catholic Europe a person was authorized to marry. But to marry on that day insured that there would be no prolonged celebration, for fasting must resume on Monday. To marry the personification of a day in Lent could only lead back to fasting, as the calendar insures that it does. Perhaps engendering double fasts simply means that Quaresmeprenant establishes a household in which the tendency toward asceticism is redoubled.
The similes used in the second anatomical description are again articles of everyday employment: slippers and cream cake, crossbows and bagpipes, chessboards and watering cans. Quaresmeprenant is a collection of commonplace things. Should one make a case for the preponderance of items forbidden or frowned upon in Lent, like musical instruments, sporting accoutrements (tennis rackets and billiard tables), and rich foods (drinking cups, dripping pans, cream cakes, butter-pots)? No. Reasoning from tennis rackets to anti-Lenten attitudes tortures the text as uselessly as concluding that Quaresmeprenant personifies Lent because he handles barrels sometimes filled with herrings.
M. M. Fontaine has argued that the ordering of the lists, choice of vocabulary, and especially the manner of argument in these descriptions
---
indicate that Rabelais is making fun of Galenic medicine. Sixteenth-century anatomical science not only exposed a variety of particular errors made by Marcus Aurelius's physician but began to replace Galen's use of verbal analogies with the far superior method of visual illustration, most notably in the extremely meticulous representations of the dissected human body in Vesalius's De humani corporis fabrica (1543). Rabelais's tersely repetitious similes render the verbal analogical method ridiculous, not so much with the aim of satirizing Galenists or of directly taking part in the contemporary debates over scientific method, cautions Fontaine, but rather with the purpose of "experiencing the difficulties" encountered in practicing medicine at the time and indeed of experiencing them through laughter that objectifies rather than through satire that attacks.[17]
It is quite possible that one dimension of Rabelais's anatomical approach to Quaresmeprenant is a laughing critique of the use of verbal analogies in medicine. But it is certainly not true that, as Fontaine suggests, this critique forms part of a simple "logic" linking chapters 29 to 32 together by means of "several little syllogisms." For Fontaine these syllogisms are "rather easy to discern":
Quaresmeprenant (Lent, its Catholic rituals and its folklore) inhabits Tapinos Island (the island of hypocrisy). Now, he is a "sucking babe of doctors" because the essential ritual of Lent, fasting, makes one sick. And what did doctors most busy themselves with at the time? With anatomies and descriptions of the structure of the body, and then with a diagnostic
---
the illness by means of studying the patient's "appearances". [contenances][18]
From the first announcement of the name Quaresmeprenant and Friar John's comment on the presence of a creature like him in his breviary, Rabelais has led his sixteenth-century readers not toward the clarity of syllogisms but toward bewilderment. One of the author's strategies in this respect has been to juxtapose readers' knowledge to the knowledge of actors in the text. For although readers knew that the word Quaresmeprenant designated Carnival, the Pantagruelians, their guide Xenomanes, and their chronicler Alcofribas, the implied author of the tale, do not seem to know this. They also do not seem to know the inverse of this proposition, that Quaresmeprenant means Lent.[19]
Rabelais is encouraging his readers to distinguish between narrative and other levels of experience. After Xenomanes explains in his first description that the Sausages live under the menace of the monster, the friar wants to go fight Quaresmeprenant. Panurge exclaims: "Quid juris " — that is, by what right or in accordance with what legal judgment would we defend ourselves — "if we should find ourselves trapped between Sausages and Quaresmeprenant, between anvil and hammers?" If readers take narrative reality to be metaphorical play with behavior familiar to them, such as the mock battles on mardi gras, then Panurge's words correspond to readers' festive experience. If one or the other side in the battles should resort to law — as in the lawsuit farces of the day, and as in Rabelais's Pantagrueline Prognostication — then how could persons interfering in such an officially endorsed and customarily sanctioned fight legally justify themselves? But then why is a monster with so many Lenten traits behaving in such a Carnivalesque way, "fighting" sausages? Does fighting mean that he eats them, like his colloquial name, Carnival (Quaresmeprenant), would seem to require, or that he exterminates them, as so many of his Lentlike character traits would indicate? The Pantagruelians, existing at the level of narrative reality,
---
know nothing of such metaphorical puzzles. Nor can they be conscious of a second level of contextual reference in which the Sausages figure as Protestants and Quaresmeprenant as Charles V, leader in a Catholic war that had indeed "hammered" the German Protestants only a few years before the appearance of the Fourth Book . The French — that is, metaphorically, the Pantagruelians — were secretly allied with the German Protestants; they had in this sense "illegally" interfered in the German fight, in contravention of their alliance with Charles V in the Treaty of Crépy (1544).[20]
Such veiled allusions to contemporary politics cease during Xenomanes's descriptions of the monster's physiognomy. The Pantagruelians are entirely silent after each of the three lists. Alcofribas, the narrator, separates the lists, by beginning a new chapter for each of them. One by one, the disjecta membra of the lists dissuade the reader — and the narrative listeners, the Pantagruelians? — from identifying the monster as either traditional personification. During this section of the episode Quaresmeprenant loses his identity as Carnival without gaining that of Lent, and vice versa.
He also very nearly loses his identity as a human being. Although he has the organs and spirituous fluids thought to explain human physiology, the grammar used to enumerate them as well as the things to which they are compared make Quaresmeprenant seem more and more jerkily, discontinuously, mechanically connected in his parts. He assumes the dimensions of the gaping constructions that astonished merrymakers at Lyon, Metz, and Nuremberg. As with these puppets, the displacement and juxtaposition of the ordinary things used in Quaresmeprenant's fabrication are both horrifying and comic.
It seems possible — and the orderly sequence of now familiar and now arcane anatomical parts encourages readerly efforts in this direction — vaguely to imagine some such bizarre assemblage of tennis rackets and bagpipes, feather-jars and gauntlets.[21] But at the same time
---
Rabelais is not describing something that could or should be seen as an entity at all. Part of the tactics of giving an emblematic quality to Quaresmeprenant is that in three of his six descriptions Xenomanes does not in strict grammatical terms describe but only compares the monster to an array of things to which his appearance and behavior are analogous.[22] Just as Pantagruel's fleet is in the process of passing by Tapinos Island without stopping, moving further and further away, so Quaresmeprenant, the more his characteristics are listed, the more remote from any coherent reality he seems.[23]
Having constructed the scarecrow, Rabelais wheels it into action. A
---
new syntax is employed in the third list (Xenomanes's fourth description, chapter 32).[24] Instead of using the anatomical form "Q's x is like y ," this list is diagnostic: if Q does x , then it means y . The xs in the third list vary between Quaresmeprenant's observable behavior (sweating, speaking, blinking) and actions that could only be reported by the patient to an inquiring doctor (defecating, worrying, wool gathering, dreaming, all grouped at the end of the list). The ys in the third list could be interpreted as having the same relation to Quaresmeprenant's behavior as implements, accoutrements, and animals have to his anatomy in earlier lists, but then why did Rabelais change the syntax? Perhaps simply because the "if x then y " syntactic form is more apt to describe motions and actions than the "x is like y " form.
Although the earlier lists give an impression of a body-as-machine with nearly all the parts there to see, high and low, inside and out, this inventory of bodily functions is heavily weighted in favor of movements of the head and actions of the brain.[25] Xenomanes in effect sketches the psyche. A few items concerned with invisible anatomy were already psychological in character (e.g., in the first list, "His intelligence, like snails crawling out of strawberry plants"), but now the emphasis is stronger and more continuous. A textual move toward psychologization of the creature also seems borne out by the following fifth description, as I will show. Interpreted thus, the ys in the fourth description careen between fear and nostalgia, reality and desire, boredom and wishes. Fear: "If he trembled it was large helpings of rabbit pâté ; nostalgia: "If he blinked his eyes, it was waffles and wafers." Re-
---
ality: "If he blew his nose, it was salted eels"; desire: "If he wept, it was ducks in onion sauce." Boredom: "If he yawned, it was pea-soup"; wishes: "If he sighed, it was smoked ox tongues."
In the opening description Xenomanes calls Quaresmeprenant "father and sucking babe of doctors." The enigmatic epithet is clear enough in the light of these lists. The fellow is a good Catholic, concerned with Lenten regulations, but the more he represses his impulses, the less he controls his appetites, and so he has fallen sick, and chronically. He sustains and stimulates the doctor's skills with his absurd mode of life. The monster's equal commitment to both rules and self-aggrandizement makes him all the nastier: "If he scratched himself, it was new regulations"; "if he dreamed, it was mortgage deeds."
Quaresmeprenant is a hypocrite and pathologically so. The aim of Xenomanes's lists is not to recapitulate the method of medieval authors developing the Carnival-Lent combat theme, in which material objects correspond to ritual rules, with fish and vegetables, meats and fowl, asceticism and self-indulgence, greed and generosity each fixed and distinguishable in their symbolism. In Quaresmeprenant any food, any everyday object may signify by turns a Lenten or a Carnival attitude, depending on the psychology investing it. Xenomanes's descriptions abandon pretension to any system of firm signs guaranteeing that behavior corresponds to belief. In Quaresmeprenant a certain psychology is merely associated with a certain physiology and physiognomy.[26] The congruence of one with the other could be illustrated with any sort of behavior, ad infinitum. Xenomanes's lists go on and on in order to develop that sense of congruence, not in order to arrive at a precise moral-theological definition of character like those in medieval representations.[27]
---
The congruence portrayed in Quaresmeprenant concerns the mental and bodily effects of routinely deferring and deterring the exercise of natural faculties. This Carnival puppet of a man is always moving toward Lent — but regretfully so, with his mind on the pleasures left behind. "If he mumbled, it was law students' farces" (jeux de la bazoche ); "if he was hoarse, it was the coming-in of Morris dancers" (the latter were as regular a feature of Carnival revels as the law students' farces).[28]
In addition to comically imitating Galenic modes of anatomical description, the use of material, humdrum elements to describe the monster moves readers to fill the imaginary space around that being with the everyday flotsam and jetsam used to describe his body and behavior. Not some place among churchly observances in the cleric's breviary but his obsessive desires and his feud with the people on Ferocious Island have shaped him.[29] This implication is in consonance with the etymology of the monster's name. The first part of it, quaresme -, is simply the
---
French contraction for the Latin name of the first Sunday in Lent, Quadragesima. The second part of it has been explained in two ways. The usual manner, adopted in the standard French dictionaries by Littré and Godefroy, derives -prenant from Latin prehendere. Prehendere means to take hold or pull to one's side, and so in this case Quaresmeprenant means to take hold of or begin Lent. The philologist and literary historian Leo Spitzer, however, suggests that the word comes rather from Latin praegnans : to be full of something imminent, not necessarily of a child but of this or that principle or reason.[30]
Quaresmeprenant, used with attention to its etymology in either of the two senses, would refer not to the season of revels in general but to its last days. What if Rabelais was thinking of Quaresmeprenant not as a fixed and determined object in the Christian calendar, but as a transition period? What if his purpose was to pry loose this personification from its medieval allegorical web of equivalences and oppositions and to offer instead a sense of what happens psychologically as Lent takes hold of the Christian soul[31] The "pregnant, way of explaining the word would be particularly suited to developing this idea. It is abundantly clear from Rabelais's portrayal of Quaresmeprenant that in his opinion Lenten spirit fills the soul not with virtue but with contradictions. A former Franciscan monk, who must have sought to fulfill Lenten rules for years before he rejected monastic discipline and took up the profession of a doctor, Rabelais would have known something about the psychology and perhaps also the physiology portrayed in Quaresmeprenant.
This fellow represents neither Carnival nor Lent but the inversive logic that binds them together. Not ambiguity or confusion but the dynamics of ambivalence are the key to understanding Rabelais's monster. These dynamics are the psychic equivalent of the social inversions of Carnival time: men become animals, women dress like men, humans costume themselves as giants, Christians behave like pagans. The excesses of Carnival lead to the repressions of Lent, repressions known
---
and in some sense sought by every believing Christian. The pre-Lenten season is fat and full not only with feasting but also with what follows it. It is as pregnant with Lent as that ribald Midlent Sunday is pregnant with twin fasting and other obsessive ascetic practices, exercised with greater and greater fervor as the church year approaches its climax with Easter.
Carnival pregnant with Lent — an eminently carnivalesque idea and a commonplace one, as Claude Gaignebet and others have noted: male pregnancy is a fantasy recurringly played out in Carnival time.[32] Whether or not Rabelais had some sense of the second, pregnant way of explaining the word, he did in writing this episode intend to push his readers toward awareness of the word's roots, quite in contrast to the commonplace way in which he had used it twenty years earlier in the Pantagrueline Prognostication .[33] His emphasis in these lists is on the bodily emblems of contradictory desires. Quaresmeprenant is a monstrosity because he is torn between trying to live according to Lenten rules and wishing for Carnival foods, law students' farces, and Morris dancers.
Centering the question of Carnival-Lent difference not upon ritually selected aspects of behavior but upon the psychological consequences of such selection was not peculiar to Rabelais. Lent, talking to his captains in a basoche play presented at Tours called The Battle of Saint Pansard (1485), exhibits a similar susceptibility:
BRIQUET:     [Greeting Caresme .]
                    May Charnau [Fleshliness, or Meatiness, the personification of
                        Carnival],[34]  who's disputing with you, have cold teeth and a
                        flat stomach,
                    A dry throat and nothing at all to fry!
                    And may Macaire [Caresme's cook], that excellent gentleman,
                    And Caresme, and all his empire,
---
                    Give them just such bits and pieces to gnaw
                    As will make their bowels do nothing but sigh
                    For eating and drinking.
CARESME:     O Briquet, Briquet, my sweet friend!
                    Your fine discourse makes me gurgle [me gourgoulle]
                    I experience such joy in listening to you
                    That my stomach churns [me triboulle]  . . .
MARQUET:     There's n bristle on my butt which doesn't twist,
                    No gut in my groin which doesn't groan,
                    When I think of the great sausage blows
                    One [Carnival?] launches upon a naked head!
CARESME:     Marquet, you are most welcome.
                    [But] your words make me clutch my gullet
                    And I seem to be catching a fever
                    Which is stopping up my throat.
For all his susceptibility, however, Caresme in this law student farce remains Caresme, exhibiting no psychic ambivalence about his moral identity or purpose. No one using the Carnival-Lent theme developed anthropomorphosis of the old personifications to the pitch of psychic subtlety found in Rabelais's episode.[35]
Xenomanes's fifth description, occupying the second third of chapter 32, returns to the sketchlike style with which he first spoke of Quaresmeprenant.[36] The monster's contradictions are developed so phantasmatically that they no longer have much to do with either the Carnival-Lent tradition or the larger literary and popular-cultural tradition of grotesque realism. "Fasting, he ate nothing; eating nothing, he fasted. He nibbled as if in suspicion, and drank in imagination . . . . He feared nothing but his own shadow and the cries of fat kids." Each element in the new description recalls at a more general level some part or parts of the preceding lists. "He laughed as he bit, and biting, he laughed"; one recalls Quaresmeprenant's teeth "like boar's tusks" and the remorseless insatiability of his repressed appetites. He is both indolent and hyperactive: "Doing nothing he worked, and working, he did nothing." "He
---
used his fist like a mallet"; his bodily parts are often like weapons. His mind twitches between the excessively soft and excessively hard, between regret and vengeance; he is, one recalls, a "whipper of small children" who nevertheless "weeps three parts out of each day."[37]
Contradiction, pushed to these extremes, is surreal: "He bathed above high steeples and dried out in ponds and rivers"; "He fished in the air and caught huge crayfish there."[38] Such features remove the creature still further from the reader and the Pantagruelians. The fourth description begins: "What an extraordinary case in nature" (Cas admirable en nature ). The fifth begins: "What a strange case" (Cas estrange ). Indeed, Quaresmeprenant has become stranger than nature: thus Rabelais prepares readers for his final move, in which the creature seems to vanish into the larger contours of a myth.
Pantagruel compares the monster in the sixth and last description to the children of Anti-Nature (Anti-Physie ). "I am reminded of the form and appearance of Amodunt [glossed by editors as "Lack of Measure"] and Disharmony," declares the prince when Xenomanes finishes his fifth account. Quaresmeprenant's "strange and monstrous" psychophysiology shows a human being's natural parts thrown into such disarray that their combination engenders the opposite of Harmony and Beauty (the latter, says Pantagruel, are Nature's children). Anti-Nature's children are grotesque, although the elements of their bodies — like the things to which Quaresmeprenant's bodily parts have been compared in previous descriptions — are not themselves ugly, taken singly. But their assemblage has gone awry. Amodunt and Disharmony have heads and feet that are round, like bouncing balls. Anti-Nature interprets these spherical parts as evidence of divine kinship because the heavens are made in and move with circular tracery. Her children's arms have been joined to the torso so that they reach toward the back rather than front of the body. This, their mother explains, is an exceptionally well-made adaptation to defense; the front of the body is sufficiently defended by teeth. "Their eyes stood out of their heads on the end of bones similar to heels, with no eyebrows, and they were as hard as those of crabs . . . . They walked on their heads, continually turning cartwheels, tail over
---
head, with their legs in the air"; all this to their mother was evidence of spherical perfection.[39]
Pantagruel expresses horrified disdain for such opinions and such creatures. These superb little Carnival machines are denounced by the hero in ways opposite to the gay and tolerant manner that Pantagruel favors on other occasions. Anti-Nature's "evidence drawn from brutish beasts" is absurd; her arguments are devoid of "good judgment and common sense." Pantagruel's amusing myth-tale is didactic in the usual manner of contemporary humanism; the place for functions like those lodged in heart and head is on high, while that of the limbs and their brutish, material functions is below. Mixing and inverting the two levels, head over heels, disgusts the prince, and prince he does seem to be here, defending the high as properly high and the low as forever low.[40]
---
Elevated in this way to the level of a metaphysical parable, the contrast between Nature and Anti-Nature may be applied to anything. In this passage it is applied with fine fury to Pantagruel's — and Rabelais's — pet hatreds. For Anti-Nature has continued to procreate, says Pantagruel. From her have come empty-headed barbarians (Matagotz ), churchly bigots (Cagotz ), hypocrites (Caphars ), church-serving beggars (Briffaulx ), and popemongers (Papelars ),[41] and the zealots who have attacked Rabelais's writings: les Maniacles Pistoletz, les Démoniacles Calvins, imposteurs de Genève, les enraigez Putherbes. Pistoletz refers to Guillaume Postel, Calvins to John Calvin , and Putherbes to Gabriel DuPuyherbault. These men, as I have mentioned, had denounced Rabelais's books in the 1540s.[42] They, like the other bigots and fools, like homosexuals (Chattemites ) and like "misanthropes" (literally, Canibales ) are all "deformed monsters, made in Nature's despite."[43]
The section of Rabelais's episode that served in traditional examples of the Carnival-Lent genre to introduce the hero and his adversaries ends here with an unexpected break in the fictive frame and a reference to the author's context of threatening religiopolitical fanaticism. The never-never story of Pantagruel and his friends is brought sharply back from the high seas of fiction to a society of jealously striving men full of vituperative suspicion. However unfamiliar readers might be with
---
Pistoletz as a reference to Postel or with Putherbe, a Frenchified version of the Latin form of the monk DuPuyherbault's name, they could scarcely be unaware in 1552 of the third person, a man whose name is not deformed and whose seat of power is announced without disguise: John Calvin of Geneva.
To the dedicated Pantagruelists among Rabelais's "well-disposed readers," those who had read the author's prologue to the short edition of the Fourth Book in 1548, this break in the text would have been even more striking. These readers would perhaps have noticed the deletion of Dr. Rabelais's violent attacks on his detractors in the 1552 prologue, only to find these same references to caphars, cagots, matagots, and catamites here, accompanied not only by the names of particular persons but also by an embracing philosophical denunciation.[44] Such readers, and still more Rabelais's modern critics, are forced by this shift from paratext to text to consider the meaning of the literary tactic. If Rabelais the real author, the person representing Dr. Rabelais and Alcofribas no less than Quaresmeprenant and Pantagruel, decides to name names in this way, what does it imply? Beyond its literary and eventually its philosophical sense, what are the moral and political implications of rending the symbolic fabric asunder in this manner?
In literary terms placing the denunciations here would tend to conceal them from nonliterary eyes, even while making the rhetoric sharper. Rabelais perhaps decided to make the shift from prologue to this part of the text because he supposed that inquisitorial committees would be less inclined to work their way through a comic depiction of Carnival-Lent customs in search of heresy than to peruse prefatory materials. The shift carried forward Rabelais's tactics of concealment. In political terms the particularized attack and its placement express new boldness and old shrewdness in facing adversaries. In moral terms they intensify the impression gained from many passages scattered through the novels. This gaily affable writer is irascible. Rabelais, as Michael Screech has commented, was a good hater.
Rabelais has sometimes been called a naturalist philosopher, a thinker who identifies man's destiny with his nature-embedded, material existence. For such interpretations Rabelais's myth of Nature's and Anti-Nature's progeny assumes special importance. It is one of the few places in the novels where such imputed naturalism is propounded in general although still humorous terms.
---
In Rabelais's Italian humanist source Nature pleads her cause against Anti-Nature before the council of the gods, the gods award their favor to Nature's children, and the latter then convert men to religious reverence for nature while Anti-Nature and her progeny vanish. But in Rabelais's version Anti-Nature's children show no sign of defeat or disappearance; perhaps, then, there will never be a lack of "brainless folk" and "fools" who accept with eagerness such confused arguments as Anti-Nature employs. If that is so, what does this ending of the fable imply? Does it present a philosophically open-ended view of the human scene or a somberly pessimistic idea of human nature as distracted in frightful and threatening proportions from the worship of Nature by the silly mechanisms of Anti-Nature? Or does it signify something else entirely? Should one say, moving beyond these futurological alternatives in the authorially self-inclusive manner suggested by Michel Beaujour, that Pantagruel's eruption of anger over the pullulation of Anti-Nature's children represents the snorting helplessness of someone who confusedly perceives an enemy more pitiless and implacable than even religious orthodoxy: the limitations of his own most far-reaching, metaphysical thought, thought that in Rabelais's case is, so far as his extant writings reveal, synonymous with literarily embedded thought[45]
The Rabelaisian text is caught in its own toils, Beaujour maintains, caught in an endless babble of linguistic self-generation because it — the spirit incarnate in this text — cannot imagine a way of "perceiving culture and language as humanly founded, in spite of all its efforts to escape the alienations implied in the antithesis of Nature and Supernature." Rabelais recognized, as a Christian, the discontinuity between Supernature and Nature. The relation between God, on the one hand, and man and the world, on the other, was not a smoothly unfolding emanation like that proposed in Neoplatonic thought. The hiatus between Supernature and Nature seemed to Rabelais, according to Beaujour, so great as to involve man in inescapable alienations, the most
---
crucial of which was "Culture." "Culture (that which is no longer Nature yet is not Supernature) takes refuge with Rabelais in the practice of literature as satire." Man the maker of literature, disconnected from, yet finding no other ultimate source for Nature or Culture than Supernature, has no way of founding his activity in his own being, in an "anthropology" or science-art of the human, and so he is "the prisoner of anti-nature." His linguistic activity "cuts up the world, anatomizes it, but never succeeds in catching hold of the true thread of its coherence." In the end, therefore, "Rabelais's practice of language never lays hold upon Nature except as Anti-Nature does, delimiting objects so that they become disjecta membra, haunted by their nothingness: [this idea of] language is incapable of speaking about the world without drying it up."
Rabelais/Pantagruel, or rather the textuality their configuration procreates — is that who Quaresmeprenant/Anti-Nature is[46]
---
4—
What Makes Sausage-People Fight?
After the long wrenching, dismantling, and finally mythicizing movement of the Quaresmeprenant section, the two-chapter interlude in which Pantagruel kills a whalelike sea creature provides action-filled relief.[1] Alcofribas resumes his narration, and the Pantagruelians behave as they normally do: Friar John is brave, Panurge is cowardly, and Pantagruel dispatches the spouter with impossibly perfect marksmanship. The whale-monster is hauled ashore on Ferocious Island where some of Pantagruel's sailors carve it up "to gather the fat of its kidneys" — just as the inhabitants of one of the Faroe Islands are shown doing on Olaus Magnus's map (see Fig. 3). Faroe/Ferocious Island, we have already been told at the beginning of the episode, is the home of Farfelu Sausages.[2]
---
Rabelais's tripe-sausage tribes are a fusion of two groups described in a merry tale, anonymously published in 1538, called The Disciple of Pantagruel .[3] In The Disciple one group is called the Sausages (les andouilles ): they are "about twelve feet long  . . .  [with] sharp, biting teeth"; they feed in herds on the Tuquebaralideaulx Islands, "like cranes or sheep." The other group is called "the ferocious people" (les farouches ); they are "people who are hairy and colored like rats ," and they live in caves at the bottom of the sea. Like the Sausages, they have "long sharp teeth." In Rabelais's Fourth Book the Sausages live on Ferocious Island and behave something like the scampering rat-people in The Disciple . But they have lost their sharp teeth and have acquired slightly more civil — and much more Carnival-like — customs.[4]
Pantagruel, eating lunch with his friends on Ferocious Island, asks Xenomanes what kind of animals are climbing up a nearby tree, "thinking they were squirrels, stoats, martens, or weasels!' Xenomanes explains that they are Sausages, who are probably scouting to see if Quaresmeprenant has come. Rabelais's Sausage-people, then, seem at first to have the furry, small animal size of the Disciple 's ferocious people. They are just as unreasonably impetuous, too, as Xenomanes explains in giving an account of the latest stage in the war between them and Quaresmeprenant.[5]
Here is the place where Rabelais inserts references to the contemporary Protestant-Catholic war in Germany, clothing the actors involved in the traditional costumes of a Carnival-Lent combat farce: The "mountain Sausages" and "forest-dwelling Blood-puddings" (Saulcis- sons montigènes, Boudins sylvatiques ) who are fighting Quaresmeprenant represent those Protestant Swiss and south German allies against whom Emperor Charles V took the field in the 1540s. Quaresmeprenant, says Xenomanes, has refused to make peace with these confederates — as indeed Charles V refused to make peace with the Protestants in 1546.
---
Alban Krailsheimer has pointed out, too, that Charles's well-known pious melancholy is similar to "the general idea of an unhealthy and gloomy monster" emblemized in Quaresmeprenant. But it would be a distortion to limit Rabelais's vast description to this particular meaning, just as it is illusory to expect to find historical referents for every symbol Rabelais uses in a context like this, especially in the case of those traditional to the Carnival-Lent combat theme like "Fort [Herring] Barrel" and "Brine-Tub Castle! In terms of contemporary French readers' perception of Rabelais's allegory, the mimesis of Carnival forms must have been more obvious than the political elements to all but the most internationally informed readers. Rabelais is as usual writing for several audiences here, one more political than others. The fact that the political dimension is there maintains the orientation to present-day events strongly affirmed with the references to Calvin, Postel, and DuPuyherbault.[6]
But does not Xenomanes's account of the current stage of the war with Quaresmeprenant reinforce the old idea, at least for a less political audience, that all this is only an allegory of Carnival fighting Lent? Such an implication is bound to disturb readers who have closely followed the descriptions of Quaresmeprenant. They have concluded that Quaresmeprenant is both more and less than Lent. Regretful disciple
---
of churchly injunctions, he is a pitiful invalid, sickened by contradictory allegiances. He is also the enlarged image of unnatural behavior, a paradigmatically powerful figure who represents not simply the ill wisdom of observing Lent's prescriptions, but its looming, terrifying inhumanity.
What then do the Sausages represent? Rabelais has already suggested that they, like Quaresmeprenant, do not incarnate Carnival; the role of incarnation seems to belong to their "protector and neighbor, the noble Mardi Gras."[7] The author thus frustrates readers' attempts to establish the allegorical identity of the Sausage-people just as he earlier did their attempts to categorize Quaresmeprenant. Delaying clear narrative meaning in this way is dangerous. Readers may become so exasperated that they abandon the text because it so frequently directs their attention away from a linearly unfolding narrative that would carry them from an intriguing beginning to a satisfying end. The second half of the Carnival-Lent episode seems explicitly designed to court this disaster. Narrative progress here, even more than in the long lists describing Quaresmeprenant, is repeatedly deferred. In the first half the narrative seemed to grind to a halt as the symbols piled up. But even though in the second half direct action is equally in suspense, the narrative in this case gathers energy and dynamic thrust through the deferral of action because the delaying conversations of the Pantagruelians circle around and toward a coming battle.
The first delay occurs when Xenomanes recounts the past history of war between Quaresmeprenant and the Sausages, after Pantagruel sees some of the latter scampering up a tree. No sooner has Xenomanes finished than Friar John intervenes to say: "There'll be some asinine goings-on [de l'asne ] here, I can see that! Those venerable Sausages may be taking you [Pantagruel] for Quaresmeprenant." Xenomanes seconds Friar John's warning with a pseudo-proverb: "Sausages are sausages, forever double and treacherous."[8] With the latter silliness we are launched in the same direction as that developed with Quaresmeprenant, the Renaissance impulse to associate bodily with mental and emotional traits: such greasy, slippery tripe-people, who have furry hair and quick scampering movements like weasels, must be full of deceit.
I have translated Friar John's phrase "Il y aura icy de l'asne" in a
---
minimal although still metaphorical manner. De l'asne, "some donkey" or "something of a donkey kind," is enigmatic. Did it mean behaving in a silly or obstreperous way, as in the English colloquial "horsing around"? Did Friar John, always the warrior, imagine some carnivalesque battle like those occasionally occurring on mardi gras between men in animal masks[9] The butchers in fifteenth-century Nuremberg danced through the streets led by a hobbyhorse, hobby-donkey, hobby-ram, and hobby-unicorn. Did they, like the much later documented "Old Hoss" at Padstow, England, or the "Pony" at Pezenas, France, turn boisterous and belligerent, charging upon spectators? At Hof, Germany, in 1566 the butchers, led by a man dressed in raw oxhide and horns, ran and danced their way through the streets on Thursday after mardi gras, waving clubs and ringing cattle and sheep bells. Falling upon some textile workers who wanted to pass through the streets before them, the butchers drew knives and wielded their clubs. The textile workers pulled up paving stones. In the end one of the latter was killed.[10]
Rabelais's Sausage-people are like these revelers, half-animal, and bellicose. Wildmen in Carnival did not always pounce upon others. One has the impression that at Nuremberg they were objects of spectacle more than vehicles of aggression. Whether dancing about or wielding their clubs, however, they represented irrational, unpredictable behavior, and in this sense they were akin to the fool maskers in cap and bells.[11] Foolishness, wildness, and arbitrary assault are all illustrated by the Sausages in the Fourth Book . But their bodily shape and
---
texture make their belligerence laughable: andouilles were sausages made from tripe and other fatty portions of the pig, cut in narrow strips, seasoned, and stuffed into a portion of pork intestine that had a phallic length and figure.[12] Constructing his protagonists in this way gave Rabelais a wide range of registers on which to draw, all of them characteristic of Carnival behavior and carnivalesque talk, with their emphasis on the irrational, emotionally dominated "bodily lower stratum," alimentary, intestinal, animalistic, and choleric, always ready to fight.[13]
The carnivalesque overtones to the name and character of the strange residents of Ferocious Island frame the conflict between them and the Pantagruelians. They are the text's festive context, supporting it more consistently and fundamentally than either politicoreligious references or the parodic literary allusions to epic warfare that emerge later in the episode. Rabelais interweaves one series of metaphors with another by means of this festive context.
From the Middle Ages, andouille and its equally boneless, slippery phonetic cousin, anguille (eel), referred in popular parlance to the penis.[14] Rabelais uses their similar sound to conflate the two phallic symbols, as Barbara Bowen has shown in a perceptive study. He conflates them by drawing on the derivation of anguille from Latin anguis (snake). The narrator Master Alcofribas explains sententiously that "the serpent who tempted Eve was Sausage-like" (le serpens qui tenta Eve estoit andouillicque ).[15] The eel-like undertone to the Sausages brings out the slipperiness that makes them "two-faced and treacherous," as Xenomanes says. They are lively, sexy little creatures but not to be trusted.
---
The Latin root of andouille lends further support to these associations with eels: inducere means to put one thing into another, as is done in the manufacture of these sausages; inducere also means to lead one thing to, toward, or into another, and hence, metaphorically, to insinuate.
But all these verbal and proverbial associations do not mean that Rabelais is conflating the festive meaning of eels and sausages, nor that he suggests that Carnival and Lent themselves were becoming less ideologically distinct.[16] On the contrary, the larger context of this verbal play, the context that from the beginning of the approach to Quaresmeprenant leads readers to look for embroidery on the theme of Carnival-Lent opposition, insures that the difference between meaty Carnival food and Lenten fishy fare hovers over every mention of one or the other, pulling them apart in readers' minds even as the text pushes them together.
In a similar way Rabelais plays tantalizingly with readers' knowledge that as carnivalesque fare the Sausages should be eaten. In the nearly twenty octavo pages dealing with these juicy morsels, Rabelais never allows their ingestion. "Sausages will be sausages," Xenomanes declares. At the level of text, they are everything but that. Their alimentary dimension is suspended over the text, all the more hilariously.
Given the ribald associations brought by readers to any mention of sausages, the first direct view Pantagruel obtains of the Sausage-people en masse is a marvellous inversion of expectations. Just after Friar John's prediction of donkey business, Pantagruel jumps up to discover "a large battalion of huge and mighty Sausages marching toward us to the sound of bagpipes and flutes, sheeps' stomachs and bladders, pipes and drums, trumpets and clarions." Here come the same creatures who have been described up to now in small and sinuous terms, decked out as heroic fighters and marching uproariously along to sheep-bladder music. Did this idea too derive from Rabelais's perusal of Magnus's delightful map? There is a bagpipe player just above the whale being carved up on the Faroe Islands in Figure 3. Or is this one more reminiscence of Carnival spectacles? These are Carnival maskers, making rough music. "Their orderly movement, their proud step and resolute mien convinced us that these were no small fry [Friquenelles]"[17] The
---
low is mockingly portrayed as the high, as an army of well-disciplined fighters, as worthy of respect as would be any armed assembly of the nobility of Rabelais's day, whose claim to high estate was based on prowess in battle. In spite of this evidence of imminent attack, a second delay ensues similar to that which occurred after the Pantagruelians arrived on the island and Xenomanes recounted the latest incidents in their war with Quaresmeprenant. Pantagruel calls a council of his advisers, with which he discusses Greek, Hebrew, Roman, and modern French parallels to the uncertain situation in which they find themselves.[18]
It happens that among Pantagruel's followers are two soldiers named Riflandouille and Tailleboudin, "Maul-Sausage" and "Chop-blood-pudding." Pantagruel, taking this as an omen of victory, occasions a third delay by discoursing upon the prophetic properties of names.[19] As in the case of the preceding delay, during which Pantagruel speaks learnedly about affairs that have no practical bearing upon the matter at hand, the abstruse and superstitious absurdity of Pantagruel's examples proves to the reader the opposite of what Pantagruel proves to his listeners. These speeches occupy the same place in Rabelais's plot as the idle discourses of Carnival or Lent to their counselors in the traditional farces and narrative poems, just before the fatal invasion of the opponent. One side or the other in the combat schema is signaled to the reader at an early point as the eventual loser because of its vain activities and inattention to military preparation. In Rabelais's story, of course, these indications are belied. Although Pantagruel is portrayed as a wooly-headed carnivalesque leader, spouting classical copia at the most inopportune moments,[20] he is also shown taking proper precau-
---
tions. All this is in consonance with another literary signal repeated in this part of the Carnival-Lent episode, mockery of the epic style. In the Iliad and the Aeneid leaders also take counsel and omens before entering battle. Pantagruel is a garrulous revivification of the heros of antiquity, a comic mirror of contemporary humanist ideals. Having concluded his discourse on names, he stirs up his two commanders' courage and gives them "mardi gras" as the password to be used in mounting guard. With the latter term Pantagruel assumes the mantle of Carnival for the coming fight. But why, then, are they fighting the carnivalesque Sausages, and why are the Sausages fighting them?
Rabelais has reached the high point in his dismantling of the traditional roles. After creating a personage carrying the usual name applied to Carnival, whose whole horrid force is devoted to traveling toward Lent, after sketching what seems to be the epitome of carnivalism in the Sausages, here come the Pantagruelians to take over the role of champions of Mardi Gras against the "treacherous" enemy. "You are making fun of me here, boozers! You don't believe that it was all in truth just as I have recounted it. I really don't know what to do about you. Believe it if you wish; if you don't, go see for yourselves. But I know what I saw. It was on Ferocious Island. I give you its name."[21] This marvellous turn of the narrator to what appears to be a set of auditors, not readers, refreshes the frame of oral narration that enters and exits from the Rabelaisian books in erratic counterpoint with the conventions signaling written discourse. The comic insistence of Master Alcofribas on the rule of eyewitness unimpeachability is patterned on the similar affirmations of Lucian in A True History . Lucian wrote his book in parody of Hellenistic historiography, in which it had become conventional to parade one's veracious closeness to the facts to be narrated, only to follow such principled beginnings by accounts of famous battles with invented speeches and sententiously fictitious discussions of strategy by the leaders. The habit was revived by fifteenth-century humanist historians like Bruni, Poggio, Giovio, and Polydore Vergil. Alcofribas's interruption, a parody of Lucian and perhaps also of these modern imitators of Lucian's targets, adds emphasis to the mockery of Pantagruel's pursuit of epic propriety.
Oral, apostrophic style — short sentences, direct address, personal af-
---
firmations, references to familiar time and place[22] — is maintained through chapter 38. But this fourth delay also introduces another shift in the fictive context. The Sausages are removed from the humble half-animal, half-alimentary contexts that served first to define them and are grotesquely draped in the finery of myth. The giants who piled Ossa on Pelion were half-Sausage in race, "good master Priapus" is nothing but a "transformed Sausage," the serpent tempting Eve was a Sausage, and so on. This mythologizing passage, which offers a noble pedigree to the Sausages, serves as a transition to the fifth and final delay before the battle.[23]
In chapter 39 written narrative style is resumed. Friar John argues, invoking classical and biblical parallels, that he and his cooks should fight the battle. Pantagruel agrees, although he later himself participates in the combat. Friar John addresses his subordinates as young knights about to win their spurs in battle. The Iliad 's Trojan horse episode is imitated, except that the cooks hide inside a war machine designed not like a horse but a sow.[24]
The words Troye (Troy) and truie (sow) are phonetically and graphically close in French, which is comic enough. But there are several other aspects to the joke. Such a war machine was used against the English by King Charles VI in the Hundred Years' War, so Master Alcofribas recalls.[25] Thus at the mock epic level of narrated action, Alcofribas asserts the authenticity of the absurd by historicizing it. Alcofribas also offers technical details that make the Pantagruelians' war engine seem the more real.[26] At the reader's level the reference appeals to
---
French pride in an English defeat during the Hundred Years' War. At the authorial level — that is, from the point of view of the author's representational activity — there is gentle irony about the manner in which the great victory over the English was won, with an iron pig. But the dominant level of signification is neither nationalistic nor mock-epic but popular-cultural. Erasmus notes in the Adagia that the phrase "Trojan pig" in "common parlance" — presumably in antiquity — meant a hog stuffed with all manner of living things, "just as the Trojan horse sheltered armed men."[27] Did the idea live on through medieval times? Was it combined in some manner with the Biblical story of Jonah living inside a whale? Whence derives that other spouting creature in Magnus's Carta Marina, northeast of the Faroe Islands, which looks for all the world like a seagoing wild boar (see Fig. 4) with two cooks inside its belly, tending a pot over a fire? In the sixteenth century as in antiquity the sow continued to be a symbol of fecundity just as it was a source of succulent nourishment. Rabelais combines ancient and modem popular-cultural meanings of the pig as womb-rich and men-sheltering and gives them a carnivalesque turn: the sow will be stuffed with food stuffers who will fight stuffed Sausages.
The comic idea of conflating juicy pig meat with hard fighting men had already been used in the Carnival-Lent literary genre before Rabelais. In the Marvellous Conflict Between Carnival and Lent, a French narrative poem published sometime between 1500 and 1530, Carnivals' forces are led by "noble and courageous pigs!" Here the idea is simply to symbolize Carnival by means of its most eminent food. In Rabelais's story, where Pantagruel's forces are led by "gay and noble cooks:" the symbolic support of Carnival is less a category of food than the body's relation to food.[28] Listing the warriors' names is like declining the forms of a gourmand's fancies.
The names also describe the decline — comically — of these noble
---
[
Full Size
]
---
fellows from the estate of warriors to that of greasy, clumsy kitchen help.[29] There are, for example, Sousecod, Porkfry, Master Dirty, Fatguts, Greasypot, and Swillwine. Then come a plethora of stuffing cooks and sauce cooks whose arts are indicated by their names, and some thirty bacon makers, plus Freepepper, Mustardpot, Greensauce, "and Robert, who invented sauce Robert ." In a third category are names full of kitchen humor, incarnating the praise-abuse combination characteristic of that carnivalesque mode of humor in which "all names tend to extremes."[30] So we are introduced to Blowguts and Tasteall, Smuttynose and Widebeak, Shittail and Smartster, Stickyfingers and Begging Bag, Coxcomb and Tittletattle. Rabelais's 161 names zigzag between physiological and psychological attitudes to food. They play with people's relation to nourishment rather than, as in the medieval farces, with food's relation to the ceremonies of Carnival.[31]
This lengthy final delay to the action, while the names are listed, effectively eliminates all reason for the old Carnival-Lent tradition's denouement in battle. The Pantagruelians and their opponents obviously belong to the same side, except from the culinary point of view. And so the words of Gymnaste, Pantagruel's herald, do no good, when he bows to the advancing enemy and loudly proclaims: "We  . . .  are at your service. We all hold [fiefs] from Mardi Gras, your old ally."[32]
When the fighting does come, it is over in a narrative twinkling,
---
consisting of a mere thirty fines of text. The battle is a pell-mell free-for-all, like the rough-and-tumble fights on mardi gras by youths in rival village or town districts.[33] Pantagruel cracks Sausages over his knees,[34] and Friar John's soldiers jump out of the sow with dripping pans and cooking pots, wreaking havoc. All the Sausages would have died "if God had not intervened, goes the tale:"[35]
Out of the north a "great, grand, gross gray pig" came flying. It had wide wings like the arms of a windmill, with crimson pink flamingo feathers. Its eyes were flashing and red, like great carbuncles: its ears were green and its teeth topaz yellow. The tail was long and black, like lustrous marble; the feet were webbed and diamond-transparent. Around its neck was fastened a gold collar inscribed with the words hus Athenan written in Greek. This means "a pig teaching Minerva," adds the narrator.[36] The pork bird dropped mustard on the battlefield and flew off screaming "Mardi gras, Mardi gras, Mardi gras!"
The Sausage-queen explains to Pantagruel that the flying pig is the "tutelary deity" of the Sausages in wartime, for it is the "Idea" of "Mardi gras?" The word Idée is capitalized; it is glossed in the "Brief Clarification" with respect to Rabelais's earlier use of it in the Fourth Book: "invisible species and forms, imagined by Plato."[37] Ironic reference to Plato's concept of heaven-dwelling forms, which are the archetypal patterns for low earth-bound existences, is reinforced by the queen's further qualification of this anything but airy and spiritual pig-god as "the first founder and original [pattern] of the whole Sausage race." If this ideal form looks like a pig, that is simply "because Sausages are extracted from pigs."[38]
---
Friar John's Trojan Pig has been raised on high. The apparition confirms Gymnaste's cry: we like you owe homage to Fat Tuesday, for we are as loyal to the idea of mardi gras as you. But while the Sausages drop their weapons and raise their hands "as if they adored it [the pork bird]," Friar John and his men go on "smiting the Sausages and sticking them on spits" until Pantagruel gives orders to stop.
The pig has a heavy, hard body like Friar John's metal sow. Its limbs and organs of sense are like gems, like some glittering Biblical idol; one notes that the queen of the Sausages has a Hebrew name, Niphleseth, the language of the Chosen People. The pork bird is at once ugly and spectacular, one more comically riveting image in the series of strange visions the Pantagruelians have seen and will see in the Fourth Book .[39]
To worship heavenly pig is just what one would expect of the spirit of Carnival. What wisdom does this pig have to teach Minerva? Simply that in Carnival time the stomach instructs the head, the low dominates the high, and earth pretends to be heaven, screaming "Mardi gras!" and flying through the air like some noble Pegasus.[40]
The lighthearted audacity of this parody of misguided piety is astonishing. The mustard the pork bird casts down upon the slain Sausages on the battlefield "resuscitated the dead," for it was a "celestial Balm" indeed a "Sangreal." As Edwin Duval has recently shown, Sangreal seems to be a Rabelaisian invention, suggesting simultaneously Holy Grail (San Greal, more usually Saint Graal) and real blood (sang réel ): both the holy chalice from which Christ drank symbolically consecrated wine at the Last Supper, founding the mystery celebrated in the Eucha-
---
rist, and the transformed wine of that sacrament, the very blood of Christ by which the Christian believer is resuscitated and saved.[41] Very lightly, very obliquely, Rabelais touches one of the most disputed points in early sixteenth-century theology: the doctrine of a saving immaterial grace mysteriously imparted by the "rear" material "presence" of sacrificial "blood." Protestant reformers attacked the doctrine as an "idolatrous," "judaic" remnant of pre-Christian sacrificial practices, which ruined true faith.[42] It seems something less than an accident, therefore, that the Sausage-queen with a Hebrew name is the one who explains the "Sangreal" mustard to Pantagruel. The gross and gleaming character of the pork bird idolatrously adored by the Sausages disguises this satire of Catholic doctrine by means of its apparently appropriate excess, its perfect adaptation to the surface theme of Carnivalesque inversion.
The Sausage-people are strange beings. They are religiously hideous. They worship in the pork bird an image that in the classical adage to which the Greek words on its collar refer is one of ignorance and inca-
---
pacity for learning, an "Idea" simply of great, gross eating.[43] They are like savages; indeed they are very much like those New World savages described by European travelers as a population indigenous to strange and wondrous islands in the north and south Atlantic seas. They are innocents, scampering about like squirrels and martens, "always double and treacherous" because they follow no rules.
Facing such barbarians, Pantagruel and the Pantagruelians do not let their common allegiance to a distant Mardi Gras interfere with their identity as Europeans. Like Cortez in Mexico, like Pizarro in Peru, like Raleigh in Guinea, they offer fair terms of greeting, but, when the natives resist, they annihilate them.[44] After the battle is over, a different political parameter intervenes. Unlike the medieval Carnival-Lent tales in which the feudal princes Lent and Carnival are merely the first and most honored among many powerful princes and vassals, from the sixteenth century onward the political context woven into the genre is monarchist, assuming a radical difference between sovereign and subject. Pantagruel negotiates peace with the queen of the Sausages, who possesses enough authority over her subjects so that she can offer without ado to ship him 78,000 "royal" Sausages each year to "serve" him during the first course of his meals. (Even here the reference to ingestion remains unspoken!) Master Alcofribas takes care to specify other terms of the proffered peace, which include the queen's becoming Pantagruel's vassal for herself, her successors, and all her subjects in the island. But Pantagruel graciously refuses the homage and pardons the
---
Sausages' aggression. The recent quarrel is expunged by introducing the forms of an idealized monarchic feudalism, in which two sovereigns treat each other as equals and dispose freely of the life and limbs of their followers. Because the two princes in question are idealized and the context is comic, everything turns out for the best. Even the shipped-off Sausages, although they "died" through lack of mustard, were honorably buried at Paris (there is a comic reference to the Rue Pavée d'Andouilles in the Latin Quarter, the modern Rue Séguier).[45] As is suitable in the case of a ritual opposition, where the purpose of confrontation is to mollify differences by expressing them, the very last word of the last chapter of the Carnival-Lent episode refers to the alimentary symbol to which both sides give allegiance, however different the style: "Pantagruel retired to his ship. All his good companions did the same with their arms and their sow."
---
5—
Perversity and Patriarchy
Why is the leader of the Sausages a woman? Xenomanes has already reported that all Sausages are women. Strange island indeed! The queen's name is Niphleseth. In the Brief Clarification of Some Obscure Expressions in the Fourth Book, the glossary attached to some copies of the 1552 edition of the Fourth Book, Niphleseth is explained as "the virile member, Hebrew."[1] In fact the "double," treacherous, half-human, half-animal nature of the Sausages, played upon throughout the episode, is supplemented by their sexual duplicity. Melusine, ancestor of the people of Poitou, explains Alcofribas in his defense of the mythic grandeur of the Sausages, "had a woman's body down to the prickpurse  . . .  the rest below was serpentine sausage or perhaps Sausage-like serpent," Male-female ambivalence is insured in French by the gender of the words involved; sausage is feminine, and serpent is masculine, so that the phrase "andouille serpentine ou bien serpent andouillicque " jumps back and forth over the gender boundary. "The Scythian nymph Ora similarly had a body which was half woman and half sausage. But for all that Jupiter thought her so beautiful that he slept with her and had a handsome boy by her named Colaxes."[2] Food and sex are associated by means of the symbol of the serpent.
Association of andouille with the male member was commonplace. Playing the changes between male referent and feminine grammatical gender had of course been exploited before Rabelais, as for example, in the late fifteenth-century Joyous Sermon of Saint Ham and Saint Tripe-Sausage . Brother Ham and Sister Sausage were viciously murdered one day, so the bibulous preacher says in this comic monologue. One was salted, the other was hung, and both were put up for sale in the market by the murderers. Among those who decided to buy was a "silly girl, who for her pan took Saint Sausage and put her in her lap." Saint
---
Sausage of course is "propitious to females," for the "spirit" of this saint enters into the body of devout maidens with great alacrity and stays there, "piteously" returning to the flesh, until one day the girls have a baby.[3]
Women and also children are treated at several points in the Rabelaisian books as metaphorically equivalent to the male member. It is doubtful that Rabelais had anything more specific in mind than comic evocation of the generally accepted patriarchy of his time when he has Gargantua exclaim over the corpse of his wife Badebec, who dies in giving birth to Pantagruel: "Oh Badebec my darling, my friend, my little coney (petit con ) — though hers was a good three acres and two rods in extent — my tenderling, my codpiece, my shoe, my slipper." The baby Pantagruel is similarly addressed in the same passage as "my little ballock, my potkin, how pretty you are!"[4] Women, like babies, are the decoration and pride of the male body. They are destined to serve male bodily needs through impregnation and child bearing. Pantagruel kindly offers Queen Niphleseth as his parting gift "a pretty little knife of Perche manufacture? Women, even when named for the male member, lack that little something.[5]
This is not very surprising in the male universe of the Pantagruelians, where Panurge's sexy stories and pranks and Friar John's obscene oaths are welcomed with giant laughter. But there seems to be something else involved than comic play with lexical gender for the greater glory of males in the emphasis on the Sausages' femininity at the beginning and end of this second half of the Carnival-Lent episode. (The middle part of this half does not mention the Sausages' femininity: the weasel-like Sausage spies and the fierce Sausage warriors are not treated as Amazons.) If such there is, it is probably not to be found at that psycho-physiological level that is exploited in portraying Quaresmeprenant.
---
The Sausages tend to jump to false conclusions. It would have been easy and comically effective to have added that such behavior is understandable because the Sausages are nothing but brainless women, thus associating psychology and physiology. But no one ventures the reflection.
The rationale behind the Sausages' femininity can be found in a different direction, when one considers the peculiar sexuality of Quaresmeprenant in connection with theirs. Only two references to his sexual behavior appear to the modern reader. When Quaresmeprenant daydreams, it is phalluses "flying and creeping along a wall." When he copulated with Midlent, he begot "only double fasts and locative adverbs"; whether this hints that he was at least fertile in piety or more darkly suggests that he was entirely sterile, Quaresmeprenant's reproductive activity can certainly be said to have produced strange effects. Several other sexual references were perhaps clear to Rabelais's contemporaries, or at least to doctors among them. According to Guy Demerson, the qualification of the monster as "fuzzy-haired and doubly-tonsured" indicates that his head and body hair had fallen out due to syphilis. Again, Quaresmeprenant's arsehole is "like a crystal mirror."[6] Anatole Le Double states that physicians in Rabelais's time gave the name "crystalline" to "anal syphilis" or "Ganymede's syphilis."[7] This trait would specify the monster as both syphilitic and homosexual. One recalls Pantagruel's furious denunciation of Anti-Nature's children as catamites or homosexuals.[8] However literally Rabelais meant his descriptions to be taken, his indications of Quaresmeprenant's sexual behavior categorize
---
it as obsessively phallocentric. In light of these details the reference in Xenomanes's first description to the monster's "Lanternland origin" probably symbolizes not merely his distraction of mind but also his sexual self-involvement, a trait that perverts the contemporary procreative ideals of patriarchy.[9]
Phallocentrism was typical of that century of codpieces; Rabelais's Third Book might be read as a psychoanalytic study before the letter of how phallocentric self-absorption — in this instance Panurge's — prevents commitment to marriage and marital reproduction. Does Rabelais mean to suggest that the Sausages' faithless impetuosity, their whimsical worship of themselves in the form of a jewel-like pig, is a corresponding female deformation, making procreatively stable marriage with them equally impossible?[10] In that case Rabelais points to the rule and the exception at once when he notes that the 78,000 females shipped off as hostages to his father Gargantua "died" without issue at Paris except for the queen's daughter, the "young Niphleseth," who was given in marriage to a man of wealth and worth, whereupon "she made several handsome children, for which may God be praised."[11]
The sexual level of symbolism is as appropriate to the festive context as are those levels that construct Quaresmeprenant as a terrifying puppet and the Sausage-people as comic fighters. People dealt with the ban on sexual activity during Lent by accenting it during Carnival.[12] At the level of character and incident, of course, the Sausages' femininity
---
needs no such procreative rationale. Rabelais probably borrowed the idea of making the Sausages uniformly feminine from his farcical source, The Disciple of Pantagruel . There, although neither the sex of the furry "fierce people" (Farouches ) is mentioned nor is that of the nose-biting sausages whom Panurge and his friends encounter next, the inhabitants of Lanternland are identified as female:
We pushed on night and day until we arrived in Lanternland, the country  . . .  which Lucian mentions in his book of true histories. It was mid-May, the day when their queen gave a grand festival in honor of her birthday  . . .  for on that day all the lanterns of the world were assembled, rather like the Franciscans in their chapter-general, to treat of their business and affairs . . . . They [elles] all came in procession  . . .  two by two, singing so melodiously that one could not imagine hearing sweeter harmony.
The voyagers are invited to the queen's banquet. There they see the "noble" lanterns and queen dressed in fine dear ivory, while lanterns of less rank wear robes made of pork and beef bladders. Some are clothed in fabrics made from intestines, but still others appear in dresses made from ordinary cloth. The anonymous author makes no explicit comment on the lanterns' femininity (la lanterne is feminine in gender), but the details emphasize the traditional feminine perquisites of grace and beauty, a beauty by turns noble and grotesque, bizarre and ordinary.[13]
This passage was probably also the inspiration for Rabelais's use of "lanterning" in the nonsexual sense mentioned earlier. The Council of Trent will be a great and useless meeting of well-robed luminaries, similar to the Chapters General of Rabelais's former monastic order, the Franciscans. It will be very beautiful and very empty, glowing without substance, like women do from the patriarchal point of view.[14]
Textual and intertextual studies clarify the puzzles proposed by Rabelais's text. They also augment them. One sees more clearly, for example, the rhetorical contrast between the groups of chapters devoted to the two kinds of islanders. In the Quaresmeprenant section every new element adds from a different point of view to what is already suspected about the monster's ominous character. The meaning of the
---
figure seems, through extensive enumeration, to approach full definition. In the Sausage section, however, each new perspective disrupts the previous attempt to see, understand, and define. Are they animals or human? men or women? food or warriors? friendly or fierce? In the end this dissemination of meaning seems to be reversed by the philosophic conversation between Pantagruel and Niphleseth. The Sausages are after all sausages, who through mustard and mardi gras achieve the ends for which they have been created. The growing concentration of meaning around the figure of Quaresmeprenant, however, does not lead to any revelation. The last detail about him in the text is in consonance with his half-mad perverted sexual character, but it does not wind up matters.
The Sausage-queen tells Pantagruel during their peace negotiations that her spies have reported that Quaresmeprenant has landed on a beach of Ferocious Island, not to make war, but to inspect the urine of physeters.[15] Once more Quaresmeprenant is shown moving toward Lent by associating with Lent's traditional allies, the fishy creatures of the sea. But at the same time this report reinforces our sense of how silly the Sausages are, for the inspection on land of the excretory products of seagoing whales hardly seems likely. Is Quaresmeprenant looking perhaps at the dead physeter that Pantagruel's men pulled up on a beach of Ferocious Island? If he is doing something the Sausages suppose is the inspection of urine — playing the doctor of whom he is frequently in need — is he not looking at the Leviathan's sexual parts? Perhaps, or perhaps not. Even Pantagruel's identification of the monster as one of Anti-Nature's children only renders him more powerfully enigmatic.
Rabelais's rhetorical strategy is to lead the reader to distinguish between the manner and the matter of his discourse. When he says something relatively simple, as with the Sausages, his manner is rhetorically elaborate, delaying definition or offering ambiguous, incomplete perceptions. When he has something complex to communicate, he writes with seeming sharpness, accumulating exact details. Matter and manner conflict, or at any rate they seem to flow in opposite directions. Can the reasons for the choice of such paradoxical rhetoric be found within the text, or between the text and its textual sources and parallels? Yes, at least some reasons can be found textually and intertextually by iden-
---
tifying the particular narrative modes used in the two halves of the episode.
In the case of Quaresmeprenant Rabelais considers the differences between Carnival and Lent as a kind of dialectic opposition. He examines this dialectic imaginatively, that is, in terms of concrete images and fictive representations, rather than philosophically, abstractly, or pragmatically as, for example, a rationalization of these occasions' rituals or as a set of suggestions about these occasions' proper celebration. Yet here as throughout the novels he inserts contemporary references into the fictive frame. The text is not didactic, but this does not mean that it does not judge and condemn and hence by implication — but only by implication — also admire and advocate.
The second half of the episode is not a dialectic exploration, imaginatively or otherwise. It is more simply and lightheartedly an arabesque on Carnival behavior. Its confusions and ambivalences conjoin rather than conflict as they did in the Quaresmeprenant section. One means of maintaining this harmonious rather than conflictual development of the latter part of the narrative, in spite of all its surprises and digressions, is clear maintenance of the Pantagruelians' human status vis-à-vis these islanders who are in turn furry animals, fishy serpents, brave warriors, and a one-sexed polity. By bringing the Pantagruelians into close and Carnival-prescribed contact with the Sausages, the latter are constantly being pulled back, in spite of all their changes, to what they epidermoidally are, food for men.
This basic reference to sausage food is why the symbols in the second half of the episode converge rather than grow in disharmony. Friar John's cooks employ not a Trojan horse but a sow in their struggles; the Sausages are saved by a motherly flying pig who casts down celestial balm. A big pig's "intestines" (the hidden cooks) fight against little pig tripe, and the pig tripe in turn is saved by heavenly pig essence. Just as was the case with the huge, composite body of Quaresmeprenant, the meaning of the Pantagruelians' visit to Ferocious Island is finally summed up in a sensuously concrete image, a gleaming transformation of Carnival food.
The difference between the two personifications around which Rabelais builds this narrative is thus maintained. Quaresmeprenant is the humanization, monstrous though it be, of an abstraction of a ritual occasion or rather transition between two rituals conventional among men. Sausages are humanizations, silly though they be, of something
---
eminently concrete and essential to men, food. Aside from their formal status as parallel personifications, their similarity is only negative. They define something from which, in different ways and for different reasons, human beings — here the Pantagruelians — must differentiate themselves.
Carnival food, or more grandly, the place of food in human existence, its role in the body, psyche, and behavior, is the intellectual thread binding the two halves of the episode together. By the time the Pantagruelians arrive at Ferocious Island two narrative dynamics have been set in motion: on one hand the puzzles engendered by amalgamating, while not mixing, characteristics of Carnival and Lent in a single monstrous being; on the other the larger problem of relating Lenten rules and Carnival pleasures to human desires and human needs that flow right across the ritual boundary between Carnival and Lent and indeed expand through the whole year and through people's whole existence. How indeed should or can people deal with delicious, delectable, desirable, devourable food? At Carnival time men become so voracious that they may confuse themselves with the principle of eating. They may become very nearly like the Sausage-people, worshiping food as a deity, so that they too come to seem like nothing more than an intestinal integument, a skin stretched tight by stuffing.
The Pantagruelians begin their Carnival battle in this voracious manner: "But for God's special intervention the whole race of Sausages would have been exterminated by our soldiers" — exterminated, all chopped up, eaten or prepared for eating by the noble cooks.[16] But then they stop. The pork bird appears, the Sausages throw down their arms, and Pantagruel orders a halt to the piggish butchery by his men.
Is this intervention and halt just knightly grace, an inconsequential narrative incident, or is Rabelais suggesting that at least Pantagruel has a sense of proper restraint vis-à-vis food, even in Carnival? How are the Pantagruelians different from the Gastrolators, "worshipers of the belly," who are denounced by Pantagruel and by the narrator at the end of the Fourth Book for their savory sacrifices to their god Gaster? The long list of dainties that the Gastrolators shovel into Gaster's gullet would grace the best Pantagruelian table. But Gaster represents the principle of stomachic necessity, not alimentary enjoyment. The Gastrolators do him honor in the wrong way. Like the Sausages' reverence
---
for their gemlike pork bird, the followers of Gaster worship a part of nature as if it were divine: "Gaster confessed himself no god, but a poor, vile, pitiful creature." The Gastrolators, raising this creature on high, distort the significance of the lord of the belly in order to serve their own proclivity, which is — quite in contrast to Gaster's frenetic inventiveness — to do nothing. The Gastrolators fabricate a Carnival puppet whose mouth clacks open and shut, as if ever seeking food. They carry this image of a terrifying eater in triumphal parade in the mistaken idea that it represents the essence of Gaster.[17]
The parallel between the distorted worship of the Gastrolators and the idolatry of the Sausages for their pork bird sets off the Pantagruelians from both.[18] Pantagruelians eat pigs but do not worship them. Pantagruelians tipple and talk; they do not shovel dainty foods and fine wines into some ideational maw. Queen Niphleseth calls the pork bird a divine idea, but the narrator calls it a monster.[19] It seems that there is a proper limit to eating, and especially to preoccupation with eating, even in Carnival.
Within the terms of the Carnival-Lent episode the story of the pork bird sets this limit in one direction and the story of Nature and Anti-Nature sets it in another. Like the Gastrolators' puppet, the pork bird is a misrepresentation of the natural impulse to eat well and joyffully, just as Anti-Nature is a misrepresentation of the natural harmony and measure exhibited in conduct guided by "common sense and good judgment." Lack of the latter qualities, characteristic of the children of Anti-Nature according to Pantagruel, means that a creature like Quaresmeprenant is at odds with the way the natural universe is constructed. This monster with his voraciously meat-filled dreaming forever moves toward Lent because of his lack of natural sense — which
---
makes Pantagruel, Rabelais's personification of large girthed wisdom, so angry that he loses his temper.
Pantagruel's angry ill humor seems to violate Pantagruelism, explained in the Prologue to the Fourth Book as "a certain gaiety of spirit, pickled in scorn of everyday vicissitudes."[20] The Pantagruelians usually follow this rule, moving from one island to another in the Fourth Book not to judge and denounce, not to defeat the movement toward Lent or the distortion of Carnival, but to represent a mode of living. They depict not an alternative morality but another morale, another way of living that is embodied in their conversational camaraderie, bubbling talk, and bibulous eating. The prologue's gaily ambivalent greeting expresses the same embodied, active wisdom: "Bien et beau s'en va Quaresme, " how pleasantly Lent is passing by — and passing away!
Lent is accepted as a human convention, however unnatural — and indeed however unsupernatural — it may have seemed to Rabelais. Neither Carnival nor Lent, one realizes in retrospect, is attacked as such in the long episode that denounces their false idolators. But this does not mean that they are both affirmed. In the gayest and most Pantagrueline of his extant letters, Rabelais invites a friend to visit him during Lent of 1542: "You will arrive, of course, not when it pleases you to do so but when you are brought here by the will of the great, good, and merciful God who never created Lent." God did not create Lent, though he did create Lenten fare:
salads, herrings, cod, carp, pike, dace,  . . .  stickle-back, etc.; also good wines, and especially the one  . . .  which we are saving here for your coming like a sang gréal [holy grail? royal/real blood?][21] and like a second, no, a quintessence. Ergo veni Domine et noli tardare [so come, sir, and don't delay].[22]
Both Lent and Carnival have their pleasures. Mardi gras, instead of standing as a regrettable boundary between them, is from this perspec-
---
tive their common preserver. Indeed that is the role of noble Mardi Gras in Rabelais's tale. This lord never appears to fight for or against any combatants. How could Mardi Gras actively injure his namesake, Quaresmeprenant, or abandon those who take his idea as their god, however treacherous they may be? Mardi Gras stands symbolically outside the conflict because he stands temporally between its two poles. For him to exist, both poles, both kinds of ritual allegiance, must endure. Mardi Gras is there, like the Pantagruelians, to give distance and perspective to this human comedy. The Pantagruelians are Mardi Gras's vassals; they are not neutral in the fray, for only mardi gras's comedy, not Ash Wednesday's gravity, creates a space within which both Lent's and Carnival's pretensions can be satirized by placing on parade — as in Hoghenberg's print — the two sides' followers with their different kinds of silliness.
The interpretation of the Carnival-Lent episode suggested here affirms its festive frame, its popular-cultural representation of sociability, and its comic ideology. These things do not necessarily go together. Eminent Rabelaisian scholars dealing with this extraordinarily commented and interpreted group of chapters have affirmed or denied one, two, and all three of them. If, however, ideology, style, and form all do go together, then the reader must set to one side both commentaries that end by deriving high humanist truths from the episode and those that see it as linguistically self-enclosed and metaphysically somber. In spite of the garish and gruesome visions they include, these chapters are gaily written and antimetaphysical in tenor.
Carnival's rituals articulate the episode. The whole of this "performance" takes place on mardi gras, insofar as it may be supposed to be a burlesque translation of contemporary parades and games. Carnivalesque attitudes provide the basis of representation of most characters and activities in the episode. But Carnival is not affirmed morally. Quaresmeprenant's psychic excess is a horror while that of the Sausages is just silly, but both lead to catastrophe: the merry Sausages are always being caught by their old enemy, while Quaresmeprenant finds himself weeping ducks in onion sauce. Rabelais draws attention to the inversive logic binding each to each. Thus, although he transforms nearly every element of the old combat theme, he nevertheless preserves the schema. And although he derives the qualities of representation almost entirely
---
from the Carnival, secular side and scarcely at all from Lenten, churchly views, the comic ideology supporting the representation affably accepts both kinds of institution, even with their common tendency to encourage excess. Both institutions are necessary to provide the dynamics driving either of them. The dynamics are not innately evil; they become so only when linked to a psychology of excess that has other foundations.
No study of the purely textual and intertextual aspects of Carnival-Lent relations is likely to discover this way of generating the episode. Literary scholars have for three centuries been more willing to twist verbal meanings to provide a semantically smooth text than to look beyond it for keys to its paradoxes. It is the changing behavioral context of Carnival and Lenten observance which allows understanding of its puzzling representations, and not anything discoverable on the printed page alone. Rabelais's pages pose themselves as part of that behavior, interacting with them as well as reflecting upon them. The Rabelaisian text is both centripetal in its energies, creating its own intratextual spirals, and centrifugal, reaching outward with a smile and sometimes with an oath.[23]
The passage listing the names of Friar John's cook soldiers is introduced by Pantagruel's disquisition about the accuracy of names in relation to things. It is a long parody of Plato's search in the Cratylus for a way in which to assure that words indicate the things they designate. "See the Cratylus of the divine Plato," recommends Pantagruel, when his men are discussing their chances of victory against the Sausages. "You'll see [in such books] how the Pythagoreans conclude from their names and numbers that Patroclus ought to have been slain by Hector, Hector by Achilles, Achilles by Paris, and Paris by Philoctetes. My mind is set in an utter whirl when I think of Pythagoras' amazing discov-
---
ery."[24] The names of Friar John's cooks are all cratylic in this sense, truly designating what they do. Yet the episode as a whole enjoins the opposite lesson: the Sausages behave as if they were human  . . .  or animal  . . .  or eels  . . .  or women, and Quaresmeprenant, "Carnival" behaves like Lent. Language exceeds and rebels against the uses to which humans would put it: the writer's materials are chaotic. Rabelais's parody of the Carnival-Lent genre is simultaneously a parody of Pantagruel's cratyfism, of the fashionable Platonism of contemporary humanists, and of the intellectualism which supposes that labeling processes could exhaustively exhibit the real.[25]
Instead of allegorizing human behavior, as medieval authors had done, Rabelais humanizes allegory. Did the gradual loss of transcendental surety, that system of cosmic correspondences between supernatural, human, and subhuman spheres, require this shift? Whether or not that is so, it is certain that among fifteenth- and sixteenth-century writers, the more they substituted concrete psychological and social description for allegorical typology, the more they sought to compensate for the consequent loss of religious authority with semireligious or frankly secular moralism.
A text communicates in a number of ways simultaneously. At the semantic level medieval texts tended to order their meanings like layers
---
in a cake, each separated from the others — literal, moral, allegorical, eschatological, anagogical — all covered and made coherent by the frosting of theological postulates. In early modern times texts began to develop semantically as a set of perspectives, some consistent and others inconsistent with each other. None of these perspectives represents Truth, and, because they might be infinitely multiplied, defining truth as their totality would seem irrelevant. The perspectives these new fictions offer seem designed less to add up than to filter out dogma.[26] Alcofribas undermines the integrity of the plot with his parodic pose of reliable eyewitness authority, Pantagruel undermines his exemplary status with his credulity, his lanternism, and his humanist pedantry, and Rabelais, the author — can we trust him? Just as far as we are willing to believe the make-believe in the prologue, the bonhomie that greets readers as if they had just stepped in for a glass of wine during the current Lenten season.
The special advantage of festive, popular, comic modes of discourse and performance is that they thrive upon differences. Differences, not uniformity, provision the human comedy. Joining his writing to these modes, Rabelais multiplies perspectives. The truths this writer has to offer can only be seized obliquely and never quite clearly: they have more than one meaning. They are human truths, not divine, and so they shift their meaning with the human context — as Carnival revelers do, with their masks.
---