§ 1. Nicolò Paganini (1782–1840)
Today we revere the composers rather than the performers among European musicians of the eighteenth and first half of the nineteenth century, but during that period the performers received more recognition than the composers. Soloists performing pieces designed to show off their skills appeared in operas in the baroque period, when princes and aristocrats rewarded them; in public concerts in the classical period, when small audiences of music lovers acclaimed them; and in extensive concert tours in the romantic period, when masses of ravished auditors idolized Nicolò Paganini, Franz Liszt, and their successors.
The soprano castrato Farinelli may have been the most celebrated and most generously treated musician in eighteenth-century Europe. Born Carlo Broschi, his nickname originated in its singular form, "Farinello," perhaps as an affectionate diminutive of Farina, the family name of his aristocratic patrons; as a common noun, the word means either "fodder" or "rogue." [1] Was he raised solely for the purpose of entertaining the members of the social elite? Or did he achieve wealth, fame, and power at their expense? Was he mutilated, or was his music?
In the first half of the eighteenth century a handful of opera singers were caressed as international stars. Almost all of those beloved souls grew up and learned their art in Italy. Many went abroad as adults to perform for long periods. Some of them were female. Few had testicles. "Signor Farinelli," reported Abbé Prévost in his London review Pour et contre (For and Against), "who came to England with the highest expectations, has the satisfaction of seeing them fulfilled by generosity and favor as extraordinary as his own talents. The others were loved: this man is idolized, adored; it is a consuming passion." The composer Handel, in England at the same time, "is admired, but from a distance, for he is often alone; a spell draws the crowd to Farinelli's." [2]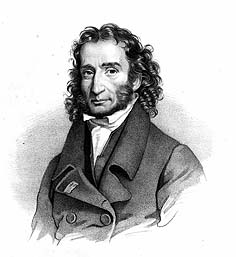 Portrait of Paganini. Lithograph by Sharp from a drawing by Maurin. Courtesy of the Prints and Photographs Division, Library of Congress. Photograph by the Library of Congress Photoduplication Service.
[
Full Size
]
Farinelli passed his early childhood in several towns of southern Italy, where his father served as a government official of the Spanish, later Austrian, Kingdom of Naples.[3] His father, also a musician, was his first teacher and the one who called for the knife. In Farinelli's later childhood, spent in the city of Naples, the Farinas replaced his father as protector and provider and Nicola Porpora, teacher of several of the most renowned eighteenth-century castratos, replaced him as music teacher. Farinelli made his début at the age of fifteen, in 1720, when he sang a serenata composed by Porpora. Two years later he moved to Rome and starred in his older brother Riccardo Broschi's new opera:
There was a struggle every night between him and a famous player on the trumpet, in a song accompanied by that instrument: this, at first, seemed amicable and merely sportive, till the audience began to interest themselves in the contest, and to take different sides: after severally swelling out a note, in which each manifested the power of his lungs, and tried to rival the other in brilliancy and force, they had both a swell [crescendo] and a shake [trill] together, by thirds, which was continued so long, while the audience eagerly waited the event, that both seemed to be exhausted; and, in fact, the trumpeter, wholly spent gave it up, thinking, however, his antagonist as much tired as himself, and that it would be a drawn battle; when Farinelli, with a smile on his countenance, showing he had only been sporting with him all this time, broke out all at once in the same breath, with fresh vigor, and not only swelled and shook the note, but ran the most rapid and difficult divisions and was at last silenced only by the acclamations of the audience. From this period may be dated that superiority which he ever maintained over all his contemporaries.[4]
So, at least, reported the early musicologist Charles Burney after visiting Farinelli at his retirement villa in Bologna and hearing him describe the event, a half-century after its occurrence. Johann Joachim Quantz, flute player, prolific composer, and flute teacher to Frederick the Great, gave a first-hand report of Farinelli's singing in this early, Italian phase of the castrato's career:
His intonation was pure, his trill beautiful, his lungs extraordinarily strong in sustaining breaths, and his throat very flexible, so that he could leap the widest intervals rapidly and with the greatest ease and security. Broken passages were just another run to him, providing absolutely no difficulty. He was very inventive in his improvisational embellishment of adagios. The fire of youth, his great talent, the universal applause, and an agile throat led him now and then to excess. His appearance was advantageous to him in the theater, but his acting did not come from the heart.[5]
Farinelli stayed in Italy, with the exception of a few leaps to nearby Vienna and back, until 1734, when he traveled to England.
In rehearsal before his first performance in London, the members of the orchestra spontaneously broke off their accompaniment to listen to him in astonishment. According to Burney, when he embarked on stage with a piece called Son qual nave (I am That Ship), composed by his brother Riccardo as a musical representation of a voyage by sea, "The first note he sung was taken with such delicacy, swelled by minute degrees to such an amazing volume, and afterwards diminished in the same manner to a mere point, that it was applauded for full five minutes. After this he set off with such brilliancy and rapidity of execution, that it was difficult for the violins of those days to keep pace with him." [6]
In England he was "idolized, adored," as we have already heard. Once, after he had finished singing, a woman's voice called out from the boxes of the Haymarket Theater, "one God, one Farinelli." [7] He spent three years in London with the Opera of the Nobility, divided by a summer's intermission of performing in Paris and Versailles.
Accepting an invitation from the queen of Spain, Farinelli went to Madrid in 1737. The queen hoped that his singing might cure King Philip V's chronic depression. It seemed to help at least, so every night for the next ten years, until Philip's death, Farinelli sang the same four songs to him before the king went to bed at dawn. The program consisted of two opera arias, a minuet, and a piece called Quell' usignuolo (That Nightingale), an imitation of birdsong. Farinelli stayed on at the Spanish court under Ferdinand VI, Philip's successor, staging sumptuous operas, remodeling the royal opera house, organizing aquatic extravaganzas, redirecting the Tagus River, receiving riches and a knighthood, importing Hungarian horses, and perhaps making foreign policy. Upon the accession of Charles III to the Spanish throne in 1759, Farinelli retired to his villa in Bologna, where for the last two decades of his life he entertained a parade of distinguished visitors, including the musicologist Burney, the composers Mozart and Gluck, the adventurer Casanova, the electress of Saxony, and Emperor Joseph II. His principal role in the history of music was as "the prime mover towards the new florid style of vocal composition and performance characteristic of so much opera seria, especially in the period after 1730. A broad variety of contemporary manuscripts and prints identifying Farinelli as performer, and spread all over western Europe, testifies to both the ornamental complexity and the wide influence of that repertory." [8]
While Farinelli was resting in luxurious retirement in Bologna, in Paris an impoverished "Rameau's nephew" improvised a theory of music history. The songs of Duni and Philidor trilled from his lips, and from everyone else's, announcing the imminent victory of the bouffons. Old Rameau, Diderot wrote, "will be buried by the Italian virtuosos, as he foresaw, and it made him sad, depressed, and sullen." "Rameau's nephew" looked forward to the demise of the music of his uncle and the older generation of French composers. Already, he noted, French musicians
have renounced their symphonies in order to play Italian ones. They thought they would be able to accustom their ears to the latter without its having any effect on their vocal music, as if the symphony were not to the song—except for liberties inspired by the range of the instrument and the dexterity of fingers—what the song is to declamation. As if the violin were not the ape of the singer, who will one day become, when the difficult takes the place of the beautiful, the ape of the violin. The first to play Locatelli was the apostle of the new music. Tell it to someone more gullible than I am. We'll get used to hearing the sounds of human passions and natural phenomena imitated in song, by voices and by instruments, because that's the whole purpose of music.
Diderot responded to his oracular interlocutor with cautious ambivalence: "There is some sense, or something like it, in everything you've said."
[9]
Nicolò Paganini, the most celebrated violinist of the first half of the nineteenth century, was strongly influenced by Locatelli and has often been accused of substituting the difficult for the beautiful. Locatelli's L'Arte del violino (1733), a set of twenty-four caprices for solo violin, inspired Paganini's more famous set of 24 capricci per violino solo (1820), which contains citations from the earlier work. Paganini's 24 capricci came to represent, as they still do, the ne plus ultra of technical challenges among violin performance pieces. And they in turn inspired several well-known piano pieces, including Schumann's 6 Studien nach Capricen von Paganini (1832) and 6 Konzert-Etüdien nach Capricen von Paganini (1833), Chopin's 12 études, opus 10 (1833), Liszt's Grandes études de Paganini (1832–51), and Rachmaninoff's Rhapsody on a Theme of Paganini (1934).[10]
Although Paganini gave public concerts all through his teens, he spent most of his twenties employed at the court of Lucca and thus seemed to be settling into the traditional social niche for musicians. Paganini grew up in Genoa, where he learned music and little else from his father.
He soon recognized my natural talent and I have him to thank for my first knowledge of the art. His dominant passion kept him much occupied at home determining by certain calculations and combinations lottery numbers which he convinced himself would win substantial sums. He labored very industriously at this and would not let me leave his side, so that I had to keep the violin in my hand from morning to evening. It would be hard to imagine a father stricter than he was. If he didn't think I was diligent enough, he withheld food from me until I doubled my exertions; physically I had much to endure and my health began to suffer.
This passage comes from one of two short autobiographical sketches dictated by Paganini, which together provide us with most of the little first-hand information we have about his childhood.
[11]
After this harsh initiation by his father, he received lessons from local musicians. He gave his first public performances at the age of eleven in several churches of Genoa. The following year his father took him to Parma to study with Alessandro Rolla, leader of the ducal orchestra and a distinguished violinist.
Since he was sick and in bed, his wife led us into an adjoining room where I found a violin and the maestro's latest concerto lying on a table. A sign from my father was all I needed to take the instrument in hand and sight-read the concerto all the way through. The sick composer suddenly perked up and asked who was playing like that; he absolutely would not believe it was only a little boy. However, when he was persuaded of it, he exclaimed: "I cannot teach you anything either. For God's sake, go to Paer; here you would only be wasting your time."
So Paganini studied composition with Ferdinando Paer, a prolific
opera buffa
composer and at that time maestro di cappella at the court of Parma. He said that he learned a lot from Paer, and "I am happy to call myself his grateful pupil." Evidently he did not feel the same way about Rolla, for his story contradicts the testimony of another Parmesan musician who said that Paganini did indeed take lessons from the distinguished violinist. Some of Paganini's biographers have concluded, as one of them put it: "However much Paganini the musician may have owed to his teachers, Paganini the violinist was self-made and self-taught."
[12]
This is certainly what he wanted people to believe.
At the beginning of 1797, after granting him a year of study in Parma, Paganini's father took him on tour in northern Italy. They stopped at home in Genoa for a brief sojourn, following which Paganini set off again, at last without paternal supervision, in the company of his older brother Luigi, also a violinist. He discovered gambling and sex: "I must admit that my youth was by no means free from the errors of all young people who feel suddenly freed from every constraint and left to their own devices after long years of an almost slave-like upbringing, and from long deprivation want to rush from pleasure to pleasure." He continued touring in northern Italy until 1801, although his brother had returned home earlier. "In many cities they tried to shackle me either as a concert performer or as orchestra director; but my ardent, indeed I may say my unbridled, temperament shunned any such fixed position; I liked to travel and it was impossible for me to stay any length of time in one place." The income from his concerts enabled him to support his new, dissipated way of life and to send a considerable amount of money home to his family. During this period he acquired what was to be his favorite concert instrument, a 1742 Guarneri (now owned by the city of Genoa), from a French merchant and amateur violinist then living in Leghorn. After loaning it to Paganini for a local performance, the Frenchman refused to take it back, saying, "I will not profane it, so keep the instrument, dear Paganini, and remember me." [13]
Paganini himself spoke French, the only foreign language he knew. Many Genoese took an interest in French affairs, and many supported the Revolution, as did Paganini, although he seems to have expressed political opinions only during his younger years and few of them have come down to us. At his first public concert, given in 1794, he played variations on La Carmagnole, an old French folk song that with new words had become an anthem of the Revolution.[14] Much of northern Italy was conquered by Napoleon during his campaign of 1796–97. Except for a brief period in 1799–1800, it continued to be effectively part of the French Empire until 1814. In 1805 Napoleon placed the city of Lucca and in 1809 all of Tuscany in the hands of his sister Élisa. Paganini settled in Lucca in 1801 and remained there, with the exception of some brief interruptions, until 1809. Thus, the violinist spent his adolescence and early manhood in the brilliant glow of Revolutionary and Napoleonic France.
It is not clear why Paganini first established himself in Lucca, or what he did during the first half of his stay, from 1801 to 1805. He may have fallen in love with a wealthy woman there and set aside his violin in favor of the guitar, an account supported by an ambiguous statement in one of Paganini's autobiographical sketches. Or he may simply have accepted an appointment as first violin of the court orchestra of Lucca, spent his time practicing intensively and composing, and begun work on the 24 capricci. During the second half of his residence in Lucca, from 1805 to 1809, Paganini definitely had an official position in the entourage of Princess Élisa Bonaparte Bacciochi: "I had to conduct the opera every time the ruling family came to the theater, to play three times a week at court, and to put on a large concert every fortnight at their fêtes." He also taught the violin to Élisa's husband, Felice. Paganini complained not that the princess gave him so many responsibilities but that she often could not suffer his playing and left in the middle of it; his harmonics grated on her nerves. And that she did not pay him very well for his many duties. One can only guess what kept him in her employ, given his proven ability to tour successfully and his self-acknowledged taste for freedom—perhaps his new lover at her court.[15]
Paganini's trademark one-string pieces, which he played frequently in concert over the course of his career as a soloist, had their origin in Lucca. Inspired by his new lover, whose identity he kept discreetly veiled, he planned for her a Scena amorosa (Love Scene), "a sort of dialogue in which would be represented little quarrel-and-reconciliation scenes," requiring only the two outer strings of the violin, the G-string representing the man and the E-string the woman. His performance of it at court provoked surreptitious glances, unrestrained applause, and a challenge from Princess Élisa to compose a piece for only one string. He accepted and produced on the name day of the French emperor, Élisa's brother, the Sonata Napoleone: "This is the first and true cause of my predilection for the G-string." His later G-string compositions include the Sonata Maria Luisa, in honor of Napoleon's second wife, and the Sonata militare. Also at Lucca, on a bet, he directed an entire opera while playing a violin mounted with only two strings. Paganini may have developed this genre without any knowledge of them, but he did have predecessors. Michael von Esser composed a G-string concerto and performed it, Leopold Mozart wrote to his son, "with the greatest skill and technique." Franz Clement, for whom Beethoven composed his famous Violin Concerto in D, and who gave its première at a concert in the Theater an der Wien (Vienna) in 1806, also played at the same concert a one-string sonata, holding his violin upside down.[16]
Paganini's duties at Lucca gradually dwindled away between January 1808, when the orchestra was disbanded, and December 1809, when all that remained were his lessons to the prince. Meanwhile the court moved to Florence, following Napoleon's promotion of Élisa to grand duchess of Tuscany, and Paganini began to give public concerts in other towns nearby. In Leghorn, he related, fate seemed to be against him: he entered the theater limping, after stepping on a nail; the candles on his music stand went out as he began to play; and his E-string broke. But: "I played the concerto on three strings and created a furor." Because he often broke strings in concert subsequently, some accused him of doing it deliberately, in order to recreate the sort of sensation he had produced in Leghorn. It is doubtful that he ever knowingly began a concert with a frayed string, however, since this would have made it almost impossible for him to produce some of his acclaimed effects, such as long glissandos and harmonics. But the Norwegian violinist Ole Bull, who often heard Paganini play and also made his acquaintance, claimed that he did use strings that were for his day unusually thin, precisely in order to enhance some of his effects.[17] If he did not plan to snap a string in concert, then, neither could he have been surprised when it happened. In any case, he almost invariably chose to finish on three strings rather than break off playing in order to replace the string or the violin.
Even before Paganini settled in Lucca he had begun to perform pieces imitative of "the sounds of human passions and natural phenomena," as did many other violinists at least through the first half of the nineteenth century. An early example is his Fandango spagnuolo (1800?), perhaps inspired by Farinai's Capriccio stravagante, which mimics the sounds made by dogs and cats, fifes and drums, etc. His mimicking of a donkey on stage in Ferrara in 1812 nearly precipitated an assault on him by the audience. To avenge a singer whose performance at his concert the audience had hissed, Paganini ended his imitative piece and the concert by stepping to the front of the stage and loudly making with his violin the sound of a braying ass, "hee-haw." [18] The German violinist Ludwig Spohr met Paganini in Venice in 1816, although he did not hear him play:
What he enraptures the Italians with, however, and has won for him the sobriquet of "incomparable" that even appears under his portraits, is—I have learned after careful enquiry—a collection of marvels that in the dark ages of good taste the famous Scheller used to entertain the small towns (and even princely seats) of Germany with, and which were so much admired by our countrymen. Namely: flageolet tones; one-string variations, in which, to make them more impressive, he removes the other three strings from his violin; a kind of pizzicato with the left hand, accomplished without the aid of the right hand or bow; and many sounds that are unnatural on the violin, such as bassoon tones, the voice of an old woman, etc.[19]
Farinelli, Locatelli, Scheller, Paganini: The prophecy of "Rameau's nephew" that the violin would ape the singer and that the difficult would replace the beautiful in music seemed to be coming true.
Meanwhile, the public concert was replacing the prince's command performance as the place to acquire celebrity in music, and the touring soloist was replacing the prince's music master as the possessor of celebrity. Two violinists of the second half of the eighteenth century, Jakob Scheller and August Duranowski, paved the way for Paganini as a performer both in their careers and in their aesthetics.
Born in Bohemia, Scheller studied music in Vienna and Munich, joined the illustrious Mannheim orchestra for two years, toured Switzerland, Italy, and France, honed his skills in Paris for three years, and finally settled down as concertmaster at the court of Württemberg, where he remained happily for seven years until the French Revolutionary Wars forced the duke out of his duchy and Scheller out on tour again. He produced harmonics on his violin like those of a flute or pipe organ, called flageolet tones; an imitation of a nuns' choir singing in church, using his violin case to produce the echoes; and four-part harmonies, by turning the bow upside down and loosening the hair so as to allow it to curve over all four strings while the stick passed underneath the body of the violin. According to a contemporary, he also played extraordinarily fast runs and leaps with great accuracy and mastered all manner of other difficulties "with an evenness, clarity, and fullness of tone such that even auditors unversed in music were moved." "A tendency to drink…had no harmful effect on his art, but an increasing one on his behavior and economic condition." Eventually he sold his violin, continued for a while to give concerts with borrowed instruments, then disappeared from history's stage.[20]
Paganini probably did not hear Scheller, since the latter's concerts in Italy took place either before he was born or soon after, but he did hear Duranowski, also known by the French version of his name, Durand. Born in Poland, Duranowski moved to Paris in his teens, toured in Germany and Italy, joined the French Revolutionary Army as an officer, resigned his commission and took up the violin again, played in various German orchestras, and finally landed in Strasbourg as first violinist of the orchestra of that city, where he lived well into the nineteenth century. He probably played in Paganini's Genoa in 1794 or 1795. The musically omniscient F.-J. Fétis described him as an "astonishing" and "prodigious" technician: "He drew a large tone out of his instrument, had incredible bowing power, and put into his playing an inexhaustible variety of effects. Paganini, who had heard Durand in his youth, told me that this virtuoso had revealed to him the secret of what one could do on a violin, and that he owed his talent to the light shed by this artist." [21]
In the first half of the eighteenth century even the most highly regarded musicians in Europe generally sought a position at a princely or aristocratic court. They might give occasional concerts somewhere else, often at another court, or change their employment from one court to another, but they remained court musicians. Farinelli is a good example. It is true that when he moved to London to sing for the Opera of the Nobility he ceased to be a court musician, although as the name of the company implies, he remained in the employ of aristocrats. And this lasted for only three years, after which he moved to Madrid to join the Spanish court, where he stayed for twenty-two years. Quite simply, there were few public concerts in Europe at the time. Some cities had civic or even entrepreneurial opera companies that gave public performances of opera, and many courts gave private concerts of different kinds of music, but the staging of nonoperatic music as a business had barely begun. Thus, the opportunity to make a career as a touring soloist did not exist.
By the middle of the eighteenth century one could at least imagine such a career. More and more cities had regular public concerts. In London, a series that began in 1672 may have been the first. In Paris, the first series may have been Anne Danican Philidor's Concert Spirituel (Sacred Concert), beginning in 1725, followed by his Concert Français (French Concert), beginning in 1727. This Philidor was the chess master-composer's older half-brother. In Germany, Frankfurt, Hamburg, and Leipzig also began to have regular public concert series in the first half of the eighteenth century. Many other European cities followed suit later in the century. More and more cities had concert halls, or "rooms specifically built for the public performance of music without acting or stage presentation." By this definition, the first concert hall may have been the York Buildings erected in London in the 1680s, followed by halls built in Berne around 1700, Dublin in 1742, Oxford in 1748, etc. More and more cities, and no longer just the cities with princely or aristocratic courts, formed professional or semiprofessional orchestras.[22] Guest soloists added interest to their concerts. Extraordinary performers such as Scheller and Duranowski could actually make a living traveling from city to city performing at public concerts, at least for a few years. Significantly, both retired to more stable employment, but also significant is the difference that for Scheller this meant a court orchestra, while for Duranowski, born eleven years later, it meant a civic orchestra. Paganini, born twelve years later than Duranowski, needed no further employment of any kind after his years as a touring soloist.
Paganini metamorphosed from court musician to public performer over the winter of 1809–10 and gradually became the most celebrated violinist of the first half of the nineteenth century. Before his sojourn in Lucca, he had been only one of many child-prodigy musicians that had hatched like larvae everywhere in Europe during the last third of the eighteenth century, ever since the young Wolfgang Amadeus Mozart had toured the Continent scattering his notes. "Too many notes," commented Mozart's patron Emperor Joseph II of Austria. When Mozart's father took him on tour, he had him perform on the harpsichord with a cloth spread out over both the keyboard and his hands in a sort of blindfold exhibition. Unlike Mozart, most of the larval prodigies were soon forgotten by the public and ended up simply as orchestra players. In Lucca, Paganini succeeded, if only locally, in perpetuating and even increasing the modest renown he had acquired as a child performer. After he left Lucca, his renown spread gradually—first regionally, then nationally, and finally internationally. Until 1818 he fluttered among the towns and cities of northern Italy. Between 1818 and 1828 he expanded his range to the entire length of Italy. Finally, in 1828, he flew away to Austria, Bohemia, Poland, Germany, France, England, Ireland, Scotland, Belgium, and the Netherlands.[23]
In October 1813 Paganini gave his first concert in Milan, including in it the début of his soon-to-be-famous piece, Le Streghe (The Witches). The concert was reviewed by Peter Lichtenthal, who later also recorded one of Paganini's two dictated autobiographical sketches. Lichtenthal's review appeared in the Leipzig-based Allgemeine musikalische Zeitung (World Times for Music), the most important music journal in Europe of the period:
Herr P. is without a doubt, in a certain respect, the foremost and greatest violinist in the world. His playing is genuinely incomprehensible. He performs certain runs, leaps, and double stops that have never been heard before from any violinist…in short, he is—as Rolla and other famous men maintain—one of the most artful violinists that the world has ever known. I say artful, for when it comes to simple, expressive, beautiful violin playing, there are indeed everywhere a few violinists as good as he is, and certainly here and there, and not infrequently, some who surpass him—such as our Herr Rolla.[24]
In 1816, Paganini performed again in Milan. His authorized biographer and the recorder of his second autobiographical sketch, Julius Schottky, reported Paganini's later recollection of the occasion:
In Genoa, where I was then staying, I heard that Lafont was going to give some concerts in Milan, and I set out at once. His performance gave me great pleasure indeed, and eight days later I also gave a concert at La Scala so that he might hear me. Thereupon Lafont suggested that we play together, which however I tried to refuse, saying: "such a combination is always dangerous because the public takes it for a duel; and so much more so in the present case because you are France's foremost violinist and I have the honor of being described, though much too generously, as Italy's foremost." [25]
At the time, however, Paganini wrote in a letter: "Yesterday evening there was a concert at La Scala given by Monsieur Lafont. That excellent musician received no indication of wanting to be heard again. He plays well, but does not astonish." Whatever Paganini's attitude toward Lafont may have been, the two did give a double concert and the public did take it for a duel. The audience probably favored the Italian violinist, both out of patriotism and out of preference for his "Italian style" of playing, to use Paganini's own expression. Lichtenthal reported predictably that "Herr P. has no equal in artful and difficult playing, in which respect Herr L. is much his inferior." But then he added, surprisingly, that "for beautiful playing, the two must be considered nearly equal to one another, Herr L. perhaps surpassing Herr P. in this."
[26]
From the early 1820s on, Paganini was plagued with health problems, and concert tours alternated with convalescences. He does not seem to have performed during the years 1822–23, which he spent recuperating from syphilis. He had chronic intestinal difficulties. In 1828 he went to a dentist to have a tooth pulled, after which he developed an infection, lost all the teeth in his lower jaw, and even contracted an inflammation of the larynx. In 1831 a physician who had seen him repeatedly over the preceding decade, and had treated him continuously during one stretch of several months, delivered a "Notice physiologique sur le célèbre violoniste Nicolo Paganini" to the Académie des Sciences in Paris, listing among Paganini's maladies measles, scarlet fever, pneumonia, catarrhal fever, and a throat disease, which deprived him of his voice during the last few years of his life. The "Notice physiologique" disputed the diagnosis of consumption made by another physician, however. Adding injury to illness, Paganini's doctors submitted him to the common but dangerous treatments of mercury and bleeding. Each time he reappeared on stage after a convalescence, his pallid skin, sunken cheeks, shallow chest, and general emaciation became more apparent.[27]
As Paganini's renown grew, stories about him swelled into legends that haunted him. They seem mostly to have been either descriptions of incredible performances or ascriptions of his spectacular playing to incredible causes. In Verona, using a reed cane in place of a violin bow, Paganini was said to have sight-read perfectly a complicated concerto composed by a local musician who had defied him to play the piece correctly under normal conditions. In Padua, the day after he gave a concert there he was dining unnoticed in a restaurant when he overheard someone say: "Paganini's skill should not surprise us in the least: he owes it to a term of eight years spent in a prison cell, where he had only his violin to while away the time. He had been sentenced to this long confinement for having cowardly murdered one of my friends, who was his rival in love." Challenged by Paganini to give the details, the speaker admitted that the victim had not been one of his friends and that the story was known to him only by hearsay. It persisted nevertheless. The novelist Stendhal in his Vie de Rossini (Life of Rossini, 1823), for example, also tells of Paganini practicing in prison. Another version of the tale had Paganini murdering the woman rather than the rival; yet another had his violin strung with the intestines of his victim. A different tale had Paganini ceding his soul to the devil in exchange for supernatural playing ability. Some storytellers claimed to have seen the devil at Paganini's concerts guiding his bow arm. In a Trieste restaurant, Paganini
stood up suddenly, shouting desperately: "Save me, save me, from that ghost that has followed me here. Look at it there, threatening me with the same bloody dagger that I used to take her life…and she loved me…and she was innocent.…Oh no, two years of prison are not enough; my blood should run to the last drop…," and he picked up a knife that was lying on the table. It is easy to imagine how quickly someone seized his hand. Meanwhile everyone was left stupefied and astonished; but they soon recovered from their amazement. Seeing the Ligurian Othello sit down again and resume eating, most of them understood that he had intended to ridicule those who were spreading falsehoods about him. The fact is that on the following evening the theater proved too small to hold everyone who wanted to get in, and more than a thousand people had to wait for the next concert.
Some of Paganini's friends suspected that he himself had originated a few of the strange and gruesome stories told about him and that he did so, if not to attract more people to his concerts, then simply to enliven the conversation while traveling or to amuse himself by testing the gullibility of new acquaintances.
[28]
In early 1824, Paganini set out from Milan on a tour with a soprano named Antonia Bianchi. They spent four years together, performing at the same concerts, although separately, and living as husband and wife, in Paganini's closest approach to marriage. In 1825, Bianchi gave birth to his only child, Achille, whom he loved as much as playing the violin and whom he raised by himself after he and Bianchi parted company. Curiously, after Paganini had been living in sin for three years and fathered an illegitimate son, Pope Leo XII made him a knight of the Order of the Golden Spur, putting him in the company of Michael von Esser and Mozart, among others.[29]
Thus, when Paganini traveled to Vienna in 1828 for his first concerts outside Italy, the local music lovers expected someone out of the ordinary. But he still astounded them. The critics wrote: "Paganini can be compared only to himself"; "Paganini occupies his own sphere, unique and alone, unsurpassed by any of his contemporaries"; "Paganini is being called the greatest instrumentalist known to the history of music." His audiences' enthusiasm spilled out into the streets, where "the artist's portrait quickly became available in every size, even in a pocket format, which one might call the bonbon format, since the confectioners sold Paganini-bonbons, as well as whole, though miniature, sugar-Paganinis just like the Rossinis made of sugar that are brought from Paris." Taxi-drivers began to call a five-gulden note a Paganinerl, in reference perhaps to the usual price of a ticket to one of his concerts or to his usual payment for cab fare. The Theater an der Wien mounted The False Virtuoso, or the G-String Concerto, a farce in two acts, before Paganini had even left town. The city presented him with a gold medal, and the Austrian emperor bestowed on him the honorary title of K. K. Kammervirtuose (Imperial and Royal Court Virtuoso).[30]
Paganini gave fourteen concerts during this first sojourn in Vienna. There, as elsewhere on his tours, he generally played three pieces per concert: one of his concertos, of which he would eventually compose six; one of his G-string pieces; and a set of variations on a theme from an opera, a ballet, or other large work. He had a performance repertoire of around twenty pieces and rarely played works written by anyone else: "It is against my nature to perform borrowed compositions; not that I am not capable of playing anything put in front of me. It is well known that I can sight-read the most difficult solo; but I want to maintain my singularity, a desire which should arouse all the less suspicion in that it seems to be entirely satisfactory to the public." An opera overture or some other orchestral piece played by the local symphony generally opened his concerts, and two more pieces in which he was not involved, often featuring vocal soloists, alternated with his own three offerings. For four years Antonia Bianchi's voice had relieved Paganini's violin, but the now harmonious, now dissonant couple separated forever in a Viennese courtroom. He agreed to pay her a lump sum in exchange for her giving up all claims on him and to their son, Achille.[31]
In the winter of 1828–29, Paganini played six times in Prague to progressively smaller audiences. He received favorable reviews but did not generate the furor that he had in Vienna, perhaps in part owing to resentment at his having quintupled the usual ticket prices in the Bohemian capital. Paganini drastically increased the normal admission charges almost everywhere he went, tripling them in Leipzig and Paris, and doubling them in London. To the assertion that he had favored Italy by always playing for the normal price there, he replied: "What, didn't double it? That's false. I've never played for the normal price." Occasionally he was forced to reduce his inflated fees, as in London, or to settle for smaller crowds, as in Prague, but often he got what he wanted. From Prague he wrote to a friend in Genoa, "in two or three years I shall have around two million [scudi]. My fame demands it; but what will I do with so much money?" [32]
In the Bohemian capital, Paganini met Professor Julius Schottky, who during the violinist's three months there had the opportunity "for days at a time and often half the night to listen to his conversation, to study his opinions and sentiments." By assuming the role of Paganini's Boswell, Schottky won Paganini's authorization to write his biography. Boswell had demonstrated how one could become famous by attaching oneself to someone who is already famous: "I have an enthusiastic love of great men, and I derive a kind of glory from it." He sought out Rousseau, hoping to make the French philosophe his confessor; then Paoli, helping to promote the Corsican nationalist's cause in England; and finally Samuel Johnson, writing a biography of the London man of letters that overflowed with luminous details and thereby gaining immortality.[33] Schottky, as well as attending and taking notes on Paganini, collected articles, reviews, poems, and stories, published and unpublished, about his hero. Schottky's book turned out to be more of a scrapbook than a narrative, but since he put into it his pile of press clippings, many of the violinist's own words, and letters from friends and acquaintances of Paganini to whom he had written for information, he managed to earn a place in the history of music as an archivist if not as a biographer.
The capital of Prussia received Paganini in 1829 as the capital of Austria had the previous year. "Paganini is driving men and women insane with his cursed violin concerts," wrote Karl Zelter, director of the Berlin Singakademie, to Goethe in Weimar. The Prussian king, like the Austrian emperor, awarded Paganini an honorary musical title. Paganini's ambitions had grown, however, and he turned to a prince to help him solicit from the king another knighthood, or even, he dared hope, a title of nobility, but to no avail. In Warsaw, the tsar of Russia, potentate of that portion of partitioned Poland, presented him with a diamond ring. In Weimar, Goethe heard him and classified him with Napoleon as "a demonic type," inspired by genius but also besieged by his genius, "because of which he produces such a great effect." In Munich, thousands of leaflets containing a poem in his honor floated down from the top of the hall, and the orchestra conductor crowned him with a laurel wreath. In Hamburg, reported Paganini's business manager, "often fifty to eighty people a day came to see or to speak to him" at his hotel. He had become more famous than the magician Bosco, who was also performing in Hamburg then, much to Paganini's delight.[34] By the time he arrived in Paris in 1831 he was the most famous violinist in Europe.
Paris was the place in Europe most favorable to musical celebrity in the first half of the nineteenth century. In 1814–15, the Great Powers had demolished Napoleon's empire, thus putting an abrupt and decisive end to France's long political domination of Europe, originating in the seventeenth century. France's cultural hegemony, which also dated from the seventeenth century, declined more slowly, however, and Paris remained for the time being the Continent's high-fashion and fine-arts capital. French continued to be the lingua franca of its educated and upper classes. Paris was still its second most populous city, after London, and still attracted large numbers of its artists, as well as ambitious people of all sorts. The most famous composer in Europe when Paganini arrived in Paris was Gioacchino Rossini, who had preceded him there. According to a history of music reception in Paris, "The revolution of Rossini, which did more than anything else in France to break the perceived bond between musical meaning and determinate content, was in the pure musical virtuosity he summoned.…It's the brilliance that leaves the strongest impression. Rossini's acrobatic demands—the turns and trills, the chromatic runs, the rapid-fire diction and intricately coordinated ensembles—are explosive." Paganini had known Rossini in Italy and had even successfully launched one of the composer's operas in Rome when the orchestra conductor died suddenly during the rehearsals.[35]
Paris led Europe in many areas of musical activity. The Continent's first conservatory, defined as an institution whose main purpose is the teaching of music, and where this purpose is not subordinated to a religious, charitable, or other ulterior purpose, was founded in Paris in 1795. In contrast, a conservatory was founded in Milan only in 1807, in Prague in 1811, Graz in 1815, Vienna in 1817, London in 1822, Brussels in 1832, Leipzig in 1843, Berlin in 1850, St. Petersburg in 1862, Moscow in 1866.…Whole schools of musicians washed up on the banks of the Seine. Paris had only sixty-eight piano teachers in 1788, but by 1832 the number had swelled to eighteen hundred. Finding himself in the middle of this migration, Chopin observed soon after his, and Paganini's, arrival: "I really don't know whether any place contains more pianists than Paris, or whether you can find anywhere more asses and virtuosos." [36]
Paris was also a center of instrument making. Adolphe Sax, who invented the saxophone, made brass instruments there. Jean-Baptiste Vuillaume made stringed instruments. Once Paganini's beloved Guarneri took a fall, fortunately while in its case, and he took it to Vuillaume to be repaired. Staying to watch the operation, he winced with pain every time the luthier made an incision or used force. The violin recovered completely and Paganini presented Vuillaume with a valuable snuffbox: "I've had two boxes like this made, one for the physician of my body, the other for the surgeon of my violin." Érard and Pleyel, both of Paris, eclipsed Broadwood of London and Stein of Vienna in the first half of the nineteenth century as the manufacturers of the best pianos. With their seven octaves and technical innovations such as Érard's double escapement mechanism, the pianos made by the two French companies came close to the range and responsiveness of today's Steinways.[37]
Performing in a Concert Spirituel, the series of public concerts mentioned above as one of the first such institutions, had become by the second half of the eighteenth century what playing at Carnegie Hall is today, the goal of every aspiring soloist. Although the Concert Spirituel did not survive the Revolution, the reputation of Paris as the place to be heard did, and many other series arose in its stead, notable among them the Concerts du Conservatoire (Conservatory Concerts). Érard and Pleyel competed as music publishers, as piano makers, and finally as concert impresarios. In order to show off their new pianos, they built small concert rooms and brought in the best pianists to perform on them. Liszt, Thalberg, and others played at the Salle Érard and became identified with Érard pianos, which they also played on elsewhere; Chopin, Kalkbrenner, Marie Pleyel, and others played at the Salle Pleyel and became identified with Pleyel pianos.[38]
Concerts in Paris received excellent press coverage. The Revue et gazette musicale de Paris (Paris Musical Gazette and Review), formed from the merger of the Revue musicale and the Gazette musicale de Paris, rivaled Leipzig's Allgemeine musikalische Zeitung in the authority of its contributors and in the European scope of its reporting. In addition, the Revue des deux mondes, Paris's most important literary review, and the Journal des débats, one of the city's principal dailies, also gave space to musical matters. The latter had on its staff for many years Hector Berlioz, as good a critic and nearly as good a writer as he was a composer.[39]
Franz Liszt, another immigrant musician living in Paris, tried to account for France's cultural domination in the Revue et gazette musicale de Paris:
It would be absurd, it seems to us, to attribute the supreme intellectual authority exercised by the French nation only to its real moral superiority. The English are better statesmen, the Germans better philosophers, and the Italians better artists than we are; but besides the fact that in Italy and in Germany the absence of a unique capital must dim the splendor of any reputation, no people are as well endowed as the French are with a need for sympathy, with a sort of outwarddirectedness, for which we do not know the proper word, but which we humbly propose to Messieurs the phrenologists to locate in the bump of communicativity. A Frenchman is not sure of having experienced an emotion or a pleasure until he has communicated it to his neighbor and the latter has either shared it or envied it. It is easy to see that this instinct for propagation helps considerably in the publicizing of a name; and if one adds to it the charlatanism that has truly been brought to the pinnacle of perfection in France, the multiplicity of newspapers, the ostentatiousness of public announcements, and the graceful facility for exaggeration that the French language possesses, one can well imagine how in a short space of time reputations become colossal and universal in a country whose idiom is spoken in the four corners of the earth.[40]
Because of Paris's favorability to musical celebrity and because in Paris he began to affect the performance practices of other leading musicians, Paganini's concerts there more than anywhere else made his name synonymous with virtuosity. His Paris début took place at the Opéra, not the present building, which opened in 1875 on a different site, but a large-for-its-time two thousand-seat auditorium on the rue Le Peletier, about eight blocks due north of the Palais-Royal, built in 1821 for the use of the Académie Royale de Musique and not usually available to touring soloists. "It would be impossible to describe the enthusiasm with which the public was seized hearing this extraordinary man; it was delirium, frenzy," reported the Revue musicale. "Let us rejoice that this enchanter is our contemporary," mused the Journal des débats; "let him be glad of it himself; if he had played his violin like that two hundred years ago, he would have been burned as a magician." The Moniteur universel concluded, "Paganini is a being apart." [41]
Paris responded to Paganini with plaudits and more: books about him, analyses of his effects, and imitations of his playing. His first, unauthorized biographer was a Parisian hack writer who had managed, before Paganini came within a hundred leagues of the French capital, to scoop the more scrupulous Professor Schottky. After Paganini's arrival, a pamphlet appeared entitled Paganini et Bériot, comparing the two violinists, arguing the superiority of the latter, and warning young violinists to avoid taking the former for their model, as Bériot himself did soon thereafter. Another second-hand biography fueled the debate about Paganini's "secret." Paganini had told Schottky that he had a secret method enabling string players to learn very rapidly how to play very well.[42]
Secretive though Paganini was—he rarely played his solo parts when rehearsing with an orchestra and generally used a mute when practicing in hotel rooms—he had no such secret. The most successful of his few students called him "probably the worst teacher of the violin who ever lived." [43] But he did have an assortment of unusual techniques, which musicians began to analyze shortly before he arrived in Paris. The violinist Karl Guhr, after attending several concerts given in Frankfurt by Paganini and playing quartets with him, published a careful study that was immediately translated into French, republished in Paris, and subjected to a detailed review by Fétis in the Revue musicale. In Guhr's judgment,
Paganini distinguishes himself from other violinists principally:

by the way in which he tunes his instrument;
by a bowing technique that is his alone;
by the mixture and the linking of tones produced with the bow and with left-hand pizzicato;
by his frequent use of harmonics, either double or simple;
by his execution on the G-string;
by his incredible tours de force. No living violinist dares to attempt as much as he does.
Guhr explained that sometimes Paganini tuned all four strings of the violin up a half-step, which facilitated the execution of certain difficult passages. For his G-string pieces, he often tuned that string up a minor third. Guhr felt that Paganini had so completely mastered his bow that he could play anywhere on it with any degree of force and for any note value. He also called attention to Paganini's "ricochet" style of playing staccato passages with amazing rapidity by bouncing his bow off the strings. Left-hand pizzicato was not new, Guhr pointed out, but an old technique that had been forgotten in France and Germany; the way in which Paganini revived it, however, employing it in conjunction with bow strokes, produced spectacular results. In order to generate harmonics, another old effect fallen into neglect, one pressed down lightly on a string, so as not to bring it into contact with the fingerboard, as when playing an ordinary note. Paganini could play what Guhr called "double artificial harmonics"—that is, with two fingers acting separately press down strongly on two strings, as in an ordinary double stop, and then with two more fingers acting separately press down lightly farther up the same two strings, to create the harmonics. He played whole passages in this manner. In explaining these tours de force, Guhr pointed out that "Paganini's hand is nothing less than large, but he has also learned, like pianists who from childhood exercise their hands in order to achieve a great extension, to stretch it to the point where he can embrace an interval of three octaves." [44]
Unlike musicians in other capitals, many of whom admired Paganini but remained uninfluenced, musicians in Paris responded to him by making his forte—technique—the basis of a revolution in performance that spread widely. Jolted out of an adolescent depression, the twenty-year-old Franz Liszt wrote to a friend:
It has been two weeks now that my mind and my fingers have been working like two damned souls.…Ah! provided that I don't go crazy, you will find me an artist! Yes, an artist, such as one expects, such as one must be today! "And I, I too am a painter," cried Michaelangelo the first time that he saw a masterpiece,…however poor and insignificant he may be, your friend hasn't ceased repeating to himself these words of the great man since the last performance of Paganini. René, what a man, what a violinist, what an artist![45]
The unknown twenty-two-year-old Norwegian violinist Ole Bull also heard Paganini play in Paris; thirty or forty years later, after a hugely successful career touring Europe and the United States, he wrote: "I have the whole scene before me as if it were today." Bull made it his goal to duplicate Paganini's mastery of the violin and then to develop his own style from there. After two or three more years of practice he played in the Opéra, the only violin soloist other than Paganini to have done so. After another year he performed Paganini's variations on
Nel cor non più mi sento
in London. The
Times
reported:
The air with variations is the first instance in which Ole Bull has challenged a direct comparison with Paganini, by playing a movement of his own composition every note of which, as delivered by that great master, is fresh in the recollection of the musical audiences of this metropolis. To say that he bore up manfully under the comparison is sterling praise and he deserves it. His arpeggio passages had less tone than Paganini, but were equal to him in neatness, rapidity and distinctness; and in his pizzicato, in alternate use of the bow and the finger, the difference of effect, if any, was extremely small.
The Norwegian violinist even did a few things, such as playing on all four strings at once, that his Italian predecessor had not done. As for the native French violinists and the neighboring Belgians who came to Paris to study, they were "quick to absorb and assimilate the technical advances of Paganini." Lafont, Habeneck, Alard, Léonard, Bériot, and Vieuxtemps all oriented or reoriented themselves in the direction of virtuosity.
[46]
Paganini gave twelve concerts in Paris in the spring of 1831, earning more than 165,000 francs, and then headed for Great Britain, giving several concerts in northern France on the way. In London, he created a furor once again. The Times called him "the greatest musical wonder, without question, of this or any previous age." After London, he made an extensive tour of the British Isles, including more than a hundred concerts, and returned to Paris for the spring of 1832. Over the next two-and-a-half years he made three more tours, the first through England and northern France, the second through England and Scotland, and the third through the Low Countries and England, with rests in Paris after each of them. Finally, in the fall of 1834, in poor health and thoroughly exhausted, Paganini decided to retire to a villa near Parma that a friend had found for him. He gave occasional concerts in northern Italy and directed for a few months the court orchestra of the Duchy of Parma. He honored the duchess, who had been Napoleon's second wife and the empress of France, with the composition of a G-string piece, the Sonata Maria Luisa. In 1837 he returned to Paris for the opening of the Casino Paganini.[47]
Paganini made and lost several fortunes in Paris. He spent one on a title of nobility. The seller was an obscure German princeling who, like many of his peers, had lost sovereignty over his statelet during the remappings of the Napoleonic era, and who consoled himself by squandering his patrimony in Europe's pleasure capital. The violinist had calling cards printed with the legend, and announced himself in the Moniteur universel as, "Baron Paganini." He found out only later that the princeling's loss of sovereignty also meant the loss of his authority to confer such honors. Paganini gave away another fortune to Hector Berlioz. In 1833 he introduced himself to Berlioz and requested the composition of a symphonic work that would allow him to display his talents on the viola, an instrument he had recently taken up. Berlioz wrote in his Mémoires:
I attempted, therefore, in order to please the illustrious virtuoso, to write a viola solo, but a solo combined with an orchestra in such a way as not to restrict the action of the instrumental mass, certain as I was that Paganini, by the incomparable force of his execution, would always be able to maintain for the viola the leading part. The proposition attracted me by its novelty, and soon I had an agreeable outline in mind, which I was eager to convert into a finished work. The first movement was barely written when Paganini wanted to see it. At the sight of the rests for the viola in the allegro, he cried, "That's not it! I am silent for too long there; I must be always playing." [48]
The two musicians do not seem to have spoken of the matter again, and Berlioz eventually turned the piece into a symphony,
Harold in Italy
(1834). When Paganini first heard it in Paris in 1838, he was so impressed that he gave the struggling composer twenty thousand francs. A third for-tune disappeared into the Casino Paganini. Some Parisian entrepreneurs persuaded the violinist to invest in a new gambling casino/music hall by promising to name it for him and by assuring him that it would attract large crowds if he periodically performed there. The casino opened in 1837, but it was grossly mismanaged and Paganini too ill to play. It collapsed in a tangle of lawsuits after a few months of operation and eventually cost Paganini, all told, more than a hundred thousand francs and much emotional distress. Some of the lawsuits were still not settled when he died in Nice in May 1840.
[49]
He nevertheless left a fortune of some two million lire, his villa in Parma, various other properties scattered around Europe, and probably the most valuable collection of musical instruments ever assembled by a private individual. It consisted of 15 violins, including 7 Stradivari, 4 Guarneri, and 2 Amati; 4 cellos, including 2 Stradivari and a Guarneri; 2 Stradivari violas; and a guitar.[50]
He also left a famous name: There is a Paganini Quartet of instruments, four of his Stradivari now owned by the Library of Congress in Washington, D.C.; a Quartetto Paganini of people, four string players based in Genoa who perform and record his chamber music; an Istituto di Studi Paganiniani in Genoa; and a street named after him in Paris. Far better known today than Farinelli, he was one of the first European musicians to achieve immortality through performance rather than composition. The only pieces of Paganini's that have found a place in today's concert repertoire are his Concerto no. 1 and several of the 24 capricci. He lived in an age of great composing, and his musical judgment was sound. He was an early advocate of Beethoven, his senior by twelve years, and one of the first to recognize the genius of Berlioz, his junior by twenty-one years. In private, with friends in Italy or with musicians in the towns he visited on his tours, he loved to play Beethoven string quartets. He also composed quite a few quartets of his own. But in concert he played only his own pieces and only those pieces of his in which he could perform as soloist.
Who benefited more from Paganini's celebrity, the bearer of it or the public that did so much to create and shape it? Who was more responsible for his performance of inferior music? This lifelong celibate had two great loves: playing the violin and his son. He took great care with Achille's upbringing and left most of his huge fortune to him. And he vowed: "I know what is involved in being a violin virtuoso. So long as I live, my son will never pick up a violin." [51]