Cupressaceae (Cypress Family)
Utah Juniper,Juniperus osteosperma (Torr.) Little. (Fig. 5.8a ). Small tree, usually 6–20 ft (2–6 m) in height, although larger individuals occur; usually one stem at base, dividing to four to eight stems above 3 ft (1 m); gray-brown bark, weathering ash white; leaves mostly in threes (ternate), with "hidden" glands (imbedded in mesophyll with overlying layers obscuring their presence), 0.1 in (2–3 mm) long; male cones 0.1–0.2 in (3.5–4.5 mm) long; female cones ("berries") 0.3–0.4 in (7–9 mm) long, red to reddish brown, with sweet, dry pulp; seeds 0.04 in (1 mm) long usually one per cone with four cotyledons per embryo; usually monoecious.
Distribution. An important codominant of the Pinyon-juniper Woodland (here and in the Great Basin as a whole), Utah Juniper ranges from 6,850 to 10,335 ft (2,085 to 3,150 m) and is occasionally associated with Limber and Bristlecone pines. Well developed on alluvium, as at junction of Westgard Pass and White Mountain roads (Cedar Flats).
Juniper trees of short stature and shrublike appearance are commonly seen in lower montane woodlands in western North America. Although the species vary geographi-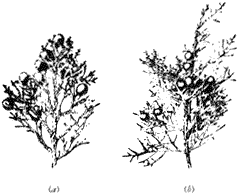 [
Full Size
]
---
cally (with J. scopulorum Sarg. in the Rocky Mountains, J. monosperma (Engelm.) Sarg. throughout the southern Rocky Mountains and the Southwest, J. california (California Juniper) common along the California desert margins, etc.), the physiognomy of the vegetation is similar, with the understory as open in appearance as the tree canopy.
Although Utah Juniper appears to prefer deep alluvial soils in the White-Inyo Range, it occurs on rocky volcanic outcrops, on steep slopes covered by colluvial deposits, and on most other substrates. Changes in its geographical range over the last several thousand years have been documented using plant macrofossils from woodrat middens (Elliot-Fisk, 1986; Jennings, 1988).
Western (Sierra) Juniper,Juniperus occidentalisHook ssp.australis Vasek. (Fig. 5.8b ) 15–50 ft (5–15 m) in height, locally contorted or depressed (stunted); one well-defined trunk; reddish brown to brown, shreddy bark; spreading branches; leaves mostly ternate (in threes), gray-green, each with a conspicuous gland that secretes a whitish, sticky substance, 0.1 in (3 mm) long; male cones ca. 0.15 in (3.5–4 mm) long; female cones ("berries") ca. 0.3 in (7–8 mm) long, blue-black at maturity, with resinous pulp; seeds ca. 0.2 in (5–6 mm) long, one or, more commonly, two per cone, with two to three cotyledons per embryo; primarily dioecious.
Distribution. Rare in the White-Inyo Range, with individuals reported between 9,050 and 10,570 ft (2,760 and 3,220 m) at the upper Pinyon-juniper and lower Bristlecone-Limber pines woodland transition in the central eastern canyons of the White Mountains (east Cottonwood and Crooked Creek areas) and the upper eastern slopes of the Inyo Mountains (Seephole Trail Springs and New York Butte).
Western Juniper is a spectacular tree commonly seen on rocky outcrops in the montane forest of the Sierra Nevada, especially on granitic substrates. Although its geographical range in the White-Inyo Range is not well documented, a large stand of several hundred trees exists in the eastern Cottonwood Creek drainage on glacially sculpted and jointed quartz monzonite outcrops (Elliott-Fisk, 1986; Elliott-Fisk and Ryerson, 1988; Jennings et al., 1988). One problem hindering its identification is its possible hybridization with Utah Juniper. Trees of apparently hybrid origin occur at the head of San Lucas Canyon in the Inyo Mountains and at the northern end of the White Mountains (Vasek, 1966).