Pinaceae (Pine Family)
Pinyon Pine,Pinus monophyllaTorr. & Frém . (Fig. 5.7a ) 10–33 ft (3–10 m) in height; locally multiple-stemmed above base; bark gray to dark brown (as tree ages), with narrow, flat ridges and thin scales; one needle per fascicle, rigid, incurved, sharp, gray-green, 1–1.6 in (2.5–4 cm) long; male catkins 0.2 in (5–6 mm) long; female cones initially sticky, bright green, concentrated on upper branches, 2–4 in (5–10 cm) in length, broadly spherical to globose, opening widely after seeds ripen,
---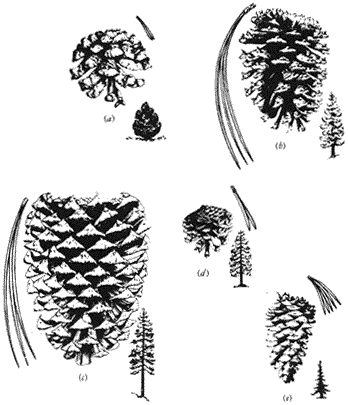 [
Full Size
]
turning shiny russet brown, scales thickening at outer edge; large seeds to 0.8 in (20 mm) in length with short wings, dispersed in autumn.
Distribution. Common in Pinyon-juniper Woodland on all aspects and topography from 5,900 to 9,500 ft (1,800 to 2,900 m) throughout range; well-developed stands may be seen along the Westgard Pass Road in the Cedar Flat area and on the White Mountain Road on the way to Sierra Vista.
Pinyon Pines are the dominant trees in all of the lower woodlands of the Great Basin, Mojave Desert, and Colorado Plateau. The Two-needled Pinyon (Pinus edulis Engelm.) occasionally hybridizes with the Single-needled Pinyon (P. monophylla ) where their ranges overlap. Single-needled Pinyon Pine has a wide range of environmental tolerance and can persist on severe sites, where individuals may live to be at least several hundred years old, displaying erratic growth patterns. It may occur in association with various juniper and pine species in the White-Inyo Range, including Bristlecone Pine on granitic substrates.
---
The seeds (commonly referred to as nuts) of the Pinyon Pine tree have been not only a valuable food resource for native American populations but are collected by various birds and rodents. In fact, animals are a valuable dispersal agent for the tree's seeds. For an excellent treatment of the tree's ecology and use, see Lanner and Lanner (1981).
Ponderosa (Yellow) Pine,Pinus ponderosaDougl. ex P. & C. Lawson. (Fig. 5.7b ) 30–80 ft (10–25 m) in height; typically straight trunk; crown occasionally conical to spreading with spike tops on older trees; bark thick (up to 4 in [10 cm] on oldest trees), yellow-brown to pink with broad plates and shallow furrows, inner surface yellow, resinous odor; young green branchlets, turning brown with age; three needles per fascicle, yellow-green, 4.5–7 in (12–18 cm) long, tufted, rows of stomates largely indistinguishable; male catkins 1 in (2–3 cm) long, clustered; female cones terminal to subterminal, typically 2.8–5 in (7–13 cm) in length, outturned prickles on needle scales, young cones green, yellow-brown to russett brown with age, oval; seeds about 0.2 in (5–6 mm) in length with long, narrow wings.
Distribution. Rare, occurring in isolated relict patches on west slope of the White Mountains from 6,800 to 7,550 ft (2,085 to 2,300 m) in Lone Tree Creek and Jeffrey Mine Canyon; best developed on north-facing slopes.
Although Ponderosa Pine is perhaps the most common and widespread conifer in the western United States, its distribution in the White-Inyo Range is very restricted, most likely as a consequence of aridity, because the range is situated in the rain shadow of the Sierra Nevada. The isolated stands on the west slope of the White Mountains could represent relicts from a montane forest that might have existed in the range prior to major uplift of the Sierra Nevada.
Trees in the Ponderosa Pine stands occur on steep slopes and are widely spaced, attesting to the severe competition for water. Single-needled Pinyon Pine and Jeffrey Pine, other xerophytic conifers, occur as associates.
Jeffrey Pine,Pinus jeffreyiGrev. & Balf. (Fig. 5.7c ) 30–80 ft (10–25 m) in height; thick, straight trunk; crown spreading but symmetrical, branches widely spaced, thickening with age; bark thick, reddish brown (darker than Ponderosa Pine), deep furrows with typically narrow plates, inner surface pink to brown, vanilla odor; three needles per fascicle, blue-green, 4.5–7 in (12–18 cm) long, visible rows of stomates; male catkins 1 in (2–3 cm) long; female cones subterminal, 4.5–6 in (12–15 cm) in length, inturned prickles on needle scales, young cones purple, turning russet brown when ripe, long oval; seeds 3–4.5 in (8–12 cm) long, with wings 1 in (2–3 cm) in length.
Distribution. Rare, known only from Jeffrey Mine Canyon, although individuals may also be present in nearby canyons along the western slope of the White Mountains; elevational range 6,775–7,710 ft (2,065–2,350 m); best developed on perched alluvial fan deposits.
---
Jeffrey Pine is commonly the dominant and largest tree in the lower montane forest of the eastern Sierra Nevada. The Jeffrey Pine community of the western White Mountains is probably a relict of a former montane forest in the range (as may be the case for Ponderosa Pine). The stand at the apex of the Jeffrey Mine Canyon alluvial fan is composed of individuals of all ages, with the oldest perhaps 600 to 800 years old. Trees are widely spaced (forming an open woodland), as seen elsewhere in more arid parts of their range.
A few Pinus ponderosa × P. jeffreyi hybrids appear to be present here, although confirmation is not yet complete. The two species do hybridize elsewhere in California (Haller, 1962).
Lodgepole Pine,Pinus murrayanaGrev. & Balf. (Fig. 5.7d ) 50–80 ft (15–25 m) in height; trunk straight, widening at base; open crown with heavy branching, particularly with age (and the concurrent development of a spiked top); bark relatively thin with small, thin scales, light gray-brown; two needles per fascicle, bright green, 1.2–2 in (3–5 cm) long, densely clothing branches; male catkins to 0.3 in (8 mm) in length; female cones clustered, commonly subterminal, ovoid, semiserotinous, 1.2–2 in (3–5 cm) long, slender (semi-deciduous) prickles, purple-green when young, turning clay-brown when ripe; seeds to 0.2 in (4 mm) in length with long wings.
Distribution. Although Lodgepole Pine has been reported from several sites in the White Mountains (Lloyd and Mitchell, 1973), it has been collected (verified) only from Cabin Creek and adjacent Chiatovich Flats and the Middle Creek cirque. The well-developed stand along Cabin Creek occurs at about 10,000 ft (3,050 m) on early Quaternary alluvial and outwash deposits derived from metavolcanic material. Scattered, rare individuals may occur elsewhere on both the western and eastern slopes of the White Mountains.
Lodgepole Pine has a wide range throughout the mountains of western North America, occurring even near the Arctic treeline in the Yukon Territory. The taxon has now, however, been divided into separate species (which were originally all classified as Pinus contorta Dougl.), with Pinus murrayana largely restricted to the Pacific coastal region.
Although Lodgepole Pine has a wide tolerance range, commonly occurring from the upper to lower montane treelines and in wet as well as dry sites, its existence in the White Mountains is very marginal. As with Ponderosa and Jeffrey pines, Lodgepole Pine is probably relictual in nature. Soil moisture retention is greater on these older alluvial and glacially derived soils — a possible explanation for the restriction of the main population to the Cabin Creek site. The trees here are some of the most massive in California and may be up to 1,000 years in age.
Limber Pine,Pinus flexilisJames. (Fig. 5.7e ) 30–50 (rarely 65) ft (10–15 [rarely 20] m) in height; trunk straight to contorted with age and increasing environmental severity, wide at base; symmetrical to broadening crown with age; young trees with silvery gray, smooth bark, turning into broken plates with thin scales with age; five
---
needles per fascicle, dark green, stiff and erect, with visible rows of stomates, 1–2.8 in (2.5–7 cm) long, in dense tufts at ends of branches; male catkins red, up to 0.4 in (1 cm) long; female cones subcylindric, 4–7 in (10–18 cm) long, without prickles, scales thickened and incurved, green to yellow-brown when ripe; seeds dark brown, about 0.4 in (1 cm) long with narrow wings.
Distribution. Most commonly present as a codominant with Pinus longaeva , forming a subalpine woodland between 10,000 and 11,500 ft (3,050 and 3,500 m), although individuals extend down to 6,850 ft (2,085 m) in isolated canyons (such as Lone Tree Creek) and thus can occur in association with most of the other tree species in the range. Several vigorous stands occur along White Mountain Road between the Schulman and Patriarch groves.
Limber Pine is perhaps the most widely distributed tree in the White-Inyo Range. It grows on all substrates and is especially important in forming the subalpine woodland on granitic soils, although Pinus longaeva commonly forms the alpine treeline proper. Although the species prefers mesic sites, it occurs in xeric habitats, where it reaches its maximum age. Though not as long-lived as Pinus longaeva , the species displays basically the same growth pattern (as it too is a five-needled pine) and so is similar dendrochronologically.
The relatively large seeds of Limber Pine are a food resource for birds and small mammals; they may have also been used by native Americans inhabiting high summer camps in the White Mountains.
Bristlecone Pine,Pinus longaevaD. K. Bailey. Typically 15–50 ft (5–15 m) in height; trunk commonly thick and contorted or split, but straight when young; very stressed trees may have large, spreading crowns almost shrubby in appearance; old trees commonly spike-topped, with strip-bark growth; relatively thin, reddish to dark brown bark with flat, irregular ridges; five needles per fascicle, slender, 1–1.5 in (2.5–3.5 cm) long, with characteristic bristle-like appearance on branches; male catkins about 0.4 in (1 cm) long, red-purple; female cones ovoid, dark purple to brown when ripe, 2.8–3.5 in (7–9 cm) long, slender, incurved prickles; seeds about 0.3 in (8 mm) long, with wings up to twice the length of seeds, light brown.
Distribution. Common in the subalpine from 10,000 to 11,650 ft (3,050 to 3,550 m), occasionally extending down to 8,500 ft (2,600 m), forming a mixed Pinyon Pine-Bristlecone Pine Woodland. Best developed and dominant on dolomite and limestone, especially along the southern half of the White Mountain summit surface. Occurs on outcrops of Reed Dolomite along White Mountain Road in and between Schulman and Patriarch groves.
The White Mountains are better known for their Bristlecone Pines than for any other natural feature. The science of dendrochronology (tree-ring dating) has advanced through work on the White Mountains' Bristlecone Pines (Ferguson, 1968, 1970). Trees over 4,500 years old have been dated, with their growth-ring sequences matched to those of dead individuals whose existence overlapped in time. To date, a yearly chronology has been developed to 6,700 B.C. , giving a detailed record of postglacial
---
climatic change and radiocarbon fluctuation in the atmosphere (Ferguson and Graybill, 1983). The Bristlecone Pine tree-ring chronology is an extremely important dating tool for natural scientists (Suess, 1970).
As one walks through the Bristlecone Pine Woodlands, many fallen, dead individuals are seen (which is not unusual for any forest/woodland where fire frequency is low). Perhaps it is more surprising to see these same types of specimens outside of the distribution of the living trees. Scientists have used dead Bristlecone and Limber pines to infer shifts in the upper and lower treelines (LaMarche, 1973). This is another valuable tool for the reconstruction of climatic (environmental) change.