Subalpine Zone (9,500–11,500 ft, 2,896–3,505 m)
The Subalpine Zone (Fig. 4.3) consists of a patchy mosaic of sagebrush and open forest. The discontinuous nature of this vegetation is due largely to differing soil type. On sandstone and granitic soils, sagebrush (Artemisia spp.) is dominant. Where the soil is white, indicating a dolomite substrate, Bristlecone Pine (Pinus longaeva ) predominates.
Limber Pine (Pinus flexilis ) occurs with Bristlecone Pine or forms pure stands. Other conifers, such as Lodgepole Pines (Pinus murrayana ) and Ponderosa Pine (P. ponderosa ), are rare.
Forests of Quaking Aspen (Populus tremuloides ) occur in moist areas, particularly on the east side of the range. On dry slopes at lower elevations, pure stands of Mountain Mahogany (Cercocarpus ledifolius ) are common.
---
One of the most striking features of the White-Inyo Range is the gnarled, beautifully sculptured Bristlecone Pines. These trees are known to live up to 5,000 years and are commonly considered to be the world's oldest living organisms. Some of the trees that are alive today were young plants when the great pyramids of Egypt were constructed and were mature trees at the time of Christ.
Many of the oldest known Bristlecone Pines grow in the Schulman Grove of the White Mountains at an elevation of about 10,000 ft (3,050 m). Here one can take a self-guided nature trail to Pine Alpha, a 4,300-year-old tree that continues to produce fertile seeds. Pine Alpha derives its name from the first letter of the Greek alphabet because it was the first Bristlecone Pine determined to be more than 4,000 years old. The oldest known living tree, aptly named the Methuselah, is still growing vigorously in the Schulman Grove after more than 4,600 years. One older tree, estimated to be approximately 5,000 years old, grew on Wheeler Peak in Nevada before it was accidentally felled.
Many of the older Bristlecone Pines consist of one or two leafy branches with a narrow strip of living bark running through an otherwise dead trunk. Pine Alpha, for example, has a trunk nearly 4 ft (1.2 m) in diameter with only a 10 in (25 cm)-wide strip of living tissue. Hence, only a small amount of living tissue is necessary to keep a Bristlecone Pine alive.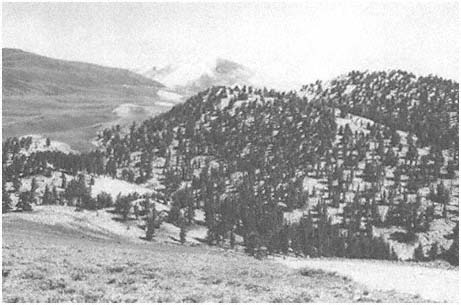 [
Full Size
]
---
Bristlecone Pines grow slowly, commonly less than 1 in (2.54 cm) in diameter every 100 years. The wood of these slow-growing trees is very dense and highly resinous and is therefore relatively resistant to the insect, fungal, and bacterial organisms that attack most other trees. The extremely dry air also helps prevent rotting. Because of their unusually slow decomposition rate, Bristlecone Pines can remain standing long after they have died, and fallen trees thousands of years old dot the landscape.
The oldest Bristlecone Pines commonly grow in the harshest areas — low-elevation, south-facing slopes with thin dolomitic soils. On these extremely dry, nutrient-poor sites, Bristlecone Pines grow especially slowly. Trees growing in more favorable areas do not live as long because their more rapid growth results in a less dense, less resinous wood that is more susceptible to disease and decay. Therefore, the harsh environment and slow growth rate of Bristlecone Pines actually contribute to their remarkable longevity.