Pinyon-Juniper Woodland Zone (6,500–9,500 ft, 1,981–2,896 m)
The vegetation of the Pinyon-Juniper Woodland zone (Fig. 4.2) derives its name from codominant trees, the Pinyon Pine (Pinus monophylla ) and the Utah Juniper (Juniperus osteosperma ). From a distance, these two tree species look very similar. Up close, however, they are easily distinguished, as Pinyon Pines have gray-green needle-like leaves and woody seed-bearing cones, whereas junipers have yellow-green scale-like leaves and fruitlike berries.
Like many trees in arid environments, Pinyon Pines and Utah Junipers grow slowly. Mature trees are rarely more than 20 ft (6.1 m) tall, and because trees tend to be widely spaced, this community is called a woodland rather than a forest.
Pinyon Pines commonly occur on shallow-soiled, rocky hillsides and mesas, where their deep-spreading roots probe for underground water. Utah Junipers occur on a variety of substrates, including rocky and deep alluvial soils. In moister areas, such as north-facing slopes, trees are taller and more crowded, and the vegetation resembles a dwarfed forest rather than a woodland. In drier areas, trees are commonly absent, and shrubs form the dominant cover.
Important shrubs in the Pinyon-Jumper Woodland include broom and Great Basin Sagebrush (Artemisia nova and A. tridentata ), Bitterbrush (Purshia tridentata and P.
---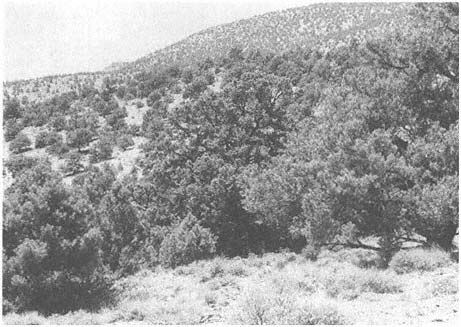 [
Full Size
]
glandulosa ), Green Ephedra (Ephedra viridis ), and Curly Rabbitbrush (Chrysothamnus viscidiflorus ssp. viscidiflorus ). In late summer and fall, the golden flowers and silver gray-green foliage of Curly Rabbitbrush is particularly striking along roadsides in both the Pinyon Woodland and Desert Scrub zones.