Desert Scrub Zone (4,000–6,500 ft, 1,219–1,981 m)
A shrub-dominant vegetation covers the valley floors and mountainsides of the White-Inyo Range up to elevations of approximately 6,500 ft (1,980 m) (Fig. 4.1). The vegetation is remarkably uniform in appearance, even though many different species are present. The dominant shrubs are generally less than 3 ft (0.9 m) tall, grayish, small-leaved, and small-flowered.
The most common species is Shadscale (Atriplex confertifolia ), an erect, stiffly branched, spiny shrub with round, crowded deciduous leaves that resemble fish scales. Shadscale commonly occurs on heavy alkaline (pH 8–10) and saline soils locally underlain with a hardpan. At higher elevations, sagebrush (Artemisia spp.) becomes dominant. Other important shrubs include Creosote Bush (Larrea tridentata ), Nevada Ephedra (Ephedra nevadensis ), Rabbitbrush (Chrysothamnus nauseosus ), and Spiny Hopsage (Grayia spinosa ).
At least seven species of sagebrush (Artemisia ) occur in the White-Inyo Range. These aromatic shrubs or herbs with lobed silvery gray-green leaves form a dominant part of the vegetation from the desert floor to the alpine desert. In the Desert Scrub zone, both Bud Sagebrush (Artemisia spinescens ) and Basin Sagebrush (A. tridentata ) are common.
The primary factor preventing tree growth in the Desert Scrub vegetation is the small amount of rainfall (less than 10 in, or 25.4 cm per year). The stress imposed by scanty precipitation is intensified by high summer and low winter temperatures, strong winds, and shallow soils. The wide spacing between shrubs probably reflects intense root competition for soil moisture or a phenomenon known as allelopathy, whereby plants produce chemical substances that inhibit the growth of other plants.
Perennial and annual herbs commonly occur in open areas between shrubs. Among the more conspicuous perennial herbs are penstemons (Penstemon ssp.), the Large White Evening Primrose (Oenothera caespitosa ssp. marginata ), Wishbone Bush (Mirabilis bigelovii ), and various grasses. Showy displays by annuals such as Little Blazing Star (Mentzelia albicaulis ), Wilcox Woolly Star (Eriastrum sparsiflorum var. wilcoxii ), and Chia (Salvia columbariae ) are restricted to favorably moist years.
The vegetation of washes and springs differs dramatically from that of surrounding areas. For example, trees such as Black Cottonwood (Populus trichocarpa ) and Yellow Willow (Salix lutea ) occur in areas where there is a permanent source of water.
Plant zones are based on Mooney's treatment in Lloyd, R. M., and R. S. Mitchell 1973. A flora of the White Mountains, California and Nevada . University of California Press, Los Angeles.
---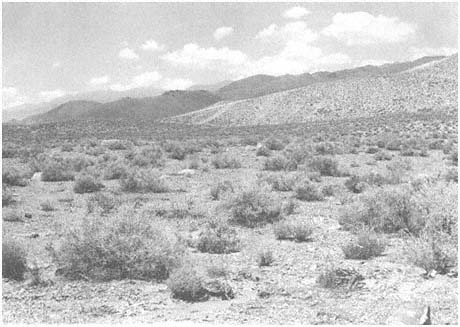 [
Full Size
]