Icterinae (Blackbirds, Orioles, and Allies)
Brewer's Blackbird,Euphagus cyanocephalus. (Plate 11.1) Male length 9 1/4 in (23.5 cm), female length 8 1/4 in (21 cm); male weight 2 5/8 oz (76 g), female weight 2 1/10 oz (59 g). Common summer visitant and local summer resident in the White-Inyo mountain region; recorded up to 9,500 ft (2,900 m) elevation.
This blackbird is a common resident in the vicinity of towns, ranches, and other centers of human activity. It nests in parks, hedgerows, windbreaks of ornamental trees, and riparian growth. In the White Mountains, the Brewer's Blackbird is most likely to be seen as a visitant near meadows and along streams. Wandering individuals may turn up in any kind of habitat and terrain, even at high elevations. References: La Rivers (1944), Williams (1952).
Brown-headed Cowbird,Molothrus ater . (Plate 11.1) Male length 6 3/4 in (17 cm), female length 6 1/4 in (15.75 cm); male weight 1 1/2 oz (41 g), female weight 1 3/10 oz (37 g). Fairly common summer resident in the White-Inyo Range; recorded from the lowland valleys up to 11,600 ft (3,540 m) elevation.
Being nest parasites with no fixed breeding territory, Brown-headed Cowbirds are most commonly seen on the move. The males wander widely when advertising for mates, stopping for several minutes in a treetop or on a power pole to display before departing. This display consists of a gurgling call uttered while the chest is expanded and the tail is spread. A similar liquid note given in flight usually announces the presence of this species. The Brown-headed Cowbird is typically recorded overhead in areas of Pinyon-juniper Woodland, riparian willows, and tall sagebrush. Streamside habitats are especially frequented; thus, the small birds of these environments suffer most from cowbird parasitism. Wandering birds commonly mingle with blackbirds around agricultural areas and pack stations, where they forage on the ground for insects, seeds, grass leaves, and gravel. They feed near piles of manure, prying it forward with their bills to uncover food items. Cowbirds drink water daily in arid regions. References: Scott and Ankney (1983), Verner and Ritter (1983).
Scott's Oriole,Icterus parisorum. (Fig. 11.63) Male length 7 1/2 in (19 cm), female length 7 1/4 in (18.5 cm); male weight 1 3/8 oz (38 g), female weight 1 1/2 oz (41 g). Summer resident in the White-Inyo Range; rare in the north, uncommon in the south.
This species occupies arid woodlands of pinyon, juniper, and, in the northern Mojave Desert, Joshua Tree. Because of their huge territories, the population densities of Scott's Orioles in the region are low. Males announce their positions with a far-reaching song of great beauty — rich, clear whistles reminiscent of the Western Meadowlark. Insect food is taken from the foliage of pinyon or yucca. Nests of these
---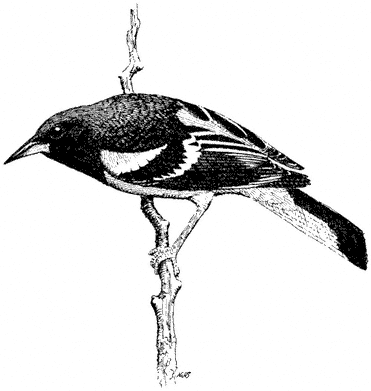 [
Full Size
]
northern populations are commonly built in pinyons; more southerly populations nest in Joshua trees. References: Marshall (1957), Weathers (1983).