Cardinalinae (Cardinals, Grosbeaks, and Allies)
Black-headed Grosbeak,Pheucticus melanocephalus. (Fig. 11.48) Male length 7 in (18 cm), female length 7 1/4 in (18.25 cm); male weight 1 1/2 oz (41 g), female weight 1 1/2 oz (44 g). Very common summer resident in the White-Inyo Range, between 6,750 and 8,900 ft (2,060 and 2,710 m).
---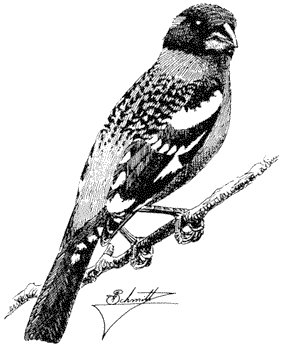 [
Full Size
]
This species is a characteristic mid-elevation bird of the region in diverse woodlands such as pinyon, aspen-willow, and Mountain Mahogany. Between approximately 7,000 and 8,000 ft (2,130 and 2,440 m) elevation, it is very prominent and is almost constantly within sight or sound. The male's rich, warbled song is so loud that it virtually drowns out the voices of most other singing birds in its neighborhood. Male Black-headed Grosbeaks even sing loudly from the nest as they cover the eggs during the absence of the female. Extensive edges and diverse plant mixtures are preferred, these providing the species with foliage insects, buds, and fruits for consumption. References: Weston (1947), Bent (1968).
Lazuli Bunting,Passerina amoena. (Fig. 11.49) Male length 5 in (12.75 cm), female length 4 9/10 in (12.5 cm); male weight 1/2 oz (14.7 g), female weight 1/2 oz (13.6 g). Fairly common summer resident in the White Mountains, recorded between 6,750 and 9,000 ft (2,060 and 2,740 m), but rare above 8,200 ft (2,500 m) except as a postbreeding vagrant.
Lazuli Buntings are restricted in the White Mountains to streamside thickets and are most common in the middle and lower reaches of canyons. Dense tangles of willows, Wild Rose, and Water Birch are chosen for both foraging and nesting, especially where the plant growth is mixed in terms of species composition and stature. The colorful male commonly sings from the tops of tall bushes or small
---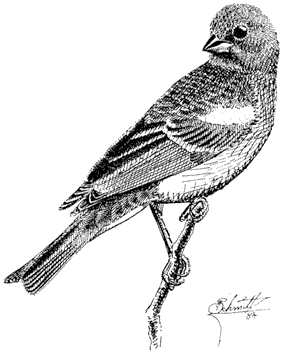 [
Full Size
]
trees. Occasionally, however, he ascends to the top of an aspen, pinyon, or other conifer and sings from 30 to 40 ft (9 to 12 m) above the ground. The song is characteristically variable, with phrases and short trills at different pitches and often in couplets. The closely related Indigo Bunting (P. cyanea ), with which the Lazuli Bunting is known to hybridize, has been expanding its range southwestward in recent years, and males have been recorded in the White-Inyo mountains. References: Emlen, Rising, and Thompson (1975); Thompson (1976).