Mimidae (Mockingbirds and Thrashers)
Sage Thrasher,Oreoscoptes montanus . (Fig. 11.40) Male length 7 7/8 in (20 cm), female length 7 7/10 in (19.5 cm); male weight 1 2/5 oz (40 g), female weight 1 1/2 oz (44 g). Present in both ranges during the spring and summer months, from approximately 6,000 to 11,000 ft (1,830 to 3,350 m) elevation in the White Mountains.
Although never numerous, Sage Thrashers are most common in the tall, dense sagebrush present on the alluvial fans in the northern White Mountains. Populations at high elevations, where the brush is of short stature, are sparse. In those areas, however, the birds typically seek out the scattered, thicker patches of brush and use the tallest available sages for both song posts and nest sites. This species inhabits no other plant assemblage in the region. Foraging concentrates on the ground between and below the shrubs, but insects in the foliage are also taken; preferred prey items include grasshoppers, cicadas, beetles, and other large species. The Sage Thrasher builds its bulky nest in a well-concealed position in the top of a sage bush. Four or five spotted blue eggs are laid. Males also sing their rich, warbled song from bush
---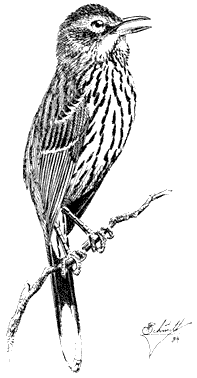 [
Full Size
]
tops and may commonly be heard across the open terrain for at least 0.5 mi (0.8 km). These birds can also be detected by their strong and direct flight just above the sagebrush tops. Reference: Reynolds and Rich (1978).