Muscicapidae (Muscicapids). Sylviinae (Kinglets and Gnatcatchers)
Ruby-crowned Kinglet,Regula calendula . (Fig. 11.36) Male length 4 in (10.25 cm), female length 4 in (10 cm); male weight 1/5 oz (6.2 g), female weight 1/5 oz (6 g). Relatively common summer resident locally in the White-Inyo Range; occurs between approximately 9,500 and 10,600 ft (2,900 and 3,230 m) elevation.
This species is most common in coniferous forest of Bristlecone, Limber, and Lodgepole pines. Aspen groves are visited occasionally. Foraging is concentrated on the terminal needle clusters at low to middle heights in the canopy. Here, this kinglet picks small insects from the foliage while nervously flicking its wings. Perches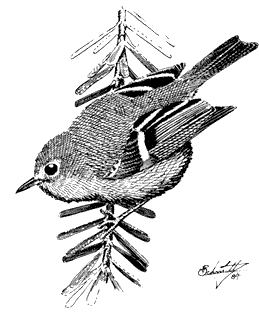 [
Full Size
]
---
are changed frequently. Occasional sorties after flying insects and hovering flights near foliage are additional common foraging maneuvers. References: Franzreb (1984), Grinnell and Storer (1924).
Blue-gray Gnatcatcher,Polioptila caerulea . (Fig. 11.37) Male length 4 1/4 in (10.75 cm), female length 4 in (10.5 cm); male weight 1/5 oz (5.4 g), female weight 1/5 oz (5.7 g). Common summer resident in the White-Inyo Range, from 5,100 to 9,400 ft (1,555 to 2,870 m).
Blue-gray Gnatcatchers frequent arid Oak Woodland and Chaparral throughout most of their breeding range west of the White-Inyo mountain region. However, in these desert mountains, the species switches to a more xeric habitat of Pinyon-juniper Woodland interspersed with sagebrush and, in some areas, Mountain Mahogany. Nearby streamside thickets of willows and tall sagebrush are used less commonly. Gnatcatchers are conspicuous where they occur, uttering a series of high, thin, wheezy notes while actively foraging among the dense foliage of trees and shrubs. Alighting momentarily on a branch, the bird quickly scans the area for food before flying to the next perch. Large insects are usually picked from leaves and twigs, but some may also be taken on the wing. Nests are small, compact cups attached to upright branch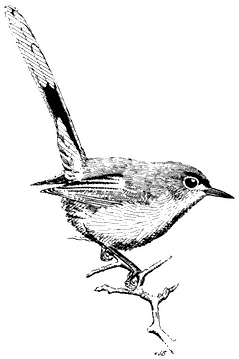 [
Full Size
]
---
forks in a tree or bush. Although sometimes placed in the open, they are nonetheless well hidden by virtue of their camouflaging outer material. Blue-gray Gnatcatchers respond readily to human squeaks and imitated owl calls. References: Root (1967), Root (1969).