Troglodytidae (Wrens)
Rock Wren,Salpinctus obsoletus. (Plate 11.3) Male length 5 in (13 cm), female length 5 in (12.75 cm); male weight 1/2 oz (15.1 g), female weight 3/5 oz (16 g). Common resident in the White-Inyo Range, from the base of the ranges to the summit of White Mountain Peak, at 14,246 ft (4,342 m).
---
Rock Wrens occur through an exceptionally wide elevational range in the region, on generally arid canyon slopes or flats wherever rocky outcrops or surfaces occur. They even persist in areas inhabited by few other species, such as the high-elevation, windswept wastes covered sparsely by low scrub, grass, and rocks. Insects are removed from rock crevices and exposed rock surfaces. This species also uses such crevices for nesting, although it may nest in tunnels in earth banks. Rock Wrens sing from prominent rocks, their buzzes and trills ringing and echoing across canyon walls. References: Kroodsma (1975), Weathers (1983).
Canyon Wren,Catherpes mexicanus. (Plate 11.3) Male length 5 in (12.5 cm), female length 4 3/4 in (12.25 cm); male weight 2/5 oz (10.8 g), female weight 3/8 oz (9.7 g). Rare to locally relatively common resident in the White-Inyo Range, with records between 5,100 and 7,400 ft (1,555 and 2,256 m).
Canyon Wrens occur as very widely scattered pairs in the region, their local presence dictated by the availability of either steep, rocky canyon walls, with shady overhangs near pools, or boulder piles with deep, shady crevices. The surrounding vegetation can be varied, ranging from brush or woods to open forest. Males announce their presence by a cascading series of clear, mournful whistles that reverberate through the habitat during the nesting period. The adults sneak through shady cracks among the boulders, apparently using their stark white throats to reflect light into the dark recesses, revealing prey of insects and spiders. Nests are also hidden in such crannies. Reference: Grinnell and Storer (1924).
Bewick's Wren,Thryomanes bewickii. (Fig. 11.33) Male length 4 3/4 in (12 cm), female length 4 3/4 in (12 cm); male weight 3/8 oz (9.3 g), female weight 3/8 oz (9.7 g). Common permanent resident in the White-Inyo Range; recorded from 6,750 to 9,500 ft (2,060 to 2,900 m).
This species frequents mountain slopes and canyons grown to Pinyon-juniper Woodland and mixed brush, especially sagebrush. Nearby Mountain Mahogany will occasionally be entered, but it is not preferred. There is some evidence for a partial winter exodus of the population into riparian willows at lower elevations in canyons and valleys. Bewick's Wrens are active near the ground, where they are commonly out of sight, but foraging birds visit the upper and outer foliage of pinyons and junipers. A variety of insects are gleaned from needle surfaces, twigs, and cracks in bark or trunks. The male sings from exposed perches 5 to 15 ft (1.5 to 4.6 m) above the ground. Members of a pair typically forage within several yards of each other. Nests are hidden in or near the ground in natural hollows or crannies in pinyons and junipers as well as in cavities or protected nooks in human-made structures such as cabins and woodpiles. References: Miller and Stebbins (1964), E. Miller (1941).
House Wren,Troglodytes aedon. (Fig. 11.34) Male length 4 1/2 in (11.5 cm), female length 4 2/5 in (11.25 cm); male weight 3/8 oz (9.8 g), female weight 2/5 oz (10.4 g). Common resident in the White Mountains; recorded from 6,750 to 9,950 ft (2,060 to 3,030 m).
---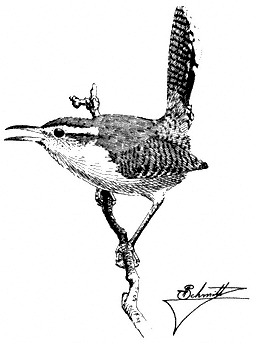 [
Full Size
]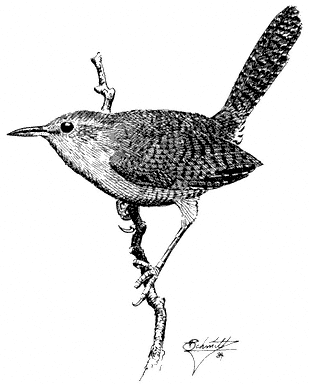 [
Full Size
]
---
House Wrens live in riparian settings, where they nest in natural cavities or in abandoned woodpecker holes in aspens. Preferred nest sites are commonly within 5 ft (1.5 m) of the ground. However, in areas of human settlement, they may also nest under the eaves or in cracks in walls of cabins. Foraging similarly takes place at low levels, in brush, willows, or other such growth around fallen trees and rocks. A diversity of insects, especially those of small size, make up their diet. The bubbling song of male House Wrens is a characteristic summer sound of the aspen zone in the range. References: Kendeigh (1941), Marshall (1957).