Sittidae (Nuthatches)
Red-breasted Nuthatch,Sitta canadensis . (Fig. 11.31) Male length 4 1/4 in (10.75 cm), female length 4 in (10.25 cm); male weight 2/5 oz (10.9 g), female weight 3/8 oz (10.3 g). Uncommon summer (permanent?) resident of the White Mountains; recorded from 8,900 to 9,500 ft (2,710 to 2,900 m).
This nuthatch occurs very sparingly and only in Subalpine Forest of Limber and Bristlecone pines. It is the least numerous of the three species of nuthatch that breed in the mountains. Red-breasted Nuthatches feed in the thickly foliaged tops of pines, where they can be extremely difficult to watch. They decoy readily, however, to imitated calls of small owls and will approach to within a few feet if one sits motionless next to a tree trunk. Like other nuthatches, this species excavates its own nest cavity in dead trunks or large limbs by digging vigorously with the bill. References: Anderson (1976), Kilham (1973).
White-breasted Nuthatch,Sitta carolinensis. (Plate 11.2) Male length 5 1/3 in (13.5 in), female length 5 1/4 in (13.25 cm); male weight 5/8 oz (16.6 g), female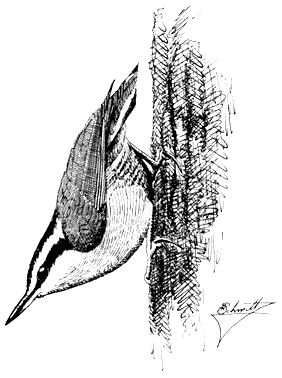 [
Full Size
]
---
weight 3/5 oz (16.3 g). Relatively common permanent resident in the White-Inyo Range, from 7,200 to 10,500 ft (2,200 to 3,200 m).
This species prefers relatively large Singleleaf Pinyon and Limber pines for foraging but will also use Bristlecone and Lodgepole pines to a lesser extent. An agile climber, the White-breasted Nuthatch ascends, descends, and circles large limbs and trunks in search of insects. Most prey is taken from the bark and from bark fissures. However, they also retrieve insects from deeper inside the wood by woodpeckerlike pounding and digging with their bills. Occasionally, this species drops to the ground to secure fallen items. During the breeding season, pairs of White-breasted nuthatches are widely spaced through the coniferous forest. At other times, they may join other nuthatches and insect-eating species in loose foraging groups. Like the Red-breasted and Pygmy nuthatches, the White-breasted Nuthatch nests in cavities in dead pine or aspen trees. References: Kilham (1972), McEllin (1979).
Pygmy Nuthatch,Sitta pygmaea. (Plate 11.4) Male length 4 in (10.25 cm), female length 4 in (10.25 cm); male weight 4/10 oz (10.1 g), female weight 3/8 oz (10.8 g). Relatively common resident in the White and northern Inyo mountains, between 9,500 and 10,500 ft (2,900 and 3,200 m).
The Pygmy Nuthatch typically inhabits Ponderosa Pines and other Yellow Pine associations throughout most of its range. In the White Mountains, in contrast, where Yellow Pines are virtually absent, it occurs almost exclusively in Bristlecone Pines. Aspen stands may be surveyed infrequently for possible nest sites, but the Bristlecone Pines largely fulfill requirements for food, nesting, and roosting. Pygmy Nuthatches feed on both plant and animal matter. Through the year, the bulk of their diet is composed of pine seeds, but insects predominate during the warmer months. Unlike the Red-breasted and White-breasted nuthatches, these small birds prefer to forage at upper levels in the pines, on the smallest, outermost twigs and needle clusters; trunks and large limbs are usually avoided. This species commonly forages in groups. Occasional individuals dart out after flying insects. The Pygmy Nuthatch uses its bill to dislodge insects from crevices in bark and also to wedge pine seeds into fissures before cracking them open. Some seeds are also stored in such crevices. Nest and roost sites are in tree cavities that they or other species excavate. Occasionally, several birds in addition to the nesting pair may assist in the digging. Some nests may also be shared by three nuthatches instead of two, the third individual typically being an unmated male helper. This species is gregarious when roosting in cavities. This occurs year-round, from before sunset to well after sunrise. Reference: Norris (1958).