Aegithalidae (Long-tailed Tits and Bushtits)
Bushtit,Psaltriparus minimus. (Fig. 11.30) Male length 4 1/3 in (11 cm), female length 4 1/4 in (10.75 cm); male weight 1/5 oz (5.5 g), female weight 1/5 oz (6.1 g). Fairly common resident in the White-Inyo Range, from 6,750 to 8,200 ft (2,060 to 2,500 m).
Despite their small size, Bushtits are conspicuous in the summer as they forage in areas of pinyon-juniper intermixed with sagebrush and Mountain Mahogany. Streamside willow thickets are also inhabited. During the breeding season, in early spring, pairs are generally quiet and fairly shy. By June, however, they join other Bushtits to form tight flocks commonly comprising 20 or more individuals. Such flocks move widely through tree canopies and tracts of tall brush, following lead birds from one foraging site to another while constantly conversing in soft, twittery notes. Small insects and some vegetable matter are eaten as the birds forage among outer leaves and twigs in an acrobatic manner, moving with agility in the fine foliage. The Bushtit nest is an elongated pouch woven from fine plant materials and usually suspended from the end of a pinyon bough. References: Ervin (1977), Marshall (1957).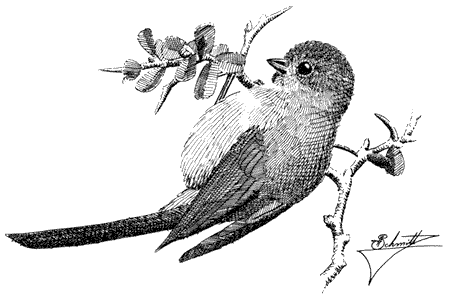 [
Full Size
]
---