Paridae (Titmice)
Mountain Chickadee,Parus gambeli. (Plate 11.4) Male length 5 in (12.5 cm), female length 5 in (12.5 cm); male weight 2/5 oz (11.4 g), female weight 3/8 oz (10.7 g). Very common resident in the White-Inyo Range, from 6,750 to 10,500 ft (2,057 to 3,200 m).
This species is most at home in the coniferous forests of Limber Pine, Bristlecone Pine, and Lodgepole Pine occurring above 8,900 ft (2,710 m). However, it also uses lower-elevation habitats of pinyon woodland and streamside thickets of willow-rose-birch, particularly during the nonbreeding season. Nesting activities are concentrated in small cavities in dead conifers or aspen snags. The species forages in the lower foliage layers, where it takes caterpillars and various insects from needle clusters,
---
twigs, and small branches. When the birds are not breeding, they are gregarious and forage in flocks, either with other chickadees or in mixed groups with nuthatches, creepers, and other small insect-eating species. Mountain Chickadees utter a plaintive series of whistles, teeee-tee-tee , with the first note on a higher pitch and all three or four notes given in a minor key. This vocalization is a common sound in the White Mountains, especially early in the nesting period, and functions in territorial defense. The species also has a variety of buzzy and sputtering calls. References: Dixon (1965), Grinnell and Storer (1924).
Plain Titmouse,Parus inornatus. (Fig. 11.29) Male length 5 in (13 cm), female length 5 1/4 in (13.25 cm); male weight 5/8 oz (16.3 g), female weight 1/2 oz (15.4 g). Uncommon permanent resident in the White-Inyo Range; occurs from 7,200 to 7,900 ft (2,200 to 2,410 m).
This species is distributed sparsely through the warm, arid portion of mixed Pinyon-juniper Woodland; cool tracts of pure pinyon on northeast slopes are usually avoided. Plain Titmice favor open groves with at least some large, old trees that offer substantial limbs and trunks containing rotted cavities for nest placement. They hop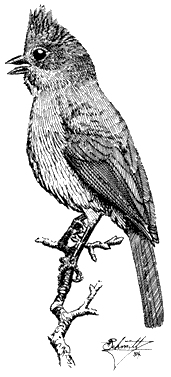 [
Full Size
]
---
leisurely on large branches and twigs while searching the foliage for adult insects and caterpillars. Pinyon seeds are pounded open with the stout bill. The species commonly delivers a clear, ringing pee-two, pee-two, pee-two song while foraging. References: Dixon (1949); Johnson, Bryant, and Miller (1948).