Erosion
Erosion, the second geomorphic process, is the removal of weathered material from a slope. In order for material to be removed from a slope, its initial inertia must be overcome by the mass and momentum of the erosional agent. Erosional agents include running water (streams, rivers, sheetflow, soil water, and groundwater), glacier ice, ground ice, waves, tides and currents, wind, gravity, and organisms (especially humans). Geomorphic agents are linked to climate because some of them occur only in particular climatic settings, and their relative importance varies with the climate of an area. Waves, tides, and currents are obviously limited to water bodies, and gravity is common to all slopes, regardless of climatic setting. However, running water, glacier ice, ground ice, wind, and organisms (to some degree) vary with climate. All of these terrestrial geomorphic agents have operated in the White-Inyo Range during recent geologic time.
It is possible to reconstruct climatic events of the recent or distant past by studying landforms. Beaty (1963, 1968, 1970, and 1974) has worked for many years on determining the role that debris flows play in the development of alluvial fans flanking the White Mountains (Fig. 2.2). Debris flows are triggered by intense summer thunderstorms or very rapid snowmelt, where a large amount of weathered material is catastrophically eroded, transported down valley, and deposited at the valley floor on the alluvial fan. Debris flows and other deposits that result from flooding can be devastating on the landscape below, especially if it is inhabited, so these events are regarded as natural hazards. By mapping and dating debris flows, one may be able to calculate the periodicity of the events (with changes in frequency and magnitude of the flows an indication of climatic change) and use this information to estimate the probability of their recurrence.
Another erosional agent that has left its mark on the eastern slope of the White Mountains is the glacier (Fig. 2.3). A glacier is a moving body of ice; ice actually flows through a glacier much as water slowly flows down a stream channel. The moving ice can erode and transport materials, later depositing them down gradient (e.g., down valley). A series of valley glaciers formed south to north from Wyman Creek to Trail Creek along the eastern slope of the White Mountains, on high plateaus along the crest, and in the upper reaches of a few of the western drainages (Elliott-
---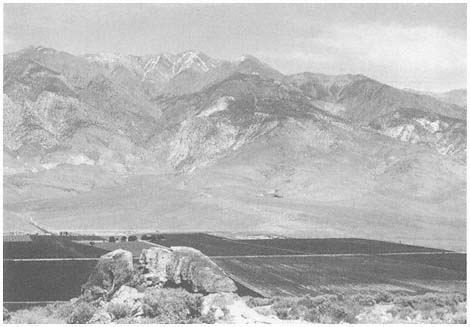 [
Full Size
]
Fisk, 1987). Studies of glacial landforms (Elliott-Fisk, 1987; Elliott-Fisk and Dorn, 1987; Swanson et al., 1988) show at least six stages of Quaternary glaciation that correlate with the glaciations of the Sierra Nevada and also provide more detailed information on the glacial history of the region. One can reconstruct climate during these glacial events using several techniques, perhaps most directly by mapping the glacial deposits, reconstructing the glacier that deposited them, and then determining the climatic conditions necessary to form such a glacier.