Alaudidae (Larks)
Horned Lark, Eremophila alpestris . (Fig. 11.24) Male length 6 1/4 in (16 cm), female length 6 in (15 cm); male weight 1 oz (29.2 g), female weight 9/10 oz (26.5 g). Locally common summer resident in the White-Inyo Range. Occurs in two separate elevational belts: from the valley floors to 8,000 ft (2,440 m), and from 10,000 ft (3,050 m) to the summit of the White Mountains (14,246 ft or 4,340 m).
The Horned Lark nests over the widest elevational span of any bird species in the region. Because it prefers open and flat or gently sloping terrain, its local distribution is sharply divided into two main parts: lower valleys and flats covered with brush, up to 8,000 ft (2,440 m); and rolling upper sagebrush steppes and alpine fell-fields above timberline, from approximately 10,000 ft (3,050 m) to the highest peaks. This species is most at home in the skimpy grass, herbs, and rocks of windswept wastes,
---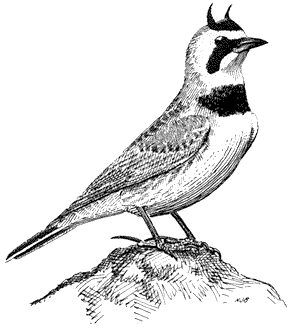 [
Full Size
]
where all nesting and foraging activities take place. Grass seeds and insects compose the diet. Breeding males announce their territories by spectacular song flights above their nesting areas. Early in the breeding period, two or more males swiftly chase over bushtops and high overhead. After being aloft for several minutes, they plunge from the sky and perch on the ground, on the tops of rocks, or on prominent shrubs. Postbreeding flocks of coalesced family groups or scattered singles wheel over open country and then land in the rocks and grass, each individual vanishing by virtue of its remarkable concealing coloration. References: Behle (1942), Verbeek (1967).