Caprimulgidae (Nightjars)
Common Nighthawk,Chordeiles minor. (Fig. 11.15) Male length 9 in (22.75 cm), female length 9 in (22.75 cm); male weight 2 1/4 oz (63 g), female weight 2 1/2 oz (72 g). Scarce summer resident in the White Mountains; more common in the northern part of Owens Valley to the west. Recorded from 4,000 to 6,750 ft (1,220 to 2,060 m) elevation.
---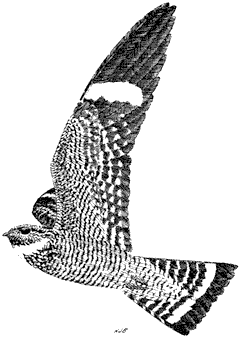 [
Full Size
]
Common Nighthawks breed in the sagebrush-pinyon-covered alluvial fans on both sides of the White Mountains, and in adjacent ranch country with riparian growth in the valleys. Each evening in June and early July, they perform spectacular courtship dives in which the male plunges toward the ground and recovers suddenly with a loud, muffled vvrrrrr sound. The call commonly delivered during high aerial foraging flights is a nasal peent . Females lay their eggs directly on the ground among gravel, sticks, and other plant debris, either in brushland or in large openings in forest. If disturbed while incubating, she flops awkwardly across the ground with fanned wings and tail, luring the intruder away from the nest site. This species feeds exclusively on insects caught on the wing, commonly over water surfaces. References: Armstrong (1965), Caccamise (1974).
Common Poorwill,Phalaenoptilus nuttalli. (Fig. 11.16) Male length 7 1/2 in (18.75 cm), female length 7 in (18 cm); male weight 1 3/4 oz (48 g), female weight 1 3/4 oz (48 g). Fairly common summer resident in the White-Inyo Range; winter status uncertain. Recorded up to 9,500 ft (2,900 m).
Poorwills prefer warm, open terrain with scattered trees or brush where there is an abundance of exposed sand, gravel, and rocks. This habitat is common in both the sagebrush and Pinyon-juniper zones of the region. Mountain Mahogany is also
---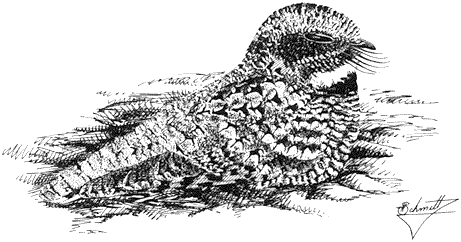 [
Full Size
]
visited, especially when mixed with pinyon. Poorwills commonly rest on gravel road beds, where in the evening their reflected eye shine can be seen in car headlights or with a flashlight. They feed at dusk and dawn, when they take short flights from the ground in search of flying insects such as moths. The whistled poor-will call is followed by a brief dup note, delivered at a somewhat lower pitch and audible only at very close range. This species can become torpid during cold weather; such dormant individuals hide in protected crannies in rocks. References: Jaeger (1948), Marshall (1957).