Base of East Side of Inyo Mountains
Hunter Canyon (Fig. 10.11) is one of several canyons draining the east side of the Inyo Mountains that contains extensive riparian vegetation and surface water all year. The rocky canyon mouth is located at an elevation of about 1,600 ft (490 m) in rocky Creosote Bush Scrub. Only riparian-restricted amphibians and reptiles are discussed here. General lowland Creosote Bush Scrub species that occur here (except for the Great Basin Spadefoot, Spea intermontana , the Glossy Snake, Arizona elegans , and the Sidewinder, Crotalus cerastes ) are covered in the Southern Owens Valley account.
---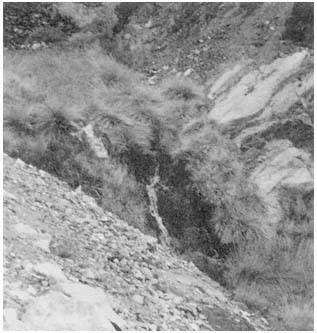 [
Full Size
]
Amphibians
Inyo Mountains Slender Salamander (Batrachoseps campi ). Nocturnal; restricted to vicinity of water; lives in mossy, damp crevices and under rocks where ground is wet.
Red-spotted Toad (Bufo punctatus ). Nocturnal; breeds in pools in canyon; hides during the day in rodent burrows or under rocks.
Lizards
Panamint Alligator Lizard (Elgaria panamintina ). Usually diurnal but sometimes active after dusk; may climb in vegetation in search of food.
Gilbert Skink (Eumeces gilberti ). Diurnal but secretive; commonly forages in leaf litter.