Geckos (Family Gekkonidae)
Western Banded Gecko,Coleonyx variegatus(Baird, 1858). (Plate 10.5, Map 10.3) 3–6 in (7.5–15 cm); pale yellow or cream background with brown bands on body and tail; in large individuals body bands may separate into blotches; regenerated tails short, fat, and unbanded; eyes large and catlike with vertical pupils. Habitat: This species is most abundant in rocky areas where Creosote Bush is present, but it has also been found in Great Basin Desert Scrub below 6,000 ft (1,830 m). These geckos are active only at night. During the day they take shelter under rocks, in cracks, or in rodent burrows. Remarks: The subspecies of the Western Banded Gecko in this area is the Desert Banded Gecko (C. v. variegatus ). Geckos from the Owens Valley have a more distinct banded pattern than those found in the other valleys, which tend to have more broken bands and speckling. This is the only member of the gecko family in our area. Geckos are primarily a tropical group. Over 800 species are known worldwide, only 5 of which are native to the southwestern United States. The northernmost known locality for this species is in the Eureka Valley. They can commonly be seen at night on roads that go through rocky areas. They are especially abundant during the late spring and early summer on the Eureka Valley Road. Banded Geckos readily lose their tails as a defense mechanism against predators, and many adults have regenerated tails. Range: Throughout the Panamint, Saline, and Eureka valleys and extending into the mountains surrounding those valleys; Owens Valley to at least Big Pine and Westgard Pass; a site record for east of Bishop (see ? on Map 10.3). References: Congdon, Vitt, and King (1974); Klauber (1945).
Localities: California, Inyo Co.: Big Pine; 4,500 ft, 4.7 mi NE; 4,850 ft, 5.5 mi NE; 6.0 mi NE; 7.0 mi NE; Darwin Falls; 0.4 mi SE of Hwy. 168 on Eureka Valley
---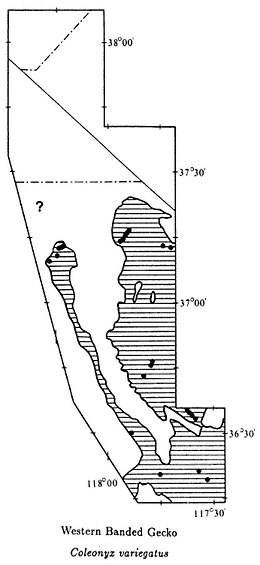 [
Full Size
]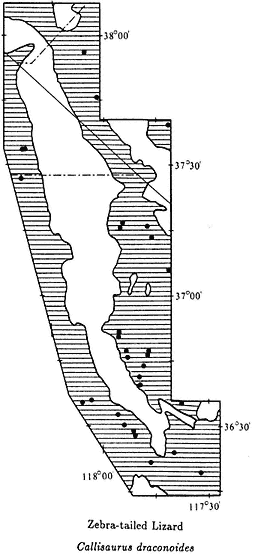 [
Full Size
]
Rd.; 5,750 ft, 22.3 mi SE; 5,600 ft, 22.6 mi SE; 24.0 mi SE; 24.4 mi SE; 24.5 mi SE; 24.6 mi SE; 24.8 mi SE; 24.9 mi SE; 25.2 mi SE; 25.5 mi SE; 25.9 mi SE; 26.0 mi SE; 26.3 mi SE; 26.7 mi SE; 27.5 mi SE; 27.7 mi SE; 27.8 mi SE; 28.2 mi SE; 37.3 mi SE; 40.3 mi SE; 2,300–4,030 ft, Grapevine Canyon, Nelson Range (CAS); 8.9 mi SE of Hwy. 136 on Hwy. 190; 7.5 mi W Panamint Valley Rd. on Hwy. 190 (CAS); 37.2 mi W; 1,060–1,200 ft along Warm Springs Rd., Saline Valley (CAS).