Weathering
Weathering is the chemical decomposition and mechanical disintegration of rock materials. We can think of this as the wearing away of earth materials through time. Different weathering processes have relative degrees of importance in different environments and are partially functions of climate. Many mechanical weathering processes require temperature and moisture fluctuations. These changes exert a mechanical stress on the rock (such as frost wedging), which causes it to disintegrate along joint planes or between individual mineral grains (Fig. 2.1). Chemical weathering, like all chemical processes, is a function of temperature. With the presence of water, at higher temperatures chemical weathering will take place more rapidly.
Thus, we see different types and rates of weathering of particular rock types (such as granite) in low-, middle-, and high-elevation climates of the White-Inyo Range. Weathering rates in the range have been quantified by Denis Marchand (1968, 1970, 1971, and 1974) in his studies of weathering and soil development at Sage Hen Flat and the Cottonwood Basin. He estimated that weathering and accompanying erosion (removal of weathered materials) of 0.3 to 1.2 in (1 to 3 cm) of material occur in 1,000
---
TABLE 2.1 Landforms of the White-Inyo Range

 

Glacial

Periglaciala

Mass Wasting (Gravity)

Fluvial

Aeolian

Anthropogenic

Erosional

Cirque

Frost wedges

Slide scar

Entrenched stream

Abrasion marks

Mines

 

U-shaped valley

Disintegrated rocks

Avalanche chute

Stream channel

Polished rocks

Earth mounds

 

Polished rocks

Slump stars

Rock creep

Drainage net

 
 
 

Abrasion marks

Monadnock

Soil creep

Meander scar

 
 
 

Arete

 

Slump scar

Arroyo

 
 
 

Col

 

Rock fall

 
 
 
 

Glacial staircase

 
 
 
 
 
 

Hanging valley

 
 
 
 
 
 

Roche moutonnee

 
 
 
 
 

Depositional

?

Rock glacier

?

Alluvial terrace

Sand dune

Rock rings, walls, and houses (prehistoric and historic)

 

Lateral moraine

Felsenmeer

Debris flow

Floodplain

Silt deposit

 

Recessional moraine

Patterned ground

Mudflow

Alluvial fan

 
 

Ground moraine

Gelifluction lobe

Colluvial fan

Point bar

 
 

Outwash (valley train)

Rock terrace

Talus cone/apron

Midchannel bar

 
 
 

Till sheet

 

Protalus rampart

Flood deposit

 
 
 

?

 

Avalanche deposit

Debris dam

 
 

a This is really a mix of landforms created as a consequence of frost action (a weathering process).
---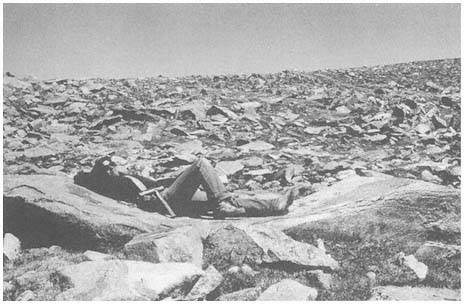 [
Full Size
]
years. In conjunction with this, Valmore LaMarche (1968) has measured weathering and erosion on slopes inhabited by Bristlecone Pine (Pinus longaeva ). Tree roots are exposed through time as material is removed around them. Using dendrochronology (tree-ring dating), LaMarche was able to quantify the amount of material removed for a given unit of time. Elliott-Fisk (1987) has investigated the weathering of glacial till boulders deposited by a series of glaciers over time; her results show that weathering is slow but progressive in the White Mountains. All of these researchers have shown that weathering is a relatively slow process in the dry climate of the White Mountains. Because precipitation (available moisture) increases with altitude (to the crest), weathering may be thought to be more rapid at higher elevations, but it must be remembered that temperature decreases with altitude as well, and frost and ice are weathering agents.
It may prove fruitful to look at the relative degree of soil development as an indication of weathering along an altitudinal gradient through the range. Soils form as the result of weathering and the decomposition of organic matter and are functions of climate, organisms, parent material, relief, and time (Jenny, 1941). Thus, one must try to hold these factors constant to assess the relative importance of climate (or altitude) to soil formation and weathering. It is possible to find the same geologic formation (for example, a particular granitic pluton) at different altitudes in the range. The relief, or slope position, can also be held constant. If we can determine
---
that the surface of the landscape has not been exposed to disturbance through various erosional or depositional agents, time can also be held constant. However, it has been difficult to locate a sequence of landforms of the same age that span the range's entire elevational gradient. Elliott-Fisk (1987) has studied soils formed on glacial deposits of different ages (i.e., allowing time to vary) and shown that soils do progressively develop through time. It is also difficult to hold the organisms, especially the vegetation, constant as one goes up an altitudinal gradient. Sagebrush (Artemisia spp.) communities span virtually all altitudes of the range, but, as their productivity varies, they do not allow soil development to be evaluated only as a function of climate.