Lungless Salamanders (Family Plethodontidae)
Kern Plateau Slender Salamander, Batrachosepssp.(no author, not yet described). (Plate 9.1) 3–4 in (7.5–10 cm); dorsal pattern variable; black with a brown middorsal stripe or black with an overlay of silver specks; only four toes on each foot. Habitat: This species occurs around permanent springs and creeks with riparian vegetation. The salamanders live in the daytime under cover objects such as rocks and logs. Remarks: This salamander is related to the Inyo Mountains Slender Salamander (B. campi ) and was the second salamander to be discovered in the White-Inyo mountains region. The Kern Plateau Slender Salamander has a narrower head and shorter legs than the Inyo Mountains Slender Salamander. The ranges of the two species do not overlap. Species of the genus Batrachoseps are the only salamanders in California that have just four toes on each hind foot. Other species of Batrachoseps , known as Slender Salamanders, are widely distributed throughout California. They commonly occur in urban areas under rocks and boards. This species is currently known from the Kern Plateau and the southeastern slopes of the Sierra Nevada, but it may have a more extensive range. Range: Kern Plateau and the eastern slopes of the Sierra Nevada south and west of Owens Lake. Reference: Stebbins (1985).
Inyo Mountains Slender Salamander,Batrachoseps campi(Marlow, Brode & Wake, 1979). (Plates 9.2 [from Hunter Canyon] and 9.3 [from French Spring], Map 9.3) 2–3 in (5–7.5 cm); dorsal pattern variable; background color dark brown to black; in some populations scattered green, lichenlike spots on body; in others the background color is completely overlain with silver flecks; only four toes on each foot. Habitat: Occurs only around permanent springs and seeps that provide a riparian habitat. Inyo Mountains Slender Salamanders are active at night. During the day they take shelter under moist rocks or in damp crevices. They have been found at springs as low as 1,800 ft (550 m) and as high as 8,600 ft (2,600 m). Remarks: The discovery in 1973 of these salamanders in the arid Inyo Mountains was unexpected. In the past, numerous biologists had visited many of the springs where these salamanders live without detecting them, because salamanders are not considered desert animals. Doubtless, additional populations will be found. These salamanders are relicts that entered the Inyo Mountains prior to the rise of the Sierra Nevada and the formation of the Mojave and Great Basin deserts. In some instances these isolated populations may consist of only a few hundred individuals. They are protected by state law and should not be collected. At the present time, capping of springs is the major threat to these populations. Range: Both east and west slopes of the Inyo Mountains. References: Marlow, Brode, and Wake (1979); Yanev and Wake (1981).
Localities: California, Inyo Co.: 6,800–7,000, 8,000–8,300 ft, Addie Canyon; 6,400 ft, Barrel Springs; 6,400 ft, Cove Springs; 3,500 ft, Craig Canyon; 6,000 ft, French Spring (LACM, MVZ); 1,800 ft, 2,200 ft, Hunter Canyon; 4,000 ft, Keynot Canyon; 6,500 ft, Lead Canyon (LACM, MVZ); 5,600 ft, Long John Canyon (LACM, MVZ); 3,500 ft, McElvey Canyon; 7,500 ft, top of ridge between Lead and Addie canyons; 7,200 ft, Waucoba Canyon; 4,700 ft, Willow Creek Canyon.
---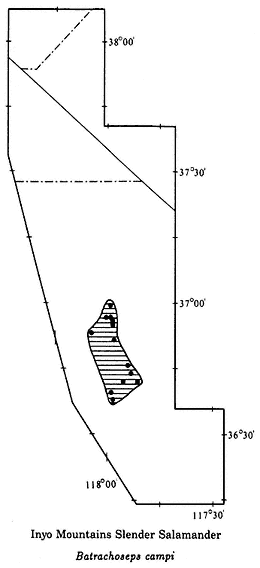 [
Full Size
]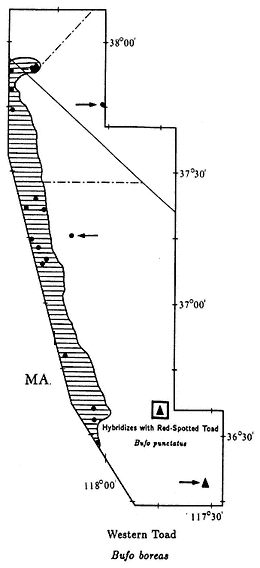 [
Full Size
]
Owens Valley Web-toed Salamander, Hydromantessp. (no author, not yet described). (Plate 9.4) 3 1/2–4 1/2 in (9–11.5 cm); body and head very flattened; dorsal pattern variable; greenish brown to silver with scattered black spots; scattered lichenlike silver spots on ventral surface; feet with extensive webbing; four toes on front feet and five toes on hind feet. Habitat: The Owens Valley Web-toed Salamander occurs in the vicinity of permanent springs and mountain streams with riparian vegetation. Although this salamander is nocturnal, it can be encountered under wood and rocks in areas with moist soil. Remarks: The Genus Hydromantes is distributed in California, Italy, and Sardinia. The species in Europe are the only members of the lungless salamander family, Plethodontidae, in the Old World. The Owens Valley Web-toed Salamander was discovered in 1985 during field work in preparation for this chapter.
---
Range: Eastern slopes of the Sierra Nevada, at least from the area around Owens Lake to Big Pine. Reference: Wake, Maxson, and Wurst (1978).