Grasshoppers, Roaches, Mantids, and Related Groups (Order Orthoptera)
The Order Orthoptera is a highly diverse group, including many large, common species. The crickets, katydids (Family Tettigoniidae), and grasshoppers (Family Acrididae) are primarily herbivorous and have enlarged, powerful hind legs that enable them to jump (see Fig. 7.3). Many grasshoppers take flight during their jump and display brightly colored wings, which carry them up to 100 ft (30 m). The roaches, which have long antennae and long abdominal cerci, are primarily nocturnal scavengers. The phasmids, or walking sticks, are herbivorous. The mantids are highly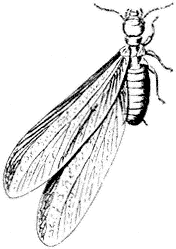 [
Full Size
]
---
predaceous, with forelegs modified into striking claws that can grab prey with lightning speed.
Most adult orthopterans are winged, including roaches, but some species of montane grasshoppers and crickets are flightless. Crickets, katydids, and grasshoppers commonly possess sound-producing organs on their legs and wings; in most species the males produce trilling, buzzing, or clicking sounds that attract females for mating. Grasshoppers are common in open, dry habitats and are well-represented in the White Mountain region. Here is also present a flightless species (Agnostokasia sublima ) that occurs nowhere else.
American Cockroach,Periplaneta americana(Family Blattidae). (Fig. 7.7) A house and yard pest species that occurs at lower elevations in the Owens Valley. They apparently do not reach Crooked Creek, at 10,000 ft (3,100 m).
Short-horned Grasshoppers (Family Acrididae). Short-horned Grasshoppers may be recognized by their antennae, which are much shorter than the body. Many species have brightly colored wings, visible in flight.
Migratory Grasshopper, Melanoplus sanguinipes . (Plate 7.1) Commonly present in swarms between 11,000 and 13,000 ft (3,300 and 4,000 m). At lower elevations it rarely occurs in large numbers but can be a devastating crop pest when it does.
Pallid-winged Grasshopper, Trimerotropis pallidipennis . (Plate 7.1) Occurs in the Owens Valley at elevations as high as 5,000 ft (1,500 m).
Sierran Blue-winged Grasshopper, Circotettix thalassinus . Common at middle elevations (6,000–9,000 ft, 1,800–2,700 m), where males display by flying up and making loud popping or crackling noises.
Agnostokasia sublima . (Plate 7.1) Known only from 12,000 to 13,000 ft (3,600 to 4,000 m) in the White Mountains, including Barcroft area. A flightless species.
Mormon Cricket,Anabrus simplex(Family Tettigoniidae). (Plate 7.1) Occurring near Crooked Creek and near Barcroft, 10,000–12,000 ft (3,000–3,600 m), always associated with sagebrush (Artemisia ). Flightless, the males call in late morning with a loud stridulation. This species is a member of a subfamily of crickets (the Decticinae)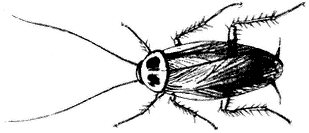 [
Full Size
]
---
that is very diverse in the Owens Valley region. Known as the Shield-backed Katydids, Decticinae are commonly flightless, especially the females.
Camel Cricket,Ceuthophilus lamellipes (Family Gryllacrididae). (Fig. 7.8) Occurs from the Owens Valley to elevations of 11,000 ft (3,400 m), usually present under stones and logs.
California Mantid,Stagmomantis californica(Family Mantidae). (Fig. 7.9) Occurs in Owens Valley up to higher elevations. Mantids have been collected at Crooked Creek, at 10,150 ft (3,100 m), but not at higher sites.