Dragonflies and Damselflies (Order Odonata)
Members of the Order Odonata are easily recognized in the adult form. Species that hold their wings extended laterally when resting are known as Dragonflies (Suborder Anisoptera), and species that hold their wings pressed together dorsally at rest are
---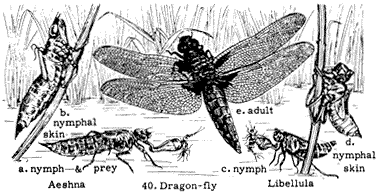 [
Full Size
]
known as Damselflies (Suborder Zygoptera). These insects are predators, capturing other insects in flight with their basketlike legs. Individuals copulate in flight and frequently are seen flying in tandem, with the male clasping the female behind the head using appendages at the tip of his abdomen. The female may also lay eggs in the water while in tandem with the male. The nymphs live in fresh water, where they are predators of small animals. Adults are common on the floor of the Owens Valley and have been recorded as high as White Mountain Peak, at over 14,000 ft (4,300 m). Figure 7.4 illustrates the life stages of dragonflies.
Green Jacket Dragonfly,Erythemis simplicicollis(Family Libellulidae). Occurs from the Owens Valley floor to Crooked Creek (10,000 ft, or 3,100 m). The large, green adults fly in July and August, commonly at some distance from water.
[
Full Size
]
---
Dancers,Argiaspp. (Family Coenagrionidae). (Fig. 7.5) Damselfly genus occurs from the Owens Valley Floor to Crooked Creek (10,000 ft, or 3,100 m), usually near water.