6
The Birth and Demise of a Ritual
During my first visit to the field in Korhogo in 1972 and 1973, I twice witnessed the performance of a certain wedding ceremony. I was present at numbers of other marriages, for none of which this ceremony was performed. In effect, the ceremony was the recent invention of a particular Muslim scholar. Some attempts were being made to diffuse it, but with only limited success. The ceremony itself was not the center of any controversy, though its inventor is a somewhat controversial personality. The very existence of such a ceremony poses certain interesting questions. Why should anyone go to the trouble of inventing a ritual? And why should others go to the trouble of performing it?
It is hardly an accident that ritual innovation is often associated with a break with tradition. Established religions tend to deplore the principle of innovation in ritual practice. Prophets, and in certain cases founders of new sects or cults, may justify their actions in terms of divine inspiration; but claims concerning the legitimacy of various ritual practices are most often expressed in terms of the past. The "religions of the Book"—Judaism, Christianity, and Islam—are particularly averse to the principle of innovation, for a number of reasons. First of all, they all make exclusive claims to the allegiance of adherents. Second, precisely because these religions are practiced by communities widely dispersed over the face of the globe, there is added pressure for religious practices to remain standardized from one group of believers to another; the religious community must effectively transcend the boundaries of local society. But written texts are also a more reliable safeguard of "tradition" than oral memory: ex-
---
isting practices can always be checked against a written text. These religions also have "orthodox" written traditions of interpretation of sacred texts, which place even further limits on innovation.
This is decidedly the case in Sunni Islam. The most powerful symbolic expression of such principle is the notion that the "Gates of Interpretation" were closed in the tenth century A.D., and that since then scholars have no longer legitimately been able to engage in "interpretation" (ijtihad ) but only in "imitation" (taqlid. ) [1] Modern scholarship has cast serious doubts on the validity of this doctrine.[2] In the first place, it is quite certain that this "shutting of the gates" did not make a great deal of noise at the time; the event seems to have gone unnoticed in the tenth century when it was allegedly taking place. The doctrine was only fully elaborated much later, in the fifteenth century, in order to fix the number of "orthodox" schools of Islamic law (fiqh ) at four: Maliki, Hanafi, Hanbali, and Shafi'i (Hodgson 1974, 2:448). Even so, such a principle of fixity can be combined with a great deal of real flexibility. What matters is not so much how a particular judgment is made as how it is construed. Still, the doctrine of taqlid has been hotly contested by modern advocates of Islamic reform, who blame it for the sclerosis of Islamic thought in the modern world (Piscatori 1986: 3–10).
Not all Muslims in Koko have been impervious to such reformist views, but the vast majority of Dyula Muslims, including locally trained scholars, are not so much self-consciously "conservative" as unconcerned about such issues. Since they are all Malikis, differences of interpretation between different legal schools are of no theoretical interest to them. In judging different scholars, or for that matter different "lay" Muslims, they do not ask, "Whose interpretation is correct?" but rather "Who knows more than whom?" The principle that Islam is a fixed and immutable body of knowledge is not so much unchallenged as unquestioned. Any deviations constitute bida , a term usually glossed as "innovation," but that covers not only the introduction of "new"
---
elements to Islam but also the illegitimate retention of any "old" pre-Islamic elements.
The scholar who apparently invented and attempted to introduce this new wedding ceremony in Korhogo is not in any way associated with Islamic "reform." On the contrary, he has been one of the most outspoken opponents of the "Wahhabis," not only in Korhogo, but (since he is actually based in Bouake, the most active "Wahhabi" center in Côte d'Ivoire) in the country as a whole. He would describe himself neither as an "interpreter" nor as an "innovator." At first sight, it seems quite surprising that such an individual would "invent" (to Western eyes) a new ritual. In fact, much of the problem lies in the realm of discourse rather than of action, in the meanings and values attached to the notions of "tradition" and "innovation," and more broadly to novelty and to antiquity. "Innovation" and "tradition" correspond, not to statements of fact, but to principles used to uphold or contest the legitimacy of specific ideas and practices. Within such a context, one can identify two possible frameworks for debate. In the first place, one can disagree about the acceptability or the preferability of novelty as opposed to antiquity, in other words about the principles on which legitimacy should be based. On the other hand, assuming agreement on such principles, one can still debate which of several competing viewpoints is really "traditional" or "innovative" as the case may be.
The academic discourse of the modern West constitutes an ideal field of comparison to the Islamic scholarship of the Dyula. The very same viewpoints, among Western academics, may be alternatively categorized as "pathbreaking" or "trendy"; as "outdated" or "sound." On balance, however, academia places a premium on novelty. At the very least, scholars are supposed to be engaged in "original" research, and plagiarism is certainly to be counted among the Deadly Sins. Even so, adjectives like "trendy" or "fashionable" remind us that novelty ought not, in principle, to be pursued for its own sake. On the other hand, the premium set on "originality" provides its own set of temptations, so that
---
scholars can often be accused (not always without justification) of forever seeking to put old wine in new bottles.
By way of contrast, in the scholarly world of Dyula Muslims, "old is beautiful." More properly speaking, knowledge is a straight and narrow path, a venerable one, to be sure, but antiquity is not to be valued in and of itself, any more than novelty in Western academia. Ideas that are, in a real sense, experienced as new are only legitimate if they are "re discoveries" as opposed to "discoveries." In this context, one might well compare the Dyula experience of "invention" to the "invention" of relics in the Middle Ages—for example, the relics of Saint James at Compostella; that is to say, to the uncovering of something that was always there but had gone unnoticed for long stretches of time. This new wedding ceremony was thus, in the eyes of its propagator, not really "new" at all, but rather a practice that ought already to have been observed. Its absence could be construed as a "lapse," rather than its introduction as an "addition."
Such considerations may explain how attempts to disseminate such a ceremony might be (and were) justified, but not why any scholar would feel that such a ceremony was necessary, much less why anyone else would be tempted to put it into practice, given that other local scholars, let alone "Wahhabis" and other reformists, were unconvinced of its necessity, even if they did not challenge its "orthodoxy." The attempts to introduce the ceremony need thus to be seen in terms of the circumstances of the time. Islam as practiced by the majority of Dyula in Koko was being subjected to challenges on two separate fronts. While the "Wahhabis" were militantly questioning the orthodoxy of "traditional" Islamic practices in the community, Western education was suspected of disseminating an ideology of "secularism," of undermining the commitment of the young to religious values. Both challenges menaced Koko's religious community—and ultimately the community pure and simple—with crucial defections from the ranks: prosperous merchants might be tempted noisily to throw in their lot with the Wahhabis, while prosperous members of the educated elite might be
---
tempted, in a quieter if not more hypocritical fashion, to withdraw their primary allegiance to their home community in favor of membership in a more cosmopolitan social universe.
These challenges thrust scholars into an increasingly visible leadership role, incidentally promoting rivalry between local scholars for leadership of Koko's religious community. The expression of this rivalry is most often muted, for a variety of reasons. First of all, it is impious for one scholar explicitly to disparage the learning of another, although this does not, of course, preclude innuendo, which can in some cases be an even more effective weapon. Secondly, rival scholars may have strong links to the same individuals in the Koko community. An explicit rift would force such individuals to choose sides, placing the scholar held responsible for the rift at a distinct moral disadvantage. Finally, "Wahhabism" and "secularism" constitute common enemies to all of these scholars, against which they have an interest of presenting a united front. Nevertheless, such rivalries, while they may usually remain tacit, are very real, and scholars have a decided interest in finding new ways to outshine their rivals.
One possible strategy is to find new occasions for delivering sermons. Muslim calendar holidays and funerals are already used to such ends, but other life-crisis rituals, those associated with birth and with marriage, do not normally include sermons as part of the ceremonial. As it turns out, rituals associated with birth (den sereli ) are not very promising candidates. There are separate ceremonies on such occasions, one performed by females and one by males. The female ceremony remains elaborate, but the male ceremony has tended to lapse, and the male kin of newborns frequently neglect its performance altogether. Now that the ritual associated with birth is increasingly associated with women, scholars, as males, express little interest. Moreover, as exclusively female affairs, such rituals attract relatively fewer people of either sex, whereas both weddings and funerals normally involve large numbers of guests and widespread participation. Indeed, weddings involve the most elaborate
---
ceremonial of all Dyula life crises, rivaled only by the funerals of important elders.[3] Different kinds of ritual activity, involving different sets of people, go on at the same time: the furu is largely a concern of male elders, while the konyo mina centers on the bride(s) and involves the active participation of women of all ages and adolescent males. In crucial respects, first weddings mark the passages of both brides and grooms from adolescence to adulthood. However, by this very fact, the groom himself is debarred from active participation in the festivities of the konyo mina , while he is still too junior to be involved in the negotiations of the furu. Because of their scale and expense, weddings are generally performed several at a time. Indeed, in some villages, almost all weddings are performed on the same occasion once a year. One way or the other, weddings are far and away the most important ritual occasion where scholars qua scholars are conspicuous by their absence, and where they could immediately enjoy a large, readily constituted audience. It is thus easy to see why a scholar might find it attractive to institute the practice of giving wedding sermons.
While it would be naive to deny that wedding sermons are an ideal vehicle for attracting attention to the scholar who delivers them, and even more so to the one who inaugurates the practice, it would be cynical to suggest that the idea was simply self-serving and devoid of any broader legitimate motivation. The form of the ceremony, as I witnessed it, was significantly different, not only from ordinary wedding ritual, but also from ordinary sermons. Certainly the most striking feature of the ceremony was that it focused attention, not only on the officiating scholar, but on the married couple (or, more technically, couples, as it was performed for several couples at the same time on each occasion.) In the furu , the senior kin of the bride and groom as well as their respective "networks" are the central participants, whereas the brides occupy the spotlight in the konyo mina. Both the groom individually and the couple as a unit stay in the background. In these new wedding ceremonies, bride and groom were made to stand together in front of the audience, each placing one
---
foot on a loaf of (French) bread while holding another loaf of bread in their hands and then placing it together to their lips. It is probably unnecessary to point out that this symbolism, much less the ideological emphasis placed on the couple qua couple, is quite alien to "traditional" Dyula cultural practice. Indeed, on the second occasion I witnessed, perhaps because of the newness and unfamiliarity of the ritual, one of the couples involved were distinctly ill at ease, unsure of what they were expected to do, and had to be coached repeatedly at each step. As they nervously lifted the bread to their lips, one worosso , a second-generation slave entitled to joke at the expense of freemen, called out from the back of the audience, "Don't eat it, don't eat it!" to the couple's added discomfiture and to the audience's general delight. As each couple moves to center stage, the officiating scholar recites a short speech in Arabic to the effect that the groom, son of so-and-so and of so-and-so, is being duly married to the bride, similarly identified, adding a blessing to their union. When all the couples have finished, he then begins his sermon, focusing on the nature of the conjugal duties of husband and wife, stressing, for example, that a polygynous husband must not favor one wife over another.
This apparently quaint ritual can only be understood as a combination of a Muslim sermon with a loose pastiche of a civil wedding ceremony. This implicit reference to civil marriages was by no means fortuitous. In 1964, Côte d'Ivoire promulgated a new Civil Code,[4] whose explicit aims were to foster the development of the independent conjugal family, then considered an indispensable motor to economic growth. In principle, it outlawed future polygynous marriages, and stipulated rules of inheritance as contrary as possible to "traditional" patterns. However, the Code applied only to legally registered civil marriages, and consequently its applicability was rather limited. The vast majority of individuals did not, of their free will, register their marriages. In the first few years, local administrators forcibly recruited registrants, particularly among the Dyula, whose elaborate wedding ceremonies involving numerous couples at a time made them a
---
convenient target. Nevertheless, some individuals did in fact have an interest in registering their marriages. This included couples who decided to elope against the wishes of the woman's family, but with the collusion of the man's; since the civil ceremony was legally binding, it effectively forced the hand of the bride's kin. Perhaps more important at the time, salaried wage earners were also eager to register their marriages. Family allowances were given by the government to provide for the wives and children of duly registered marriages of salaried employees. In fact, government employees accounted for the vast majority of salaried wage earners. Such individuals were typically Western educated to one degree or another and already relatively well-off, sometimes frankly quite prosperous. In other words, these were the individuals most likely to succumb to the temptations of a "secularist" ideology of one sort or another. Thus civil marriages, civil servants, and "secularism" tended to go hand in hand, though of course there were numerous exceptions. The new wedding ceremony was clearly intended as an ideological alternative, particularly as the Civil Code itself quite explicitly represented a Westernizing, secularizing ideology. "Muslim" ceremonies were enacted as a counterpart to civil ceremonies, just as Islam was an alternative to rampant "secularism."
The new ritual thus addressed an issue—the spread of "secularism"—of widespread concern to the local Muslim community, and was not simply a self-serving vehicle for its propagator. Even so, it could not be taken for granted that people would choose to perform it. Such ceremonies cost money. The officiating scholar must be rewarded for his services, and refreshments must be distributed to everyone in attendance. During the ceremonies I attended, such refreshments included coffee liberally laced with sweetened condensed milk (a staple refreshment at sermons), but also, more lavishly and unconventionally, sandwiches of grilled lamb.[5] These costs, in themselves, might not seem prohibitive, but weddings are already extremely expensive affairs (by Western and not only by Dyula standards!) and a financial drain on the budgets of all but the very rich. Any added
---
expenses, such as wedding sermons, are likely to be unwelcome, all else being equal. It is one thing to affirm that such ceremonies are a worthy idea in principle, and quite another to commit oneself to meeting the expenses necessary to perform one on any particular occasion.
In 1972 and 1973, I was particularly concerned with studying patterns of marriages among the Dyula, and so I had the occasion to witness numerous weddings, both in Korhogo and in nearby villages. In the vast majority of cases, the new ceremony was not performed. I witnessed it twice, and knew of one other instance when it was performed in my absence. It is consequently instructive to examine those cases where the ritual was in fact undertaken. As the chart illustrating marriage readings in 1972–73 shows clearly, all the individuals for whom it was performed are part of a single kinship network. The scholar who was trying to introduce the ritual, Mammadou-Labi Saganogo, is in fact neither a native nor a resident of Korhogo or its immediate hinterland. A scion of one of the most prestigious of all the Dyula scholarly families, he hails from Kong and is based in Bouake, the second largest town in Côte d'Ivoire. Unlike any of Koko's local scholars, he enjoys a national following; tapes of his sermons, and even tapes of his son's sermons, can be purchased in local marketplaces. Not surprisingly, he has a following in and around Korhogo, but, more important, he also has close ties with specific individuals and families, based on the value placed on the teacher/pupil bond.[6] In particular, he is or was the teacher of two individuals identified in the chart: the first is Mustafa Kone, a young scholar born in the nearby village of Dyendana, recently appointed imam of one of Korhogo's neighborhood mosques; the second is the late Bakari Toure, father of a prominent group of brothers, including a local politician, Abou Toure.[7] To the extent that the teacher/pupil relationship is assimilated in many respects to the father/son relationship, the ties between an individual and his father's teacher are still morally binding. In any case, as the genealogy shows, Abou Toure and his brothers are cross-cousins of Mustafa Kone. The relationship is emotively stronger and
---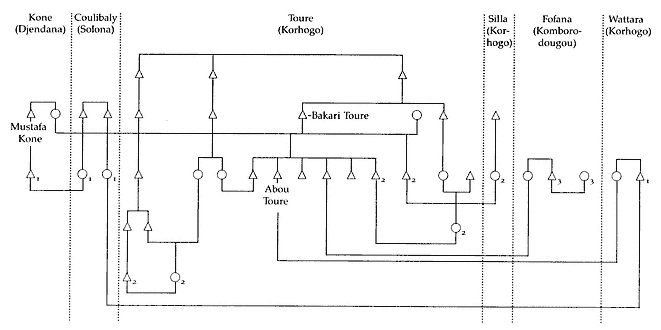 [
Full Size
]
---
closer than the cross-cousin tie necessarily dictates. The brothers are personally very fond of Mustafa and of his family in general, and proud of his scholarly abilities; they have shown a close interest both in his personal affairs and in his career.
The genealogical information provided underscores the crucial role of the Toure brothers in promoting performances of the ritual. In fact, to one extent or another, they underwrote the expenses of all the weddings involved, and particularly those of performance of the wedding sermon. Indeed, the brothers themselves account for two out of the six marriages involved, both performed on December 2, 1972. The third couple for whom the ceremony was performed on the same day were more distant agnates in the same section of their kabila. Ordinarily, they might well not have arranged for the performance of the ceremony, but since they were married on the same day as the two brothers, they were included as a matter of course. Similarly, Mustafa's own marriage, which the Toure helped to arrange and finance, naturally involved performance of the ceremony; again, the other couple, a cousin of Mustafa's bride and one of the brothers' wife's brothers, were included because they were being married in the same place at the same time. The third case involved not only a wife's brother but also an apprentice of another of the brothers; the relationship was thus considerably closer than the genealogy itself would indicate. In short, a relatively restricted core of individuals were systematically committed to performing the ceremony, but they were able on these various occasions to recruit the participation of other members of their kin network.
Perhaps the most striking feature that emerges from this consideration of the instances on which the ceremony was performed is the association between a local politician and his brothers on the one hand and a Muslim scholar and his local disciple on the other. Indeed, politicians and ambitious scholars in Koko have much in common; they are both seeking positions of leadership over the community as a whole, in
---
both cases encroaching to some degree on the authority of elders who hold traditional office (the imam in the case of scholars, clan elders in the case of politicians), even though they scrupulously avoid openly challenging this authority. Since scholars and politicians are not seeking the same type of leadership, they are natural allies. Each has his personal following; if they associate, these followings may be pooled together, each leader providing followers for his ally. Moreover, in a Muslim community, association with a scholar cannot help but give a politician a certain extra legitimacy.
For the scholar, innovation, perceived in Western rather than in Muslim terms—that is to say, the introduction of practices not previously prevalent in a given community—is a political move, a bid for leadership of the community. If his innovation is adopted, his claim to leadership is reinforced, and he is likely to augment his following. The consequences for him if the innovation fails to win general acceptance depend on the extent to which he has committed himself to its promulgation. In Mammadou-Labi's case, he devoted most of his energy in Koko to denouncing the Wahhabi movement. Neither he nor his disciples made a very systematic attempt to push acceptance of the new wedding ceremony very hard. As a result, his credibility was not seriously in jeopardy even if the ritual failed to catch widespread attention. For a politician associated with a scholar, the scholar's innovation may also work to his advantage. Should the scholar's bid for religious leadership be successful, the politician can capitalize on his support of the scholar. Thus the politician has a certain incentive to use his influence to spread an innovation, especially at the outset, in the hope that it will gain a momentum of its own. However, a politician is even more unlikely than a scholar to commit himself too deeply to such an innovation, lest its failure damage his credibility too seriously.
Seen in these terms, both scholars and politicians stand to gain an increased following from innovation, and stand to lose credibility should the attempts to introduce something new fall flat. The situation, however, is more complex than
---
such a simplistic "cost-benefit" model might suggest. Both scholars and politicians have rivals, and factions may coalesce around and against both religious and political leaders. To put it another way, scholars and politicians not only have followings, but also an opposition. This may be more obviously and inevitably the case with politicians, but is also a very real possibility among scholars. The dilemma is most acute if the followings of scholars and politicians do not already coincide to a large degree, if the following of each includes backers of the rivals of the other. In such cases, if the association between a scholar and a politician is too close, one or both may not only fail to win followers from among the other's supporters, but may actually be faced with defections.
Indeed, Koko was characterized by overt and latent factional cleavages, both in the political and scholarly domain, in 1972 and 1973. Abou's political fortunes had ebbed and flowed since independence in 1960. An early militant in the RDA—he was caught, severely beaten, and imprisoned by the French—he was rewarded after independence with a prominent position in the local party hierarchy. When it was announced in 1963 that there had been a plot to overthrow the president, however, Abou was one of many politicians who fell from grace, although he was luckier than some others and was not imprisoned. In 1971, it was announced that there had never, in fact, been an attempted coup, and the victims of the earlier accusations were rehabilitated. By 1972, Abou was again officially a member of the local party hierarchy. He was perhaps the leading Dyula politician in the region, but local political allegiances do not run entirely along ethnic lines, and his political rivals have also been able to recruit supporters from within Koko's Dyula community. However, his fortunes were on the rise at the time, making him a more effective and attractive ally.
Within Koko, there was a pronounced tendency for factional allegiances to run along lines of clan-ward affiliation. In fact, the Toure clan ward, being very much larger than most other wards, would, if united, constitute a powerful
---
bloc in Koko in and of itself. Broadly speaking, Koko was politically divided into pro- and anti-Toure factions. Scholars tended to be associated with one or the other faction, and effectively formed two separate "pools," each clan ward selecting a scholar from its own "pool" to deliver a funeral sermon, for example. Matters came to a head during the celebrations of donba , the Prophet's birthday, in 1972. In principle, one scholar should have delivered a sermon for the entire community. In fact, the senior scholar in each pool was determined to deliver the sermon. No attempt was made by either side to conceal the overtly political nature of the confrontation. Both sides competed for the privilege of giving their sermon in the precincts of the mosque. Both attempted to provide the most lavish refreshments possible. Finally, microphones and amplifiers were used to drown out the other side's sermon.
In such a highly charged atmosphere, it might seem that there was no conflict between allegiance to particular scholars and to particular politicians. However, this was not absolutely true. The political loyalties of individuals are not overtly public. They tend to be public knowledge, and sometimes arouse public attention, but do not invariably call for public declarations of support or opposition. On the other hand, when it becomes necessary or desirable to invite a particular scholar to deliver a sermon, this is in effect a public statement of confidence, whatever one's private opinions may be. Politicians can thus try to lure away individuals from the opposite camp, though conversely they face individual defections from the ranks of their supporters. Public loyalty to a "pool" of scholars, if not to individual members of the pool, is a collective affair, affirmed by specific invitations to deliver particular sermons. At one level, this would involve the public defection of an entire clan ward from one "pool" to the other, a possible but relatively unlikely occurrence. On the other hand, this leaves different scholars relatively free to compete with one another for loyalty within, rather than across, each "pool." In 1972, while the rivalry between "pools" was publicly flaunted, rivalry within "pools"
---
was much more muted. Even so, any very close association between a politician and one scholar in his "pool" as opposed to others was likely to alienate the other scholars and their most loyal followers, inviting political defections from the ranks.
Given these various considerations and constraints, it is easy to understand why Abou Toure, as a politician, might both be attracted to the new wedding ceremony and unwilling to commit himself too unambiguously to its diffusion. He and his close kin were the first to arrange for the ceremony's performance in and around Korhogo, introducing it to the public at large not only in town but in nearby villages, and involving more distant kin in its performance without obliging them to underwrite the expenses. Were the ceremony to "catch on," he could share the credit with the scholars involved. On the other hand, as long as the orthodoxy of the ceremony was not at issue—and it was not—his participation could be construed as an act of personal piety, perhaps above and beyond the strict call of his religious duties, but certainly not reprehensible. By choosing to set an example, but without pursuing the matter further, he could avoid controversy, particularly within the ranks of his own followers.
When I left the field in 1973, it was my guess that the ceremony would not, in the long run, be generally adopted in Koko. Neither the politician nor the scholars involved had a real interest in pushing the matter too hard, in the reasonable apprehension that such efforts might well prove counterproductive. The performances I witnessed provided occasions to test the waters, to judge the extent to which the ceremony drew a response from audiences—a response that, all told, had to be favorable enough to induce numbers of individuals to incur additional expenses at weddings. When I returned to the field some twelve years later, my guess turned out to be correct. I neither witnessed nor heard about a single performance of the ceremony. Had I not been present in 1972, I would never have been aware that such a ceremony had ever existed.
---
In the intervening period, a number of factors further militated against the likelihood of the ceremony's adoption. First of all, scholarly rivalries were increasingly divorced from factional party politics. A compromise had been reached concerning donba sermons: in alternate years, they were to be delivered by the senior scholar of each pool. In 1972, scholars could be overheard making disparaging remarks about the learning of their colleagues, particularly in the rival pool. In 1984, scholars again and again stressed how impious it was to set oneself up above one's peers. Any public show of disunity was out of the question. Perhaps more important, the issue of "secularism," if not moot, was fading from public attention and the attention of scholars. It was increasingly and painfully clear to a younger generation that Western education was no longer a quasi-automatic passport to wealth, power, and prestige. For such individuals, secularizing ideologies of one variety or another lost much of their appeal. Even civil weddings faded into relative insignificance. The family allowances to which they entitled salaried wage-earners were a drain on the country's already strained budget. It was not even necessary to abolish them, at least in the short run, a move that might be politically unpopular. The government simply neglected to increase the allowances to keep pace with inflation, letting them grow more negligible in real terms from year to year. They ceased to make any appreciable difference in people's earnings, and, consequently, the incentive to register marriages disappeared. In general, the economic prosperity and optimism of the early 1970s had given way to a certain degree of pessimism and belt-tightening by the 1980s, even if the economic outlook was not yet alarming. There seemed little point in incurring added expenses to perform a ceremony to exorcise the specter of a "secularism" that was steadily losing ground all by itself.
This story of a ceremony that never quite "made it" is nonetheless instructive. Discussions of change tend, by and large, to privilege "success stories" of one sort or another. We tend, of necessity, to think of change retrospectively, to
---
compare time A to time B and to record those features that have indeed changed in one way or another, by accretion or deletion. This is often, of course, quite a sensible way of examining change, and frequently the only possible way. Nevertheless, it can sometimes obscure certain facets involved in the process of change, a process I suspect is often one of trial and error. If one considers only those changes that have successfully been adopted, "history" tends to take on an aura of inevitability, with "past" and "present" as two points on a vector leading in a certain direction. Such a teleological view can obscure the obvious fact that changes are often the outcomes of conscious decisions by specific individuals. Such decisions, however, always carry the risk of failure. The circumstances in which individuals fail to institute certain changes tell us as much, in the long run, as the circumstances in which they succeed. The fact that a scholar and a local politician attempted to introduce a new wedding ceremony is perhaps far less remarkable than the fact that, owing to the accidents of circumstance, its brief moment of glory did not escape notice.
---