Note
In order to minimize confusion, I have numbered the kings according to the Aragonese numeration, rather than Valencian or Catalan numeration—thus, Pedro IV (rather than Pere III) and Alfonso V (rather than Alfonso IV). Also, I have used the Castilian instead of the Catalan forms for toponyms. Personal names for the most part have been left in the form in which they were found in the documents. In particular, the Romance distortions of Muslim names rendered it practically impossible to transliterate all of them into their Arabic originals in any consistent and uniform manner.
Regarding the Furs , the law code of the kingdom of Valencia, I have utilized both the 1482 edition of Lambert Palmart and the modern edition of Germà Colon and Arcadi Garcia. Recourse to the Palmart edition was necessary because the Colon and Garcia edition is not yet complete.
The currency of the fifteenth-century kingdom of Valencia consisted of diners, sous , and pounds. One sou was worth twelve diners , and twenty sous made up one pound. The abbreviations "s" will be used for sou and "d" for diner .
---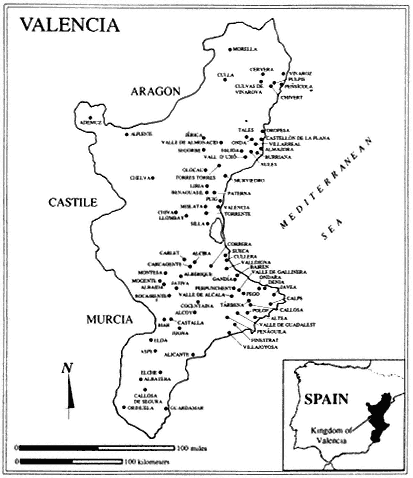 [
Full Size
]
---