"Sign Crimes against the Big Signifier of Sex"
Nothing is less certain today than sex.
Jean Baudrillard, Seduction
Perhaps, the most postmodern aspect of High Heels is its presentation of gender. Postmodernism has been known for its decentered and negotiable engagement of subjectivity: both that of its dramatis personae and of its audience. (As Hutcheon explains, subjectivity "is represented as something in process" [39]). Privileged in this regard is the genre's depiction of sexuality. According to Arthur Kroker and David Cook, a "reversible and mutable language of sexual difference" is a yardstick of postmodern discourse (20). Elsewhere, they describe the postmodern creator as "committing sign crimes against the big signifier of Sex" (21).
In High Heels, this authorial "larceny" (which duplicates Rebecca's) arises in a variety of ways. Clearly, one of the most transgressive aspects of the narrative is the figure of Judge Dominguez who allegedly goes "under cover" as "Femme Lethal" (a female impersonator), in order to solve the case of a transvestite's murder. (As Barbara Creed has noted, the androgyne is a signal figure in today's mass culture [65]). While we assume that Rebecca knows that Lethal is a man when she follows him into his dressing room, she seems shocked as he disrobes—perhaps, because he has a mole on his penis. While the two become amorous, he does not use his genitals for their erotic caper. Rather, in a more gender-neutral manner, he performs cunnilingus as she hangs from the rafters. What is not revealed at this time is that Lethal is Judge Dominguez (though an astute viewer can surmise it). But when this is disclosed, along with his professional rationale for cross-dressing, we are not convinced that it "explains" his behavior. Rather, we suspect that his real reasons are "under cover" too. Perhaps, he is not (what Chris Straayer would term) a "temporary transvestite," but one with a more permanent commitment [36]). Recalling the parallel subplots of Imitation and High Heels, we are reminded that Dominguez "stands in" for Sarah Jane—also a nightclub performer—thus, accomplishing yet another gender crossing.
To make this issue more slippery, there is a second sexually enigmatic character in the film. When Rebecca is jailed, she meets Chon, an inmate who seems atypically large for a woman. One considers whether she is a male in drag, but rejects this theory due to her exposed, prominent, (and seemingly "natural") breasts. Evidently, however, for the Spanish audience the situation is less perplexing. Chon is played by a notorious Spanish trans-
---
sexual, Bibi Andersson—ostensibly named for the Swedish movie star (Morgan, 29). (Curiously, while writing this paper, I happened upon an edition of The Maury Povich Show entirely dedicated to the plight of imprisoned transsexuals—which indicates that the situation goes beyond one of Almodovar's campy plot devices.)[6]
The question of gender instability seems encapsulated in an exchange within the film. When Manuel asks Lethal if he is male or female, the latter replies, "For you, I'm a man." Clearly, Lethal's drag performance highlights another element within postmodern discourse—a penchant for the carnivalesque. For Brian McHale, "[P]ostmodernist fiction has reconstituted both the formal and the topical . . . repertoires of carnivalized literature" (173).
In all these cases, the notion of gender is presented as something flexible rather than fixed; it is one more Truth that postmodernism can dismantle. And the cinema is especially adept at executing such a masquerade. For, as Parker Tyler once noted, "With its trick faculties and gracile arts of transformation, the film's technical nature makes it the ideal medium for penetrating a mask, physical or social, and thus for illustrating once more that . . . things are not always what they seem" (210).
For Almodovar, however, the nature of Dominguez's protean sexuality has broader political ramifications: "[F] or me, there is ambiguity in justice and that's why I have given it to the character of the judge. I don't know what the face of justice is—sometimes it's masculine, sometimes it's feminine" (Morgan, 29). Curiously, in his last remark, Almodovar implies that masculinity and femininity exist as static and oppositional poles—rather than as the fluid continuum the film seems to imagine.
Beyond remaking a man as a woman, High Heels' postmodernist remake casts Lethal as counterfeiting the theatrical persona of Becky. It is her appearance he conjures at the cabaret, and her signature musical number that he performs. He later even apologizes to her for his "imitation." This plot device has numerous connotations. It foregrounds the power of the female star as a "role model" not only for women but for men. Specifically, it invokes the gay camp mimicry of such figures as Judy Garland, Barbra Streisand, Cher, Mae West, Joan Crawford, and Lana Turner. For, as Rebecca Bell-Mettereau has noted, "The homosexual impersonator's desire is to imitate a woman of power and prestige, a professional performer rather than a 'real woman'" (5). Lethal's simulation also reveals what many theorists have observed about "femininity" within patriarchal culture: that it requires a masquerade even of biological women—a performance not all that different from drag (Doane, 1990; Johnston). Judith Butler, in fact, sees the engagement of gender as requiring a failed imitation of an elusive prototype: "[T]he repetitive practice of gender . . . can be understood as the vain and persistent conjuring and displacement of an idealized original, one which
---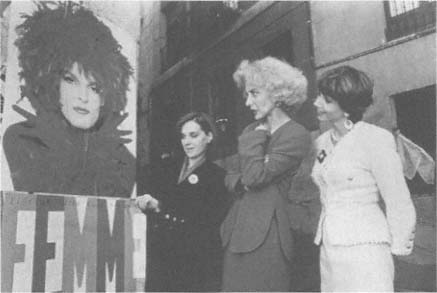 [
Full Size
]
no one at any time has been able to approximate" (2). Significantly, she sees the narrative of Imitation as exemplifying this process, through its focus on the hyperfemale, Lora Meredith.
But the more intriguing element of Lethal's approximation of Becky is that it places him within the maternal position: after all, it is Rebecca's mother whom he ends up "being." Rebecca even acknowledges this. When she encounters a poster for Lethal on the street (see figure 25), she tells Becky that she had gone to see him when she missed her. Thus, in reproducing himself as a female, Dominguez also becomes the human capable of corporeal reproduction: woman. This facsimile of motherhood becomes more resonant when one recalls that, earlier in the film, Rebecca had accused Becky of merely "acting" her parental role—a charge also issued by Susie to Lora in Imitation .[7]
But what are the implications of this narrative move, as regards the film's overall sexual politics? Typical of postmodernism, a multiplicity of readings and subject positions are offered to us. On one level, the device seems to raise questions about the relationship between a heterosexual woman's adult desire for a man and her infantile love for her mother. According to the prescribed psychiatric script, if a girl is to become heterosexual, she must "shift" her affection from her mother to a male. While in the
---
traditional literature, this turnabout is likened to a substitution, recent views have cast it as a supplementation. While the girl does not relinquish her affection for her mother, she "widens" it to allow for a man. As Nancy Chodorow observes, "[A] girl develops important Oedipal attachments to her mother as well as to her father" (127). The drama of High Heels enacts this move by cementing mother and lover in Dominguez (a man attached to his own mother).
It further complicates this odd arrangement by implying that Dominguez may be gay (given his penchant for drag, and his mother's mention of AIDS). That he chooses a female love object (in Rebecca) is not entirely incompatible with that reading. For, as Kaja Silverman has remarked (in paraphrasing Marcel Proust), "[T]here are two broad categories of homosexuals—those who can love only men, and those who can love lesbian women as well as men" as both occupy a same-sex "feminine psychic position" (381). Interestingly, such homosexuals identify strongly with their mothers—enclosing "a woman's soul . . . in a man's body" (Silverman, 339–88). For Lethal, that soul spills over onto his exterior, in the form of his female attire. Within this framework, Rebecca is a repressed lesbian—a woman who can only want a man who appears to be a woman—the primal woman at that. For Marsha Kinder, Rebecca's conduited maternal desire is liberatory: "This film . . . boldly proclaims that mother love lies at the heart of all melodrama and its erotic excess" (1992, 40).
The film further investigates the problematic rapport between mother and daughter. If Rebecca is haunted by a nostalgia for the Imaginary, so is Becky (whose signature torch song is entitled "You'll Recall "). She returns to Madrid specifically to acquire the basement flat in which she was raised. At the end of the film the two women's regressions merge. As Becky lies in her childhood apartment dying, Rebecca pulls the curtains of the high window that faces the street above. As pedestrians stroll by, she watches their legs and feet. She remembers how, as a child, when Becky went out, she would anxiously await the sound of her mother's high-heeled footsteps returning (hence, the literal title of the film: Distant Heels ).
Though this scene is poignant, it is undercut by earlier parodic moments of the film. Within the context of the myriad "perversions" the text invokes (patricide, transvestitism, incest), the notion of foot fetishism unavoidably comes to mind—a syndrome signaled in the work's title. For Freud, this symptomology is tied to the young boy's shock at seeing his mother's lack of a penis. As Freud notes, "[W]hat is possibly the last impression received before the uncanny traumatic one is preserved as a fetish. Thus the foot or shoe owes its attraction as a fetish . . . to the circumstance that the inquisitive boy used to peer up the woman's legs towards her genitals" (217). In High Heels , Lethal's platform shoes are very visible in his cabaret number—an act that imagines a mother with a penis. And, when he and Rebecca
---
make love in his dressing room, she is afraid to jump from the rafters because she is wearing high heels. These ironic moments (involving shoes) "infect" the denouement, giving Rebecca's yearning for her mother's footsteps a masculine and "unnatural" cast. Significantly, she looks up, from a basement window, at people walking by on the street—as though to literalize Freud's vision of the male fetishist-to-be, gazing up women's skirts.
Given Becky's desire to return home, Rebecca's melancholy and nostalgic angst seem a remake of her parent's—adding to the problematic tendentious portrayal of mother-daughter symbiosis. But Rebecca is a replicant on more levels than one. Her name seems a variant of her mother's: hence "Re-Becca" remakes "Becky." She marries her mother's former lover and then considers wedding her mother's male doppelgänger. Furthermore, during the course of the film, Rebecca becomes pregnant (by her maternal look-alike), thus approaching the matrilineal position herself. Hence, within the film, "the reproduction of mothering" goes berserk. But its vertiginous chain of duplication should not surprise us, for, as Hutcheon notes, "commitment to doubleness or duplicity" is a benchmark of postmodernism. High Heels engages this trope both within the style and thematics of the film: it is a remake about the process of remaking.