Keeping Him Connected
In contrast to women's travel abroad, which is often depicted in negative terms (as discussed in chapter 3), men's travel is desired and encouraged.
---
It is seen as the source of financial and social prosperity. Many young men dream and, with the financial and moral support of their families, try hard to travel (often unsuccessfully) to an oil-producing country. The migration of a young man, however, is surrounded by uncertainty and raises many questions: Will he succeed in finding or maintaining a good job? Will he remember his family and commitment at home? Will he come back prosperous and safe? These fears and questions are justified since, unlike Magdy, several young men fail to make the expected income or do not send their families substantial amounts of money. In fact, one of Magdy's older brothers,
[3]
who worked in Iraq and Libya, exemplifies how young men may not only fail to save money but also acquire "bad" habits such as drinking and frequenting nightclubs. Thus, many parents try to ensure that their children do well in their work and save as much money as possible. In this regard, ensuring continuous communication with young men and encouraging them to buy housing units or remodel existing apartments are important techniques that secure the flow of currency and reinforce the attachment of labor migrants to their families and neighborhoods in Cairo.
TAPES: THE ART OF HEARING
Besides the flow of money and goods from Magdy, there is a continuous flow of ideas, news, and information that enables him to participate effectively in making decisions related to the daily life of his family and friends. Letters, phone calls, photos, and tapes are significant in bridging the physical distance that separates Magdy from his mother, siblings, and fiancée. One of his sisters, Nisma, who is very close to Magdy, is the main letter reader and writer. She is more educated than her other siblings and has better handwriting. While his other siblings can read his letters, they either do not know how to write or think that their handwriting is illegible. Sometimes, when Nisma was not available or when she refused to write to ask for more money, Magdy's mother asked me to write letters on her behalf. Writing to relatives abroad was not a task I had anticipated before starting my field research. It was nonetheless a task I welcomed, as it opened my eyes to several methodological and conceptual points and provided me with an unexpected chance to learn about the dynamics of interaction between migrants and their relatives. Writing letters also allowed me to follow the lives of some women and to grasp how changes in their lives shaped the interaction with male migrants.
Nadia, for example, has been married for five years. After the wedding,
---
her husband, Karim, left her pregnant with their first child and traveled to Saudi Arabia to resume his work as a blacksmith. Although she has her own apartment in another neighborhood, Nadia returned to live with her parents in al-Zawiya al-Hamra. The idea of living alone appeals neither to her nor to her family. Nadia went to school for six years, and she knows how to read. Nevertheless, she cannot write. So she often asks other women, such as Nisma and me, to write to her husband. She usually asked me to read the most recent letter sent by her husband, and then we cooperated in writing the response. She would ask me to respond to all the issues he raised in his letters. Yes, she talked to his brother about hiring a worker to fix their balcony, but no, she could not buy a new stove because she was fifty pounds short of the requested price. Nadia usually insisted that I follow the format of her husband's letters. She would ask me to copy almost literally his greetings to her and then instruct me to send him greetings from all the people that he mentioned in his letter, following the same order that he used. After she gave birth to their first child, she would ask me to write news about the baby and sometimes instructed me to write as if the child himself were asking for money, clothes, and toys. She would also respond to her husband's requests for pictures of their son, whom he did not see until the child was three years old.
In addition to letters, phone calls and audiotapes facilitate the flow of information between migrants and their families. A phone call is a very fast way of communicating that allows direct discussion of pressing issues. Although the number of phones is limited in al-Zawiya al-Hamra, a migrant can always talk to his family by calling a neighbor who has a phone. Phone calls, however, are very expensive and are used infrequently. Audiotapes are another important alternative for effective communication. A tape represents an intermediate form of communication between the fast but expensive phone call and the cheap but slow letter. A tape, though, is more exposed to the control of the government. Unlike fax and e-mail, both of which are available for upper-class Egyptians and can escape the censorship of the government, tapes have to go through the state apparatus. When Magdy's sister takes a tape to the post office, she also needs her identity card. Her name and address have to be clearly printed on the envelope, and the employee in the post office keeps track of her identity card number. Nisma explains that tapes are monitored and approved before they are sent out: "They listen to parts of the tape. They want to make sure that the tape does not contain religious material or attacks against the government. I am sure that they only
---
listen to part of it, and when they hear only greetings from us to Magdy, they stop listening." To avoid state censorship and the long mailing time, Magdy and his family try to keep track of travelers to carry tapes and other gifts to and from Kuwait.
Even though a tape sent via mail is more costly, is monitored by the state, and requires coordination between family members, it is usually preferred to letters for various reasons. First, a tape enables illiterate parents and relatives to communicate with their beloved ones without a mediator (i.e., writer/reader of the letter). Most parents in al-Zawiya al-Hamra are illiterate, and even some siblings who went to school for six years (and sometimes even for nine) cannot write. Thus, with the help of a tape, Magdy's illiterate mother can communicate with him directly. The sincerity and warmth of her prayers are almost impossible to express in writing. Her expressions of affection often turn into cold words when inscribed in a letter written by a daughter or a neighbor. But when she records for Magdy, her soft deep voice reflects her strong emotion, and her words express her longing for him. She also can communicate to him her pride in his achievements, retell her expectations, and repeat her advice. As a letter writer, Nisma is always selective. She sometimes dismisses her mother's requests for money or refuses to write about some problems in the family. No one, however, can stop his mother from saying what she wants when recording for Magdy. They may comment on what she tapes, but still she has the chance to express her ideas without the mediation of a third party. At the same time, a tape from Magdy allows her to hear his voice repeatedly, especially when she misses him. I often saw her happy face and big smile while she replayed one of Magdy's tapes, heard his tender words addressed directly to her, or listened to one of his jokes or funny stories.
In addition, a tape provides flexibility to discuss in detail various issues and to include the voices of several relatives and friends. A tape allows Magdy to address all of his family members and to discuss different topics such as the health of his mother, the future career of his younger brother, and the weight of his younger sister. Tapes also enable Magdy to transmit the latest songs from Kuwait to Cairo and allow his brothers and sisters to provide him with the latest Egyptian songs and jokes. Some sing for him to express how much they miss him, while others, less confident of the beauty of their voices, record a song from the radio. A tape also brings together all his siblings and Magdy's close friends. Taping often becomes a session for telling stories and jokes. Such tapes give Magdy a feeling for his neighborhood, remind him of the days
---
when they used to be together, and provide him with assurances of his family's well-being.
At the same time, a tape is expected to provide more "spontaneous" communication than a letter, enabling the migrant to analyze the tone and quality of the voice on the tape and to conclude things that his relatives do not verbally mention. Nadia, for instance, asked me to write to her husband in detail about issues such as the relatives who visited her after she delivered her baby, the length of their visits, and how much money they gave as gifts to the baby. Despite this, her husband asked her to send him a tape that would inform him about all of this in even greater detail. Nadia's husband wanted not only to read her words, mediated by writers such as Nisma or me, but also to monitor the voice of his wife to figure out how she really felt about the visits of his family. Similarly, Magdy realizes when his mother is sick or in distress, even though she tries to cover that up while recording for him. When he feels that her "voice is different," as he stated in one of his letters, he writes or calls to ask for explanations and assurances from his siblings regarding his mother's health.
But above all, a tape can be and is often used as a "document" that is circulated between family members and close friends and that can be replayed several times for literate and illiterate members. While they cannot save a phone call and a letter is accessible only to those who can read, Magdy's family and future in-laws save the tapes that clearly express Magdy's preferences and reactions. These tapes are consulted when disagreements emerge regarding any proposed changes to his apartment.
These tapes, therefore, keep the migrant informed of what happens in his neighborhood and ensure his emotional and material connectedness with his family. They often aim to remind the young man of his obligations, encourage him to save more, and persuade him to invest his money in durable items. Investment in material objects, and particularly in an apartment, becomes a powerful tool that ensures the continuous flow of cash and information from the migrant and that includes him in the production of locality.
BUILDING MODERN DREAMS
As stated in earlier chapters, the apartment, the organization of its space, and the quality of its furniture are all central to the representation of the self in daily life in al-Zawiya al-Hamra. The housing unit is a material manifestation of the man's ability to earn money and the woman's skill in
---
cleaning and beautifying their home. It is a visible and privileged site for expressing the identity and status of the family. This is clearly manifested in the various changes that people have introduced to the housing units. Many of these changes, as discussed in
chapter 2
, are signs of distinction and manifestations of the material and symbolic capital of the inhabitants. The role of the apartment gains considerable significance for young unmarried migrants, who are encouraged by their families to invest a major part of their income in restructuring, furnishing, and decorating their housing units. The apartment shows that the migrant "did something." It not only signifies his success and distinction but also symbolizes and reinforces his belonging and attachment to his neighborhood.
MAGDY'S APARTMENT
Young men like Magdy are desirable future husbands. Like many other young women, Magdy's sisters dream of marrying men who work in oilproducing countries. They explain that, in a relatively short time, a man who works in Kuwait or Saudi Arabia will have enough money to secure the apartment and its furniture, both of which are essential social requirements for marriage. So when Magdy proposed to Laila, a twenty-three-year-old woman who lives in el-ahali but works as a secretary in a middleclass neighborhood, she and her parents accepted immediately. Besides his good looks and pleasant manners, they knew that he had been working in Kuwait for years and that he could fulfill Laila's dreams. Although Magdy did not have the chance to know his fiancée well, he trusted the judgment of his mother, sisters, and neighbors. In their opinion, Laila is beautiful and comes from a good family. After meeting her a couple of times, he decided to ask for her hand in marriage. He bought her the customary golden jewelry (shabka) and had a big engagement party. Like many other engagement and wedding celebrations, their party was videotaped, and his family and fiancée replayed it for me several times.
Once Magdy was engaged, finding an apartment became even more important. Magdy, however, did not manage to find a suitable unit before going back to Kuwait. So he left the money in a bank account under his sister's name. He chose Nisma not only because she had a more flexible schedule than her working brothers but also because, as he knew, she would not spend any of his money without his instructions and permission. His older brothers had gone through repeated financial crises that had forced them to borrow part of the money that Magdy sent to his mother. Nisma kept her eyes open for vacant apartments. Within a few months, she heard that
---
one neighbor in Hisham's building was going to move to a larger unit in another neighborhood. She thought that the neighbor's two-bedroom apartment was a good catch because it was very close to the apartments of both Magdy's family and Laila's family. After discussing the issue with the rest of the family and Magdy's fiancée and obtaining Magdy's approval, Nisma inquired about the price and bargained with the owner. At first, the owner asked for fifteen thousand pounds (at that time, an Egyptian pound equaled thirty-three American cents), but she managed to reduce it to fourteen thousand pounds. One of her brothers finalized the agreement with the owner, and Nisma paid ten thousand pounds up front. A few months later, Magdy sent the remaining amount.
Even before the search began, it was clear to everyone that Magdy's apartment would reflect his income and status. His younger brothers were forced to consider renting or buying units in satellite cities outside Cairo, an option that they did not like but that still might be the only one available given their incomes. From the beginning, his family took it for granted that Magdy could afford to buy an apartment near them in al-Zawiya al-Hamra. While his younger brothers were searching for onebedroom apartments, it was assumed that Magdy could afford at least a two-bedroom unit. Compared with the apartments of his married siblings, the unit that Magdy bought is much larger. The original structure of Magdy's apartment consisted of two bedrooms, a living space, a bathroom, and a relatively spacious separate kitchen. This apartment was identical to his family's apartment, where, until recently, ten to twelve individuals lived (see Figure 11). Meanwhile, his older brother Fahmi, a driver in his mid-thirties, lives with his wife and an eight-year-old son in a one-bedroom apartment. Although Fahmi and his wife were lucky to find this unit ten years ago, given that it is close to both of their families, the apartment is considered very small for them. In addition to the bedroom, there is a small hallway, but there is no separate living space that can be used to receive guests. A couch, placed in the hallway next to the entrance, is used to seat visitors (see Figure 12). This area is so small that if two or three people visit simultaneously, the place becomes uncomfortably crowded. Fahmi's wife is especially unhappy with the fact that her "kitchen," which consists of a sink and a gas stove occupying the corner of the hallway, is exposed to visitors who are seated on the couch in the opposite side of the hallway. Since I met her in 1993, she has been dreaming of saving enough money to install a metal balcony, part of which she can use as a kitchen.
The changes that Magdy is introducing to his apartment increase the
---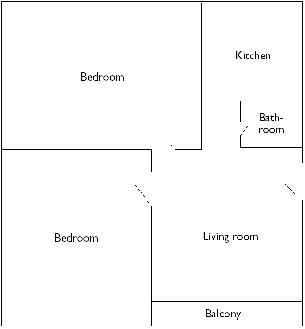 FIGURE 11. The apartment that Magdy bought was originally identical to his family's apartment, where, until recently, ten individuals lived.
[
Full Size
]
differences even more between him and his siblings. These changes are encouraged by his family and future in-laws, who often draw on modern images and ideas to motivate Magdy to invest in expanding the apartment, organizing its space, and buying fancy furniture.
[4]
A few months after buying his unit, Hisham and two other families in the building decided to expand their apartments by building new structures attached to the units allocated to them by the state. Although Magdy's new twobedroom apartment is considered spacious and few young men of his age can afford to acquire such a unit, his family and fiancée thought that expanding his apartment would be a good investment that could save him money in the future. Building with the neighbors was not only important because they would collectively share the high cost of the foundation of the new additions. It was also crucial to avoid the state's attempts to remove the new unlicensed structures. Neighbors cooperate to collect money to pay offgovernment employees to overlook such changes. At the same time, conducting the additions as a group makes it harder for government officials to demolish the new expansions.
---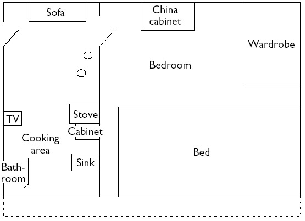 FIGURE 12. The apartment of Magdy's brother. A couch, placed in the hallway next to the entrance, is used to seat visitors. This area is so small that if two or three people visit simultaneously the place become uncomfortably crowded.
[
Full Size
]
Magdy's family and his future in-laws collectively produced a tape that in detail explained to him the plan and the money needed. Magdy approved of the proposal and sent the required money to his family. His siblings, his fiancée, her father, and some of Magdy's close friends supervised the implementation of the expansion. Currently, Magdy's apartment has two bedrooms, one living room, a dining room, a spacious kitchen, two bathrooms, and a large balcony (see Figure 13). Communication with Magdy has continued through tapes, letters, and phone calls to discuss minute developments related to the shape and structure of the additions and the furniture. Magdy, Laila, and their families discussed the choice of door for the kitchen (a beaded curtain or a swinging door) and the bathroom (metal, wood, or glass), the color of the ceramic tiles, and electrical and water installations, taking into consideration expected purchases of appliances such as a water heater and an automatic washing machine.
It is interesting to note that Magdy's migration has brought his family closer to his friends and future in-laws. His apartment in particular has become a link that brings his family closer to his fiancée and her parents. In his absence, his mother and siblings are expected to visit Laila during major religious holidays and to offer her gifts on special occasions. Still, the apartment created another need to communicate with her on regular basis. Currently, the unit represents a blending of Magdy's ideas, the expectations of his family and friends, and the opinions of his fiancée and
---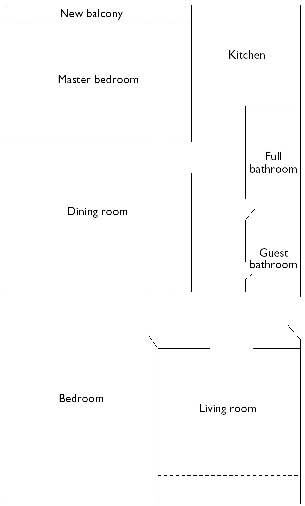 FIGURE 13: Magdy's apartment after the latest additions. Currently, the unit has two bedrooms, one living room, a dining room, a spacious kitchen, two bathrooms, and a large balcony.
[
Full Size
]
her family. They all contributed in one way or another to the renovation of the apartment. Laila shopped with two of Magdy's sisters for the ceramic tiles to be installed in the kitchen and bathrooms. One of his close friends helped in transporting the tiles from the market to the apartment. Laila's father contacted the workers and supervised the installation of the tiles. One of Magdy's brothers found the technicians who installed the electrical and water connections needed to install the automatic washing machine that Magdy is expected to buy. During all of this, there is clear supervision of the money and how it is spent. Each time Laila goes to buy something, she takes one of Magdy's sisters with her to witness the transaction and the amount of money she spends. One of his sisters keeps a written account of the various expenses to report to Magdy on a regular
---
basis. In short, the apartment becomes a project that unites all of them in their attempts to help Magdy in materializing his dreams.
Magdy's travel allows his fiancée more freedom in shaping their future home. Although women are active in organizing, cleaning, and decorating their apartments, they usually assume this role after marriage. The bride is rarely involved in preparing her future home until the final stage, when she and her sisters (or female friends) arrange the furniture that she buys (normally for the living room and the kitchen) and organize her belongings in the bedroom. In contrast to this general tendency, the role of Laila and her family has been central to the changes introduced to Magdy's apartment. Laila decided on various issues related to the unit, such as the color of the ceramic tiles, the kind of bathtub, and the paint of the unit. She is also taking initiatives in the organization of the unit. She helped in supervising the work and in removing, with the help of Magdy's sister, the debris left behind by the workers. She also went with her father to their village of origin, two hours by bus from Cairo, to see a carpenter whom he knew and recommended. She showed the carpenter her favorite design of kitchen cabinets and asked him to duplicate it. She and her father visited the carpenter several times to check on his progress and to make sure that he was the right person to hire to make the bedroom furniture. After these visits, she went to her future mother-in-law to inform her about the kitchen, the wood they are using, and the color they will select to paint the cabinets.
Unlike most brides, Laila is also participating in decisions related to her future bedroom. While a bride participates in the selection of the furniture of the living room and kitchen, the furniture of the bedroom, which is closely linked with sexuality, is the responsibility of the groom and his family. In Magdy and Laila's case, she is the one who is deciding on these issues. To be able to select the most fashionable and beautiful furniture, Laila watched TV, looked through magazines, and visited various newly married women to see their bedrooms. After deciding on a style, she sent a picture of the furniture she liked to Magdy to solicit his opinion. She said that Magdy liked the design of the room and suggested a white color. Laila, however, prefers black and wine-red colors. According to her, the white is very common and dated, while the black and the winered are newer and more fashionable. After discussing her preferences with Magdy over the phone, he told her to choose the color that she prefers.
In addition to the structure of the housing unit, people expect Magdy to display his wealth in the furnishings of the apartment. Compared with his siblings and other men of his generation, he will be buying furniture
---
that is very expensive. He will have to furnish not only the bedroom but also the dining room. One of the purchases that Laila is currently planning, a dining room set, is a clear expression of Magdy's distinction. Even though, as she explains, the dining room will rarely be used, Laila is currently trying to select a dining set that would seat six to eight persons. When she finds a set that she likes, she will send a picture of it to Magdy to see if it is to his liking. She plans to have a small table in the kitchen where she and Magdy will eat and to buy another wooden low round table (
tabliyya
), which is usually used for serving food in al-Zawiya, to use when their families and neighbors visit. Meanwhile, they need the dining room as a visible sign of Magdy's success to be displayed to their visitors.
At the same time, the desired home of Magdy and Laila is constructed by images transmitted via television programs and visits to other neighborhoods. The manner and style in which Magdy has chosen to remodel and furnish his housing unit also reflect his experience outside his neighborhood. Items such as the water filter, the kitchen fan, and the vacuum cleaner, which he purchased in Kuwait, are not common in al-Zawiya al-Hamra. He also decided to invest money in building both a full bathroom and a separate guest restroom (with a toilet and a sink). Among the many apartments that I visited in the neighborhood, Magdy's unit is the only one that has two bathrooms and the only one that has a bathtub.