The Mosque: A Space for Unity?
The growing importance of religious identity is clearly manifested and reinforced in the increasing centrality of the mosque as a space that brings members of different groups together, facilitates their interaction, and promises to establish a unified collectivity out of a heterogeneous neighborhood.[15] The mosque is open to all Muslims, and differences between people are at least temporarily dissolved through their gathering as equals in the same space. Compared with the market and the coffee shop, where people's interactions are characterized by distrust (as discussed in the previous chapter), the mosque is the most acceptable and safest social space where various groups can meet and interact.
The mosque is the "House of God" (Baiyt Allah) that both men and women are encouraged to visit. People are required to obey specific rules and perform certain rituals to have access to it. While women are not required to be purified and usually wear old dirty clothes before going to the vegetable market, they bathe, dress in clean nice clothes, and perform ablution before going to the mosque. The mosque is actively utilized to frame the interaction between members of different groups as well as to empower emerging meanings, identities, and relationships. Those who are labeled as troublemakers, rude, selfish, sneaky, or untrustworthy can be present in the same space and collectively identify themselves as Muslims. Mosques proliferate inside el-masaakin and el-ahali as well as on the borders between them. These can be grand mosques with minarets and different sections that provide services to the community or small mosques that are hardly differentiated from the surrounding residential units. Mosques are, at least in principle, accessible to all Muslims and potentially bring them together as equals. In fact, the word gaami', used to refer to the mosque, is from the root gama', which means "to bring together." The unity of prayers and the importance of communal feelings are manifested in the unifying discourse and the similar movements that are performed simultaneously. The Imam leads the prayer and coordinates
---
the movement of all the attendees through his pronounced signals that indicate when one should bend forward on the knees, stand up straight, and so on.
[16]
Emphasis is placed upon standing in straight lines, very close to each other, so that no space is left through which the devil could enter among the devout and divide their collectivity.
[17]
The feelings associated with being part of a collectivity were cited by many, especially by women, as one of the main reasons for going to the mosque. As was the case with many of her neighbors, relocation shattered most of the support system that connected the fifty-five-year-old Um Ahmed with friends and neighbors who were relocated to 'Ain Shams or to different parts of the new housing project in al-Zawiya al-Hamra. Um Ahmed explained that she goes to mosques because the presence of other people strengthens her will and provides her with more energy than when praying alone. Although she used to perform her religious duties on a regular basis in Bulaq, Um Ahmed's religiosity gained a different meaning in al-Zawiya.[18] In addition to adopting the khimar (a head garment that covers the hair and the shoulders), which is seen as the "real Islamic dress," Um Ahmed began attending local mosques on a daily basis. From the many mosques constructed around her housing block, she selects six mosques to perform four out of the five daily prayers, attend weekly lessons, and participate in Quaran recitation sessions (see Figure 10). For Friday prayer, she usually selects a large mosque that is located within the boundaries of el-masaakin but is also attended by worshipers from el-ahali. Um Ahmed explains that the big mosque brings many people together and that she likes being part of a large collectivity. She also visits two small mosques that are identified with al-Sunniyin. She attends these two mosques, which are located in el-ahali, to listen to weekly lessons and participate in Quran recitation sessions. For the afternoon prayer (il-'asr), she attends a mosque that is on the margin of el-ahali across the street from el-masaakin. Daily, she visits this mosque, which is operated by a charitable organization (gam'iyya khayriyya), to learn reading, writing, and mathematics.[19] Another mosque located next to the vegetable market in el-ahali is a convenient site for the midday prayer when Um Ahmed is shopping for the family's daily food. For the evening prayer, she chooses a smaller mosque on the edge of the housing project attended by a mixture of women from el-ahali and el-masaakin areas. She prefers this mosque, as she explains, because she meets "wise" women who like to talk to her. Over the last five years, Um Ahmed has formed strong relationships with other women from different parts of the neighborhood, especially from el ahali, who attend the same mosque. If one of
---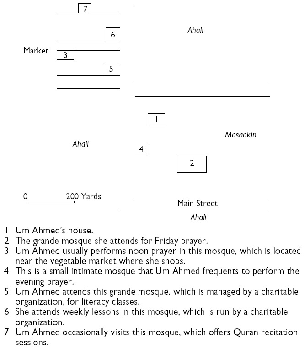 FIGURE 10. Through her daily trips to local mosques, Um Ahmed crosses the boundaries between el-masaakin and el-ahali and forges strong friendships with other women from different parts of the area.
[
Full Size
]
them does not come to the evening prayer, she goes with other women to ask about their absent friend. She describes these relationships as
suhba fi-illah
(companionship in God's love) that are not motivated by personal interest. This provides such friendships with a special basis for trust.
Relationships between Um Ahmed and her friends are not restricted to visits and confiding in each other when they have family problems. There are also financial transactions that bind them together. One friend, Um Sayyid, is a widow who lives with her only son and his family in el ahali. She keeps her savings with Um Ahmed because she fears that her son may discover the money and waste it. When she needs cash, Um Sayyid takes some from her savings and claims to her son that she borrowed this money from Um Ahmed. The two friends agreed that Um Ahmed can use any amount she needs from the money. In case Um Sayyid needs a large sum of her savings, she gives a notice to Um Ahmed beforehand to make sure that she has the requested amount.
Through her movement, Um Ahmed crosses the boundaries between
---
el-ahali
and
el-masaakin
and weaves the two areas together. Praying in the mosque is increasingly presented as the source of special rewards that await Um Ahmed and other prayers in heaven. The rewards associated with each step taken to the mosque are behind the long trips that are made to distant mosques. Thus, the mosque not only brings people together from the same neighborhood but also encourages people to move from one part of the city to the other. Young men and women, for example, tour the city in their search for the "truth."
[20]
Especially on Fridays, young men and women utilize the city bus to tour the capital in this search, in which "the truth" is usually linked with certain popular preachers. The notion of "truth" is complex and is related to various discursive strategies that publicly criticize the government without fear of its repression and that succeed in moving people emotionally and opening their hearts for more commitment to Islam. Through their movement in the city, young men and women hear about and may directly experience state oppression, encounter members of other social groups, and weave the city together as a lived entity. Visits to mosques in other parts of Cairo allow young men and women to feel part of a larger collectivity that extends beyond the boundaries of al-Zawiya. They also make their religious identity more visible in different parts of the city. Stories are told about how the police follow women who wear the
niqab
(a garment that covers the hair and face) and arrest their male relatives. Men also tell stories about how they became targets of police brutality because of their beards.
At the same time, older people are attracted to the mosque not only because they have more free time but also because they have lost many of the old spaces designated for socialization. With the removal of the rooftops, the corniche of the Nile, and local shrines, many have found a shelter in the mosque where they meet and interact with each other. The role of the mosque is being reinforced through opening it more to women, and a growing number of sheikhs are devoting short parts of the Friday khutba (rukn al-mara' al-Muslima) to answer questions related to women. Opening the mosque for women is perceived by Islamic activists in al-Zawiya al-Hamra as essential to counter other spaces that are open to women such as universities, the workplace, movie theaters, and nightclubs. As a female Islamic activist argued: "Is the university closed to women? Is the workplace closed to women? Is the movie theater or the nightclub closed to women? No, they are all open to them, and so should be the mosque." Women should go to the mosque to learn something that is useful for their families, one activist explained. In contrast, informal meetings of women outside the mosque are depicted by sheikhs, men, and often women themselves as "sinful" (haram) because they promote
---
gossiping and backbiting (
namiima
). Um Ahmed said: "It is a waste of time to get together with the neighbors when I need to do my housework. Gossiping and chatting with neighbors makes us forget to glorify God and forces me to participate in saying bad things about people who are not with us. This just helps in accumulating sins [
sayyi'at
] that will be severely punished by God, and this is why I avoid them. So when I have some free time, I prefer to spend it in the mosque."
By being part of the collectivity in the mosque, women forge friendships and create support systems that they can draw on during their daily life. More marriages, especially between residents in el-ahali and el-masaakin, are being arranged through these networks. Sheikhs (male and female) are also becoming more involved in solving conflicts between family members. One male sheikh was called upon to help in resolving a conflict between a mother and her daughter. Safa' is a nineteen-year-old woman. Her mother, who is in her late forties, started working as a washerwoman in a hotel in downtown Cairo after her husband's death five years ago. Safa's mother remarried a fellow worker, and Safa' and her siblings became very angry when they discovered that their mother was pregnant. Safa' felt ashamed of the fact that her mother was pregnant at that age, which publicly announced her active sexuality, and said that she would not talk to her until she got an abortion. Although some neighbors and relatives tried to reconcile the two, Safa' refused to talk to her mother. It was only when a friend of her mother took the daughter to talk to a sheikh in a local mosque that she accepted her mother's pregnancy. The sheikh convinced her that abortion is haram and that her mother did not do anything wrong by becoming pregnant. When the baby was born, Safa' took over the role of the mother, and she is now very attached to her two-year-old sister.
Discourses circulated in the mosque are addressing many daily concerns. Transportation, bureaucracy, corruption, unemployment, and social and gender inequalities are discussed by male and female preachers. In weekly lessons for women, for instance, female activists discuss many issues, including the shaping of the eyebrows, menstruation, sexual relationships, circumcision, pregnancy, abortion, domestic abuse, and relationships between spouses and neighbors.[21] During these lessons, women can directly ask questions about different aspects of their daily lives. They are also given directions about how to deal with changes in their lives. For example, a female preacher explained to us how we should deal with menopause. She scolded those women who celebrated the ending of their sexual productivity by slaughtering a sheep to express their happiness, even though they were also celebrating because, with the
---
onset of menopause, they could perform all their religious duties, especially praying and fasting, without the interruptions caused by menstruation. This preacher emphasized that menstruation is from God and that women should therefore not celebrate its absence. The mosque thus is also a site for the construction of the meaning of bodies and the constitution of subjectivities. It plays a central role in people's daily life and the construction of individual and collective identities. It facilitates the interaction of different groups and promises to create a unified religious identity based on equality and solidarity.
While discourses circulated in the mosque may succeed in convincing women to comply with the Islamic norms in the short run, they are allowing women to question the interpretations of shari'a (Islamic laws and texts) by some sheikhs and the implications of these interpretations for various aspects of women's daily life. Nuha, for instance, is a twenty-three-year-old woman who has a high school diploma and works in a factory outside the neighborhood. Although she expressed enthusiasm for the application of shari'a in every aspect, she became more hesitant when she heard what that entails. She declared her amazement at one of the lessons that she attended. The female preacher told them about a woman's obligations and how she should obey her husband all the time. According to the preacher, "A wife should be patient, even when she is beaten by her husband. She should not answer back but should be submissive and obedient. Above all, she should never leave home without his consent." Even when living with the husband becomes totally impossible, she should not leave the house without his permission. When one of the attendees protested because that seemed like asking too much of the woman, the preacher said that the road to heaven was very difficult. Nuha emphasized that she would not accept such treatment from her future husband but expects respect and love.