---
5. Religion in a Global Era
Islam as the object of anthropological understanding should be approached as a discursive tradition that connects variously with the formation of moral selves, the manipulation of populations (or resistance to it), and the production of appropriate knowledges.

Talal Asad, The Idea of an Anthropology of Islam
My fieldwork in Cairo required me to be a frequent rider of the city buses that connect different quarters with the center of the capital. The bus was very crowded late one night when I returned from al-Zawiya al-Hamra to al-Tahrir Square. But this time, unlike other times, there was a strong male voice reciting the Quran. A young bearded man, dressed in a white T-shirt and white pants, proceeded to talk about religion and what it meant to be a "good Muslim." And in this instance, unlike encounters in the mosque, a dialogue ensued between the bearded man and the other passengers. One man in his fifties protested by stating that the bus was not the right place for preaching and referred the bearded man back to the mosque. The man's protest against the sacralization of this public space was countered by others who supported the bearded man because, as one woman said, he was just asking people to obey God and follow his commands. With a strong and confident voice the bearded man commented, "The people who go to the mosque know all the things that I am telling you now. It is the people who do not go to the mosque that we need to address. It is the duty of those who know to tell those who do not." Faced with all of the support that the bearded man had garnered, the man who
---
protested stated that he was just worried that the police might arrest the bearded man. The repressive power of the state and its attitude toward Islam were thus brought into the minds of the passengers. The message was clear: just because the man was asking people to follow Islam, he could be arrested by the police.
The dialogue between the bearded man and some young men on the bus covered the questions of how to define Muslims and their duties, the legitimacy of the use of violence against "nonbelievers," and pressures of the West on Muslims, especially women, to abandon their religious practices (such as the Islamic dress). The bearded man ended his talk by introducing himself as Mohammed Ibn Abdullah (the Prophet's name) and by announcing that he was working for the faculty of engineering in a well-known Egyptian university. He attacked the state's description of al-Sunniyin (defined in the popular discourse as strict followers of the Prophet's traditions) as siyya' (people who are good for nothing). Al-Sunniyin, the man emphasized "are the best and purest people in your country. No, we are not siyya'. We are educated people. We know, and it is our duty to let other people know." He got offthe bus before the last station and disappeared into the crowd in the street, and the bus driver treated us to a loud song by Um Kulthum, the popular Egyptian female singer.
Not only the city bus but mosques, schools, shops, universities, and streets are used by Islamic activists to interact with people in different parts of Cairo. As stated by the bearded man in the bus, these activists are aware of the importance of various spaces and the potential audience present in each space. Mosques are visited by most of the population at least once a week and by many on a daily basis. The majority of daily visitors to the mosque are housewives, youngsters, and retired men. In contrast, virtually all working men and women take the bus to work every day. The man in the bus preaches to those who cannot visit the mosque on a regular basis and to those who do not have access to the discourses of al-Sunniyin as circulated in the mosque. Such efforts by Islamic groups that aim to establish an Islamic community (umma) are important in consolidating the basis of a collective religious identity in al-Zawiya al-Hamra.
The growing importance of religious identity, I argue, is a striking example of how global trajectories, especially a hegemonic discourse of modernity and the flow of images facilitated by new systems of communication, shape the identities of the relocated group. I focus on the mosque and the relationships between Muslims and Copts to show how religion is facilitating the creation of a sense of community that is based
---
on "a subjective feeling of the parties, whether factual or traditional, that they belong together" (
Weber 1978
: 40). Religious identity, the discussion shows, has been consolidated by the uprootedness of the group and the daily struggle of its members to appropriate what they perceive as positive aspects of modernity and relinquish what they view as negative.
Ruptures and Dislocations
Hegemony is not the disappearance or destruction of di V erence. It is the construction of a collective will through di V erence. It is the articulation of di V erences which do not disappear.

Stuart Hall, "Old and New Identities, Old and New Ethnicities"
The discussion so far showed how relocation rearranged local identities and added to the old identifications: people are now identified with a village (the place of origin), as locals of Bulaq (where they resided for generations), as occupiers of the stigmatized masaakin, and as inhabitants of al-Zawiya (known for its poor reputation in Cairo). We also saw the significance of Bulaq for how the relocated population imagine their communal feelings, especially in regulating relationships inside the group. The stigma and stereotypes linked to this identity, however, do not facilitate the group's interaction with the residents of el-ahali and other parts of el masaakin.
Despite the differences that separate the relocated group from others, most members of this group share with the old residents a religion.[1] Religion has become a powerful discourse in articulating and socially grounding the various identities: displaced families, ahali and masaakin inhabitants, people of Bulaq and al-Zawiya, rural immigrants, Fallahin (peasants who come from various villages in Lower Egypt) and Sa'ides (immigrants from different areas in Upper Egypt), who are largely pushed from their villages to Cairo in their search for work and a better life, as well as residents who have moved from other areas of Cairo, can all find commonality in religion. With the absence of the old guarantees secured by rootedness in the same area and the increasing mixing of strangers from various parts of Cairo in the same housing project, religion promises[2] to provide a strong basis for trust and social control. At the same time, religion has become central to what Jean Comaroff (1985) called "the social relocation of the displaced" (176). Emphasizing the religious
---
identity of the relocated group legitimizes its presence in al-Zawiya and furthers the interaction of its members with others. In short, religion facilitates the creation of a sense of belonging and promises to create a unified community out of a fragmented urban fabric.
NATIONALISM AND RELIGIOUS IDENTITY
There are several factors that make religious identity strongly compete with other identities, especially with nationalism, in articulating the presence of the group in al-Zawiya al-Hamra. First, although people strongly identify themselves as Egyptians, the state's definition of "modern Egyptians" is exclusive. different groups are not seen as contributing positively to the construction of the country. Rather, and as shown in the previous chapters, the official discourse has presented the relocated group as isolated and plagued with many social ills and as people who needed to be "civilized" and reintegrated within the nation to be able to contribute to the development of Egypt.[3] To summarize the preceding discussion, the project destroyed old neighborhood relationships and stigmatized and physically segregated the relocated population. Second, Egyptian nationalism is closely linked to religion. As argued by several authors, the Egyptian government has been using religion since the early 1970 s "to consolidate power and mobilize society" (Ansari 1984: 398; see also Gilsenan 1982; Dessouki 1982; Ibrahim 1982; Ahmed 1992; Abdel Fattah 1997). Sadat in particular presented himself as al-Ra' is al-Mu' min, or "the Believing President," and strategically used religion to support his rule. He also used religious groups to weaken the Nasserists, Marxists, and radical students (Waterbury 1983). The government continues to appeal to religion in its attempts to counter the growing number of Islamic movements (Hanna 1993). More emphasis, for example, has been placed on religious education in schools and the media. Religious institutions affiliated with the government (such as al-Azhar and the Ministry of Endowment) have been intensifying their activities to show that the government is "the guardian of the true Islam" (Hanna 1993: 26; see also Starett 1998). These policies have been strengthening the role of religion in mobilizing both Muslims and Copts and in empowering religious leadership for both sides (Abdel Fattah 1997). Third, the growing identification and pressure of various religious groups in Egypt in general, and in Cairo in particular, are reinforcing religious identity. As the encounter in the bus and other encounters in the mosque show, Islamic activists are communicating with people in different parts of Cairo and are
---
working to reshape people's practices and to empower the religious basis of collective identities. Finally, in addition to their stigmatization, physical segregation, and the negative construction of
masaakin
, the group was relocated to al-Zawiya during a time when tension between Muslims and Christians was escalating rapidly. This tension culminated in the bloody clashes between Muslims and Christians in June of 1981. These clashes created strong opposition between Muslims and Christians and strengthened the religious basis of collective identities. I will briefly examine these clashes to show how religion was used to mobilize Muslims and Christians to control 180 square meters of land (
Egyptian Gazette
, June 21, 1981: 1) and how the clashes shaped the identity of the relocated population. Before proceeding any further, it is important to point out that my description of these clashes is largely based on data from Muslim informants. As stated in the introduction, the fact that I am a Muslim limited my interaction with Christian families.
RELIGION AND THE STRUGGLE OVER PUBLIC SPACE
According to Muslim accounts, the dispute was over a piece of land that was owned by the government and was designated to build a mosque for the workers of the Animal Feed Factory.[4] Part of this land was utilized by a Christian man, 'Aziz, to store construction-related material that he sold in his nearby shop. After years of using the land, 'Aziz tried to register it in his name.[5] Muslim informants emphasize that he bribed a local official who issued him a fake deed (some say that 'Aziz was only given a promise but never received any documents to support his claims) confirming his ownership.
When Muslims opposed 'Aziz's attempts to take over the land, he tried to mobilize Christians by announcing that he would donate it to build a church, something that was supported by many Christians inside and outside al-Zawiya. It is worth mentioning here that the construction of a church or even the renewal of an existing one requires a permit from the Ministry of the Interior (Hanna 1993). Restrictions on the building of churches are based on Ottoman laws that go back to 1856 (Hanna 1993). Until recently, a presidential decree[6] was needed not only to build a new church but also to fix and maintain existing churches (Hanna 1997). These restrictions have been the source of conflict between Muslims and Christians in different parts of Egypt since the early 1970s. They have been utilized by Islamic extremists to destroy and burn churches constructed without permits (Waterbury 1983; Hanna 1997). According to one writer,
---
they were one of the main factors behind "the growing militancy of the church" (
Ansari 1984
: 398). Building churches was therefore a charged issue and the center of tension between Muslims and Christians in various parts of Egypt.
When Muslim activists saw a sign declaring the land as a site of a church, they countered the next night by posting a sign with the name of the mosque they intended to build.[7] This started a "war of signs," as described by one Muslim man. Christian activists would post a sign in the night stating the name of the church they planned to build, and the next night Muslim activists would replace it with another sign stating the name of the mosque to be constructed there. On one of these nights, Christians used paint to write the name of the church on the same sign that was used by Muslims the night before. Some Islamic activists took the sign to the police station and explained the situation to an officer there. They removed the paint used to write the name of the church so that the officer could see the name of the mosque. The officer decided that "the situation should remain as it is" (yutrak al-hal 'ala ma hua 'alih), meaning that the status of the land should not be altered. Muslims interpreted this decision as legitimizing the idea of building a mosque on the disputed land. Al-Sunniyin mobilized men and women who cleaned the land, built a fence around it, erected tents, and placed blankets on the ground for prayer. Christians felt that the police had sided with Muslims and denied them the right to build a church.
Tension escalated between the two sides when leaflets were distributed in other areas of Cairo calling on both Muslims and Christians to support their co-religionists in al-Zawiya al-Hamra. According to written sources, the National Democratic Party (NDP) played a strong role in intensifying the conflict (Hanna 1993; Ansari 1984). A leaflet was signed by the NDP secretary general, two representatives in the People's Assembly, and local committee members. This leaflet stated that the security forces had inspected in cooperation with officials from the NDP the claims of the Christian family and had found these claims groundless (Ansari 1984). The situation exploded when 'Aziz, outraged by the scene of Muslims praying on the disputed land, opened fire on them. The incident reconfirmed the fear of many Muslims who believed that Christians invested their money in buying weapons that they stored in their churches to be used in the future against them. These fears were nurtured by Sadat's pronouncements that Copts were fighting along the Phalangists in Lebanon and that they were trying to change the Islamic character of Egypt (Ansari 1984).[8] In addition, Muslims felt that Copts were becoming
---
stronger economically because of their ownership of houses and management of successful businesses. All these factors enabled Islamic activists in the area to mobilize Muslims against Christians. Muslims, however, did not participate as a collectivity in the attacks on Copts. Many tried to help their Christian neighbors by protecting their property. This was done by either keeping it at Muslim homes or labeling it with
Allahu Akbar.
Some also assisted Christian men, who decided to return to their villages until the situation calmed down, to reach the central train station.
The Central Security Forces (al-Amn al-Markizi) interfered, using tear gas and implementing a curfew lasting for two months in order to maintain peace in the area. Clashes between the two sides led to the death of 17 people, the injury of 112, and the detention of 266 (Ansari 1984: 411).[9] In addition, 171 shops and public places were destroyed (411). But above all, these clashes created a deep split between Muslims and Christians. The name of the grand mosque constructed on the disputed piece of land manifests this split. The name al-Nazir (as pronounced by people) given to the mosque is derived from the verb anthara, which means to warn. This name not only signifies the victory of Muslims, but, as explained by one informant, continues to warn Copts against any attempt to challenge Muslims. It is a sign that, as described by one Muslim woman, provokes grief (hasra) in the hearts of Christians. For Muslims, al-Nazir is now a highly regarded mosque that attracts worshipers from different parts of al-Zawiya. It has a section for after-school classes and medical clinics with labs catering to many low-income families in the area. People pride themselves on the fact that most of the construction was conducted by private local efforts. Muslim men, women, and children helped in the collection of the money, the cleaning of the land, and the construction of al-Nazir. Stories are also told about divine help in the control of the land. One man recalled seeing a "very beautiful woman, who was not from this world, helping with her delicate hands in cleaning the location of the mosque." While reinforcing the distinction between Muslims and Christians, al-Nazir stands as a reminder of the solidarity and collective identity of Muslims who participated in the control of the land and the construction of the mosque.
The 1981 clashes have been seen by several writers as the beginning of Sadat's end. Sadat perceived these clashes as an attempt by Christian and Muslim leaders to "embarrass him" before his visit to the United States and to "ruin his external policies" (Ibrahim 1992: 38). He especially resented the reactions of Copts who protested in the international media before and during his visit to the United States (Abdel Fattah 1995). In the few months (especially early September) after the clashes (which took
---
place in June of 1981), Sadat ordered the arrest of thousands of journalists, academics, political activists, and religious leaders (both Muslim and Christian). Tension escalated until Muslim extremists assassinated Sadat in October of 1981, four months after the sectarian conflict in al-Zawiya. The literature tends to link the relocated group directly or indirectly with these clashes (see
Ansari 1984
;
Campo 1991
). "The immediate cause of the sectarian conflict lay in the government's decision to use the little space left in Zawiya al-Hamra to relocate the inhabitants of slums in other parts of the city" (
Ansari 1986
: 225; see also
Campo 1991
: 136). These studies do not present any empirical data to support such general statements, and one should be careful in making such connections, generally based on unsubstantiated assumptions. The oral histories that I collected indicate that the relocated group was not involved in these clashes. Neither its members nor the old residents of al-Zawiya connect the relocated group with the clashes. The piece of land under conflict was relatively far from the housing project, and I did not encounter any members of the relocated group who said that they participated in any way in these clashes. In fact, it was Sadat who linked the group with the clashes (see the interview with Sadat in
Mayo
, June 22, 1981: 3).
[10]
Some informants expressed their anger because Sadat had falsely accused the group when he announced to the media in the United States that the clashes were initiated by "some riffraff (
shwayyet awbaash
) who were moved from shacks (
'ishash
) and resettled in
el-masaakin
in al-Zawiya al-Hamra.
[11]
Rather than arguing that relocation caused the sectarian conflict, I suggest that relocation took place amidst growing tension between Muslims and Christians, not only in al-Zawiya but in other parts of Egypt, and that the 1981 clashes shaped the group's identity and how it has been situated in al-Zawiya. These clashes left a deep split in the neighborhood between Muslims and Christians. Since their arrival, Bulaqis have felt the tension of the polarized religious identities in the area. According to Early (1993), who conducted field research in Bulaq during the 1970s, relationships between Muslims and Christians were "excellent." She stated that Muslims and Copts in Bulaq "exchange social calls during each other's feasts, and visit and fulfill vows at each other's shrines" (Early 1993: 118). There are strong indications from the people that refer to how their relations with Copts were altered after relocation. A fifty-year-old woman, Um Hani, used to have close Christian friends in Bulaq. When she started going to the mosque in al-Zawiya, Um Hani heard about "the horrible things that Jews and Christians did to the Prophet." This left her with strong feelings that now prevent her from visiting with her Christian
---
friends. She is also encouraged by her friends in the mosque not to buy her groceries and monthly subsidized products from Christian merchants.
[12]
I attended at least one lesson with Um Hani in a local mosque where the sheikh urged people to buy only from Muslim merchants. Another young man explained that Christians used to be nice (
kuwayyisin
) and kind (
'atufyin
) in Bulaq. After moving to al-Zawiya, he started feeling that they were mean and grew to dislike them. The move to al-Zawiya amidst the growing tension and polarization between Muslims and Christians shaped the views of Um Hani and her neighbors of their religious identity in general and their feelings toward Copts in particular.
Both Muslims and Christians are active in inscribing messages on the inside and outside walls of their houses that identify the religions of the residents. Muslims display their identity through inscribing Allahu Akbar on outer walls and decorating their shops and houses with images of mosques, pictures of Mecca and Medina, and Quranic verses. Similarly, Christians decorate their houses and stores with crosses and pictures of Jesus, Pope Shenoudaha (the Coptic Patriarch), and the Virgin Mary. Stickers in Arabic and English such as "Jesus is leading me" and "God loves you" are used to decorate cars and privately owned buses. Space, private and public, becomes a vehicle for showing and reinforcing religious identities. The body is also a space where religious identities are visibly inscribed. Muslims naturalize religious differences by emphasizing that Christians can be distinguished by their features and gestures but most importantly by the cross that is tattooed on the inner wrist of the right hand.[13] I also came across a few old women who had tattooed the cross on their chins. Muslim women distinguish themselves by wearing the hijab (a scarf that covers the hair), which can be also worn by old Christian women. Recently more Muslim women are shifting to the kihmar (a garment that covers the hair, the shoulders, the breasts, and the back), which is seen as the "real Islamic dress that Christian women would never wear."
Unlike the tension between Muslim groups (those who live in el masaakin versus those who live in el-ahali or those from Bulaq versus older residents in al-Zawiya), friction between Muslims and Christians is supported by the belief of the former that the latter are economically superior. They own houses, run flourishing businesses, and operate many shops and stores in the area. While marriages between Muslims who live in el-ahali and el-masaakin are being facilitated by the mosque, marriages between Copts and Muslims are very rare. In the few cases where such marriages took place, the Christian partner had to convert to Islam. The opposition between Muslims and Copts is also marked by purity rituals.
---
Some Muslims, for example, will not eat food prepared by Christians, believing that it is not "pure" (
tahir
) because Christians do not invoke the name of God before preparing it. Others simply mention the name of God before eating food prepared by Christian neighbors.
Compared with stereotypes circulated about other groups, the opposition between Muslims and Christians is manifested not only in daily interaction but also in the popular imagination. This can be illustrated by people's construction of the 'afriit (demon) that can yalbis (wear or possess) a person. The identity of the 'afriit varies, but two kinds are clearly distinguished. One is a good 'afriit who is identified as a Muslim because he or she reads the Quran and asks for simple things like a glass of lemonade or some water. This is a harmless 'afriit who can be easily disposed of by sending him or her to pray in Mecca. The other 'afriit is evil and can cause harm and sickness. He or she is hard to get rid of even through beating the possessed body. This 'afriit is often identified as a Christian priest, as manifested in his or her name and the fact that he or she cannot recite the Quran.[14] Compared with the simple things that the Muslim good 'afriit asks for, the Christian one demands costly things such as expensive foods and new music tapes.
The growing hegemony of religious identity is manifested in the increasing questioning and redefining of "traditions." Rather than being "Egyptian," traditions are being redefined in terms of their relationship to Islam. Shamm in-nisiim is, for instance, a celebration of the spring that both Muslims and Christians usually observe but that is increasingly becoming defined as "Christian." Muslims debate whether they should honor this occasion. In one session, women discussed the roots of the celebration, and one of them emphasized that she had heard on television that this celebration was "Egyptian" and not "Christian" because the Pharaohs used to celebrate it. Another woman, who was identified as knowledgeable in religion and who attended the mosque on a regular basis, countered by stating that the sheikh in the local mosque said that Shamm in-nisiim was Christian and that the fact that it was observed by the Pharaohs did not make it a "Muslim" celebration. She silenced the first woman by asking her: "Do you believe what you hear on television or what the sheikh says in the mosque?" Some Muslims even reinterpret the meaning of Shamm in-nisiim (take a breath of breeze): after the death of the Prophet Mohammed, they argue, Christians were very happy and expressed their relief (shamu nafashum, which literally means "they caught their breath") in this celebration. More Muslim families have stopped celebrating shamm in-nisiim, and some even do not leave the
---
house or eat traditional foods associated with the feast like
fisiik
(saltcured fish) that day. More traditions related to weddings and celebrations of the seventh day after the birth of a child (
subu'
) are being redefined from an Islamic view. Community in this sense "signifies not just a distinctive political ideology but a particular set of values and norms in everyday life" (
Gilroy 1987
: 234).
The Mosque: A Space for Unity?
The growing importance of religious identity is clearly manifested and reinforced in the increasing centrality of the mosque as a space that brings members of different groups together, facilitates their interaction, and promises to establish a unified collectivity out of a heterogeneous neighborhood.[15] The mosque is open to all Muslims, and differences between people are at least temporarily dissolved through their gathering as equals in the same space. Compared with the market and the coffee shop, where people's interactions are characterized by distrust (as discussed in the previous chapter), the mosque is the most acceptable and safest social space where various groups can meet and interact.
The mosque is the "House of God" (Baiyt Allah) that both men and women are encouraged to visit. People are required to obey specific rules and perform certain rituals to have access to it. While women are not required to be purified and usually wear old dirty clothes before going to the vegetable market, they bathe, dress in clean nice clothes, and perform ablution before going to the mosque. The mosque is actively utilized to frame the interaction between members of different groups as well as to empower emerging meanings, identities, and relationships. Those who are labeled as troublemakers, rude, selfish, sneaky, or untrustworthy can be present in the same space and collectively identify themselves as Muslims. Mosques proliferate inside el-masaakin and el-ahali as well as on the borders between them. These can be grand mosques with minarets and different sections that provide services to the community or small mosques that are hardly differentiated from the surrounding residential units. Mosques are, at least in principle, accessible to all Muslims and potentially bring them together as equals. In fact, the word gaami', used to refer to the mosque, is from the root gama', which means "to bring together." The unity of prayers and the importance of communal feelings are manifested in the unifying discourse and the similar movements that are performed simultaneously. The Imam leads the prayer and coordinates
---
the movement of all the attendees through his pronounced signals that indicate when one should bend forward on the knees, stand up straight, and so on.
[16]
Emphasis is placed upon standing in straight lines, very close to each other, so that no space is left through which the devil could enter among the devout and divide their collectivity.
[17]
The feelings associated with being part of a collectivity were cited by many, especially by women, as one of the main reasons for going to the mosque. As was the case with many of her neighbors, relocation shattered most of the support system that connected the fifty-five-year-old Um Ahmed with friends and neighbors who were relocated to 'Ain Shams or to different parts of the new housing project in al-Zawiya al-Hamra. Um Ahmed explained that she goes to mosques because the presence of other people strengthens her will and provides her with more energy than when praying alone. Although she used to perform her religious duties on a regular basis in Bulaq, Um Ahmed's religiosity gained a different meaning in al-Zawiya.[18] In addition to adopting the khimar (a head garment that covers the hair and the shoulders), which is seen as the "real Islamic dress," Um Ahmed began attending local mosques on a daily basis. From the many mosques constructed around her housing block, she selects six mosques to perform four out of the five daily prayers, attend weekly lessons, and participate in Quaran recitation sessions (see Figure 10). For Friday prayer, she usually selects a large mosque that is located within the boundaries of el-masaakin but is also attended by worshipers from el-ahali. Um Ahmed explains that the big mosque brings many people together and that she likes being part of a large collectivity. She also visits two small mosques that are identified with al-Sunniyin. She attends these two mosques, which are located in el-ahali, to listen to weekly lessons and participate in Quran recitation sessions. For the afternoon prayer (il-'asr), she attends a mosque that is on the margin of el-ahali across the street from el-masaakin. Daily, she visits this mosque, which is operated by a charitable organization (gam'iyya khayriyya), to learn reading, writing, and mathematics.[19] Another mosque located next to the vegetable market in el-ahali is a convenient site for the midday prayer when Um Ahmed is shopping for the family's daily food. For the evening prayer, she chooses a smaller mosque on the edge of the housing project attended by a mixture of women from el-ahali and el-masaakin areas. She prefers this mosque, as she explains, because she meets "wise" women who like to talk to her. Over the last five years, Um Ahmed has formed strong relationships with other women from different parts of the neighborhood, especially from el ahali, who attend the same mosque. If one of
---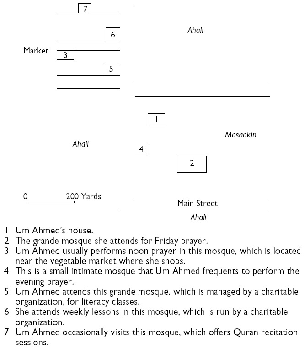 FIGURE 10. Through her daily trips to local mosques, Um Ahmed crosses the boundaries between el-masaakin and el-ahali and forges strong friendships with other women from different parts of the area.
[
Full Size
]
them does not come to the evening prayer, she goes with other women to ask about their absent friend. She describes these relationships as
suhba fi-illah
(companionship in God's love) that are not motivated by personal interest. This provides such friendships with a special basis for trust.
Relationships between Um Ahmed and her friends are not restricted to visits and confiding in each other when they have family problems. There are also financial transactions that bind them together. One friend, Um Sayyid, is a widow who lives with her only son and his family in el ahali. She keeps her savings with Um Ahmed because she fears that her son may discover the money and waste it. When she needs cash, Um Sayyid takes some from her savings and claims to her son that she borrowed this money from Um Ahmed. The two friends agreed that Um Ahmed can use any amount she needs from the money. In case Um Sayyid needs a large sum of her savings, she gives a notice to Um Ahmed beforehand to make sure that she has the requested amount.
Through her movement, Um Ahmed crosses the boundaries between
---
el-ahali
and
el-masaakin
and weaves the two areas together. Praying in the mosque is increasingly presented as the source of special rewards that await Um Ahmed and other prayers in heaven. The rewards associated with each step taken to the mosque are behind the long trips that are made to distant mosques. Thus, the mosque not only brings people together from the same neighborhood but also encourages people to move from one part of the city to the other. Young men and women, for example, tour the city in their search for the "truth."
[20]
Especially on Fridays, young men and women utilize the city bus to tour the capital in this search, in which "the truth" is usually linked with certain popular preachers. The notion of "truth" is complex and is related to various discursive strategies that publicly criticize the government without fear of its repression and that succeed in moving people emotionally and opening their hearts for more commitment to Islam. Through their movement in the city, young men and women hear about and may directly experience state oppression, encounter members of other social groups, and weave the city together as a lived entity. Visits to mosques in other parts of Cairo allow young men and women to feel part of a larger collectivity that extends beyond the boundaries of al-Zawiya. They also make their religious identity more visible in different parts of the city. Stories are told about how the police follow women who wear the
niqab
(a garment that covers the hair and face) and arrest their male relatives. Men also tell stories about how they became targets of police brutality because of their beards.
At the same time, older people are attracted to the mosque not only because they have more free time but also because they have lost many of the old spaces designated for socialization. With the removal of the rooftops, the corniche of the Nile, and local shrines, many have found a shelter in the mosque where they meet and interact with each other. The role of the mosque is being reinforced through opening it more to women, and a growing number of sheikhs are devoting short parts of the Friday khutba (rukn al-mara' al-Muslima) to answer questions related to women. Opening the mosque for women is perceived by Islamic activists in al-Zawiya al-Hamra as essential to counter other spaces that are open to women such as universities, the workplace, movie theaters, and nightclubs. As a female Islamic activist argued: "Is the university closed to women? Is the workplace closed to women? Is the movie theater or the nightclub closed to women? No, they are all open to them, and so should be the mosque." Women should go to the mosque to learn something that is useful for their families, one activist explained. In contrast, informal meetings of women outside the mosque are depicted by sheikhs, men, and often women themselves as "sinful" (haram) because they promote
---
gossiping and backbiting (
namiima
). Um Ahmed said: "It is a waste of time to get together with the neighbors when I need to do my housework. Gossiping and chatting with neighbors makes us forget to glorify God and forces me to participate in saying bad things about people who are not with us. This just helps in accumulating sins [
sayyi'at
] that will be severely punished by God, and this is why I avoid them. So when I have some free time, I prefer to spend it in the mosque."
By being part of the collectivity in the mosque, women forge friendships and create support systems that they can draw on during their daily life. More marriages, especially between residents in el-ahali and el-masaakin, are being arranged through these networks. Sheikhs (male and female) are also becoming more involved in solving conflicts between family members. One male sheikh was called upon to help in resolving a conflict between a mother and her daughter. Safa' is a nineteen-year-old woman. Her mother, who is in her late forties, started working as a washerwoman in a hotel in downtown Cairo after her husband's death five years ago. Safa's mother remarried a fellow worker, and Safa' and her siblings became very angry when they discovered that their mother was pregnant. Safa' felt ashamed of the fact that her mother was pregnant at that age, which publicly announced her active sexuality, and said that she would not talk to her until she got an abortion. Although some neighbors and relatives tried to reconcile the two, Safa' refused to talk to her mother. It was only when a friend of her mother took the daughter to talk to a sheikh in a local mosque that she accepted her mother's pregnancy. The sheikh convinced her that abortion is haram and that her mother did not do anything wrong by becoming pregnant. When the baby was born, Safa' took over the role of the mother, and she is now very attached to her two-year-old sister.
Discourses circulated in the mosque are addressing many daily concerns. Transportation, bureaucracy, corruption, unemployment, and social and gender inequalities are discussed by male and female preachers. In weekly lessons for women, for instance, female activists discuss many issues, including the shaping of the eyebrows, menstruation, sexual relationships, circumcision, pregnancy, abortion, domestic abuse, and relationships between spouses and neighbors.[21] During these lessons, women can directly ask questions about different aspects of their daily lives. They are also given directions about how to deal with changes in their lives. For example, a female preacher explained to us how we should deal with menopause. She scolded those women who celebrated the ending of their sexual productivity by slaughtering a sheep to express their happiness, even though they were also celebrating because, with the
---
onset of menopause, they could perform all their religious duties, especially praying and fasting, without the interruptions caused by menstruation. This preacher emphasized that menstruation is from God and that women should therefore not celebrate its absence. The mosque thus is also a site for the construction of the meaning of bodies and the constitution of subjectivities. It plays a central role in people's daily life and the construction of individual and collective identities. It facilitates the interaction of different groups and promises to create a unified religious identity based on equality and solidarity.
While discourses circulated in the mosque may succeed in convincing women to comply with the Islamic norms in the short run, they are allowing women to question the interpretations of shari'a (Islamic laws and texts) by some sheikhs and the implications of these interpretations for various aspects of women's daily life. Nuha, for instance, is a twenty-three-year-old woman who has a high school diploma and works in a factory outside the neighborhood. Although she expressed enthusiasm for the application of shari'a in every aspect, she became more hesitant when she heard what that entails. She declared her amazement at one of the lessons that she attended. The female preacher told them about a woman's obligations and how she should obey her husband all the time. According to the preacher, "A wife should be patient, even when she is beaten by her husband. She should not answer back but should be submissive and obedient. Above all, she should never leave home without his consent." Even when living with the husband becomes totally impossible, she should not leave the house without his permission. When one of the attendees protested because that seemed like asking too much of the woman, the preacher said that the road to heaven was very difficult. Nuha emphasized that she would not accept such treatment from her future husband but expects respect and love.
Globalization and Religious Communal Feelings
A reinvention, to be authentic and creative, must make possible an expansion of the social and cultural universe. It must never be completed nor return endlessly to earlier material in a closed, ritualistic incantation.

Michael Gilsenan, Recognizing Islam
It is important to remember that complex local and national factors are juxtaposed with global forces to shape religious identity. State oppression,
---
daily frustrations in dealing with the state bureaucracy, the fragmentation of the urban fabric, and the ability of Islamic groups to utilize various discursive strategies that mobilize people are as important as the economic frustration, the unfulfilled expectations and desires, and the need to have a voice in the global scene in understanding why religious identity is becoming hegemonic in al-Zawiya al-Hamra. Religious identity, I believe, should be analytically situated between the contradictory effects of the growing globalization of Cairo and its rapid urbanization.
The city bus is, for instance, a strategic site for the circulation of al-Sunniyin's discourses partially because it symbolizes the daily misery of low-income urban Egyptians and reveals the incompetence and/or indifference of the state.[22] It is mainly used by the poor, while people who can afford to spend more money use the smaller bus or the metro. Trips on the city bus are usually referred to as akhir bahdala (the utmost abuse or insult). These trips are very uncomfortable because the buses are old and very crowded. In addition to their physical condition, the buses have no fixed schedules and their routes are unpredictable. Given such conditions, it is no surprise that bus rides are associated with fights, insults, pickpocketing, and physical injury. In some cases, deaths have occurred while people were trying to jump to or from a bus that did not stop at all or simply paused for a few seconds. In short, the bus is a space that shows the government's inability to address a basic but seemingly solvable problem that causes daily misery for a major part of Cairo's low-income population. Thus, the hardships of daily life and state incompetence contextualize the discourse of the bearded man. For example, the bearded man utilized these hardships to remind us of hell, which as he emphasized, is thousands of times as hot as the crowded bus during Cairo's summer. This was used to frame his elaborate narration of the changing colors of the burning fire and to convey to us part of the horror of being grilled in jahannam (hell), the fate that is awaiting those who do not believe.
MULTIPLE STRUGGLES
It is important not to confuse my discussion of religious identity with "fundamentalism," "extremism," or "militant Islam," which has been the center of attention of many studies (Dessouki 1982; Ibrahim 1982; Kepel 1993). "Fundamentalism" especially has been the focus of studies that aim to examine the relationship between globalization and religion (see, for
---
example,
Turner 1994
;
Beyer 1994
;
Waters 1995
;
Watts 1996
;
Castells 1997
). Such studies limit their discussion to the ideology of the leaders of some radical Islamic groups and tend to present these movements as "responses" or "reactions" to globalization. The role of ordinary people as active agents in negotiating religious and global discourses in their daily life and the formation of their local identities is largely neglected.
Central to the growing globalization of Cairo is the proliferation of discourses and images of modernity circulated mainly in the state-controlled media. Religious identity, I stress in this section, is closely linked to people's daily struggle to appropriate what they perceive as positive aspects of modernity and avoid what is considered negative. This entails a struggle on at least two fronts. First, people struggle against the state's attempts to copy Western modernity. Second, people also struggle against attempts by religious extremists who try to reject various aspects of modern objects and discourses and seek to live according to the time of the Prophet.
MODERNITY IS LIKE A KNIFE
There are different Arabic words such as hadith, 'asri, and madani that refer to the notion of modernity. The common word that people in al-Zawiya use to refer to modernity is tamaddun, which was also repeated in the state discourse. Tamaddun indicates a process of becoming modern, civilized, or sophisticated. This word is from the same root as mad ina (city), and al-tamaddun is often related to the possibilities that are allowed by life in the city. Access to schools and health facilities and the use of new technologies, furniture, and buildings are aspects of tamad ddun and urban life that are positively perceived, desired, sought, and embraced. Similar to the Western notion of modernity (see Giddens 1990; Berman 1988), tamaddun indicates progress or the movement from one situation to another. This movement is often perceived as positive. The move from Bulaq to al-Zawiya is seen by many people as part of tamaddun and tatawwur (development). The new apartments are seen as more modern than the previous housing units. A young woman explains that in Bulaq it was hard to have modern appliances such as refrigerators and washing machines. This was due to the absence of electricity and piped water and the fact that landowners did not allow tenants to acquire heavy appliances that threatened the shaky buildings. Some areas are also seen as more modern than others. Al-Zawiya is seen as more modern than
---
'ashwai'
[23]
or unplanned areas, but it is viewed as less modern than upperclass neighborhoods. Living in separate villas is seen as more modern than living in apartment complexes. In general,
tamaddun
refers to changes in various aspects of life such as taste for food, clothes, and colors. But above all, technological changes are collectively seen as signs of modernity. "
Al tamaddun
is a blessing (
ni'ma
) from God," a man in his mid-forties says while referring to the phone, TV, and V CR.
While women tend to emphasize technological changes as central components of modernity, men (especially older men) tend to focus more on the negative aspects of modernity that threaten moral values and social relationships. The words of Abu Hosni summarize the general attitude in al-Zawiya: "El-tamaddun is like a knife with two edges; if not handled carefully, it can kill." Rather than the conventional opposition between tradition and modern, this metaphor presents a distinction between positive and negative aspects of modernity. There is a strong belief in the possibility of combining Western technological advancements with Muslim religious values and traditions.[24] Abu Hosni emphasizes the need to appropriate modern technologies and facilities such as TVs and cars. But for him, the other edge is of special importance because it is threatening to the community. This includes the weakening of solidarity between neighbors as well as the growing interest in accumulating money and acquiring consumer goods. Alienation and individualism are all seen as negative consequences of the project of modernity. Central to this threat, according to Abu Hosni and other men, are women's attempts to "blindly imitate" (taqlid'ama) Western dress codes, makeup, and hairstyles. The practices of young men, such as wearing golden chains and listening to disco music, are also seen as negative aspects of modernity.[25] Similarly, in previous chapters we saw how people welcomed the housing units but had to struggle with the social and cultural consequences of this process. Just like the knife, relocation cut across the social networks that structured relationships in Bulaq, divided the group into two parts, and rearranged relationships between neighbors. As the woman in chapter 3 described, "In Bulaq, people used to cooperate and their hearts were together. They used to ask and care for each other. Here it is like a prison. Every person is limited to his or her own cell." The relocation of thousands of Egyptian families from different parts of Cairo to the same housing project created uncertainties about others and how to place them.
---
BEYOND WESTERNIZATION
We refuse to see authenticity [asala] through a backward look that glorifies [tuqadis] the past and rejects renewal [tajdid]. Not every thing in the past is glorious for it has some elements of backwardness [takhaluf]. On the other hand, we refuse to distort our national character in the name of material or behavioral imitation of other societies.

Anwar el-Sadat, The October Paper
Abu Hosni and his neighbors are especially critical of the modernity of upper-class Egyptians and their imitation of the Western lifestyle. It is important to remember that Sadat's definition of modernity was closely linked to the West. He was fascinated by Western technology, production, administration, and lifestyle (Ibrahim 1992: 116). He wanted Egypt to "catch up with" the West and if possible "to become part of it" (116). As argued in Chapter 1, Sadat tried to rebuild Cairo according to Western plans, using Los Angeles and Houston as models. This imitation of Western modernity and the close links with the United States, which continued after Sadat's death, are criticized by many and have been used by Islamic activists to mobilize the people against the Egyptian government. Nuha, the twenty-three-year-old woman factory worker mentioned earlier, explained the conflict between the government and religious groups:
The problem is that the government has strong relationships with the United States which hates Islam and Muslims and is trying to spread its ideas and practices, especially wearing short clothes, the domination of science, and the destruction of religion. My cousin, who is a Sunni, explained to me that Americans have many methods to achieve their purposes, especially through schools. They try to prove that science is better than religion by using the comparative method. They bring, for example, a candle and a lightbulb and ask which is better. The first represents religion and the second represents science. Of course, one will choose the second. They also compare two pictures, one of a man wearing a gallabiyya[a long loose gown that the Prophet used to wear] with a beard and a rotten look [mi'affin)] while the second picture is of a handsome man who is shaved and looks very clean and tidy. Of course, anyone will choose the second. The whole idea is for science to replace religion and dominate the universe. Islam is compatible with science because one can find all answers in it if examined closely. Science should serve religion.
Abu Hosni and his neighbors are critical of a vision of modernity that completely accepts the Western model. They look at the West, especially the United States, in expressing their critique. Young men marvel at the
---
technological advancement that they see in movies (such as
Terminator
and
True Lies
). They also point to the order of cities, the beauty of buildings, and the efficiency of the system in protecting the rights of individuals (for example, laws that prohibit intrusion on citizens without a search warrant, a sharp contrast to what they experience in their daily life, where young men can be arrested in streets and coffee shops). Americans are also credited for being honest and direct in their interaction. But people in al-Zawiya criticize the American society for "lack of solidarity and communal feelings." Each person in the United States, I was often told, "minds his or her own business and does not help or care for any one else." People often asked me with astonishment whether it is true that people in the United States do not know their next-door neighbors. They also asked about the willingness of Americans to help those in need. Is it true that Americans do not help when there is an accident? And that they do not bother when there is a fire next door? To avoid this individualism and lack of solidarity, Abu Hosni argues that unlike Americans, Egyptians should "hold onto" (
nitmasek
) their religion and should "not depart from it as foreigners do." Men and women use the same logic when critiquing the state's strong identification with Western modernity in general and the relocation project in particular.
Interestingly enough, both Sadat in his attempts to modernize Cairo and create a modern nation and the people in their attempts to live with this modernity resorted to Islam to legitimize their projects. When his open-door policy and relationships with the Israelis faced resistance, Sadat resorted to Islam to legitimize his efforts.[26] He emphasized that his rule was based on the "twin pillars of Imine (faith) and 'Ilm (science)" (Ahmed 1992: 217), and he presented himself as the modernizer, the Hero of Construction, and as the Believing Leader. He was often shown on TV praying, attending Friday khutba, and using his rosary to emphasize his religiosity. However, while Sadat's appeal to religion was a strategic choice to implement his policies, many people in al-Zawiya see religion as crucial to counter the disruption and negative changes that accompany the appropriation of modern technologies and discourses. Religion promises to provide the moral and spiritual resources that will enable people in al-Zawiya to reconcile their desire "to be rooted in a stable and coherent personal and social past" and the "growth that destroys both the physical and social landscapes" of their past (Berman 1988: 35).
The attraction of Nuha and her neighbors to a religious identity is part of making themselves subjects as well as objects of modernity. This
---
emphasis on religion makes modernity in al-Zawiya different from the modernity that is depicted in Western social sciences, especially its emphasis on secularization (
Habermas 1983
;
Harvey 1990
;
Turner 1990
). This, however, does not make it an "inauthentic" or a "distorted" version of Western modernity (
Sharabi 1988
: 22). Modernity can no longer be viewed as a totality or a master narrative that entails similar changes in different societies, as modernization theory has argued.
[27]
Nor can it be seen as a whole that is either taken or rejected. As active social agents, people are able to selectively appropriate certain aspects of what they see as modern. Modernity stimulates desires. It motivates dreams. It causes joy. It causes disruption. It causes pain and suffering. It is struggled over and is reworked and selectively appropriated from specific locations in the social space.
MODERN DESIRES
In addition to their struggle against the state's attempts to copy Western modernity, people struggle against efforts of extremist groups who try to impose restrictions on how they appropriate certain aspects of modern life. Nuha expresses her religiosity in adopting the khimar, which is considered by many Islamic activists as the "real Islamic dress." She hears things on the radio, in the mosque, and from her friends and then lets her "heart and mind judge what to follow." At the same time, she opposes many of the restrictions that extremists try to impose on people, such as forbidding men to wear pants and prohibiting eating with a spoon because, as some argue, the Prophet did not do these things. She believes that had these things existed when the Prophet was alive, he would have used them. So it is not a sin (haram) to eat with a spoon, but if one chooses to eat with the hands, one will get extra rewards. Just like Nuha, many people continuously struggle to define the practices and traditions that are Islamic without threatening their religious beliefs or imposing unnecessary restrictions on their daily life.
The rejection of many of the ideas that are circulated by some extremists is clearly manifested by the struggle over some consumer goods such as televisions and VCRs, which are rapidly becoming signs of distinction. Many families try to solve Ramadan riddles (these are usually presented throughout the fasting month by popular Egyptian performers) and collect the covers of tea bags and chocolate bars to mail to the manufacturer in the hope that they may win a VCR, a washing machine, a gas stove, or better yet, a "dish," a familiar English word in daily life that refers to the
---
desired satellite dishes, which are spreading rapidly in upper-class neighborhoods. Among all the consumer goods that people use, the television set is the one that Islamic groups most struggle against. This struggle can be interpreted as a "rejection of modernity." But such analysis fails to see how other aspects of modernity are being selectively incorporated in the struggle of these groups. They use the fax machine, the tape recorder, the computer, and many other modern goods to achieve their aims. Tapes, for example, are used to circulate religious discourses to a wide range of audiences in Cairo. Especially to illiterate men and women, tapes provide a powerful means of communication that brings popular preachers (i.e., those who are believed to tell the truth) from the mosque into the home, the workplace, the taxi, and the street. These can be replayed until the meanings become clearer to the listener. Young men and women can gather to listen and discuss these tapes and pass them on to other friends and relatives.
To understand the struggle over the television set, one should look at how this medium is being used in people's daily lives. Except for very few households with extreme religious beliefs, no housing unit is without a television set. Each family, regardless of its income, owns a television set (whether black and white or color, small or big) that is cherished by family members and visitors. The television set is a powerful medium that conveys to viewers many experiences and stimulates new desires and expectations. On the one hand, it connects people of al-Zawiya with other Muslims whom they have never met and who are not assumed to be duplicates of the self but are identified as Others closely connected with the self. It brings them the news of Muslims who fight in Bosnia, Afghanistan, and Chechnya. Young men who were frustrated with the state's restriction on their participation in fighting with the Bosnian Muslims circulated stories about God's help and support of the Bosnians. People talked about invisible soldiers (angels) and about unidentified white planes that bombed the Serbs. The television set brings global concerns into the homes of Abu Hosni and Noha and communicates Egyptian news and struggles to the rest of the globe. On the other hand, television is blamed by Islamic groups for corrupting the people, silencing them, and distracting their attention from God as well as from what happens in their country and the rest of the world. Some religious people subvert the word tilifisyon ("television" in colloquial Arabic) and pronounce it as mufisidyon (from the root fasada, which means "to corrupt"). "The government does not want us to talk politics," Ali, a twenty-year-old worker in a shoe factory, emphasized. "Sadat warned that he will send
---
anyone who talks politics to the sun. People are hungry, and when you are hungry you can only think of tomorrow's pound. You come back after working all day, sit and watch television for hours without talking to anybody. Television attracts our attention and does not allow people to talk. It is total silence. That is what the government wants. One is always worried because if he does not go to work tomorrow, he will not be paid. It is not like other advanced countries where people work just part of the day and then have time to think about politics. They can think and discuss the actions of the president, but we
al-ghalaba
[the poor] do not have the time to do that." But above all, television brings messages and discourses of the state into the homes of most of the people. Sadat and the current Egyptian government have been using TV to "delegitimize the Islamists while promoting a less governmentally-threatening version of Islam" (
Diase 1996
: 76). In short, TV supports the current power structure. With this in mind, and given the state's total control of what is broadcasted, trying to ban the television set is the only option to Islamic activists.
Despite Ali's feelings and views regarding television and its role in supporting the control of the state, he and the rest of his family spend many hours every day watching it. His mother tries to restrict her watching of TV to some soap operas and religious programs. Ali and his sisters prefer to watch music and dancing programs. This creates tension between them and their mother, who repeatedly emphasizes that it is haram to watch such performances. She expresses her embarrassment and guilt when she finds herself watching and sometimes singing or enjoying the music. The tension between what religious groups are calling for and how people feel about TV was clearly manifested when Samah, a woman in her mid-thirties, visited one of her friends in another neighborhood. Samah is very proud of her relationships with some women whose religiosity is manifested in wearing the niqab (a garment that covers the hair and the face) and their regular visits to mosques in different parts of Cairo. She tries hard to keep up with their recommendations regarding which sheikh she should listen to and which mosque to attend. But Samah came back bored and depressed from a two-day visit to one of these friends. "They do not have a television set," Samah kept repeating to us. "They think that it is haram. I tried to tell them that Quran and religious programs are played also on TV, but they did not listen. Thank God, I am back. I could not have taken it one more day." TV continues to be the main source of entertainment for Samah, especially while she is doing her housework, which takes most of her day.
---
Old Struggles, New Contexts
In many ways, these are not novel struggles. Egyptian intellectuals and writers have been debating these issues since the nineteenth century. Writers such as Qasim Amin asked: "How could Egypt duplicate Western achievements, without surrendering its Eastern identity?" (Rodenbeck 1998: 209). Similarly, in the late nineteenth century, Sheikh Muhammad Abdu raised the question: "Couldn't Muslims embrace useful Western ideas and still keep their identity?" (209). The main difference is that people in al-Zawiya are negotiating notions of modernity in their daily life. They have to deal with concrete realities and choices that confront their children, spouses, and neighbors. Religion here becomes a powerful force that helps people appropriate what is viewed as positive aspects of modern life while avoiding the alienation and disruption linked with this appropriation.
Religious identity in al-Zawiya encompasses members like Um Ahmed, whose religiosity is manifested in her "true Islamic" dress, strict performance of religious duties, and regular visits to the mosque. It also includes her son, who fasts during Ramadan but celebrates the end of the fasting month by drinking beer with his friends; her neighbor who prays in the mosque only on Friday; and another neighbor who prays only when she has exams and needs God's help to pass. Although religion brings people together and the mosque facilitates the formation of friendships and marriages, the stereotypes about Um Ahmed and her neighbors are still widely circulated and held to be true. Those who marry from the group or have strong friendships always refer to their spouses and friends as the exceptions to the rule. "It is true that my in-laws are very nice and kind. But the rest of the residents are really rude and vulgar." At the same time, although religion is a powerful force that shapes many aspects of people's daily practices and identities, it is not the only force that structures life in the area. The flow of information, money, and commodities into the area stimulates desires, fosters dreams, and introduces new expectations. How are these forces shaping the neighborhood and its spaces? What other strategies are used by Um Ahmed and her neighbors to situate themselves in al-Zawiya? How do they participate in the production of the neighborhood? This is the topic of the next chapter.