Big Business and Political Influence
Gerald L. Curtis
Introduction[fn1]Introduction[1]
Notwithstanding the lack of careful empirical studies of decision-making in Japan, a widely shared notion of the structure of power in Japanese society has taken strong hold. At the most vulgar level it is expressed as "Japan, Incorporated." At a somewhat, but not very much, more sophisticated level it is manifested in the thesis that Japan is run by a triumvirate of business, the bureaucracy, and the Liberal Democratic Party (LDP); that "organized business, the party government, and the administrative bureaucracy are the three legs of the tripod on which the Japanese political system rests. . . . The spectacle of Japanese politics is in
---
a sense a dramatic production, presented jointly by the business community, the ruling party, and the administrative bureaucracy."[2]
Any study of business influence on government and politics raises extremely difficult conceptual and methodological problems. It involves examination of widely held assumptions about the structure of power in Japanese society. It raises questions about "elitist" and "pluralist" approaches to politics that are at the heart of much of the controversy in political science. It becomes intertwined with problems of defining and distinguishing between such concepts as influence and power, unwieldy concepts to use with any kind of consistency and precision.
This paper does not attempt to develop any general theory of business-government interaction in Japan or to draw any definitive conclusions about big-business influence in Japanese politics. Our knowledge of Japanese governmental decision-making is too fragmentary to allow for such generalizations at this stage. Indeed, it has been the penchant of some observers for drawing overly broad generalizations that has created so many inappropriate stereotypes of Japanese practices.
This paper deals with just a few selected aspects of business-government relations. Career mobility, the informal interaction between leading businessmen and government officials, and the operations of Keidanren (the Federation of Economic Organization) and the other major economic organizations have been pointed to by many writers as accounting for what makes business-government interaction in Japan supposedly unique.
To say that the conservative party in Japan tries to serve the interests of businessmen is not to say anything that is not true of conservative parties in the United States and other capitalist economies. The attention that has focused on the business-government relationship in Japan, however, has involved questions of the mechanisms available to the big business community for the exercise of influence as well as questions of the degree to which the political system is responsive to big business interests.
To raise such questions is to reveal their extreme complexity. How does one measure influence? How does one trace the source of particular policies? What kinds of standards can be established that would allow for truly comparative analysis? Some mechanisms for exercising influence that are crucial in one country may be unimportant in another. In the United States, for instance, an extremely high rate of career mobility from business to government—in both elective and appointive offices—provides an important mechanism for facilitating business influence on government. In Japan, such mobility is virtually nonexistent. On the other hand, business organizations such as the National Association of Manufacturers or the Chamber of Commerce of the United States are relatively weak interest-group structures compared to their counterparts in Europe and
---
Japan. Although it is usually assumed that government-business interaction is more intimate and the political influence of business is greater in Japan than in the United States, it would be extremely difficult to make a comparative study that could demonstrate that position. Depending on the criteria employed, it might be easier to make a convincing argument that big business's political influence is greater in the United States than in Japan—at least under the Nixon administration.
The problems of analyzing business influence in Japanese politics are complicated by the fact that much of the writing on the subject contains comparisons, implicit or explicit, with American business-government relations that are terribly distorted. There is a tendency to assume that the United States is still the country of the individual entrepreneur and strong antitrust policies and that the speed and direction of economic development is dependent on the unimpeded play of market forces. American businessmen in particular talk of "Japan, Incorporated" in comparison with an American economic system that may have existed in the time of their fathers or grandfathers, but hardly exists today.[3] If one looks at the late-twentieth-century Japanese economy from the perspective of the late-nineteenth-century American one, the degree of government-business interaction seems great indeed.
There is no question that the Ministry of International Trade and Industry (MITI) has had, in the past, an intimate relationship with Japanese business. It is also true that the history of Japanese government encouragement of capitalism in the Meiji period has had a continuing effect on the style of business-government interaction. But even the most ardent supporters of a theory of a cohesive ruling elite in Japan are forced to qualify their statements when faced with empirical evidence of Japanese practices.
The United States Department of Commerce study on government-business relations in Japan is a good example. The author of the volume concludes that "there is a special style and scope to interaction between government and business in Japan which makes it distinctive"; that "'Japan Incorporated' is an Economic Fact of Life."[4] Close to half the volume, however, is devoted to a series of commissioned case studies. Based on these studies, the author was forced to so qualify the meaning of "Japan, Incorporated" as to render it largely meaningless. The author admits that the studies demonstrate that advance planning is neither as long range nor as far reaching as had been thought; that interaction between Keidanren and MITI varies considerably from case to case and suggests no single pattern; that industry operates on its own initiative and
---
without governmental intervention to a greater extent than had been assumed; and that there is often such considerable conflict between ministries in the bureaucracy, that "Japanese ministries often appear to operate a great deal more independently of the Prime Minister and each other than would be the case in this country."[5] Finally, the author concludes that on the basis of the empirical evidence available: "The government cannot effectively interpose its judgments on the corporate structure. It can encourage but not dictate mergers or formal combinations. MITI has therefore sought, generally with little success , to stimulate consolidation through its exercise of a variety of levers on industry."[6]
The main problem with much of the non-Marxist theory regarding a Japanese power elite is that it has attempted to attribute to Japanese culture as a whole behavior that is the consequence of a particular combination of factors in a unique historical period. Marxist theory—as skeptical as one may be of its rooting in empirical fact—is nonetheless strong as theory since it places Japan in a universal and comparative context: Japan is ruled by a particular power elite because it has a capitalist economy. Non-Marxist defenders of a power-elite theory of Japanese politics make comparative analysis impossible: Japan is ruled by a power elite because of the unique characteristics of its people's psychology and of its social institutions.
There is often a time lag between reality and generally shared perceptions of that reality. In postwar Japan, the gap between image and reality is particularly serious because of the extremely rapid pace of change. Generalizations about the role of Japan's economic organizations that would have been accurate ten years ago, for instance, are inaccurate today. Data from the 1950s on the occupational backgrounds of Diet members gives a picture of career mobility from business to government that has little relevance to the Japan of the 1970s. The substance of the relationship between business and government in the postwar period has been the consequence of particular economic, social, and political conditions. As these conditions change so does the nature of that relationship.
Thus, this paper challenges some of the more widely accepted assumptions of how certain mechanisms facilitate business-government interaction in Japan. Such an exercise is desirable for purposes both of refuting an inaccurate stereotype of "Japan, Incoporated" and stimulating new research into questions of the structure of political power in present day Japan.
The Myth of Zaikai Omnipotence
Zaikai , in literal translation, means the financial world, but it also means
---
something much broader, and at the same time more specific. Although writers have had difficulty arriving at a generally agreed upon definition for it, the zaikai has been credited by many with unparalleled powers over Japanese politics.
In his acceptance speech after defeating Kono Ichiro in the 1965 LDP presidential election, former Prime Minister Sato Eisaku made a famous slip of the tongue. He started out by saying: "On this occasion zaikai 's . . . ," then stopped and rephrased it: "On this occasion the people's support . . . "[7] To many people, "zaikai 's power over the conservative party," as one group of Japanese commentators put it, "is absolute."[8] "In fact, Japan's politics and economy cannot move even one step if the wishes of zaikai are ignored. To put it another way, if zaikai decides it wants something, it can get practically anything."[9] In the view of Chitoshi Yanaga, "zaikai 's power of life and death over governments has been dramatically demonstrated time and again. Candidacy for the premiership is unthinkable without its tacit approval, and the prime minister's days are numbered if his policies or methods no longer meet with its approval."[10]
All of this suggests rather awesome power for zaikai . But Yanaga goes on to say that zaikai is really not a coherent group: "Zaikai , however, is by no means a monolithic structure. . . . The diversity of attitudes, motives, and interests that characterize zaikai has made the cooperation of the larger key organizations (Keidanren; Nikkeiren—Japanese Federation of Employers' Association; Keizai Doyukai—Japanese Committee for Economic Development; and Nissho—Japanese Chamber of Commerce and Industry) indispensable in achieving consensus and in presenting a united front on issues and problems."[11]
The United States Department of Commerce study of business-government relations in Japan makes a similar point about the role of these key organizations in harmonizing zaikai views. Unfortunately, it adds to the confusion by mistakenly referring to zaikai as a discrete group like the Industrial Problems Research Council (Sanken—the Sangyo[*] Mondai Kenyukai[*] ):
---
In their fairly frequent informal discussion meetings Sanken and zaikai focus on the major issues confronting Japanese society, as well as Japan's economy. The many different points of view, motives, and interests of these business leaders tend to be harmonized within the councils of the Keidanren and the other major federations. . . . Moreover, the harmonization process, besides providing a national consensus for big business, helps Sanken and zaikai members transcend the narrower interests of the corporations, banks, and organizations with which they are affiliated for a more national perspective on these issues.[12]
As these quotations suggest, the meaning of zaikai is shrouded in considerable conceptual confusion. Part of the reason for the confusion is that the term has a number of meanings in Japanese. Although literally it means the financial world, it sometimes refers to the entire economic community or businessmen generally, as when people talk of zaikai, seikai (political world), or gakkai (academic world). But zaikai , as commonly used, refers to something more specific than the entire business community. According to one author, it refers to the relatively small number of leaders of the business world who "hold the line of communication to the political world";[13] in the words of another, to those business leaders who "engage in and control economic activities for the benefit of the capitalist system and political activities to maintain the present political structure. . . . " [14] The term is sometimes used to refer to individuals and at other times to the place where these individuals meet. Suzuki Yukio has suggested that zaikai is the place where business leaders function as a power elite.[15]
Translating zaikai as the business elite or the business world's power elite does not quite convey the Japanese flavor of the term. Other countries have business elites but only Japan has zaikai . At the base of the distinction seems to be the fact that the men who make up this elite in Japan spend an extraordinary amount of time in so-called zaikai activities (zaikai katsudo[*] )—activities that are not directly related to their own companies, but which seek to represent the interests of the business community as a whole.
[14]
---
Zaikai , as the term is commonly used, might be defined as the group of major industrial and financial leaders who spend a significant portion of their time in activities that relate to the economy in general and the society at large, generally through active participation in one or more of the four major economic organizations.
Not all leaders of large industry are considered zaikai members (zaikaijin ). Many of the leaders of firms affiliated with the former zaibatsu are not active in zaikai and most of the postwar self-made men—like Matsushita, Honda and Idemitsu—are considered outside the zaikai . On the other hand, some of the leading zaikai members are not leaders of major industries. Uemura Kogoro, for instance, the president of Keidanren and the man referred to as the "prime minister of zaikai " is not even a businessman, but a former bureaucrat who has been with Keidanren since the founding of the organization.[16]
Virtually all those generally regarded as zaikai members are elderly men who have been in top leadership positions for almost the entire postwar period. The average age of the vice-presidents of Keidanren, for instance, is seventy-three, and President Uemara is seventy-nine. The zaikai can be characterized as the business community's group of elder statesmen, a group of extremely capable business managers[17] that has led Japan through reconstruction and high economic growth and has dominated her major economic organizations. When people talk of big business's influence in Japanese politics, they are largely talking of the influence of zaikai , the elder statesmen who seek to represent the interests of the business community vis-à-vis the government, the public, and in the international arena.
It is one thing to argue that zaikai has been a potent force in Japanese politics. It is another to argue, as so many do, that zaikai has "life and death" powers over the government. Such a position ignores those occasions when zaikai has been unable to have its way. Instances of zaikai 's inability to control the LDP presidential election, for instance, are as evident as instances where zaikai has allegedly manipulated the election. Zaikai was unsuccessful in forcing Hatoyama's resignation before he normalized relations with the Soviet Union; was unable to bring about a Kishi victory over Ishibashi upon Hatoyama's retirement; could not prevent Sato from running against Ikeda when Ikeda ran for a third term;[18] and most recently was unable to prevent Tanaka from winning
---
over Fukuda in the 1972 LDP presidential race. Zaikai has been influential in LDP politics, but this influence has varied with time and issue.
Tanaka's success in the LDP presidential election represents a particularly strong challenge to the thesis of zaikai omnipotence. Tanaka won the election in spite of big business, and not because of it. Even if, by election day, many zaikai members supported Tanaka, or more commonly, adopted an attitude of "equal distance" (tokyori[*] )[19] from Tanaka and Fukuda, this was because they had realized the futility of continued support for Fukuda and not because they had changed their minds about whom they would like to see succeed Prime Minister Sato.[20]
Nonetheless, believers in zaikai omnipotence cling to the notion that zaikai was responsible for Tanaka's victory, or at least, that it could have prevented the victory if it had been determined to do so. Some writers, despite considerable evidence to the contrary, argue that the zaikai met several months before the election and decided to shift its support from Fukuda to Tanaka. Another commonly heard view was that zaikai had conceived and brought about the alliance between the Tanaka and Ohira[*] factions. In this way zaikai was able to use "reliable" former-bureaucrat and Ikeda-disciple Ohira to keep "unpredictable" Tanaka in line. Similarly, it was zaikai that "dispatched" LDP-member Ishida Bakuei to join the Miki Takeo faction as Miki's "chief of staff" to restrain Miki from continuing his alleged one-sided position on the China-normalization question.[21] Finally, since "the more than ten billion yen in hard cash that flew around [the LDP presidential election] all came from zaikai , now it is the turn for the new government to receive its 'bill' from zaikai ."[22] All of
---
this makes interesting reading but is more in the realm of fantasy than political analysis.[23]
Among the advantages of the power-elite approach to the study of politics is that no amount of evidence can disprove the theory that an elite rules, and that even the lack of evidence can be used to support the theory. Evidence contradicting the model is dismissed either as related to issues with which the business elite is not really concerned,[24] or as further proof of big-business skill in concealing its infamous role—further substantiation that big business, indeed, is the invisible hand manipulating politicians and politics.
Business-in-Government
One of the most salient features of contemporary Japanese politics is the limited lateral entry of businessmen into elective politics and appointive government office. This has been particularly true in recent years, but has been the clear trend since the unification of the conservative parties in 1955. It is crucial to distinguish between patterns prevalent in the pre-party-merger period and those that have since prevailed. Unfortunately, this distinction is often not made, and some recent publications have continued to present the erroneous view that big business is represented in considerable numbers in the Diet and in the government.[25] One recent study, based on data mainly from 1953 and 1954, maintains that "nearly one-third of the Japanese House of Representatives is made up of businessmen and former businessmen"[26] and that "big business is formally represented in the government by Cabinet Ministers of its choice."[27] Using more recent data, we discover that businessmen account for no more than 15 percent of lower-house members in the LDP. Businessmen rank only third in representation in the LDP Diet delegation, well behind former bureaucrats, who comprise about 30 percent of the Diet delegation, and professional politicians, who account for 24 percent.[28]
Furthermore, it is important to distinguish in the case of Japan between "nationally" oriented and "locality" oriented politicians.[29] The business-
---
men who make up 15 percent of the LDP Diet contingent include representatives of big businesses and owners of small countryside stores. If a distinction is made between the nationally oriented representatives of big business and the locality oriented small businessmen, the number of zaikai representatives in politics becomes considerably smaller.
The lack of significant career mobility from business to politics is reflected also in the career backgrounds of the men who have become Japan's postwar prime ministers. No prime minister in postwar Japan comes with a career background in big business. Yoshida Shigeru was a former Foreign Ministry official; Hatoyama Ichiro was a prewar politician; Ishibashi Tanzan was a journalist; Kishi Nobusuke, Ikeda Hayato, and Sato Eisaku all were former bureaucrats. Tanaka Kakuei is typed in the Japanese classification scheme as a professional politician because of his more than twenty-five years in the Diet. Nonetheless, he is the first postwar prime minister to be independently wealthy, having amassed a personal fortune in the construction industry. He is not, however, from the nationally oriented big business establishment. The only such businessman to make a serious attempt at becoming prime minister has been Fujiyama Aiichiro, former president of the Japan Chamber of Commerce and Industry. Fujiyama was notably unsuccessful in his effort.
No LDP faction leader comes from a career in big business. A group of younger Diet members led by Kosaka Tokusaburo, himself a second-term member, is probably the only factionlike group in the LDP led by someone clearly from a zaikai background. Kosaka was president of the Shin'etsu Chemical Company and an active member of Nikkeiren, the Japan Federation of Employers' Associations.
If we look at the cabinet, businessmen do appear somewhat stronger in one regard. A prerequisite for appointment to the cabinet, as a rule, is success in five or six Diet elections. However, there are fewer cabinet posts than there are Diet members with the requisite seniority. An analysis of cabinet appointments shows that, within the group with equivalent seniority, former bureaucrats have the best chance for appointment, businessmen are second, and professional politicians rank third. This means that where businessmen are successful in being elected to the Diet, they are successful in eventually getting into the cabinet. But the number is small to begin with.
Under the Japanese constitution, the prime minister is required to appoint a majority of cabinet ministers from among members of the Diet. Since there are twenty-one people in the cabinet, the prime minister could appoint as many as ten people from the business world if he so wished. In fact, however, the prime minister almost never goes outside the Diet for his ministers. Again, Fujiyama Aiichiro is the only exception since the formation of the LDP in 1955. In 1957 Prime Minister Kishi appointed Fujiyama as foreign minister. It was after his appointment that Fujiyama ran for and was elected to the Diet. The dynamics of factional politics
---
within the LDP leave little room for the appointment of outsiders to these coveted cabinet posts.
A similar pattern prevails in the recruitment of businessmen into other appointive government positions. Here again there is a marked difference between the pre- and post-party-merger periods. Before the party merger, businessmen were often appointed ambassadors, for instance, to undertake specific missions for the government. This trend reached its height in the fifties when numerous businessmen were recruited by the government to negotiate reparation agreements with Southeast Asian countries. Businessmen were also sent abroad in considerable numbers on official economic missions. Such practices have diminished in more recent years. Furthermore, unlike the United States, every regular ambassadorial appointment is made from among career foreign ministry officials. There is no system of rewarding the large financial contributor to the LDP with an ambassadorship. In fact, virtually all posts in the bureaucracy, except for those of the cabinet ministers themselves, are filled by persons recruited from within the career service. This is a very different situation from that prevailing in the United States where political appointments often reach down several levels in the bureaucratic hierarchy.
Businessmen appointed to other governmental positions are also notable for being small in number. Commentators often point to Usami Makoto, former president of the Mitsubishi Bank, who served as president of the Bank of Japan from 1964 to 1969. But Usami is the exception that proves the rule. His successor, Sasaki Tadashi, reestablishes the more common pattern: he was a career bureaucrat in the Bank of Japan.
Business participation on governmental advisory commissions does not represent career mobility in the strict sense, but can be considered under this rubric of business-in-government broadly defined. Each ministry as well as the prime minister's office has numerous advisory commissions (shingikai ). The system was first introduced during the American Occupation and became so popular that at one point there were over 250 of these commissions in operation. Since 1960, the government has been making an effort to cut down on their number, but the advisory commission has now become an integral part of the governmental structure.[30] In 1971 important leaders of the business community served on a variety of government committees including the Consultative Committee on Foreign Ministry Personnel, the Economic Consultative Council attached to the prime minister's office, the Finance Ministry's Consultative Council on Finance, and the Education Ministry's Central Consultative Council on Education.
There is no question but that such commissions can provide a
---
mechanism for the exercise of influence. But it is important not to exaggerate their importance. For one thing they are for the most part consultative, not decision-making or administrative organs. Second, businessmen share membership on them with scholars and other groups and thus are not in a position simply to manipulate them at will. Third, selection of commission members is made by the relevant ministry. As a result, there may be as much difference of opinion among the businessmen on the commission as between business and other commission members. Moreover, those businessmen whose views appear most congenial to the bureaucrats responsible for deciding commission membership are those likely to be selected. Finally, there are no simple answers to the question of how advisory commissions affect public policy. In some cases influence is probably very great; in others minimal. There are some instances where the advisory commissions help push government policy in new directions; it is more likely, however, that in many cases, advisory commissions probably provide the government an opportunity to co-opt support for policies that the bureaucracy has already determined.[31]
Career mobility between government and business in Japan is a one-way street. The only significant movement is from government into business, a pattern Japanese refer to as amakudari .[32] Such a pattern is also prevalent in Western countries, but there are elements to the Japanese case that are particularly notable.
Because of the early retirement characteristic of most Japanese ministries, bureaucratic entry into business takes place at a relatively young age. Furthermore, bureaucrats as a rule enter businesses that have close working relations with their ministry. Thus, finance ministry bureaucrats tend to go to banks and other financial institutions, MITI officials to large industry, construction ministry officials to construction companies. Legally, bureaucrats are prohibited for two years after retirement from going to work for a firm with which they have had official dealings within the five years preceding retirement. But this rule has little practical impact. A company looks for a retiring bureaucrat who has the right personal connections within the appropriate ministries, although this need not be someone with whom the firm has had personal dealings.
Dramatic examples of amakudari abound. In the steel industry, for example, the Nippon Steel Company lists three former vice-ministers of MITI among its executives, Kawasaki Steel has a former vice-minister of the Economic Planning Agency, and Kobe Steel has another former high
---
official from MITI. The Tokyo, Kansai, and Hokkaido Electric and Power Companies each has a former MITI vice-minister on its executive board. The presidents of four of the fourteen city banks are former Finance Ministry officials.
Undoubtedly, amakudari plays a role in facilitating business-government communication, if not coordination. But here too the situation is not free of ambiguity. For one thing, some of the recruitment of bureaucrats into private business is not due to business initiative. Early retirement, particularly in the economic ministries, and poor retirement benefits, leave men in their early fifties with many productive years ahead of them and without employment. Ministries have increasingly sought to prevail upon industry to hire such bureaucrats; thus, helping retiring bureaucrats find jobs is often viewed as a moral obligation, if not a legal one. Furthermore, finding a job in industry for a bureaucrat is a way to reduce the number of people competing for promotion as the channel of advancement narrows sharply at the upper reaches of the bureaucratic hierarchy. In short, some degree of career mobility from government to business is the consequence not of business-government collusion or of business efforts to penetrate governmental decision-making structures, but of the internal dynamics of the Japanese bureaucratic system.
Bureaucrats are not always hired by business primarily because of their governmental connections. Often they are hired for their technical skills. Accordingly, entry into business does not in itself demonstrate anything conclusive about a former bureaucrat's role in a particular business firm.
Despite these qualifying remarks, the consequences for business-government relations of the bureaucrat-turned-businessman pattern is an important subject, which deserves further study. I would only suggest that, until the evidence is in, one resist the temptation to draw easy conclusions.
On the other hand, insofar as patterns of businessmen's participation in electoral politics and in government is concerned, I would hope that the preceding discussion has made it clear that business-in-government is a comparatively insignificant mechanism for facilitating business influence over government. Advisory commissions surely do provide opportunities for businessmen to have access to important information, to develop close personal contacts with important bureaucrats, and at least to be a part of the input structure in the decision-making process. In terms of affecting the decision-making process itself, however, such commission participation is no equal to the career mobility from business to government in the United States. Influence in this context is no substitute for power.
Informal Elite Coordination
Important in power elite theory, particularly as developed by C. Wright Mills, is the assumption that informal, social ties among elite groups reinforce a common value consensus, provide opportunities for arriving at
---
policy agreements, and account for the ease with which certain groups can walk through the corridors of power.[33] When this elitist approach is applied to Japan, the result is a picture of an intimate, conflict-free family of politicians, bureaucrats, and businessmen working together to steer the course of government policies. Geisha houses in Akasaka and Shimbashi become the power centers where an elite meets over sake to determine Japan's future. School and marriage ties become the glue that holds members of the ruling class together. Particular cultural traits become the key for explaining why informal communication is so particularly significant in Japan.
Informal contact between top political and business leaders obviously plays a part in structuring business-government communication, but available evidence does not suggest that informal elite coordination is as crucial a mechanism for enabling business to exercise a major political role as many writers contend.
A comparative perspective is necessary in one basic regard. American observers who express surprise at the degree of informal contact between business and the political leadership are reflecting not so much the exotic nature of Japanese social intercourse as the uniqueness of the American geographical dispersion of elite groups. The fact that, unlike Washington, Tokyo is the center for almost everything is basic to understanding why there is such apparent elite contact in Japan. Similar patterns probably exist in London or Paris. Indeed, the importance of physical proximity is reflected in the increasing involvement of Osaka businessmen in Tokyo zaikai activities. Osaka businessmen have traditionally stayed aloof from the Tokyo business establishment and government. This attitude has been breaking down in recent years for a number of reasons, one of which is simply the development of the "bullet" trains. The increase in Osaka business involvement in Keidanren, on governmental advisory boards, and in the informal groups that meet with the political leadership seems directly related to improvements in the transportation system.
Some observers place great emphasis on the importance of school and marriage ties in binding together Japan's alleged power elite. While the importance Japanese attach to school ties is obvious, their impact on political life is not easily determined and their integrating role should not be oversimplified. Many classmates are political enemies and not all businessmen and politicians who graduated from the same class at Todai become bosom friends. The following kind of exaggeration is anything but helpful to an understanding of how school loyalties get translated into political behavior: "At the peak of his [a well-known businessman named Kato Takeo] career, he was the elder statesman and oyabun of all Keio University graduates, many of whom occupied powerful positions in business and finance."[34]
---
The study of keibatsu (marriage ties) is very popular in Japan; one can easily find a genealogy chart on virtually every businessman and politician. But modern Japan has not had a strong tradition of a closed ruling class. Nepotism is of minor importance. Almost all executives of large corporations are salaried employees, not business owners, with no ability to pass on their businesses to their offspring. In politics, "second generation" Diet members, the sons of deceased or retired politicians, are often successful in the election immediately following the death of the incumbent and unsuccessful in staying in office beyond that. All the efforts supposedly being made to knit Japan's ruling elite together are somewhat in vain if the progeny of the alliances cannot inherit positions of power. Finally, the fact that people are third cousins does not necessarily say anything about their political behavior. Sato Eisaku and Miki Takeo are relatives, but one would have a difficult time explaining why that is politically important.
Although there is a tendency, in my view, to exaggerate the uniqueness and intensity of informal business-government contact in Japan, it is clear that Japan does have some unique mechanisms for facilitating informal elite contacts. Most conspicuous are the clubs of the prime minister and other top political leaders where they join with business leaders on a regular basis for informal discussion.
Since these clubs generally have meetings that are private and off the record (and usually held in the exotic setting of an Akasaka geisha house), they allow the observer to engage the full potential of his imagination in deciding what goes on at them. Some participants suggest that they are important in ensuring that the political leadership does not do anything "rash" against big-business interests. Others imply that they have a more positive function in building a consensus on important issues and in coordinating public statements of business and political leaders. Still others suggest that they have only minor importance. The observer need only choose his informants carefully to substantiate his preconceptions.
There is some evidence that helps put the role of these clubs in perspective. Most important is the trend for the clubs to become institutionalized. This was particularly true during Sato's long tenure. Clubs were once truly informal groupings of politicians and close business supporters. Today they are organizations. To be a member of one of the prime minister's clubs is to be recognized as a member of the establishment. The easy informality and intimacy that previously characterized relations between Japan's political and business leadership has gradually given way to a more formal kind of relationship. As informality has declined, the old clubs have become more structured, less intimate, and larger institutions.
The Ikeda era represented the culmination of an era of intimate personal ties between business and political leaders that dates from the time of the Yoshida administration. Ikeda was made Yoshida's finance
---
minister while still a first-term member of the Diet. He was recommended for that post by Miyajima Seijiro, former president of the Japan Industrial Club and Yoshida's closest business associate. This Yoshida-Miyajima relationship was mirrored years later by the close personal relationship between Ikeda and the group of businessmen called the Kobachu[*] group because it was led by Kobayashi Ataru (Chu[*] ), former president of the Japan Development Bank and a close colleague of Miyajima. Members in this group included, among others, Sakurada Takeshi of Nisshinbo, Nagano Shigeo of Fuji (now Nippon) Steel, the late Mizuno Shigeo of Sankei Shinbun , Imazato Hiroki of Nihon Seiko[*] , and Shikanai Nobutaka of Fuji Television. Two characteristics of this group are particularly important. First, its members were (and several still are) active leaders in Nikkeiren and Keizai Doyukai and not in Keidanren. Second, they are not, with the exception of Nagano, representatives of "big" business. During the Ikeda period this group, particularly Kobayashi, Nagano, Mizuno, and Sakurada (who were referred to as the "zaikai four emperors"), was an active political force, channeling political funds to the LDP and maintaining the most intimate contact with the political leadership.
Sato's long tenure broke down these personal ties and reduced the importance of the clubs that had been established to bring the prime minister and the business leaders together. For one thing, Sato's personal style was quite different from Ikeda's. Business leaders commonly contrast Ikeda's outgoing, informal, argumentative approach with Sato's officious, bureaucratic, noncommittal style. Whether it made any difference in policy or not is an open question, but businessmen at least felt that with Ikeda they had an opportunity to fully discuss issues and bring him around to their view. With Sato they could never be sure their view was understood or what Sato's position was.
Furthermore, Sato made a concerted effort to expand his business ties beyond the relatively small group of business leaders that had been close to Ikeda. Sato set up an unprecedented number of clubs to expand his contacts. This led one contemporary observer to remark that the "Sato administration is in danger of opening up too many separate, multiple routes to the business community, and without any structure or order it runs the danger of losing its close zaikai ties."[35] This is precisely what did happen and is part of the reason for Sato's long tenure and zaikai 's declining influence. Imazato Hiroki remarked at the beginning of the Sato period: "Our era has for all practical purposes ended with the establishment of the Sato regime."[36] This view was echoed after Sato left the prime ministership by Nagano Shigeo in his remark: "The Sato era was different from the Ikeda era. The so-called zaikai four emperors didn't exist under Sato."[37]
---
If the close personal ties between political and business leaders were eroded during the Sato administration, they probably will be weakened even further during the Tanaka administration. Tanaka does, of course, have close relations with many business leaders. During the years he served as secretary general of the LDP, he was responsible for the Party's fund raising, and during the periods he served as finance minister and MITI minister, he was in constant and close contact with the business leadership. Shortly before his election as prime minister, the Getsuyokai[*] (the Monday Club) was established to bring Tanaka together with business leaders for periodic discussions.[38] But Tanaka has not had intimate personal ties with Japan's leading businessmen, and he has not had to depend on them for his own political funds. He has not given as much attention as many other LDP leaders to building his zaikai ties. He has been more solicitous than any former prime minister of the newly wealthy businessmen outside the business establishment that zaikai represents. Tanaka's personal style suggests a further decline in the importance of the prime minister's clubs as a mechanism for facilitating informal elite coordination.
Leaving aside the weakening personal ties, there is something essentially fanciful in the view that informal clubs play an important decision-making role, or more generally, that informal elite coordination is a crucially important feature of Japanese politics. Most decisions in complex societies, after all, are bureaucratic decisions and are handled through formal bureaucratic institutions. To assume that political and business leaders informally make decisions on issues is to deny the bureaucratization and complexity of the decision-making process. Furthermore, issues that are so controversial as to require a top-level political decision also are likely to arouse the active interest of numerous groups in the society. That clubs and other informal contacts give business leadership an opportunity to express views directly to the top political leadership is important, but when the political leadership has to make a decision, it has to take into consideration many other pressures besides those coming from big business.
In realistic terms, the prime minister's clubs are important to the extent that they give business leaders an access to the prime minister that is not available to other groups. But the degree to which such access has practical consequences for policy depends on such other factors as the issue involved, the degree of unanimity or dissension within the business leadership on that issue, and the strength of other forces in the society. There is no simple equation between access and influence. Demands can be communicated to the political leadership in a variety of ways. A
---
private dinner party is one; a massive strike by organized labor is another.
In addition to all that has been said here, big business's access to the prime minister is not as great as is often assumed. It is, of course, impossible to get complete and accurate information on top-level informal interaction between big business and the prime minister. Meetings can be held in secret, understandings can be reached over the telephone, agreements can be made on the golf course. Nonetheless, the evidence available on the prime minister's activities does not suggest as intimate a relationship as is generally assumed.
The Asahi Shinbun publishes a column every morning describing the prime minister's schedule for the preceding day. While the reporters surely miss some things, they do a credible job of accounting for almost all the prime minister's time from early morning until his return home in the evening. An analysis of Prime Minister Sato's schedule as reported in the Asahi for a one-year period from July 1, 1971 to June 30, 1972, presents an interesting picture. The overwhelming proportion of his working day throughout this year was spent with top LDP politicians including his cabinet ministers. The second most time-consuming activity involved meetings with foreign dignitaries. This left little time for the business leadership, and almost all of that was at club meetings. Sato met with a zaikai group called the Itsukakai (Fifth Day of the Month Club) once a month except for one month when there was no meeting. He met with the Choeikai[*] , another grouping of Tokyo's business leadership, six times, and with a group of Osaka-based businessmen in a club called the Kitchokai[*] nine times. He also met nine times with the Sansuikai, the members of which included former Prime Minister Kishi and Kishi's close associates in the business community, and had four meetings with the Kamomekai, a club of shipping industry leaders. There were five meetings with another zaikai group called the Akebonokai. In short, the prime minister met with different leaders of the business community according to a regular pattern of monthly or bimonthly meetings. There was only one group of businessmen that got to see him more than once a month. This was the Tsukiichikai, a group of businessmen from Yamaguchi prefecture where Sato is elected to the Diet. Sato is reported to have met with this group twenty-three times in twelve months. The privileged access of this group to the prime minister suggests that he may have been giving more attention to looking after his constituency than to seeking the advice of big businessmen on running the nation's affairs.
In addition to these group meetings there were nine meetings during the year with the leaders of the four economic organizations.[39] No more than
---
twenty additional meetings with businessmen were reported in the Asahi accounts for the entire period.
This public schedule, of course, is not complete, but it probably does give an accurate indication of the prime minister's division of time in a general sense. To assume that the prime minister spends a great deal of time with leaders of big business is to be unrealistic about his responsibilities. Almost all of his time is spent as president of his party in dealing with political issues, as head of his cabinet in dealing with governmental issues, and as head of state in dealing with matters of foreign relations. The schedule confirms that big business gets regular, institutionalized access to the prime minister. It does not support the view that the business leadership is intimately involved in the process of government.
Political Funds and Political Influence[fn40]Political Funds and Political Influence[40]
One of the most striking features of the LDP is the extent of its dependence on big business contributions for its financial support and the degree to which the sources and amount of that support are hidden from public view. In a society that traditionally has been relatively free of corruption, it is noteworthy the extent to which extensive illegal financing of the political activities of politicians and political parties has become an integral part of the political system. But revelations in the seventies about corruption in the financing of American election campaigns should be a reminder that this is a universal and not a particularly Japanese problem. This point is important because writings on political funding in Japan tend to reflect the tendency of many Japanese to judge their own political behavior against extremely high standards of supposed "democratic" behavior, and thereby, to paint a particularly critical picture.
There is no doubt that money can buy political influence in Japan as it does elsewhere. But lest one succumb to the temptation of drawing overly broad conclusions about the extent to which political funding is the source of political influence for the Japanese big business community, mention should be made of a few factors that serve to inhibit the exercise of such influence.
First of all, the lack of a moderate opposition party with the potential for taking over power serves to weaken the credibility of any business threat to withhold funds from the LDP. It is often argued that the creation of a second moderate political party is necessary if Japan is to develop a "mature" democratic system. But ironically the development of a strong nonideological opposition party may serve to increase big business's political influence by making credible a threat to withdraw financial support from the LDP if certain polities are not adopted.
---
Second, the financing of individual Diet-candidate campaigns on the local level is only indirectly provided by the big business community. LDP candidates tend to depend on local support and the backing of their faction leader. The latter is dependent on business contributions, but the ties between the business establishment and the LDP backbenchers is indirect.
Furthermore, a characteristic of political funding in present day Japan is the new role being played by wealthy businessmen who are not part of the big business establishment. Men who have made fortunes in recent years in real estate, construction and land development today comprise a powerful political force. They are not active in Keidanren or accepted as part of the big business community but many of them have intimate ties with LDP politicians and appear to be the source of a great deal of "under the table" money that allegedly passes hands between businessmen and politicians. One can hypothesize that the increasing importance of this group in funding LDP politicians, combined with a dramatic increase in the costs involved in professional political life, are resulting in an increase in political corruption. Such a development does not, however, strengthen the influence of the big business establishment over the LDP.
In the case of big business' political contributions, there is an apparent trend away from efforts to coordinate business contributions[41] and an increase in the development of ties between individual factions and particular business conglomerates. Rather than reinforcing an image of Japan, Incorporated such a trend threatens to revive in a new form a prewar funding pattern in which conservative political parties (instead of the large party factions today) received support from different large business enterprises.
The issue of political financing is complex and I would only suggest that a serious study of this question needs to take account of the factors mentioned above. Also to be meaningful, any analysis of business influence over the LDP needs to have a comparative perspective. Does big business exert more political influence through political contributions in Japan than it does in the United States or in France for example? One cannot, I believe, answer that question by arguing that the big business community coordinates its funding or maximizes its influence over the LDP through the machinations of the zaikai or through some other unique mechanism.
The Organization of Big-Business Interests
There are organizations in the United States—the Chamber of Commerce of the United States and the National Association of Manufacturers—that are comparable in name to Japan's major economic federations, but they
---
do not perform the same functions. Japan's economic organizations are more comparable to several European organizations. They have historically provided an important mechanism for the representation of Japanese business interests and an organizational focus for zaikai activities.
The historical development of economic organizations in Japan is similar to that in Western countries.[42] By the end of the nineteenth century all of these countries had established Chambers of Commerce. With the First World War, each established a specifically industrialist organization, and after the war there was a general restructuring of economic organizations in Japan, Germany, Italy, and France.[43]
One difference between Japan and European countries is that Japan was some twenty years behind Europe in the development of an organization of businessmen to deal specifically with labor problems. Another difference is that there traditionally has been, and still is, a rather clear separation between Japanese economic organizations that represent big business and those that represent small and medium-sized enterprises. This is in part a reflection of the dual structure of the Japanese economy, and is in contrast to the situation in many European countries where economic organizations represent all industry. A further difference is that whereas European economic organizations have strong and active local branches, the most powerful economic organizations in Japan have little or no organization on the local level.
Government sponsorship of capitalism in the Meiji period was mirrored in the history of the development of Japan's first economic organizations. The first Japanese businessmen's organization, the Chamber of Commerce, was formed at government request and with government financial assistance; it was given legal status and served as a government advisory council.[44] This history is not as unique as it may seem; in Germany and other continental European states, early Chambers of Commerce served to some extent as semigovernmental organs. In the United States, even though the Chambers were originally local, purely private organizations of businessmen, the creation of the nationwide Chamber of Commerce was
---
promoted largely by President Taft, and invitations to the first meeting of the CCUS went out with President Taft's signature.[45] Furthermore, although the Japan Chamber of Commerce was founded with considerable government intervention, the Japan Industrial Club in 1917 and the Economic Federation in 1923 were founded on the initiative of the business community without government participation. Government involvement in the establishment of the Chamber of Commerce was important, however, because it did set a pattern for Japanese economic organizations to serve an advisory role to government. That pattern was adopted by later organizations and established itself in the activities of postwar organizations as well.
The history of development of economic organizations in Japan is first of all a history of the inability, despite the effort, to create one comprehensive economic organization. In a rather ironic comment on the view that the Japanese economic community is a united force, the authors of Keidanren's history of economic organizations in Japan asked in dismay, "Is the constant cycle of splintering and reunification and splintering again the inescapable fate of Japan's economic organizations?"[46] Indeed, the history of these organizations is the history of a constant shifting of power from one organization to another and the creation of several, somewhat competitive, so-called comprehensive organizations. There is no organization that represents the business community; there are several organizations that represent different elements within it.
A second factor in the history is the formation of a separate organization to handle labor problems. The first such organization was Zensanren (Zenkoku sangyo[*] dantai rengokai[*] ), founded in 1931. Its present-day successor is Nikkeiren. Keidanren does not deal with labor problems.
A third important factor in the historical development of Japan's economic organizations is that the postwar reorganization of prewar institutions was undertaken in a period when the country was in a state of physical collapse, economic chaos, and a social revolution being guided by an alien occupation force. The structure and the purposes of the newly created economic organizations were profoundly influenced by and were in response to a unique and temporary situation. Japan's postwar economic organizations have had to adapt to, or be rendered irrelevant by, the dramatic changes that have affected Japan's society and economy in the quarter century that has passed since their creation.
The organizations Japanese refer to as the keizai yon dantai , the four organizations of the economic community, are Keidanren, Nikkeiren, Keizai Doyukai and Nissho (the national Chamber of Commerce and Industry of Japan). These organizations comprise the major institutions for the representation of Japanese business interests. Among them, Keidanren is the most powerful and prestigious.
---
Keidanren was originally founded as a comprehensive economic organization with a mandate—largely at the insistence of the American Occupation—to pay special attention to the interests of small- and medium-sized enterprises.[47] However, by 1952 Keidanren had become a spokesman for big business interests, and the constituent organizations representing small business, led by Fujiyama Aiichiro[*] , bolted the organization. Since that time, Keidanren has developed an impressive organizational structure to serve the interests of its membership of 110 industrial, commercial, and financial associations and 739 leading corporations encompassing virtually all the major businesses in the country.
Keidanren strives to mobilize consensus within the business community and influence the government to adopt policies that are responsive to industry's wishes. To accomplish this, it has established an elaborate structure of committees to examine questions of concern to the business community and has created a number of mechanisms for ensuring that business views get fully represented to government.
Keidanren's thirty-seven committees cover the entire span of economic issues, both domestic and foreign, and are chaired by leading businessmen. The committee staffs stay in constant contact with lower- and middle-level bureaucrats in relevant government ministries.[48] In the case of Keidanren, this means primarily MITI. There is constant communication, exchange of documents, and meetings between Keidanren staff members and MITI bureaucrats. There are also regular meetings of Keidanren's leadership with top-level bureaucrats and cabinet ministers. Between August 1971 and May 1972, for instance, there were twenty meetings with top-level bureaucrats: four from the Finance Ministry (MOF), five from MITI, four from the Foreign Ministry, two from the Self-Defense Agency, one from the Construction Ministry, three from the Justice Ministry, and one from the Agriculture Ministry. Between July 1971 and May 1972, there were fifteen meetings with cabinet ministers: three with the prime minister, four with the finance minister, three with the MITI minister, two with the head of the Self-Defense Agency, one with the head of the Science and Technology Agency, one with the minister of transportation, and one with the construction minister. Between August and December 1971, there were also seven meetings with LDP party leaders which dealt exclusively with discussions of the tax sections in the draft of the following year's annual budget. There were no meetings with LDP leaders recorded in the schedule for the period from January to July of 1972.[49]
---
Most of Keidanren's activities relate to economic issues of direct and immediate concern to the business community. The representations it makes to the government are concerned almost exclusively with concrete economic issues such as tax rates, international monetary policy, and liberalization policy.
Keidanren regularly issues various proposals, "requests," and "demands" to the government. Since 1954, as indicated in the accompanying table, Keidanren has issued about twenty such resolutions a year.[50] Changes in emphasis over the years reflect both changes in the economy and in Keidanren's organization. The absence of resolutions on labor policy or reconstruction after 1950, for example, reflects the division of responsibility between Keidanren and Nikkeiren from that time and the boon to Japanese industry brought about by the Korean War. The fact that resolutions concerning liberalization did not appear until 1959, and those concerning pollution until 1965, mirror patterns of postwar economic development in Japan. Needless to say, the fact that there were as many resolutions concerning the international monetary system in 1971 as there were in all the years up to 1967 is a fitting comment on the big-business community's concerns in the early 1970s.
The categories most often represented in the resolutions give an idea of the kinds of issues about which consensus within Keidanren is most successfully achieved. There are six categories in which Keidanren has issued more than thirty resolutions in its history (leaving aside the miscellaneous category). One of these categories is the economy in general, which refers mainly to such matters as forecasts concerning economic growth and the rate of inflation. Another is finance, which includes comments on government fiscal policies and the opinions Keidanren submits to the minister of finance each year on the new government budget. The Confederation of British Industries and other comparable European economic organizations also engage in the latter practice vis-à-vis their governments. The other well-represented categories relate to taxation, foreign trade, energy resources, and defense production. The largest number of defense-related resolutions in 1953 was in response to the establishment of the defense agency and the new emphasis on domestic weapons production.
---
Table 1
Keidanren Resolutions 1945–1971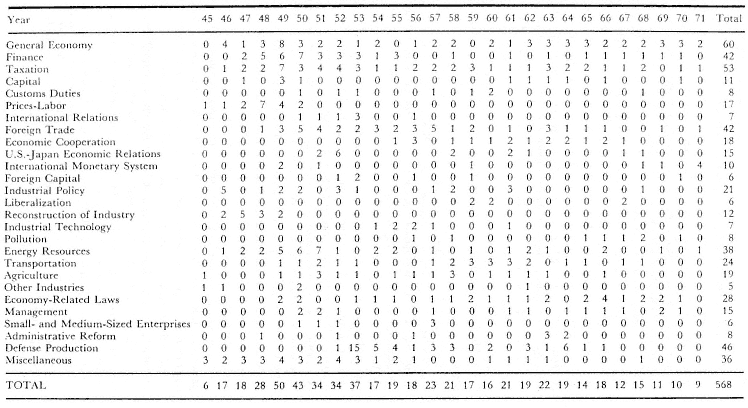 [
Full Size
]
---
At several points in the postwar period, Keidanren has joined together with other economic organizations to issue joint resolutions intended to bring the full influence of a united business community to bear on the government and political parties on essentially noneconomic issues. Among the resolutions listed in the miscellaneous category are eight that deal with political issues, six of which were issued jointly by the four economic organizations. However, seven of these either preceded or came at the time of the conservative party merger and were calls on the political leadership to establish political stability. The eighth was issued during the security treaty crisis in June 1960 and was a call for the protection of parliamentary democracy and the re-establishment of international trust.
The four organizations have joined together on other occasions as well to try to influence the course of political developments. The most famous incident perhaps was the demand by the four organizations' leaders in September 1956 that Prime Minister Hatoyama resign before going to the Soviet Union to sign the normalization agreement. Hatoyama did not take their advice.
The most recent example of a zaikai effort occurred one day after Tanaka became prime minister. On July 6, Kikawada, Uemura, Nagano, Sakurada, Doko, and Imazato called on Tanaka and presented a "request" (yobosho[*] ) of five articles.[51] The five articles called for the establishment of a political posture that would regain the people's faith, the establishment of strong political leadership, recognition and acceptance of Japan's international responsibilities, and creation of national solidarity. The fifth article called for a strong party structure. This meant overcoming factionalism and the deep split in the party caused by the Tanaka-Fukuda fight for the party presidency. "All efforts should be expended to discard small differences and in union improve the party and overcome the crisis" is the group's explanation of the meaning of the five articles.[52] As Nagano put it, "We are hoping for dynamic politics based on party unanimity."[53]
Such a representation by the leaders of the business community has no parallel in American society. For the business leadership to make demands on the political posture of the new prime minister, even before he had completed the formation of his cabinet, surely seems excessive, at least to an outside observer. But the meaning of the representation in terms of the exercise of political influence is not easy to discern. Obviously, if zaikai had been as powerful as sometimes alleged, Mr. Tanaka would not have
---
become prime minister and the representation would not have been made in the first place.
The evidence available suggests a number of things about the operation of Keidanren. First of all, Keidanren is an organization concerned with economic matters of general interest to the business community. It is much more vital a meeting ground for Japanese business than is either the National Association of Manufacturers or the Chamber of Commerce for American businessmen. But in its organization and activities it is not unlike economic organizations in Europe. What distinguishes Keidanren from these European organizations is not the nature of its activities but the thoroughness with which it engages in them. Committee meetings involving the leaders of big business, study groups, lectures, speeches by government officials, meetings of trade and industrial associations, parties for visiting dignitaries, and the like occur on a daily basis.
Second, Keidanren's power as a consensus-mobilizing mechanism is exercised within a relatively limited issue area. It is able to mobilize a consensus of the entire business community, to "harmonize" the views of business leaders on the relatively small number of issues that do not involve conflicts within the business community itself. Keidanren has no magic formula for mobilizing a community consensus on issues about which the business community disagrees. Furthermore, the number of resolutions that Keidanren is able to generate each year conveys an exaggerated sense of consensus. Many of its resolutions are the product of such broad compromise that they emerge at a level of generality that largely undercuts their possible influence on government policy.
It is also true that consensus within Keidanren does not necessarily represent consensus within the big-business community. In discussing Keizai Doyukai's role, Keidanren's president Uemura remarked: "Sometimes they cause us trouble because after we go through the painstaking task of building a consensus, Doyukai leadership makes a pronouncement that reflects a different position and succeeds only in confusing the issue. Sometimes I wish they would think a little more carefully about what they say."[54]
Keidanren is an important source of funds for the LDP. It assesses each constituent trade or industrial association a defined amount for transmission to the Kokumin Kyokai[*] (National Association), an organization established to channel funds to the LDP. But Keidanren does not raise funds for individual factions or individual politicians. Businessmen use political contributions as a source of political influence, but they do so in direct association with LDP members. Keidanren does not provide a mechanism for the exercise of such influence.
Keidanren's structure and activities allow businessmen an opportunity to discuss issues with other businessmen as well as with government
---
officials and to gain access to information they might not otherwise have. But Keidanren's role as a pressure group in Japan's political system seems to be overestimated. For a variety of reasons Keidanren and the other economic organizations seem to be playing a decreasing interest- or pressure-group role.
Several factors account for this decline. Before 1955 the political party system was unstable, and there were no set patterns for recruitment of political leadership. In this period businessmen were most directly active in politics. Since 1955, clear patterns of political recruitment have been created, established parties have become increasingly institutionalized, patterns of bureaucratic recruitment and advancement are clearly defined, and businessmen have increasingly been excluded from leading political and governmental positions. Policy-making has become increasingly complex and bureaucratized, and this has reduced the opportunities for businessmen, acting through organizations such as Keidanren, to significantly affect the policy-making process.
Viewed from the business side, the growth of the economy and the new strength of Japanese enterprises make Japanese industry much less dependent on organizations such as Keidanren than they were in earlier years. One of the central reasons for creating Keidanren was to gain influence for business interests by combining the strength of over a thousand individual industries which had been weakened by the general economic collapse and the policies of the Occupation authorities. As industry regained its strength, the need to rely on Keidanren to champion industry's cause declined. With economic reconstruction, business became less dependent on government assistance. If anything, many businesses now are more concerned with guarding their independence from encroachments by MITI than seeking government support.
This trend has been strengthened by the gradual reconcentration of Japanese industry. Although the regrouped combines are not structured along the lines of the prewar zaibatsu , they are, like their namesakes, capable of protecting their own interests without reliance on Keidanren. Mitsubishi, Mitsui, Sumitomo, Fuji, and other conglomerates do not need Keidanren to the degree that any one element of these groups needed it in 1948. The large conglomerates have their own channels to government and political leaders, provide political funds to LDP politicians, and have their own research staffs. All of this lessens the importance of Keidanren in the total picture of business-government interaction.
With the expansion and the internationalization of the economy, the business community itself has become increasingly pluralistic. There are conflicts of interest within the big-business community that neither Keidanren nor any other organization can effectively mediate. Differences of opinion on the issue of voluntary export controls on textiles and on the rapid liberalization of the computer industry are just two recent examples of the kinds of issues that are increasingly dividing the business commu-
---
nity. The consequences on the ability of Keidanren to perform a consensus-mobilizing function are obvious.
Furthermore, the increasing liberalization of the economy, with the consequent rise in foreign investment in Japan, coupled with the rise of a new group of Japanese business leaders have greatly disturbed the social cohesiveness of the Japanese business establishment. Keidanren, for example, has not only moved toward involving leaders of business traditionally considered outside the establishment (such as the automobile industry) in its highest executive positions, but has also begun to open its doors to membership by foreign-owned enterprises in Japan. All of this contributes to further breaking down the "club" atmosphere that had dominated Japan's economic organizations.
This trend is reinforced by the routinization of the mechanisms of business-government interaction themselves. Speeches by cabinet ministers at Keidanren are institutionalized; "informal" clubs bringing together political and business leaders are formalized; and much of what in an earlier age may have been a mechanism for exerting significant influence has now become ritual.
The clublike atmosphere at Keidanren and the intimate personal relationships between business and government leaders have also been affected by a number of developments in regard to the personalities active in zaikai . First, some of the most important personalities, commanding enormous respect within the business community and the deepest confidence of the political leadership—such as Miyajima Seijiro, Mizuno Shigeo, Kobayashi Ataru, and Ishizaka Taizo—have either retired or died. Similarly, the men with whom they were closest in the political world, namely Yoshida, Ikeda, and Sato, have also left the center of the stage.
Second, the men who control the leadership positions in the economic organizations and make up the so-called zaikai are almost all elderly and in positions of leadership virtually since the forming of these organizations a quarter of a century ago. There is a question whether their position today reflects their influence within the community and vis-à-vis the government, or whether their continued domination is little more than the phenomenon of a firmly entrenched and not particularly representative oligarchy. Several of the leading personalities in the business leadership are not active executives of their companies but devote practically all their time to zaikai activities.
Partly due to the domination of leadership positions by this group, many of the executives who are beginning to take over the top positions in Japanese industry have neither the personal ties with the political leadership nor command the respect within the business community of the present leadership group. Neither do they have the close ties among themselves that the older group has.
The editor-in-chief of the Nikkei Shinbun once remarked to me that
---
"zaikai died with Ikeda," and that, ironically, it was a casualty of the success of the high economic growth policy.[55]Zaikai , as an institution, seems to be destined to a fate similar to that of the genro[*] in Meiji Japan—unable to survive the first generation in any meaningful sense. The conditions that gave rise to zaikai and lent it authority have been largely erased. The renewed strength of Japanese business, the pluralism within the business community, the internationalization of the economy, the emergence of a new, less cohesive generation of business and political leaders, and other factors suggest that while attempts to perpetuate it are likely, zaikai as a dynamic integrating institution in Japan's business community is unlikely to survive the generation of men who created it. This decline of zaikai in turn is likely to further encourage the trend toward pluralism presently evident.
The creation and development of the Industrial Problems Research Council perhaps can be best understood as a response by the business elite to these developments. The council was formed to be the new consensus-mobilizing mechanism, the "zaikai policy board" as the newspapers like to term it, the new structure for mediating intracommunity disputes and effectively representing business interests to the outside. It was founded in 1966 at the initiative of the head of the Keizai Doyukai, Kikawada Kazutaka, and gradually expanded in size from an original membership of seven to a membership today of twenty-three men representing the largest and most powerful of Japanese industry and finance.[56] It was founded partly to serve as an advisory group to Kikawada after he had been appointed chairman of the prime minister's economic advisory council. However, the main motivation for its founding apparently was the desire to have a small group of leading executives come together to discuss ways to deal with the challenges being created for Japanese industry by the increasing liberalization of the economy. One achievement of Sanken was to play a role in fostering the merger of the Fuji and Yahata steel companies.
Sanken has been regarded as Japan's "most prestigious business policy group"[57] and characterized as a "power above government."[58] It has in fact been rather ineffective. It relies on the staff of Keizai Doyukai and is limited in its activities. Its monthly luncheon meetings are usually attended, according to newspaper reporters, by less than half the membership. It is still regarded in some quarters as "Kikawada's group," and it was partly to overcome that impression and the impression that Sanken was intended to weaken Keidanren by usurping its consensus mobilizing function that the membership was increased.
---
Sanken, in my view, emerged as an attempt by the business leadership to compensate for the inability of any other existing institution to mobilize and represent a community consensus. Since this inability is not due to the particular organizational structure of Keidanren, but is a consequence of developments in Japan's economic, social and political structures, I would hazard to guess that Sanken is destined to be unsuccessful in performing any major coordinating function.
Many business leaders still talk of the need for kanmin kyocho[*] (government-business harmony) and for chosei[*] (best translated in this context perhaps as government-business coordination). But one gets the feeling that the more zaikai leaders talk in these terms, the more they are reflecting the breakdown of postwar patterns of organization and interaction.
The Future of Japan's Economic Organizations
Any organization that exists over a considerable period of time faces the challenge of adapting to a changed environment. Keidanren, Keizai Doyukai, and Nikkeiren were founded over a quarter of a century ago in response to conditions that no longer exist. Keidanren was to mobilize the strength of a weakened and fractionalized Japanese business community; Keizai Doyukai was to give young executives an organizational base for contemplating the long-term reconstruction of the economy and the building of a "revised" capitalist system; "fighting" Nikkeiren was to coordinate management's efforts in battling a politically oriented labor movement. Today each of these organizations is in search of a new role.
It often happens, of course, that organizations do not adapt but either go out of existence or become increasingly irrelevant. It is sometimes suggested, for instance, that there is little to justify Nikkeiren's continued independent existence, that it should be disbanded and have its relevant functions absorbed by Keidanren. Uemura himself has suggested that this would be a sensible development, but an unlikely one.[59] Persons long involved in an organization develop a loyalty that need have little to do with the organization's functions. Employment for considerable numbers of people and impressive titles and honor for the organization's leadership combine to create vested interests in the organization's continued existence. Nikkeiren, as is true for the other organizations, is determined to find a new role—one, in this case, that will enable it to respond to the criticism that it is in fact nothing more than "the labor committee of Keidanren."
The present is a transitional period for these organizations, but the directions in which they are moving seem clear. Keidanren, perhaps most importantly, has had rapid growth in its international operations. It has a
---
skilled professional staff in its international economic affairs department and has greatly expanded its activities as liaison between Japanese and foreign business groups and in helping organize large-scale Japanese investment programs in Iran, Brazil, and elsewhere around the globe. It either conducts or sponsors businessmen's conferences with virtually all European countries, the United States, Canada, and Australia. It has committees on relations with Southeast Asian countries and increasingly with Latin America. In 1970 it established a committee on cooperation with Africa.
Its leaders are spending increasing amounts of time abroad. In a one-year period from October 1970, President Uemura made five overseas trips. Significantly, three of them were to the United States. He visited the United States in October 1970 to discuss the textile issue; led an economic mission to Iran in April 1971; went to Washington for the Eighth Annual U.S.-Japan Businessmen's Conference in June; returned to the United States in September to attend the dedication of the new Japan House in New York, to which Keidanren makes a substantial annual contribution; and then led a delegation to the European common market countries in October.[60]
Keidanren has also expanded its research on pollution, oceanography, and other such questions that can be effectively researched by a comprehensive economic organization. These new directions also, of course, reflect broader changes in the society. As pollution control, consumer protection, and energy resources have become more central issues of concern in Japan, Keidanren has moved quickly to establish new staff sections and new committees to help formulate business positions for dealing with them.
Keidanren has been moving away from trying to represent a unified business community on specific issues and has been putting a greater emphasis on considering broad questions of the long-range future of the Japanese economy. This trend, as well as the element of competitiveness that marks the relationship between Keidanren and Keizai Doyukai, were reflected in Doyukai president Kikawada's remark: "Keidanren's role as a petitioner for business is declining . . . and it is moving in the direction of thinking of the total economic structure rather than solely of the benefits for its member firms. It's improving."[61]
Many long-time domestic observers of Keidanren agree with these observations of Keidanren's changing role. But foreign observers, who have only recently discovered Keidanren, tend to see it as a remarkably cohesive power center of Japanese business, a view that is more appropriate to the Keidanren of the late 1950s. This time lag in perception has
---
created misconceptions in many a foreign businessman's mind of the organizational unity of the Japanese business community and the ability of a small leadership group to rally a consensus on any particular issue. Depending on the issue, it has led to unwarranted expectations that the business leadership would "do something," or unjustified suspicion that this leadership was indeed coordinating some strategy worked out in the councils of Keidanren.
Keidanren's increasing involvement in questions of long-term economic growth has done much to break down the clear distinction between Keidanren and Keizai Doyukai that once existed. This breakdown has been furthered by the increasing participation in Keidanren by Doyukai activists. Until rather recently most zaikai members tended to concentrate their activities in one or the other of the organizations. Today there is a considerable overlap of membership. Two of Doyukai's past presidents, for example, Iwasa Yoshizane and Mizukami Tatsuzo, are among the most active Keidanren leaders.
As a consequence, Doyukai's role has undergone a subtle change. Doyukai was founded by young executives and represented a different constituency than the more established Keidanren with its ties to the prewar Economic Federation. However, Keidanren, in its official twenty-year history, explains the reason for Doyukai's existence as follows:
The representatives of enterprises or associations in Keidanren are in principle limited to one person each, and these people gather and exchange views at Keidanren from a position of representing an association or enterprise. . . . Thus statements representing the association or enterprise are made at Keidanren, but these same people and other managers have the desire to organize a group as individuals. Keizai Doyukai is organized to meet that desire and wish.[62]
Doyukai is now defined as an organization to give Keidanren members (and others) an opportunity to discuss issues from a more individual position.
Keizai Doyukai, however, is intent on expanding its functions and proving its usefulness as an independent organization. It has developed, paralleling a similar trend in Keidanren, a role as a kind of de facto philanthropic organization in Japan. It sponsors a variety of activities, usually supported by foundations in the United States, from support for English language teaching programs to joint research programs with a number of American organizations. Doyukai's changing functions are best described by the organization itself:
As Japan has achieved a remarkable economic development, Keizai Doyukai has diversified its activities and has undertaken not only the problems of the Japanese economy as a whole, but also such other issues as area development and urban
---
renewal, small- and medium-sized enterprises, agriculture, research and development, and education.[63]
Like Keidanren, Nikkeiren also has greatly expanded its international role, largely because of its position as the representative of Japanese employers in the International Labor Organization. Internationalization of the economy has also lead it to develop new activities in the area of labor-management relations. It has been sponsoring for the last few years, for instance, an annual cruising seminar for people at the foreman level on labor-management relations, giving them a tour of parts of southeast Asia as well as an onboard education. It recently has established a management training center at the foot of Mount Fuji.
Nikkeiren was founded with the slogan: "Employers, be righteous and strong!" and took great pride in the fact that "at the time of the 'Red Purge' in 1950, [it] assisted in expelling well over ten thousand communists from enterprises, thus finally realizing industrial stabilization."[64] It was to business what Sohyo[*] (the General Council of Trade Unions of Japan) was to labor in the 1950s, and the bitter confrontation between the two organizations forms an important part of the history of the labor-union movement and labor-management relations in the postwar period. In the light of that history it is all the more remarkable to hear Nikkeiren's managing director say at the organization's annual conference in 1964: "I and others want to call on Sohyo also to work harmoniously on labor problems. Sohyo members as Japanese want to work for the development of the Japanese economy. Shouldn't we persevere and keep on trying to move near a harmonious relationship with Sohyo and not attack it as an enemy in [labor] struggles?"[65]
Speaking in 1972, the president of Nikkeiren, Sakurada Takeshi, accented the organization's new posture with the following remarks in regard to that year's coming spring labor offensive:
There would be no other way for employers than to tackle this spring offensive with modesty and seriousness, and to conduct the labor-management negotiations with sincerity, regarding this as a place to educate and be educated. . . . Even when the negotiations fail and dispute [strike?] action is started, the private enterprises must stick to the stand that the "disputes are also the means for education" and wait for the restoration of peace without losing the attitude that both labor and management mutually educate and are educated through the disputes.[66]
Nikkeiren still spends much of its energy in giving assistance to industrial associations and enterprises in their bargaining with labor during the spring struggles, and it still serves as an important organization
---
in management's dealings with the labor union movement. But as labor has become increasingly concerned with actions to maximize its benefits under the present economic system and less concerned with political action to change that system, the "fighting" nature of Nikkeiren with the emphasis on political confrontation that the term implied in the 1950s has given way to a greater emphasis on research and management-training functions. It has for several years now argued for replacing the seniority and lifetime employment system with "a personnel management system which values individual employee's ability and competence in order to overcome labor shortage and to make Japanese enterprises more competitive in the international market."[67] It has an active research program dealing with issues of wages, promotion and retirement systems, social security and other welfare programs. It has established an Institute of Labor Economy, which does research in such areas as productivity and international wage comparisons, and periodically issues statistics on labor questions.
As big industry regained its strength and grew and set up its own research organs, Nikkeiren found itself playing an increasingly important role for small- and medium-sized enterprises in providing expertise on questions of labor-management relations. Nikkeiren, unlike Keidanren and Keizai Doyukai, has a network of active local branches. While the organization's role as the representative of big business in political struggles with the labor movement is declining, its function as a source of information and advice in dealing with problems of labor relations on the part of smaller firms appears to be increasing significantly.
The official twenty-year history of Nikkeiren provides perhaps the best expression of the organizational adaptation as well as its specific direction of change:
Seen only in terms of [management's] strategy against the labor unions, Nikkeiren may look as though it is becoming just the labor section of Keidanren. But this is nothing more than a one-sided view. It is very clear that now the main focus for Nikkeiren's overall activities is shifting from strategies for opposing the spring struggles and the labor unions to areas of much broader labor-management relations and the development of individual capabilities through its activities in job analysis (shokumu bunseki ), educational development, mutual understanding (ishi sotsu[*] ), and the like.[68]
There are commonalities in the direction of change of all three economic organizations. They all are becoming increasingly involved in international affairs and are expanding research functions in areas where no one enterprise or industrial group performs. Keidanren and Nikkeiren are less involved in the day-to-day representation of Japanese business and employer interests and more active than in the past in the analysis of
---
long-term trends and in research on problems of concern to the business community in general. In performing such functions Japan's economic organizations are acting in much the same way as comparable European organizations. Keidanren and the other economic organizations are likely to continue to perform important roles for the Japanese business community, but they will not be the consensus-mobilizing and representative roles that were so important earlier in the postwar period. Important as these organizations are, they no longer appear to play the role attributed to them of being "indispensable in achieving consensus and in presenting a united front on issues and problems."[69]
In Summation
There is minimal career mobility for businessmen into politics and government service. Informal elite coordination has largely broken down with the routinization of the mechanisms created to facilitate such coordination and the weakening of the close personal ties between business and political leaders. Economic organizations do not serve effectively as consensus-mobilizing mechanisms and are increasingly involved in consideration of long-term and general business problems rather than in the representation of business interests on specific issues. Big business can exert considerable influence through political contributions, but such efforts have taken place in an environment in which business has not perceived an acceptable alternative to the LDP and in which LDP leaders have been able to expand their sources of funds beyond the big business establishment.
The ruling elite model of Japanese politics has had to make a number of false assumptions about the organizational unity of the business community, its unanimity of views on specific issues, and its involvement in a broad range of governmental decisions. There are few case studies of decision-making in contemporary Japan, but it may be hypothesized that such studies would show what they have shown in the United States: that different groups participate in the decision-making process depending on the issue involved.[70]
Pluralist theory, on the other hand, has its own weaknesses. By focusing on the participants in the decision-making process, it runs the danger of underestimating or totally ignoring the extent to which certain participants share the values and represent the interests of groups not directly involved in the decision-making process. It can be argued that businessmen have not had to participate in the process directly because the
---
political leadership and the bureaucracy have shared a common perception of issues and have worked to serve business interests. The contribution of Marxist writings to an understanding of postwar Japanese politics, it seems to me, has been to emphasize this point.
It can be argued that the changes affecting Japan today make elitist theory less relevant and pluralist theory more relevant in the analysis of power and influence in Japanese politics. There was, until recently, a value consensus widely shared in Japan that emphasized rapid economic growth and industrial expansion. While there was an articulate body of opinion on the left that did not share this consensus, rapid growth was a goal to which the Japanese public at large, and not just the business sector, subscribed—a goal that often got translated into practice as what is good for big business is good for Japan.
That consensus is now breaking down. The position as the world's third largest economic power in terms of GNP has created enormous pressures on the government that conflict with business interests. International pressures for greater and faster liberalization and for "orderly marketing," and domestic pressures for improving the quality of life rather than simply expanding the size of the economy are testing, for the first time in a sense, the capacity of the Japanese political and administrative system to respond effectively to conflicting demands. The LDP's continued control of the government depends on its capacity to respond to new demands for a change in government priorities.
It is possible that the LDP will fail to respond to these pressures. Recent election results reflect widespread discontent with its policies. But if the history of the past twenty years is any guide, the LDP will strive to remain a "catchall" political party. Part of the LDP success in staying in power has been its ability to provide minimal satisfactions for all sectors supporting it: farmers, a sizable portion of the working class, in addition to big business, and other groups:
The diversity of interests in the circles from which the Conservative Party draws its money, and with which its leaders have close personal connections, gives the leaders considerable freedom of action. So does the existence of the mass electorate. To win a general election the Conservative Party must be supported by the great majority of middle class electors, and about half its vote must come from the working class. Rational policy requires concessions, and habit has taught the privileged classes reason.[71]
These words about the British Conservative Party are equally applicable to the Japanese conservative party over the past twenty years. It may be impossible for any party in an environment of relatively low economic growth to obtain the kind of broad based support in the future that the LDP has received in the past. But the imperatives of electoral politics
---
encourages the LDP to seek such support and to avoid becoming the political arm of any one particular interest group.
One might argue that as long as interests in conflict with those of big business remain unorganized, "latent" rather than "manifest" in Dahrendorf's terms,[72] a conservative party in a capitalist society will be responsive to business interests. The late development of interest groups in Japan and their sometimes unique relationships with the government ministries with which they have most contact may suggest that the LDP has been freer to represent big-business interests than the nature of its support base would imply. But this freedom is being increasingly curtailed as the era of one-party dominance comes to an end.
This article has had the limited objective of challenging assumptions on the effectiveness of some of the mechanisms the big-business community uses to exert political influence. I would not deny that businessmen in Japan, as in every capitalist society, can exercise influence over political leaders in ways that are not available to the average citizen. I do argue that the mechanisms considered most important for facilitating the exercise of business influence over government do not do what they are alleged to do.
We know little about the structure of power and influence in contemporary Japan. Nonetheless, images of that structure, reduced to easily remembered and inaccurate stereotypes, have been widely accepted both in Japan and abroad and do not aid understanding of the structure of power in Japanese society. I have tried to challenge some of the notions of how business-government relations exert influence in Japanese politics in the belief that this is a necessary step in building a more accurate understanding of the relationship between big business and political influence in Japan.
---