5
The Beginnings of Formal Shi'i Institutions in Awadh
Imami Shi'ism in eighteenth-century Awadh originally possessed features that Western sociologists would define as "sectarian." But the distinction between sect and "church" deriving from Max Weber and Ernst Troeltsch, fruitful in the sociological study of religious groupings in Protestant countries, clearly must be employed cautiously in a labyrinthine religious milieu like Mughal India.[1] Moreover. one must carefully note that in this context the term "sect" bears no pejorative connotation. Although many definitions of sect and church have been proposed, most suffer from lack of precision and our inability to plot their primary attribute on a continuum, as a scientific definition would demand. Benton Johnson offered a widely accepted solution to this difficulty by restating the sect-church distinction "in terms of a single-variable property, namely the extent to which a religious body accepts the culture of the social environment in which it exists."[2] I will
---
amend this definition slightly to include antagonism or indifference to the state. Sects, then, are religious groups in some tension with the prevailing culture and the state. In what I will term formal religious establishments, called "churches" in Western sociology, this tension lessens, though it seldom disappears altogether.
Accepting this single variable as the central one, we may look at other attributes of sects delineated by researchers like B. R. Wilson as frequent although not universal correlates.[3] Many attributes of sectarianism appear in Awadh Shi'ism, and the primary variable certainly does, since its ethos opposed the prevailing values of Sunni-dominated Mughal society. Shi'is conceived of themselves as the "saved sect" (firqah-'i najiyah ), the elect of believers who supported the wronged family of the Prophet. Rather than a formal hierarchy of trained jurisprudents, north Indian Imamis possessed merely private experts in the oral reports of the Imams—experts differentiated from the lay community only in their slightly higher level of education. The Akhbari ulama resembled Pentecostalist ministers, who rejected priesthood and whose training emphasized scriptural knowledge, eschewing rationalist theology.[4]
Akhbari north Indians, denouncing the strong division between the lay and the clerical that marked Usulism, had an egalitarian religious structure within the congregation. The crucial distinctions divided, not laymen and clerics, but notables and commoners. As was noted above, believers segregated their mourning sessions along class lines. Since few north Indian Imami clerics attained a high degree of jurisprudential learning, the typical Usuli jurisprudent immigrated from Iran, and ethnic tensions may also have been involved in the Akhbari attacks on mujtahids.
Awadh's Akhbaris forbade the formal worship of Friday congregational prayers on the grounds that the perfect leader who alone could lead them had departed into supernatural Occultation. The central ritual of sectarian Shi'ism was the mourning session (majlis ) held for the martyred Imams, particularly Imam Husayn, in which personal piety could be expressed by open demonstrations of grief. In laboring-class processions believers spontaneously showed their faith through violently beating their breasts. Upper-class ceremonies tended to be more restrained, although they still involved weeping
---
and a touching of the heart. Both the rejection of Friday prayers and the emphasis on mourning sessions underlined the feeling of tension with the outside world that most north Indian Imamis felt.
Shi'is saw India as the land of unbelief (kafiristan ), chafing under the rule of the Sunni Mughals. Some Muslim caste leaders forbade Sunni-Shi'i marriage, another sign of sectarian tension. Shi'is from the propertied classes often departed from a sectarian attitude enough to achieve high rank in the Mughal government, although even here they remained conscious of a distinction between their private inclinations and their duties to the Sunni Mughal sovereign, which strongly emerged during Awrangzib's conquest of the Shi'i-ruled Deccan.[5] The widely scattered Imamis in North India existed on the periphery of the Shi'i centers in Iraq and Iran. Their loose religious organization and sectarian outlook approximated that of tenth-century Shi'is in the wake of the Imam's Occultation. But just as the rise of the Safavid state in Iran helped transform Shi'ism into a formal religious establishment, so the nawabs in Awadh had a similar impact in North India.
Although a Johnson-Wilson description of the sect as an ideal type corresponds to what we know of Imami Shi'ism under the Mughals, the cultural complexity of India makes it necessary to define our terms more precisely. First, the "prevailing" culture in India, with which a sect would be expected to conflict, was dual. In a sense, two notable class orthodoxies coexisted, Mughal-supported Sunnism and the Hinduism of the twice-born castes. Even though Hinduism suffered some disabilities under Muslim rule and so sometimes also exhibited sectarian tensions with it, Hindus were the great majority of the population, and enough Brahmins and Hindu martial groups were integrated into the Mughal system of prebends and benefices to constitute them as junior partners in the Mughal enterprise. C. A. Bayly has suggested that the Jains and some Hindu ascetic orders constituted sects in eighteenth-century Awadh, and that they avoided entanglement with the government and possessed some degree of corporate organization.[6] The definition of sect I am using would agree with the tendency to antagonism toward or indifference to the state, although it would not absolutely require any particular form of organization, which I have not taken as a primary variable. In Mughal India, then, Shi'is could be considered sectarian in the same way as Jains could, since they opposed and subsisted outside the orthodoxy of the Sunni Muslim establishment, with its ulama, qazis , muftis, and seminaries, much as the Jains subsisted outside Brahminical Hinduism.
Another issue in the definition of sects and religious establishments has been raised implicitly by a group of sociologists considering the dominant
---
ideology, thesis. Abercrombie, Hill, and Turner showed that although Marx and subsequent sociologists considered the church to have ideologically dominated medieval Europe, in fact the authority of the ecclesiastical institutions sat rather lightly on the majority of the peasant population.[7] European peasants continued to practice an autochthonous religion far removed from the theology and ritual of the literate priests who presided over the churches of the aristocracy, though only intermittently did peasant groups come so strongly into conflict with the church as to develop an alternative religious collectivity in the form of a sect. The formal religious establishment provided an ideology and an ecclesiastical structure primarily useful in uniting the ruling class and in socializing members of that class to values appropriate to their social position. It only lightly encompassed the peasant majority, and the underprivileged strata (the great majority in preindustrial societies) threw up most of the sectarian challenges to the religious establishment.
The rise of a Shi'i ruling class in Awadh, composed of members of the Nishapuri ruling family, high administrators, and tax-farmers, and powerful eunuchs raised as Shi'is at court, created the need for a formal Shi'i establishment that could minister to the often literate notables. One of the functions of this religious establishment would be to justify Shi'i rule. No Shi'i formal religious establishment had existed in North India under the Sunni Mughals, so that an entire range of institutions needed to be newly created by Shi'i elites.
The foundation of a formal Shi'i establishment required specialized clerics. The Shi'i ulama sought through professional closure practices to assert control over the monetary resources that notables poured into religious institutions, no easy task in the traditional, ecumenical setting of India.[8] Among Shi'i clerics, Usulis attempted to exclude all Shi'i holy and learned men who did not possess a diploma (ijazah ) that allowed them to derive legal judgments and preside over ritual activity. To monopolize religious authority and the patronage of the Shi'i state would require the exclusion of popular Sufi leaders and institutions, who mediated between Muslim and Hindu disciples. It also implied the displacement of Sunni ulama already occupying official religious offices.
The growth of sectarian folk practices among Shi'is in Awadh, discussed in the preceding chapter, paralleled the growth of a formal, literate religious establishment among the notables. The two processes dovetailed only a century and more later, as literacy increased, the printing press spread formal religious ideas and practices, and urbanization brought the need for a clearer
---
communal (as opposed to village kinship or caste) identity. The process of Shi'i Islamization (parallel to "Sanskritization" among modernizing Hindus) occurred first of all among the Awadh notables and clerics involved in constructing their dominant ideology.
The Establishment of Friday Prayers
The institution of Friday congregational prayers, the first major religious innovation undertaken by the notables and clerics of Awadh in creating a formal religious establishment, seems in retrospect a natural step. But this move aroused bitter controversy at the time, since it broke with all north Indian Shi'i tradition. North Indian Akhbarism saw the holding of such prayers as a usurpation of the absent Twelfth Imam's authority, and Shi'is associated mosque ritual with the arrogance of the Sunni majority. Moreover, the Awadh nawab's authorization of such prayers constituted a slap in the face to the Sunni Mughal emperor and a further declaration of regional independence, not to be undertaken lightly. Only a powerful congruence of secular and religious motives could have brought about this change.
The growth in numbers and authority of Usuli ulama helps account for the change. As the promise of patronage attracted Shi'i clerics from Kashmir and from Iraq and Iran to Awadh, the number of scholars belonging to the Usuli school, dominant in those areas, increased. Greater political stability in the Middle East and North India in the last quarter of the century and more secure trade routes increased Awadh's contacts with the Shi'i centers of West Asia. The Imami newly rich could afford pilgrimages to the shrine cities of Karbala and Najaf, and could in addition afford to subvent such travel for scholars such as Mirza Muhammad Khalil and Sayyid Dildar 'Ali Nasirabadi.
On his return to Lucknow, Nasirabadi rejoined Chief Minister Hasan Riza Khan's inner circle, his penetration into the corridors of power and influence a tribute to his brilliance and ambition. But he was still the junior-most religious thinker patronized by the chief minister. The Sufi pirs Shah Khayru'llah and Shah 'Ali Akbar Mawdudi wielded more influence. Even the Shi'i notables of Awadh maintained the Mughal noble tradition of showing respect for Sufi leaders. The chief minister's first cousin Aqa Mirza was a devoted Sufi.[9] Hasan Riza Khan saw no contradiction between Sufism and Shi'ism, and whereas the growing clerical class in Faizabad had primarily to contend with the power of the physicians, in Lucknow their rivals for patronage and influence were Sufi leaders.
In the early 1780s, after Nasirabadi had returned from his sojourn in Iraq and Iran, a new controversy began to polarize the Imami community. The
---
foreign Usuli ulama wished to see Shi'i Friday congregational prayers established in North India, whereas Indian Imamis of the Akhbari school resisted this initiative. One early source attributes the dominance of Akhbarism in North India to the school's pro-laity (camm-pasand ) tendencies. The same source states that Akhbaris in Awadh avoided the few mujtahids there completely, some even ritually cursing them. They criticized the Usulis for believing in independent legal reasoning (ijlihad ), allowing considered opinion (zann ) as a basis for legal rulings, employing analogy just as did the Hanafi Sunnis, and recognizing scholarly consensus as a source of law.[10] Akhbaris perceived the Usulis to have compromised with Shi'i principles, adopting the Sunni tenets of their Mughal oppressors. Moreover, Akhbaris may have projected their hostility to the Establishment Sunni clergy onto the professional Usuli ulama. Although the issue of Friday prayers was not one strictly between Usuli and Akhbari, since members of both schools took varying stances on it, north Indian Akhbaris on the whole tended to feel that they were impermissible in the absence of the Imam.[11]
Many Indian Akhbaris opposed Friday congregational prayers on doctrinal grounds; others feared chat such separate rituals would provoke a Sunni backlash. In the previous decade, Muhammad 'Askari Jaunpuri (d. 1777), a local Akhbari scholar appointed to the post of court mufti, advised against such prayers.[12] Awadh's Shi'is did not believe that congregational prayers were held even in the majority Shi'i areas of Iraq and Iran, and they were not customary anywhere in North India.[13]
Mulla Muhammad 'Ali "Padshah" Kashmiri, arriving in Awadh in the carly 1770s, lacked this caution and timidity. He settled and taught in Faizabad and in about 1785 wrote a treatise on the virtue of congregational Friday prayers for Shi'is. The author dedicated the book, five chapters long, to Nawab Asafu'd-Dawlah, calling upon him to establish Friday prayers. In the fourth chapter he mentioned three individuals qualified to lead the prayers. Two of these, Mirza Muhammad Khalil and Sayyid Dildar 'Ali Nasirabadi, were local scholars who had adopted Usulism in Iraq. Kashmiri argued that instituting this measure would aid the nawab in his quest to spread the Islamic revelation (i.e., in its Imami form) more widely in his dominions. When Chief Minister Hasan Riza Khan went to Faizabad on a visit, Mulla Muhammad 'Ali Padshah presented him with a copy of the treatise. Hasan Riza Khan made the proposal public on his return to Lucknow. But when he sounded out Sayyid Dildar 'Ali about the idea, he rejected it. Nasirabadi
---
feared that such a public display would arouse the hostility of the majority Sunnis, and he asked the chief minister to dismiss the proposal. To avoid further pressure, he retired with his family and attendants to Nasirabad.[14]
With Nasirabadi gone, Hasan Riza Khan spent more time with other companions, especially with Shah 'Ali Akbar Mawdudi.[15] A leader of the Chishti order orginally from Delhi, he settled in Faizabad in the 1770s. Under the influence of Awadh's court culture, and perhaps in order to gain easier access to court patronage, he accepted Imami Shi'ism. He did so, however, without giving up his Sufi ideas and rituals and while retaining his followers among the largely Sunni Chishtis.
One Friday afternoon Hasan Riza Khan was shocked to discover that the Sufi leader said congregational prayers with his followers, but Shah 'Ali Akbar was quick to enumerate the virtues of the ritual in Shi'ism. The pir's strong support for Friday prayers, coming on the heels of Mulla Padshah's similar proposal, determined Hasan Riza Khan to institute them. Ironically, foreign-born Usulis and local former Sunnis pushed the Awadh court into beginning this ritual, a move doctrinally opposed by local Akhbaris. Even an Usuli like Sayyid Dildar 'Ali felt uncomfortable with the idea, which demonstrates how strongly Indian Shi'is felt the need to maintain a low profile and to avoid conflict with the much stronger Sunni community. Other Shi'is also attempted to dissuade the chief minister from this plan, warning that it might provoke the Sunni Afghan chief 'Abdu'r-Rahman Qandahari to revolt.[16]
When Sayyid Dildar 'Ali returned to Lucknow, Hasan Riza Khan once again pressed him to lead the Friday prayers. The young cleric consulted with some trusted advisers and came to the conclusion that it would be ungrateful not to help with such worthy work. (Moreover, such a slap in the face to his patrons might have signaled the decline of his so far promising career as a court religious scholar.) Sayyid Dildar 'Ali, however, clearly retained some ambivalence about the prayers. When he first led them, in May 1786 (13 Rajab 1200), some believers from the notable class gathered at the palace, where they prayed the noon and afternoon prayers in congregation. But they followed the same ritual form as if they were praying congregationally on any other day of the week, rather than the special Friday form.[17] This may have been an attempt at compromise, though it lasted only a short
---
time. The controversies behind this incident can no longer be traced.
Two weeks later the same group prayed the Friday congregational prayers (jumcah ) according to the prescribed forms. Some sources indicate that before he agreed to preside over this ceremony, Nasirabadi wrote a treatise on the congregational Friday prayer, showing it to be an "obligation of preference" (vujub-itakhyiri ) rather than an individual, absolute duty (vujub-icayni ). He firmly disputed the most conservative (and earliest) post-Occultation view that Friday congregational prayers are forbidden in the absence of the Imam.[18] In taking the "obligation of preference" position he cautiously required the prayers. Sayyid Dildar 'Ali said that since some scholars forbade them and others considered them obligatory, caution dictated that believers pray both the Friday prayer in congregation and the individual noon prayer (zuhr ).
The beginning of Friday prayers in Lucknow, a victory for the rationalist Usuli ulama, came about because of a coalition of forces. Sufi leaders, intermediaries between Sunni and Shi'i disciples, may have hoped to unite their followers in a single congregation by having formal ceremonies to which the Sunnis were accustomed. High Awadh secular officials probably wanted the prayers as symbols of regional autonomy. Foreign Usuli ulama promoted them because they believed them religiously necessary, and as part of their clericalist ideology. Local Usuli ulama, more cautious, finally acquiesced in holding the prayers, more because of outside pressure than inner conviction. Sufi leaders appear not to have recognized the possibility that leadership of the prayers might be taken over by the Usulis, displacing them and bringing a new religious elite to the fore.
Ideological Justification for Friday Prayers and Clerical Authority
The holding of Shi'i Friday prayers provoked opposition from several quarters. Sunnis disliked it, though the feared violent reaction from them never materialized. Even with the Shi'i community, many felt misgivings and refused to participate. Shi'i artisans and laborers apparently rejected the prayers as an upper-class whimsy. The largely Akhbari notables opposed them as a heretical innovation. Sayyid Dildar 'Ali's response to the criticisms emerged in his Friday afternoon sermons, some of which he collected into a manuscript volume.
Sayyid Dildar 'Ali wished to justify the need for a professional clergy of the Usuli sort. On that afternoon in May 1786 he told his audience in the chief minister's palace that a man either is a religious scholar or is not. If not,
---
he must emulate an expert on Islamic law in subsidiary matters. Emulation, necessary in practical matters of complicated law, is forbidden in matters of essential creed (masa'il-i usuliyyah ). Even in areas of belief, however, Shi'is have the duty of reaching the orthodox conclusions through their own effort. Nasirabadi saw his sermons as one way of sharing his knowledge as a scholar with his lay audience.[19] Since his eighteen months in Iraq hardly made him a mujtahid, his attitude was somewhat presumptuous. But in a north Indian context, with few Usulis, someone with even a short experience of studying with mujtahids in Iraq could project an aura of authority.
The prayer leader argued that if Shi'is did not produce ulama, then they would have to depend on Sunni scholars to teach them, and might be misled by the latter, who would not instruct them in the oral reports from the Imams. Although he drew on an oral report from Imam Jacfar as-Sadiq for this point, Nasirabadi was describing the actual situation in India; he himself had studied extensively with Sunnis. Without ulama, he insisted, people would soon not know to which religion they belonged, and ulama were necessary to guard the moral order.[20] In a pluralistic society like India, he believed, only a cadre of professional clerics could maintain a strong sense of communal identity.
That summer in the fasting month of Ramadan, the prayer leader warned his aristocratic audience against deliberately neglecting Friday prayers, fasting, or religious charity (zakat ). He said that whoever refused to say Friday prayers in congregation would receive no benefit from his individual daily prayers; he complained that he needed to voice such warnings because most Shi'is did not observe the religious laws, owing to their worldly concerns. He urged that religious donations be given to an experienced, upright ('adil ) mujtahid, and that he be allowed to distribute them to the poor.[21] He attacked the Awadh custom of putting religious charities in the hands of court physicians, claiming jurisdiction over this institution for the professional clergy. The handful of Usuli ulama not only would have a platform for the propagation of their views in the official congregational prayers, but also would gain control over vast sums of money.
Sayyid Dildar 'Ali's first sermon contained a second theme: the need for works and not only faith. It did not suffice, he insisted, to swear allegiance to the Imams and to mourn their martyrdom, but one must also obey, be pious, say one's daily prayers, and help the poor. He condemned those who argued against the prayers because they would tempt some believers to perform this good work in order to be seen of men, pointing out that the believers are commanded, not only to inner purity (safa-yibatin ) but also to outer purity (safa-yi
---
zahir ), suggesting that Friday prayers were an outward sign of internal piety.[22]
The first sermon dcalt also with religion and state relations. The young Usuli cleric argued that Shi'is had not held Friday prayers in India in the medieval period, because of the dominance of tyrannical Sunni emperors, just as they had avoided them in pre-Safavid Iran. The Safavids, he said, established the institution, and he urged the nawab of Awadh to emulate them in continuing to sanction the prayers. He denied that in agreeing to lead them he had sold himself (Shi'is unhappy with the government obviously had accused him of doing so).[23]
Nasirabadi felt some tension between his values as a religious scholar and those of even a Shi'i aristocracy. Sensitive to the charges some hurled at him of moral turpitude in becoming involved with the state and helping move Shi'ism toward a formal religious establishment, he noted that Sunni and Shi'i ulama differed over the referent of the qur'anic verse "Obey God and obey the Prophet and those in authority among you" (4:59). Sunnis, he said, made it refer to rulers and nobles, whereas Shi'is restricted it to the Imams. Shi'is held that God would not order us to obey someone who might command something not in accord with the religious law. The Sunnis, he continued, branded Shi'ism worldly and said that Shi'is had no other aim than to draw close to the notables.
He responded that the opposite was true, and that Sunnis interpreted Qur'an 4:59 in this way precisely in order to please the powers that be. He also pointed out that Shi'i ulama forbade the wearing of silk, using gold or silver vessels, listening to music, gazing at unrelated women, and homosexuality. Therefore, Shi'i norms conflicted most strongly with the lifestyle of the Muslim ruling classes. He ended by staking out his own moral independence, saying, "It should not be thought that I have in the course of this talk, when giving thanks to the nawab, embellished my words for the sake of being seen of men or pleasing him, hut only because the holy law demanded it. Giving thanks where due is incumbent."[24] Nasirabadi needed to make this disclaimer because he had so highly praised the bibulous, arbitrary Nawab Asafu'd-Dawlah as the establisher of the holy Law, the promulgator of the religion of the Imams, and the center of the sky of justice, and had prayed God to render his rule eternal.[25]
In his Ramadan sermon for 1786, the prayer leader painted the holding of prayers as the most cautious course, attempting to steal the high ground from critics who felt that they should not be performed in the Occultation on grounds of caution. Such critics objected that uprightness ('adalat ) in the prayer leader was a prerequisite, but without the direct appointee of an
---
Imam it would be an attribute difficult to establish. (That is, the appointee of an ordinary mortal might secretly have some vices.) Nasirabadi replied that the same difficulty attended the appointment of Shi'i qazis and muftis, who must also be upright, yet no one raised similar objections in this regard.[26]
Even after the passage of a year, the Friday congregational prayers remained controversial. In August 1787 Sayyid Dildar 'Ali discussed openly the nature of the opposition. He reported that some of the deniers, wealthy men, privately maintained that the Friday prayers actually were not the nawab's idea and that he remained ambivalent about them.[27] Quite possibly, he did have mixed feelings. Hasan Riza Khan most strongly sponsored the ceremonies. Nawab Asafu'd-Dawlah, still the titular first minister of the Mughal Empire, may have felt apprehension about the political repercussions of sanctioning the ritual of a branch of Islam different from that of his nominal sovereign. He remained reluctant to cut his last symbolic ties with the empire, even though he refused to respond positively to calls of the emperor that he come to Delhi or provide troops to the center.[28]
Of course, the political value of ties to the emperor plummeted even further in the late 1780s, which may help explain why the nawab-vizier approved the holding of Shi'i Friday prayers at all. In the period 1786-87, when they commenced in Lucknow and Faizabad, the Mughal emperor, Shah 'Alam II, had been reduced to a figurehead over whom the Hindu Marathas and the Sunni Muslim Ruhilah Afghans fought because of his remaining authority as a symbol.[29] On the other hand, the visiting Mughal prince, Javan-Bakht Mirza, was allowed to attend the Lucknow prayers, and his presence probably indicates that Delhi did not perceive them as rebellious.[30] The nawabs of Awadh became firmly committed to holding Shi'i ceremonies and supporting the Usuili ulama. As they resorted less and less to the Mughals for the legitimation of their rule, they cast about for other sources of legitimacy. The creation of a supportive Shi'i clerisy was, in Awadh as in Qajar Iran, one means to this goal.[31]
Sayyid Dildar 'Ali attacked the upper-class opponents of Friday prayer for their pride reminiscent of the pre-Islamic Age of Ignorance (hamiyyat-ijahiliyyah ). They did not want to bow behind a prayer leader, because it
---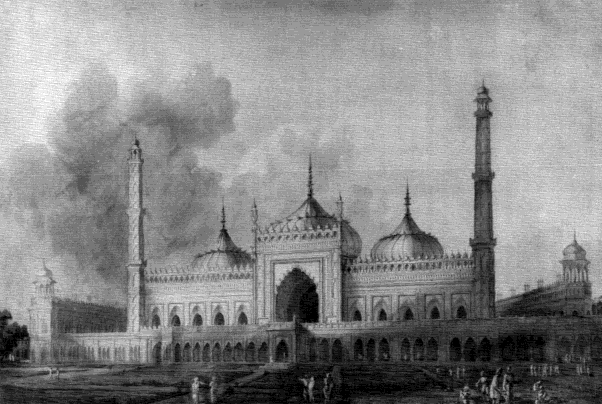 [
Full Size
]
---
would detract from their social status. These notables, among the wealthiest and most powerful men in North India, may well have balked at allowing the son of a small landholding qasabah family to lead them in prayer. Nasirabadi depicted his opponents as licentious aristocrats who spent their time listening to music, wearing silk, drinking from gold vessels, hanging paintings on their walls, and patronizing unveiled singing girls.
He denounced their pretensions to religious learning as arrogant, ridiculing them for saying that since Shi'is at the shrine cities of Karbala and Najaf in Iraq did not openly hold Friday congregational prayers, believers should not hold them in Lucknow either. Since his opponents, as Akhbaris, objected to emulating anyone but the Imams, he pointed out the inconsistency of their imitating the practice in the shrine cities. Moreover, he denied that believers never held Friday congregational prayers in the holy centers of Iraq.
He said the ritual had not previously been performed in North India because the Sunni emperors forced Shi'i notables to practice dissimulation. The situation, he continued, had now changed and Islam forbade the aping of one's ancestors. He argued that some scholars, such as Aqa Muhammad Baqir Bihbahani in Karbala, considered the Friday group prayers to be preferentially incumbent (vujub-itakhyiri ), holding them privately. Nasirabadi said that he wished to make Bihbahani's stance clear, even though he recognized that most of his opponents, as Akhbaris, either emulated the dead or emulated no one. He emphasized that he himself, as a mujtahid, had come to his own conclusions and was not emulating Bihbahani. He neglected to mention that other scholars he studied with in Iraq, such as Aqa Sayyid 'Ali Tabataba'i, took a more cautious position on this matter. Neither group in Lucknow referred to the practice in Iran, which indicates that they only considered that of the shrine cities in any sense normative.[32]
Artisan and laborer Shi'is also tended to react with hostility to the Friday prayers. Since the court began them in a notable's mansion, the prayers obviously were not meant to encompass the popular classes at this point. Later the nawab had a cathedral mosque (jamicmasjid ) constructed in Lucknow so that the public could attend. Sayyid Dildar 'Ali betrayed impatience at opposition from this quarter, dismissing the common people as animals and beasts that needed a shepherd who could use his staff to force them to the attainment of happiness.[33] A week later, Nasirabadi stressed that all Shi'is were not saved, and that some were worse than Sunnis. He said that some
---
put Ali on the same level as Muhammad, while others made him God. Such Shi'is, for all their love of the Imams, were unbelievers. He thundered that most of the ignorant Shi'is in his own time deserved to enter hellfire on these grounds. Sayyid Dildar 'Ali rejected as effeminate the view of some that one should not speak badly of anyone who believes in the Imams[34]
From his newfound pulpit Sayyid Dildar 'Ali promoted the Usuli school of Shi'ism as orthodoxy. He claimed extensive prerogatives for ulama of that school and attempted to displace other competitors for the patronage of the Shi'i high notables, such as Sufis and Akhbari scholars. He strove against Akhbarism as the ideology of wealthy Shi'i gentlemen scholars, and against the extremist theological views of the little people. The rituals, law, and religious donations of the Shi'i community, he argued, should be controlled by the Usuli ulama.
The Spread of Friday Congregational Prayers
The practice of holding Shi'i Friday prayers and building Shi'i mosques spread to other cities, and then to smaller towns and villages. Through this institution, Shi'i medium landholders in the lineage centers enhanced their local prestige and authority. Further, service positions as prayer leaders opened up for them in the cosmopolitan cities where rich and powerful Shi'i patrons lived. Like the imambarahs , the new mosques united Shi'i communities, though fewer attended the formal services, which probably catered more to the landed, literate strata.
The same year that Friday prayers began in Lucknow they commenced in Awadh's other major urban, center, Faizabad. As in the case of the riot seven years earlier, Javahir 'Ali Khan (d. 1799) took the lead in supporting the program of the Usuli ulama. Sayyid 'Abdu'l-'Ali Deoghatavi (1749-1827), from a village near Ghazipur, was appointed to lead the prayers in Faizabad. He came there in 1770 to study, pursuing his education with Mulla Muhammad 'Ali "Padshah" Kashmiri and becoming a mujtahid. He received a land grant (mucafi ) worth Rs. 1,000 per month from Asafu'd-Dawlah to support him in the office of prayer leader.[35]
Not many Shi'is attended the prayers at first, being unused to them. Especially in the rainy season and in winter, attendance dropped off sharply. Javahir 'Ali Khan, who zealously supported the institution, hired twenty men as servants to bring companies of people to the mosque, not only for Friday prayers but for the five daily prayers as well.[36] As in Lucknow, the posi-
---
tion of Friday prayer leader in Faizabad became hereditary. It was next held by Sayyid Muhammad Deoghatavi (d. 1849), Sayyid 'Abdu'l-'Ali's son, who studied with Sayyid Dildar 'Ali Nasirabadi, becoming a mujtahid.[37] His son, Sayyid 'Ali (d. 1897), failed to reach the rank of ijtihad , even though he became Friday prayer leader. By that time personal charisma and specialized training for the post, originally an important consideration, had grown irrelevant in favor of traditional family claims and the charisma of office.[38]
As was noted, the prayers began to be held in the lineage centers as well. Sayyid Dildar 'Ali constructed a Friday prayers mosque in his home town of Nasirabad in 1812. In 1807 Sayyid 'Abdu'l-'Ali built an impressive mosque in Deoghata. After 1803 the British took over many areas of northern India formerly under Sunni Mughal rule, providing a safe atmosphere for Shi'is to build mosques and hold Friday prayers.
Mawlavi Sayyid Muhammad 'Ibadat, having studied with Sayyid Dildar 'Ali in Lucknow, began leading Friday congregational prayers in Amroha at an old imambarah . In 1808 Hajji Ashraf 'Ali of Patna settled in Amroha and built a Friday prayers mosque.[39] The position of Friday prayer leader passed to the incumbent's son, who likewise trained with Lucknow's mujtahids.[40] Later in the century Mawlavi Sayyid 'Ali Husayn, a zamindar and mucafidar who had studied in Lucknow with Sayyid Dildar 'Ali's son Sayyid Husayn, also served as prayer leader in Amroha.[41] Prominent families and middle landholders in the towns of the area began to enhance their local prestige and authority by having some members study in Lucknow and return to perform such religious leadership functions as leading prayers in the public mosques that these same families had built.
In Awadh the ruling elite appointed mostly Indians to religious posts, despite the large number of qualified Iranian immigrants. The Indian ulama, better acquainted with local protocol, excluded their Iranian competitors. After failing to procure patronage in Awadh, Aqa Ahmad Bihbahani, the grandson of Aqa Muhammad Baqir, became prayer leader of British-ruled Patna in 1809, supported by local Shi'i notables. He said the sermon in the name of the "king of Islam" (padshah-iIslam ), probably referring to the Qajar monarch. In British-ruled territory Bihbahani felt no compulsion to recognize the weak Mughals in Delhi.[42]
---
Shi'i Religious Education
The handful of Usuli ulama trained more scholars in their school on an informal basis. Sayyid Dildar 'Ali in addition to bringing up his own five sons as ulama, taught a number of other religious students, though not all became clergymen. Of thirty-one long- and short-term pupils listed in Nasirabadi's biography, eight were clearly gentlemen scholars of the notable class. One sees a contrast between Mirza Kazim 'Ali, a high notable who taught law and the prmciples of jurisprudence as an avocation, and Mirza Javad 'Ali (1760-1842), a poverty-stricken student who never composed much because he had difficulty in finding patronage. Another four "students" were Nasirabadi's colleagues, who traded knowledge with him.
Of the remaining nineteen, mostly young men of a religious turn of mind, some came of middle landholding families in the qasabahs . These, like Sayyid Muhammad Quli Kinturi (later principal Sadr Amin at the British court in Mccrut) and Sayyid Muhammad Deoghatavi (later Faizabad's chief prayer leader), went on to careers in the religious or judicial fields. Some of his students, from families specializing in medicine, went on to become physicians themselves. Many of the younger scholars became committed Usulis, writing polemics against Akhbarism, Sufism, and Sunnism. Some of the younger notables trained by Nasirabadi also produced such works. Not everyone who studied with Nasirabadi came to support him; most of his students derived from an Akhbari background and some remained Akhbaris. Moreover, two young men very close to him, his cousin Sayyid Yad 'Ali Nasirabadi and his old traveling companion Sayyid Panah 'Ali, turned against him after studying with him, and remained his bitter critics.[43] Very firm bonds of loyalty and shared ideology emerged from the social networks centered on informal teaching and study, but sometimes those same networks accommodated strong enmities.
Many other scholars, including Iranian and Kashmiri immigrants, taught in Awadh. In addition to class sessions, notables held salons centered on religious discussion. The prayer leader in Faizabad, Sayyid 'Abdu'l-'Ali Deoghatavi, trained numbers of Usuli clerics. Through these informal tutoring systems Usuli ideas spread among Shi'i literati and notables, not only in Awadh but beyond it to Banaras and Allahabad divisions, the upper Doab, and Bihar. In the next generation Nasirabadi's sons and major students taught hundreds of scholars, and in the 1840s the Awadh rulers finally founded a Shi'i seminary (madrasah ).
The networks of learning extended even beyond India to Iraq and Iran, as in the case of Sayyid Dildar 'Ali. Ironically, the Indian connection proved highly lucrative for the Usuli cleries in the shrine cities. In the late 1780s Chief Minister Hasan Riza Khan remitted Rs. 500,000 to Najaf through the
---
Iranian firm of Hajji Karbala'i Muhammad Tihrani for the construction of a canal in the middle Euphrates, which would bring water to perpetually dry Najaf. The project, aimed at sparing inhabitants and pilgrims inconvenience, was completed in 1793. Later Asafu'd-Dawlah sent another Rs. 200,000 to the mujtahids in Iraq.[44] The nawab's channeling of such large sums to the chief Usuli ulama in the shrine cities, on the advice of Sayyid Dildar 'Ali, strengthened them and further contributed to Usuli dominance. Tafazul Husayn Khan Kashmiri, as chief minister in 1795-98, remitted a great deal of money to Aqa Sayyid 'Ali Tabataba'i for the poor and the ulama in Karbala.[45]
The Judiciary and Ulama-State Tensions
Shujacu'd-Dawlah probably appointed a chief qazi , as well as qazis in the provinces, since the Mughal system assumed these. Civil administrators performed many judicial functions. In rural areas large landholders often tried civil and criminal cases according to customary law ('urf ).[46] Elliot gave evidence that religious-law qazis , appointed to each parganah, continued to exist in Awadh right up to the 1856 British annexation. These Sunni provincial qazis often held the post on a hereditary basis, having been given service grants by the Mughal government for undertaking judicial duties. They decided disputes, appeased enmities, performed marriage ceremonies, decided inheritance cases, wrote decrees, led ritual prayers, and instructed the people in religious law. Typical of the evidence available for the continued appointment of qazis in the parganahs is the petition to the nawab from Hafiz Muhammad Basir, who wished to be made judge in Sandila on the death of his father, the former holder of the post. In Kakori as well, the post of qazi was held in the late eighteenth and the early nineteenth century on a hereditary basis.[47]
In the eighteenth century the rudimentary judiciary of the central government lacked any great authority. Shujacu'd-Dawlah appointed as mufti the Farangi-Mahalli Ghulam Hazrat who held a similar post early in Asafu'd-Dawlah's
---
Dawlah's reign.[48] Isfahani painted a black picture of the judiciary under Nawab Asafu'd-Dawlah as altogether ineffective. He said that in 1783, as a result of pressure exerted by the British resident, Bristow, the deputy chief minister, Haydar Beg, appointed Mawlavi Mubin Farangi-Mahalli as civil judge. After a while the government replaced him with a Shi'i Iranian, Muhammad Nasir Khan (a cousin of the assassinated chief minister, Mukhtaru'd-Dawlah), a notable rather than a religious scholar. In 1792 the Sunni Mufti Ghulam Hazrat became Lucknow's chief qazi , but the payroll for his court employees was, owing to treasury department problems, always in arrears.[49]
Nawab Sacadat 'Ali Khan (r. 1798-1814) likewise depended largely on the Sunni ulama of the Farangi Mahall for his court judges.[50] These Sunni judges sometimes came into conflict with the nawab; Sacadat 'Ali removed Mawlavi Zuhuru'llah (d. 1840) from office after a dispute. Such disputes with the court could be ruinous both to careers and to finances, but Zuhuru'llah sought and received the patronage of a Shi'i tax-farmer, becoming mufti once again after Sacadat 'Ali's death.
The judiciary remained weak, and the British, worried about the impact of insecurity on property, constantly urged Nawab Sacadat 'Ali to establish courts of justice and police throughout his dominions. He astutely turned this demand around and used it as a bargaining chip, saying that such a court system could be established only when the rebels in the countryside were extirpated, an indirect way of asking for more British troops to help his tax collectors.[51]
The Sunni background of the government qazis made many Shi'is uncomfortable about resorting to them. A believer asked Sayyid Dildar 'Ali Nasirabadi if, where two Shi'is had an unsettled legal dispute, they were permitted to take it to an upright Imami religious scholar. He replied that it was not only permissible, it was the preferred course.[52] The Shi'i ulama enhanced their moral authority and circumvented the Farangi-Mahall judges through giving informal rulings on disputes between Shi'is.
---
Only in the 1840s did the government institute a Shi'i judiciary in Awadh. The major reason for the long delay in this development was that the Shi'i ulama simply did not trust the nawabs to let them make rulings according to Islamic law and their own consciences. Partially, they may not have wished to put themselves in a position where they would have been sure to come into conflict occasionally with their benefactors, for long remaining content to let Farangi-Mahallis like Mufti Zuhuru'llah undertake this often dangerous and morally compromising work.
An incident in the continuing rivalry between the Indian and Iranian Shi'i ulama demonstrates the difficulties they faced in this regard. Aqa Ahmad Bihbahani came to India late in the eighteenth century and stayed in Hyderabad, Murshidabad, and Patna. He then came to Awadh in search of patronage, settling at first in Faizabad. In fact, he ought to have gotten the ulama in Lucknow to have the nawab extend an invitation to him, but perhaps because of his Iranian pride he did not abide by-that etiquette. He then committed the even more serious breach of coming to Lucknow without the nawab's permission.[53]
At the end of Ramadan in 1222 (1807), some believers came to Bihbahani in Lucknow and stated that they had seen the moon, a sign that the month of fasting was over. Aqa Ahmad gave a ruling that the next day was the first of Shawwal and the Holy Day ('Idal-Fitr ) marking the breaking of the fast. He sent the ruling to Nawab Sacadat 'Ali Khan, who, he said, at first accepted it. Later the nawab changed his mind and issued orders that the Holy Day would be celebrated a day later. Some friends advised Bihbhani to go along with the nawab's judgment, but he replied that in such matters the mujtahid must be obeyed, not obedient. He asserted that given the Shi'i faith of the nawab, practicing dissimulation with him could have no meaning, and the Imams forbade the sort of worldly greed that would impel a cleric to obey him on this issue.
The next day Sacadat 'Ali Khan went to the mosque for the Holy Day prayers, which Sayyid Dildar 'Ali led. Aqa Ahmad insisted that the Law forbade holding the prayers a day late, but the Lucknow ulama justified it on grounds of pious dissimulation (taqiyyah ) Bihbahani sent a letter to the ulama, protesting that such actions gave an excuse to the Sunnis to criticize them. In reply, they quoted oral reports from the Imams living under the Sunni Abbasids about pious dissimulation, which he felt inappropriate. He complained that many in Lucknow thought that simply receiving a diploma (ijazah ) permitting one to transmit the oral reports of the Imams made a scholar a mujtahid, cattily remarking that in all of North India he never found any true ulama.[54] These barbs, directed at Sayyid Dildar 'Ali, aimed
---
at disputing his status as a mujtahid.
Sayyid Dildar 'Ali angrily riposted that he had on many occasions opposed the nawabs, but insisted on the legitimacy of practicing pious dissimulation with them. He gave as an example the time that Nawab Asafu'd-Dawlah fell ill and British friends suggested that he have some liquor for its medicinal effects. The nawab had given up drinking some time before, repenting before Sayyid Dildar 'Ali. He asked Nasirabadi about this medical advice through a notable. The prayer leader replied without hesitation that many oral reports said that forbidden things have no curative effect. He could not permit the drinking of wine for medicinal purposes, on grounds of Islamic law.
Nasirabadi explained that he had not practiced pious dissimulation in that case because the nawah asked him a direct question. In the incident of the late Holy Day prayers, Sacadat 'Ali Khan never bothered to inquire as to his opinion, but simply issued orders postponing the ceremonies. Had he asked, Sayyid Dildar 'Ali would have informed him that he was wrong to do so. But for the prayer leader to have volunteered such information would have been, he insisted, so serious an infraction against court protocol that it might well have put his life in danger. Temporary visitors such as Bihbahani might have been able to defy the nawab, he allowed, but local religious officials were in a much more precarious position.[55]
This sort of awkward situation made Shi'i ulama unwilling to accept positions as government-appointed judges. At one point the government of Sacadat 'Ali Khan attempted to appoint Sayyid Dildar 'Ali to a judgeship. Nasirabadi explained that his acceptance would have been conditional on the nawab's assurance that the Islamic Law would be implemented. Since this would have meant that Sayyid Dildar 'Ali would be judging the nawab, he declined to accept.[56]
Conclusion
The late eighteenth and early nineteenth centuries witnessed two religious processes at work among notable-class Shi'is in Awadh. As the Shi'i-ruled state became more autonomous from the Mughals in Delhi, notable Shi'is felt less tension with their own government, moving away from a sectarian sort of religion to a more formal establishment. As a corollary of this lessening tension with the state, Shi'is brought into being formal Shi'i religious institutions, some of them for the first time in North India. These institutions, in turn, required specialized staff, setting in motion the second religious process, the creation of a professional clergy.
---
The major cause for the transition to a formal religious establishment was clearly the rise of a Shi'i regional ruling group in post-Mughai Awadh. Just as it produced a new, local patrimonial bureaucracy, it encouraged a more rational and bureaucratic approach in its own branch of Islam. Moreover, the cathedral mosque and Sunni Friday prayers had been powerful symbols of empire in Mughal Delhi. Some said that Asafu'd-Dawlah intended the Shi'i cathedral mosque he built in the 1790s to rival the one in Delhi.[57] The ruling elite, desirous of celebrating its increasing autonomy in Awadh with a new capital, new bazaars, and extensive architectural works, appreciated the symbolic political value of Shi'i Friday prayers. Thus, the move to a more formal religious establishment paralleled a further stage of state making in Awadh, in which the regional court openly threw off even the emperor's favored form of religion.
A more autonomous Shi'i state reduced the tension with the Shi'i community by providing security to it for its religious practices. A little over a century after Awrangzib forbade all Shi'i rituals in India, Awadh's Shi'is freely and openly practiced their faith. One of the classic prerequisites recognized by Shi'i ulama for the holding of Friday prayers was that it be safe to do so.[58] In authorizing the prayers, the nawab and the chief minister made a declaration of security for Shi'is in their realm. Nasirabadi had to accept the sincerity of that declaration before he could agree to lead the prayers, and even then he adopted a rhetoric of independence, urging Shi'is to obey the Imams before any secular authority. Behind this idiom of independence, however, lay the inescapable fact that Shi'i clerics like Nasirabadi were being co-opted by the state as adjuncts to its moral authority. In return, the highly trained Usuli ulama, who demanded absolute obedience from laymen on religious matters, were given financial support by the state, beginning their transformation into a professional clergy. This emergence of a body of paid religious experts is one correlate of a formal religious establishment, as opposed to a sect.
Obstacles to the achievement of a religious establishment among Shi'is remained. The Akhbari gentlemen scholars of the notable class at first refused to bow behind the petty landholding ulama. The ulama themselves still distrusted the state, refusing formal judicial duties. Moreover, since the Friday prayers began among a small circle of the chief minister's intimates in Lucknow, artisans and laborers of the bazaar were excluded. Like the office of mulla-bashi in late Safavid Iran, the office of prayer leader in Awadh resembled in its initial stages the chaplaincy of the ruling household.[59] But just as the nawab's arbitrary, patrimonial power had to extend throughout Awadh,
---
so too did the official school of Shi'ism he adopted make universal claims to authority.[60] Only some Awadh notables at first recognized these claims, as Usuli Shi'ism became their dominant ideology, and most Shi'i artisans and laborers retained a more sectarian form of Shi'ism.
Much of this chapter deals with professional closure by the Usuli ulama.[61] The beginning processes of clerical professionalization described here ended in widespread exclusionary practices, which will be dealt with in the next chapter. In this first stage in their appropriation of social and economic opportunities, the Usuli ulama specified a set of religious offices—prayer leader, jurisconsult, endowment and religious charities supervisor, and teacher—which they sought to fill. These often highly remunerative offices, required by the conventions of Muslim states and institutions, attracted pre-bends, benefices, and stipends for their support. The Usulis, having defined the services offered, strongly made the argument that untrained laypersons lacked the professional expertise to provide them. In this first stage of professionalization, the Shi'i jurisprudents attempted to exclude literate gentleman scholars from what they saw as properly clerical posts. They excluded from their demands for a monopoly on such offices only the Muslim court judgeships. (Here the tendency to professional closure and the demands of their status group's style of life, of fidelity to scriptural principles, came into conflict.) To some extent. this attempt at clerical closure represented the demand by sons of small and middle Shi'i landholders that service opportunities with the Shi'i state be expanded for them and wealth shared beyond the narrow circle of notables and administrators.
The professional closure attempted by the handful of Usuli clerics was incomplete in the late eighteenth century. Unwilling to assume the risks and accept the moral compromises involved in the formal judiciary, they left that traditionally ulama-dominated institution to the Sunni Farangi-Mahallis. The Usulis' reluctance indicates both their incomplete transition from sectarian to establishmentarian views and their conviction that the ulama had not yet successfully socialized the Shi'i ruling class to scriptural values. Competitors for state patronage abounded, in the form of Sufi Shi'i leaders, conservative Akhbari ulama, and even Sunni and Hindu learned and holy men, so that the Usuli ulama had anything but a monopoly on religious patronage. Yet with the foundation of Friday congregational prayers, and with Nasirabadi's teachings on the authority of mujtahids over laymen and over religious donations, the foundations were laid for the emergence in Awadh of a full-blown hierocracy, a clerical hierarchy that asserted sole authority over the formal religious establishment.
---