3
Shi'ism and Muslim Social Groups
The origins and social composition of the Shi'i population in Awadh are central questions for the social historian of religion, albeit questions difficult to answer. The flowering of Imami Shi'i popular ritual, and the spread of formal Imami religious institutions in the nawabi period took place, not in a vacuum, but against a background of folk beliefs now difficult to recover. The Shi'i notables that flocked to the nawabi court, many from Iran, Kashmir, and Delhi, are easier to trace than the partisans of 'Ali in the small towns and in the bazaars. Nevertheless, nineteenth-century British census takers and administrators collected information useful for a reconstruction of the social origins of Awadh's Shi'is, and local and family histories sometimes also contain relevant data.
This survey of Shi'i influence on the major Muslim social groups in Awadh will look first at the "noble" (ashraf ) castes, most of them rural gentry, urban administrators and tax-farmers, or merchants. Since these groups often cannot be precisely identified by social class, they will be discussed as status groups, in the Weberian sense. Then the little available information on Shi'ism among artisans and craftsmen will be presented. Finally, there will be a discussion of links between Shi'ism and north Indian Sufi brotherhoods, religious organizations that often had mass followings. Shi'is always remained a small minority in Awadh, but their influence with the nawabi court gave them an importance out of proportion to their numbers, so that they profoundly influenced Awadh culture.
Shi'is and the Census
The north Indian Shi'i population in the eighteenth century can only be guessed at, and not until after the fall of the Awadh kingdom do population
---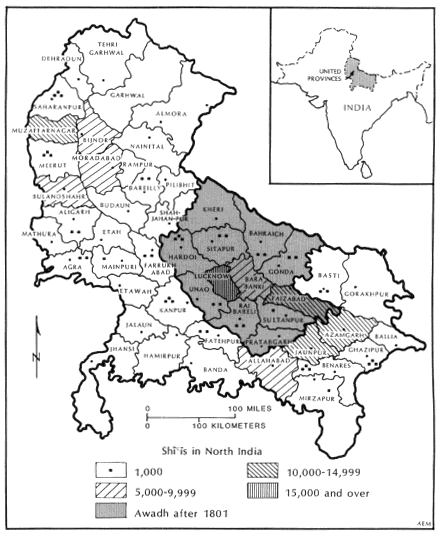 [
Full Size
]
---
statistics become available for the area. Tables, as of 1881, give Sunni and Shi'i population figures in each district of the combined British administrative unit of the North-Western Provinces and Oudh (an area nearly equivalent to the Greater Awadh ruled by Shujacu'd-Dawlah in the eighteenth century). But census takers did not divide Muslims by sect when they recorded their occupations. We thus know the number of Muslim weavers in Lucknow district, but not how many of them were Shi'is.
Without census statistics for the occupations of Shi'is and Sunnis as separate groups, the question of the specific niches in society filled by Shi'is cannot be answered. Nevertheless, it must be bound up with the social position of the Muslims in general. Even here the British census figures, frustratingly incomplete, have the disadvantage for the period under study of originating late in the nineteenth century. The census of 1891 first gave tables showing caste and occupation by religion in the North-Western Provinces and Oudh, and Crooke's classic Tribes and Castes supplemented it for ethnographic information, making it, for all the problems mentioned above, a good analytical starting point.
The census for the area of concern here covered two late-nineteenth-century administrative divisions. The first, the North-Western Provinces, constituted areas the British conquered north of Awadh, as well as provinces they annexed from Nawab Sacadat 'Ali Khan of Awadh in 1801. The second, "Oudh," was the British name for the area of Awadh that remained under the rule of the nawab after he ceded half of it to the British East India Company in 1801. The British later annexed "Oudh" itself in 1856.
The British census takers extensively employed the category of "caste" (jat ), even for Muslims, and preferred this category over occupational ones, creating conceptual problems in their collection of data. A weaver (julahah ), displaced by the influx of cheap British textiles, who began working as a bearer might give his caste as weaver without mentioning his occupation. Census takers created an even more serious problem for historians by recording high-status "caste" groups such as Mughals and Sayyids only under those rubrics, assigning them no occupation.[1] A Shaykh who wove for a living but simply reported his ethnic identity would be included in the Shaykhs rather than in the weavers.
This confusing procedure has left us with over two million Muslims, 37 percent of the Muslim population in the North-Western Provinces and Oudh, classified only as Mughal, Pathan, Sayyid, or Shaykh, all groups being opaque as to actual occupation. Many high-caste Muslims may have been reluctant to admit to being employed, aspiring to at least the appear-
---
ance of being gentlemen of independent means. Although most Mughals probably owned property and land, and many Sayyids held land, large numbers of Pathans and Shaykhs almost certainly worked as skilled artisans, owning little or no land. On the other hand, the landholding elite no doubt contained numerous Shaykhs and Pathans.
The "Noble" Castes
Although the statistics concerning the "noble" (ashraf ) castes therefore tell us little about social classes, they tell us much about status groups. Max Weber's conception of status groups (Stande ) terminologically derives from the preindustrial European division of society into "orders" based on function and privilege. In the industrializing Germany of the early twentieth century Weber appropriated the word "order" (Stand ) to a new use, in English rendered by "status group." In Weber's exposition, social classes are determined by their economic position and by market forces, whereas status groups are culturally determined bodies with a more ambiguous relationship to economic position.[2] Status groups depend on honor and on a style of life, and the group's solidarity is often reinforced by marrying only within it (endogamy).
Weber gave as an example of status groups American clubs, in which persons of various social backgrounds might meet. He was aware that the variation tended not to be extreme, and that status groups were linked with social classes in many ways. In the long run, he noted, property is always recognized as a status qualification. But then, so might be the lack of property, as in the case of wandering holy men. Status groups tend to monopolize a set of ideal and material privileges. But material privileges are not solely determinative, and a newly wealthy family might be excluded from a wealthy status group because it is seen to lack the ideal qualifications for membership. Weber also pointed out that status groups could evolve into castes, who religiously felt that contact with persons outside their caste defiled them. Status groups become castes when they involve underlying differences that are held to be ethnic.
A Weberian approach to the Muslim ashraf groups solves many conceptual problems, since Weber saw status groups and castes as similar phenomena on a continuum, beginning with purely conventional clubs and ending with full-blown Hindu-style castes. The Muslim noble groups certainly began as status groups, and through endogamy and declarations of common ancestry moved toward becoming castes. Caste formation in their case seldom achieved the completeness witnessed among the Hindu groups.
---
For instance, not all members of the Muslim noble castes would see contact with a common Muslim as ritually polluting. Many anthropologists of India have seen the Muslim "castes" as "caste-analogues," social formations that imitated the pure Hindu castes. Weber's approach allows us rather to see them as consequences of status-group development along ethnic lines. Thus, the Sayyids, or putative descendants of the Prophet Muhammad, would be "castes" in the Weberian sense in many parts of the Muslim world, and not only in India. This fact in itself brings into question the necessity of seeing Indian Sayyids as a "caste-analogue" created by the influence of a Hindu environment. The genuine influence of Hindu conceptions on Muslim status groups in transition toward becoming castes can hardly be denied, but influence differs from causation.
The highest status group among Muslims, the Sayyids, included a quarter of a million persons in the area under study, constituting only about 4 percent of the total Muslim population and 10 percent of the noble castes taken as a group. The Sayyids asserted their descent from the Prophet Muhammad or from one of his close relatives. This link to the holy and revered person of the Messenger of God gave Sayyids special status and privileges within the Muslim community. Many who declared their Sayyid descent in India did so as a means to or statement of upward mobility, and lineage claims must be
Table 2
N-W. P. & Oudh Ashraf in the 1891 Census

 

Oudh (Awadh)

 

N-W. P. & Oudh

Caste

No.

 

% of Ashraf

 

% of Muslims

 

% of Pop.

 

No.

 

% of Ashraf

 

% of Muslims

 

% of Pop.

Mughals

31,220

 

5.7

 

1.9

 

0.3

 

76,683

 

3.3

 

1.2

 

0.2

Pathans

198,560

 

36.2

 

12.2

 

1.6

 

700,393

 

29.8

 

11.0

 

1.5

Sayyids

65,814

 

12.0

 

4.0

 

0.5

 

242,811

 

10.3

 

3,8

 

0.5

Shaykhs

253,353

 

46.1

 

15.6

 

2.0

 

1,332,566

 

56 8

 

20.9

 

2.8

Total
Ashraf

548,947

 

100.0

 

33.8

 

4.3

 

2,352,453

 

100.0

 

37.1

 

5.0

Total
Muslims

1,620,930

 
 
 

100.0

 

12.8

 

6,346,651

 
 
 

100.0

 

13.5

Total
Pop.

12,650,831

 
 
 
 
 

100.0

 
 
 

46,905,085

 
 
 

100.0
---
treated with circumspection. But the biological reality of such sources of family honor is sociologically irrelevant when the public generally accepts the lineage as authentic. A little over 10 percent of noble Muslims living in the North-Western Provinces and Oudh were Sayyids, whereas in Oudh the percentage was twelve. This slight disproportion may represent Sayyid families attracted to Awadh during the rule of the nawabs, themselves Sayyids, and who, as Shi'is, guaranteed a special place in their dominions for members of the Prophet's family.
Awadh's Sayyids divided themselves genealogically into many subgroups, the most numerous being those asserting descent from the Prophet through his daughter, Fatimah, and her husband, 'Ali. For extra honor, or to stress their Shi'ism, some emphasized descent from 'Ali and Fatimah through one of their descendants, most often one of the Twelve Imams revered by the Imami Shi'is. Over a quarter of Awadh's Sayyids asserted descent from Imam Riza, the eighth Imam, and almost 10 percent from Imam Husayn, the third Imam. Another 10 percent reported their lineage as going back to Zayd, another 'Alid. Altogether, those asserting descent from Fatimah and her descendants, including the Twelve Imams, constituted 67 percent of the Sayyids. The rest gave their forebear as another relative of the Prophet, such as his uncle 'Abbas, or identified themselves according to Sufi order (Chishti, Qadiri, Jalali Suhravardi) or place of origin (Baghdad, Bukhara, Sabzavar).[3]
A powerful link existed between Sayyids and Shi'i Islam. Since the majority of Sayyids emphasized descent from an Imam revered by the Imami Shi'is, they often sympathized with Shi'i figures against their foes, the latter often portrayed as heroes by Sunnis. Though most Sayyids remained Sunnis, even they tended to have pro-'Alid sympathies. The Sayyids were particularly susceptible to the Shi'i ideas filtering into the Mughal Empire from Iran after 1501. A sociologist who studied Shi'i marriage customs found that, in a sample drawn from middle- and upper-class social networks in several geographical locations, fully half his respondents said they were Sayyids. A strong Shi'i presence among Sayyids appears in other sources, many Sayyid families in the upper Doab, for instance, being Shi'is.[4] Such data, admittedly impressionistic, nevertheless give a strong and consistent impression.
Nearly a quarter of Awadh's Sayyids late in the nineteenth century lived in Lucknow district, and another 12 percent dwelled in Faizabad district. Bara Banki, Gonda, and Hardoi also possessed large Sayyid populations, but all the other districts of Awadh had only three to four thousand Sayyids each. The privileges, patronage, and charities bestowed on Sayyids in the nawabi
---
centers of Lucknow and Faizabad acted as a magnet for them. The rural Sayyids congregated, not in the very small Hindu villages that accounted for most human habitation in North India, but in large villages or small towns (qasabahs ), where they formed part of the landholding class.[5]
In the qasabahs , local trade depots with small permanent bazaars, landholders built forts, water tanks, mosques, and irrigation facilities. Despite their rural setting, these islands of semiurban settlement fostered some literate culture among the Muslim gentry based there, allowing them to send some of their sons to the imperial court as civil servants and religious dignitaries, and so to maintain links with the cosmopolitan center. Indeed, both rentier and courtly service status were crucial to the qasabah elite families, and if both were not maintained, their fortunes could easily decline.[6]
The small landholding families based in the provincial towns originally were of several types. The Mughal monarchs often granted revenue from land (madad-i macash ) to religious scholars, mystics, and Sayyid or other noble families. The Mughal rulers did not thereby alienate the land and could resume the grant at any time. A more permanent form of landed wealth was the zamindari , and old provincial zamindar families built up hereditary estates. As Muzaffar Alam has shown, in the late seventeenth and early eighteenth centuries the Delhi court treated holders of madad-i macash favorably in tax assessment, encouraging their power as a balance to the increasingly insubordinate old zamindari families. Many learned and Sayyid families holding revenue grants used their wealth to purchase zamindaris .[7] In the nineteenth century some small landholding (zamindar ) houses built up estates consisting of hundreds of villages, becoming very large landholders (tacalluqdars ). Despite their sometimes positive role in keeping up irrigation facilities and in providing security through their forts, many zamindars , whether Muslim or Hindu, preyed parasitically on the labor of the Hindu peasants who worked their estates and lived outside the fort's protecting walls.
Insights into the Sayyid gentry can be gained from considering the histories of some prominent families. In the Akbarpur parganah of Faizabad district twelve Hindu and twelve Muslim landed houses predominated from medieval times. One of the Muslim houses, whose numerous nineteenth-century members were Shi'is, asserted their descent from Sayyid Taj, said to
---
have emigrated from Arabia in the mid-fourteenth century. Another family traced itself back to Sayyid Ahmad, also from "Arabia," through the medieval magnates Sayyid Phul and Sayyid Piyare, the Hindi names perhaps indicating Hindu background masked by later usurpation of Muslim noble status.
Also of note were the progeny of Sayyid Sulayman Nishapuri, who settled in Awadh in 1403 and married into the family of the aforementioned Sayyid Ahmad. He acquired a huge estate, and even in the nineteenth century believers venerated his tomb by an annual ceremony. His descendants, Shi'is, are numerous. They include the Pirpur and Kataria tacalluqdar landholding houses, which produced great-estate builders in the nineteenth century. Shaykh Ahmad Qattal Luristani, said to have come from Iran, arrived in tile early 1400s. At one time eleven distinct branches of his family owned land in Akbarpur parganah, but these villages were absorbed into the tacalluqah estates of Pirpur and Samanpur. Luristani's putative descendants are Shi'is. In the Birhar parganah, the Sayyids of Nasirabad asserted their descent from Sayyid Nasiru'd-Din, said to have fled Iran during the disruptions caused by Timur's military campaigns. Akbar granted the family revenue-free holdings, although these were partially confiscated by Nawab Sacadat 'Ali Khan in the nineteenth century.[8]
In Bara Banki, Muslim Shaykhs and Sayyids owned almost half the villages, though they constituted only 2.6 and 0.6 percent of the district's population, respectively, in the late nineteenth century. In some small towns, Sayyids exercised unquestioned dominance. The Shi'i Sayyids of Zaydpur had ten mosques and seventeen imambarahs in the late nineteenth century, but permitted no Sunni mosques or Hindu temples.[9] In Kintur, Bara Banki, Sayyids held two-thirds of the village lands, including a number of rent-free (mucafi ) grants.[10] The Sayyids there asserted their descent from the brothers Sayyids Sharafu'd-Din and Muhammad of Nishapur, said to have forsaken Iran for Awadh in the time of Hulagu the Il-Khanid Mongol ruler. The Nishapuri Sayyids of Kintur produced several outstanding Shi'i religious scholars in the eighteenth and nineteenth centuries.[11]
Sayyid landholders exerted great social and cultural influence from tile small towns they helped create in Hardoi, as well. In the nineteenth century a thousand Sayyids owned half the land in parganah Bilgram, saying they were descended from Sayyid Muhammad Wasiti, who conquered it in A.D. 1217. (He is also held to be the progenitor of the Barhah Sayyids in Muzaffarnagar
---
north of Awadh.) In the time of Shah Jahan, Sayyid Ismacil Bilgrami adopted Shi'ism.[12] Even in the heavily Sunni atmosphere of Awrangzib's India, Bilgrami Sayyids wrote elegies for members of the Prophet's family, such as 'Ali, thus exalting their own genealogy.[13] Some prominent Bilgram Sayyid families embraced Shi'ism in the late eighteenth century. Their putative cousins. in Barhah, of course, became Shi'is centuries earlier, and they wielded paramount influence at the Mughal court in the first two decades of the eighteenth century. The Sayyids were also important in Sandila, another renowned qasabah of Hardoi, where they owned 8 percent of the surrounding villages in the nineteenth century.[14]
The Sayyids of Ja'is and Nasirabad in Rai Bareli district further exemplify the pattern of early settlement, imperial land grants, and later adoption of Shi'ism. They hold themselves to be in the line of Sayyid Najmu'd-Din Sabzavari, who they say accompanied Salar Mascud Ghazi on his eleventh-century expedition into North India. (Their own genealogies belie such antiquity, going back, at 24.1 years per generation, only to the fourteenth century.) The Sayyid qasabah at Ja'is split seven generations after Sabzavari's arrival when Sayyid Zakariyya moved three miles away, founding a new settlement inside a fort at what became Nasirabad. The Sayyids of Ja'is and Nasirabad held land grants from the central government, dominating surrounding villages, but coming into sanguinary conflict with Hindu martial clans, often having to submit to powerful rajas. They benefited from the trade between Delhi and Allahabad, and, later, from the area's thriving textile trade. One of their number tutored Bahadur Shah (r. 1707-12). During his reign, a time of great Shi'i influence at court, a few Sayyids in Nasirabad embraced Imami Shi'ism. Later, Shi'i nawabi rule in Awadh accelerated the adoption of Shi'i beliefs.[15] Nasirabad produced an important Shi'i cleric, Sayyid Dildar 'Ali (1753-1820), whose career will be described in later chapters.
In Jarwal, Bahraich, the Sayyid line derived from Sayyid Zakariyya, who fled Iran during the Mongol invasion by Genghis Khan, obtaining a 15,000 bigha grant from the Delhi sovereign, Ghiyathu'd-Din. In 1800 the Jarwal Sayyids, some of them Shi'is, displaced the Ansari Shaykhs and came to hold 276 out of 365 villages in the parganah, although their holdings thereafter de-
---
clined rapidly to (a still formidable) 76 villages in 1877.[16]
The 'Alid genealogies of all Sayyids, and the pro-Shi'i sentiments of many, led them to develop origin myths that tied in with the tragedy of Karbala (where the Prophet's grandson Husayn b. 'Ali died fighting the Umayyad government in A.D. 680). One Sayyid author from Ja'is wrote of the Awadh qasabahs in the nineteenth century that most of their headmen were Sayyids or Shaykhs because these groups, having supported 'Ali and the Imams against other claimants to rulership of the Islamic Empire, fled the central Islamic lands for fear of their lives when the holy figures met defeat. They made their way through Afghanistan down to North India, settling in Ja'is, Nasirabad, Manekpur, Salon, Bilgram, Sultanpur, Sethan, Rudauli, Amethi, and so forth. Through royal edicts, they became rent-free landholders (jagirddars ) and middle landlords (zamindars ).[17]
This myth held that Sayyids and some Shaykhs toiled as Muslim pioneers in an alien and hostile Hindu environment because of the same injustice that struck down 'Ali and Husayn and denied the Prophet's immediate family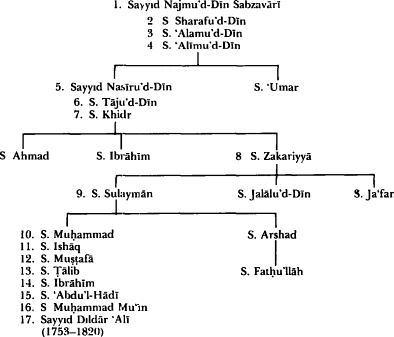 [
Full Size
]
---
political power after his passing. Even in their exile, he wrote, the Sayyid and Shaykh partisans of 'Ali found themselves pursued by fanatical Sunnis, such as the Pushtu-speaking Afghan immigrants to North India. The Afghans, antagonistic toward the Sayyids, refused to give them their daughters in marriage.[18] Families declaring themselves Sayyids often competed for land with Shaykh houses tracing their descent from Abu Bakr or 'Umar, and Shi'ism had the ideological advantage for Sayyids of rendering the Shaykhs' ancestry a source of shame rather than pride. Shi'is held that the caliphs usurped rights belonging properly to the family of the Prophet.
Sayyids also pursued trades in urban centers. In the eighteenth century the Sayyid artisans of Amroha were renowned for their gilded pottery decorated with colorful floral designs.[19] In Lucknow, Sayyids engaged in all professions and arts save trading.[20] Mrs. Ali, who lived among Lucknow's Shi'is for a decade in the early nineteenth century, wrote of the urban Sayyids: "They rarely embark in trade, and never can have any share in banking, or such professions as would draw them into dealings of usury. They arc chiefly employed as writers, moonshies, maulvees, and moolahs, doctors of the law and readers of the Khoraun; they arc allowed to enter the army, to accept offices of state."[21] She noted that a special charity existed among Shi'is for indigent Sayyids, pious believers giving one-fifth (khums ) of certain kinds of income to them in charity. Mrs. Ali reported that no self-respecting Sayyid with sufficient means of support would accept this charity. Moreover, she indicated that many Sayyids refused gifts if they suspected that the donor gained the money through usury.[22]
Among the Sayyids, the conflict between status and class can be clearly discerned. Mrs. Ali said that conscientious Sayyid families always regarded birth before wealth in contracting marriages. Some poor Sayyid families preferred that their daughters remain spinsters rather than marry into rich families not of Sayyid background. Since the father's need to provide a costly trousseau (jahiz ) for his daughter posed a major obstacle to marriage for the poor, one form of charity consisted in a well-to-do Shi'i presenting an indigent Sayyid father with such a trousseau.
Mrs. Ali described a poor Sayyid household with unmarried girls. Highly educated, they could read the Qur'an in Arabic and its commentaries in Persian. This family preferred that the girls spend their days performing needlework rather than wed a wealthy non-Sayyid.[23] Those in this situation attempted to maintain their status honor by upholding social conventions of
---
hypergamy (where the daughter marries a social equal or superior) and by engaging in a style of life not incompatible with their status pretensions.[24] Although Mrs. Ali said that "conscientious" Sayyids followed this behavior, less strict Sayyid families sometimes traded their high status for increased economic security by marrying their girls to well-to-do non-Sayyids. Also, no doubt some risked their honor by claiming the "share of the Sayyids" (sahm-i sadat ) even though they were not particularly indigent.
At the nawabi court in Lucknow, courtiers took respect for Sayyids seriously in social intercourse. For instance, in military parades the Sayyid regiments marched ahead of the others. Relevant anecdotes on this theme were recounted by Mir In-sha'a'llah Khan, a Sayyid whose family said they immigrated to North India from Najaf in Iraq, and a respected poet and boon companion of Nawab Sacadat 'Ali Khan (1799-1814).[25] Once in a conversation with the nawab, by a slip of the tongue he referred to a garden called "Imambagh" (the garden of the Imam) as "Imambap" (the father of the Imam). This unintended allusion to the Prophet would ordinarily have been a serious breach of etiquette, but Sacadat 'Ali Khan grinned and excused the poet on the grounds of his own Sayyid origin. Once the powerful eunuch Afarin 'Ali Khan had an altercation with Mir In-sha'a'llah Khan. Later at a salon, the poet quoted a verse in which he satirically pronounced imprecations upon himself. Afarin 'Ali Khan pounced on the opportunity to second the sentiments. The poet angrily replied that a non-Sayyid who curses a Sayyid is himself accursed. The nawab, upset at any hint of disrespect for the House of the Prophet in his court, begged forgiveness for Afarin 'Ali Khan. Upon seeing that his foe had lost face, Mir In-sha'a'llah pardoned him.[26]
Sayyids enjoyed ceremonial marks of honor at court and in polite Muslim society, but their position was hardly unassailable. Although Sayyid-oriented philanthropies acted as a safety net, members of this group could become quite badly off. Further, they did not necessarily enjoy political privileges. When Sacadat 'Ali Khan agreed to cede half his dominions to the British in 1801 to pay off debts that the governor-general maintained the previous nawab had incurred, he grew reluctant to make any more grants of state land to traditional recipients such as Sayyid families. Indeed, he resumed former Sayyid grants in such areas as Birhar, Faizabad, and Sandila, Hardoi.[27]
The Sunni-Shi'i schism caused problems for Sayyids, for although both branches of Islam respected the descendants of the Prophet, they revered
---
only those adhering to their own branch. For instance, the chief mujtahid of Lucknow from 1820 to 1867, Sayyid Muhammad Nasirabadi, ruled that if a Sayyid does not have real faith (i.e., if he is not a Shi'i), then his being a Sayyid does him no good whatsoever.[28] A Sayyid family wishing to maintain high-status honor among both Sunni and Shi'i neighbors would face difficulties. Ultimately such a family might have to choose which community it desired honor from, and the wealth of Shi'i notables and patrons in nawabi Awadh helped attract Sayyids to the Imami community.
The Mughals often possessed greater wealth and held higher office than the Sayyids, though they, had lower status.[29] Indians applied the term "Mughal" (mughul ), literally meaning "Mongol," indiscriminately to all immigrants from central Asia, including Iran. These Iranians and ethnic Turks generally filled high-ranking posts with the government or served in the cavalry. Though they frequently received land grants in remuneration for their services, they were most often absentee landlords, remaining out of touch with the provincial, rural Muslim elite in the qasabahs .[30] Some Mughals also came to India as long-distance merchants.
The Mughal Empire employed Persian both for administrative purposes and as the polite language at court. This meant that educated Iranians immigrating to wealthy India possessed special advantages in procuring positions as administrators, bureaucrats, and men of the pen. Since the Safavid regime in Iran presided over a mass conversion to Imami Shi'ism, immigrants during the seventeenth and eighteenth centuries often brought with them a Shi'i identity. Nor were the numbers of such settlers small. The French jeweler and merchant Chardin gave as one reason for Iran's under-population in the late seventeenth century the exodus to India.[31] In fact, it seems unlikely that enough Iranians left for the subcontinent to affect Iran's population, but Chardin's observation underscores the large number of Iranians he saw in India. In the 1660s, most of these immigrants must have been Shi'is. During the early reign of the Mughal emperor Awrangzib, 1658-78, out of 486 high-office holders 136, or 28 percent, were Iranians.[32] These mostly Shi'i Iranians often hid their beliefs at the Sunni Mughal court. If one added to the Iranians the number of Indian Shi'i officeholders (e.g., the Barhah Sayyids), the proportion of Shi'i nobles would reach one-third. Moreover, nearly half of the fifty-one highest-office holders were Ira-
---
nians. The conflict between the Shi'i Iranians and the Sunni central Asian Turks along religious and ethnic lines much influenced court politics.[33]
In 1891 nearly half of all the Mughals in the North-West Provinces and Oudh resided in the comparatively small area of Awadh (Oudh) proper. Although they constituted only 3 percent of the noble castes in the whole area, they were almost 6 percent of the ashraf in Awadh. This without doubt reflects the employment opportunities offered them by the Awadh state during the nineteenth century, as the British abolished the old Muslim bureaucracies in Delhi and Bengal.
More than 50 percent of the Mughals in Awadh resided in Lucknow and Faizabad districts, the two great administrative centers of the region, over 40 percent dwelling in Lucknow alone. The only other major Mughal population center was Sitapur district; but Mughal immigration there was probably spurred by the post-annexation splendor of the Mahmudabad estate and most likely did not represent a feature of nawabi Awadh. Two-thirds of the Mughals were not classed under any ethnic subdivisions in the census, but large numbers were Shi'i Iranians. The remaining third fell into three groups: Chaghatai Turks, Turkman, and Qizilbash. Of the three, the Qizilbash constituted the smallest group, with only 1,237 listed. All Shi'is, they played an important role in establishing Shi'ism both in Iran and in the subcontinent, and most of them lived in Awadh proper.
The Qizilbash, originally a federation of Turkish-speaking tribes in Anatolia, moved east in the fifteenth century because of increasing Ottoman control over their grazing lands. They lent their aid in the establishment of the Shi'i Safavid state in Iran.[34] Over two centuries later some served in Nadir Shah's army, playing a central role in the invasion of India and in the sack of Delhi in 1739. The second nawab of Awadh, Safdar Jang (1739-54), made it a point to employ Iranian Mughals for his cavalry, as well as Kashmiri Shi'is who imitated the Iranians in speech and dress. He hired away six or seven thousand Qizilbash warriors from Nadir Shah's army. Their subsequent career was checkered, and after the defeat of his forces at the hands of the British at Baksar in 1764, Nawab Shujacu'd-Dawlah dismissed many of them and even razed some of the Mughals' houses.[35] Nevertheless, the Iranian traveler Shushtari found large numbers of Qizilbash notables in Lucknow in 1796.[36] Many Qizilbash cavalrymen may have sunk into the laboring classes in Faizabad and Lucknow, losing their original identity, and the confused lineage of Mughals, owing to their tendency to intermarry with other groups,
---
including Hindus, may have caused their reported numbers to be low.[37] On the other hand, the Qizilbash would have taken local wives and raised substantial numbers of Shi'i children. Some Rajput converts to Islam attempted to create a Mughal identity for themselves, which may often have involved affecting Iranian, Shi'i ways.
Although most of the Turkish Mughals adhered to Sunnism, even they sometimes, like others in the upper class, adopted Shi'ism in the eighteenth century. An example is the family of Khwaja Musa Khan, a professed descendant of the Sufi leader Baha'u'd-Din Naqshband. Emigrating from central Asia to India early in the eighteenth century, he married into the Mughal royal family. Under the influence of Burhanu'l-Mulk, the first nawab of Awadh, he became a Shi'i. His son, Madaru'd-Dawlah, refused to practice dissimulation in Sunni-dominated Delhi, openly mourning the Imam Husayn during Muharram. His daughter married Nawab Sacadat 'Ali Khan of Awadh, and his son-in-law granted him a huge rent-free holding worth Rs. 60,000 per year.[38] This Turkish family with staunch Sunni origins employed its adherence to Shi'ism as a means to cement relations with rising Shi'i powers, such as the nawabs of Awadh.
By far the most numerous of the ashraf groups were the Shaykhs and Pathans. Over half of the "noble" caste members in North-Western Provinces and Oudh were Shaykhs.[39] In Awadh the proportion was slightly less, about 46 percent. Most asserted their descent from the first three caliphs or from other companions of the Prophet. The upper-class Shaykhs, often middle or large landholders in the districts, dwelt in qasabahs alongside the Sayyids. But many village and urban artisans and skilled laborers said they were Shaykhs, which accounts for their huge numbers. Shaykhs tended to be Sunnis, though some became partisans of 'Ali and his eleven descendants. Many Sunni Shaykhs did commemorate the martyrdom of the Imam Husayn, though they frowned on the violent self-flagellation of the Imamis and could not abide the Shi'i practice of pronouncing imprecations on the first three caliphs.
Pathans, descendants of Pushtu-speaking tribesmen, roamed down into North India from Afghanistan and the area around Peshawar throughout the medieval period. The eighteenth century witnessed a particularly great influx of Pukhtun tribesmen, who in their Indian environment became "Pathans" if they were accepted as noble, but remained known simply by their tribal names (e.g., Ruhilah) if such pretensions were rejected. The 700,000 of them in the province in the late nineteenth century constituted a third of the members of the "noble" castes. Earlier in the century many of
---
them roamed as pastoral nomads, some settling as landlords and warriors in the fortified qasabahs . Many became artisans and skilled laborers before the 1891 census. Rajput converts often attempted to usurp Pathan status.
Pathans, mostly originally Sunnis, generally retained their ancestral faith in North India. Some few may have been Persian-speaking Shi'i Hazaras who joined Pukhtuns in southward migrations, or Shi'i Afghans from the Upper Bangash.[40] Elphinstone, who visited the Peshawar region in 1808-9, found Afghans extremely hostile to Shi'i practices.[41] Many Pathans in North India did take up the practice of commemorating the martyrdom of Imam Husayn, though in the middle of the nineteenth century some abandoned the rituals under the influence of Naqshbandi revivalism.[42]
The piety and spiritual feelings of those who adopted Shi'ism cannot be glibly explained by the social scientist on an individual level. But the spread of religions among large groups of people does often present patterns amenable to sociological analysis. From the above discussion, it seems clear that noble castes or status groups reacted to Shi'i ideology differently according to its implications for their own honor and specialized traditions, and for their economic position. Sayyids, as descendants of the Imams revered by the Shi'is, gained ideologically by embracing Shi'ism, and in Shi'i-ruled nawabi Awadh they could often benefit materially from such a move. They received special charities from the believers, as well as gaining favor with the ruling class. Still, the vast majority of Sayyids remained part of the Sunni community, within which they also had great honor. Mughals were Shi'i when they were from Iran, strong Sunnis when they were from, say, . In the atmosphere of nawabi Awadh, even Sunni Turkish notables of Mughal status sometimes adopted Shi'ism. Since Mughal status usually required specialization in the higher levels of administration or in the cavalry as military men and officers, Mughals associated closely with the court and came under special pressures to adopt Shi'ism.
Shaykhs largely remained Sunni, perhaps partially because most dwelt in provincial cities and towns away from the influence of the Nishapuri court. Moreover, for this group to adopt Shi'ism required them ritually to curse their own putative ancestors, the caliphs and companions of the Prophet who competed with 'Ali. This requirement posed no insuperable problems to the adoption of Shi'ism, but may have slowed the rate at which proud Siddiqi, Faruqi, and 'Uthmani qasabah elites became partisans of 'Ali. Pathans, with their strong Sunni feelings, seldom embraced Shi'ism and more often competed with the established Sayyid families in Awadh for land and power.
---
Artisans and Craftsmen
Many members of the four ashraf groups just discussed came from landholding and military families. In the province under study, Muslims were proportionately represented in these rules. They very seldom, however, labored in the countryside, constituting only about 3 percent of the agricultural work force.[43] The Muslim laboring classes worked far more often as village or urban petty artisans and entertainers than as farming peasants.
Muslims were particularly well represented in some occupations. For instance, of 1.8 million weavers almost half were Muslims, though in the general population Muslims constituted about 13 percent. Large weaver conversions to Islam were typical of North India.[44] Indeed, weavers, with 12 percent of the Muslim population, formed the largest Muslim occupational group. Only Shaykhs (21 percent) were more numerous, but the latter is an ethnic rather than an occupational category. In fact, many Skaykhs actually worked as weavers, depending on agriculture part of the time.
Weavers in their urban and semiurban settings strongly felt their Muslim identity, the British ethnographers describing them as "factious and bigotted."[45] Weavers often knew enough of Islamic law in the late nineteenth century to follow the Islamic Law (sharicah ) in matters of marriage and inheritance. But Muslim weavers in small villages sometimes revered local gods. To some extent their anti-British feelings reflected their competition with European textiles and the adverse impact on them of British commerce even from the eighteenth century.[46]
No overall estimate of the number of Shi'is among the weavers can be given. In the extremely important textile center of Tanda, thirty-six miles east of Faizabad, Shi'is represented 3 percent of the Muslim population.[47] This accords with other estimates of Shi'is in the general population of Awadh, although no conclusions can be drawn from one city. Moreover, the small number of persons identifying themselves explicitly as Shi'is may be misleading, since they often practiced dissimulation out of fear of Sunni neighbors. Shi'is had great influence even where their numbers were small.
---
Tanda had forty-four mosques, thirty-four imambarahs for the commemoration of Imam Husayn's martyrdom, and nine Hindu temples. Clearly, in their devotional lives even the Sunnis included mourning for the wronged family of the Prophet.
A methodological question arises when one speaks of Sunnis and Shi'is among the artisans and laborers. A revealing passage in the 1891 census suggests that rather inadequate criteria were used to distinguish the two groups: "For the less instructed of Muhammadans and especially amongst Sunnis, the difference between the two sects is little understood, and the enumerator had in general to ascertain the sect by a question as to how the hands were placed in prayer. Sunnis pray with one hand placed over the other in front of the body, Shias with both hands depressed by the sides."[48]
For the many laboring-class Muslims who did not say their daily prayers, such criteria would have been meaningless. Even for those who did, the Shi'i willingness to compromise out of fear made members of that group less likely to insist on performing rituals in their own way. Those who reported themselves as Shi'i were therefore much more likely to be literate and well-off, laboring-class Shi'is being undercounted.
Other Muslim occupational groups with large numbers included barbers, oil-dealers, tailors, butchers, water-bearers, washermen, and blacksmiths. These seven groups together with the weavers accounted for more than a quarter (26.5 percent) of all Muslims. Other, smaller, such occupational castes brought the total in the category of skilled and specialized workers to 37 percent. Given that many Shaykhs and Pathans also worked as artisans, one receives the impression that most Muslims formed part of a premodern petty bourgeoisie. The successful traders, shopkeepers, owners of small workshops, and skilled artisans among these nonlanded Muslims often had some appreciation of the requirements of scriptural religion, as the ethnographic reports make clear. Low-caste and unskilled groups, and recent converts from Hinduism, tended to practice many Hindu usages.
Muslims were far more likely than Hindus to live in urban settings. The 1881 census showed that only 7 percent of Hindus lived in towns and cities, whereas 25 percent of Muslims did.[49] Since over 96 percent of agricultural laborers were Hindus, the Muslims who did not live in towns dwelt in large rather than small villages, where they could pursue their skilled crafts. Of course, the very large proportion of Hindus in the population (87 percent in 1891) meant that they constituted a majority in most urban settlements. They also dominated commerce. Bayly has insightfully described the rural and urban relations of Hindus and Muslims as a mirror image. The qasabah-
---
based Muslim landholders employed Hindu peasant labor on their lands, whereas the urban Hindu merchants and traders employed Muslim craftsmen.[50]
One traditional explanation for Hindu-Muslim conversion has been that low-caste groups or those who lost their caste standing attempted to take themselves out of the Hindu system to remove the stigma.[51] Conversion, however, also clearly followed patronage networks. Indeed, one explanation for the high number of Muslim weavers in North India may lie in the production of such groups for the Muslim landed classes and for Muslim rulers. The links built up between the weavers and their Muslim patrons facilitated conversion to Islam, especially in a society where people felt strongly about purity and pollution in something as personal as clothing. Likewise, Muslim water carriers (bihishtis ) served Muslim households.[52]
The same principle of conversion along lines of patronage applied to the spread of Shi'ism. With a rising Imami regional court in eighteenth-century Awadh, the patronage of Shi'i notables became a major input into the economy. One finds groups servicing the elite split into Sunni and Shi'i factions, which often became endogamous. An example is the bards and storytellers (naqqals ), Sunnis except in Awadh urban centers, where they became Shi'is. Members of the two sectarian divisions did not intermarry. Likewise, the dyer caste, which dyed cloth, divided into endogamous Sunni and Shi'i groups. In the upper Doab, servants and peasants of Shi'i Sayyid proprietors became Shi'is under the influence of their masters. This phenomenon occurred widely in Awadh as well. Many artisans had reason to be grateful for Shi'i rituals, such as parading replicas of the Imam Husayn's tomb, which generated work for them and even brought into being new crafts, such as that of the ara'ishvalas who constructed the cenotaphs. Cenotaph construction became a major craft in Awadh, and the makers of these ritual props took their place in the bazaars beside the butchers and greengrocers.[53]
Courtesans (tava'if ), another lower-class group dependent on patronage, became Shi'is in great numbers. About 85 percent of the courtesans counted by the British were Muslims, many of them Shi'is. Originally mostly low-caste Hindus, often these women came from the ranks of widows. The men of the caste married, and their wives remained faithful, being purchased from other castes. The women born into the caste became dancing girls and often prostitutes. Girls began to be educated in the appropriate arts at age eight, at which time their parents offered sweetmeats at the local mosque, to be given
---
to the poor. Shi'ism attracted this group, since its law permitted temporary marriage (mutcah ), an institution that provided limited legal protection to the courtesan, which simple prostitution did not.[54] Shi'ism also provided a link of identity with the propertied classes, who patronized and exploited the courtesans, a bond that might have proven especially useful to the men of the caste, who acted as pimps. In the rural areas zamindars often assigned lands to Muslim dancing girls and prostitutes.[55]
Among Sunni groups that did not embrace Shi'ism, Shi'i figures and holy days had an impact, though often in a transformed manner. Sunni shopkeepers of the Ranki caste cornmemorated Muharram, the Shi'i month of mourning for the Imam Husayn, by getting drunk. The Sunnis of Dalmau held a fair at Muharram, which 6,000 people attended annually.[56] Days that might for strict Shi'is be a solemn period of bereavement, in which they pursued no economic activity, became for Sunni villagers an occasion of gaiety or an opportunity for trade. This implied no hostility to Shi'ism, since all honored the Imam Husayn. It did represent a more typically Indian response to the sacred time of Muharram than the austere mourning rites that Imamis imported from Iran.
Shi'ism among artisans and laborers went through various permutations, partially because they had little personal contact with the literate of their own branch of Islam, often not having close links with the high ulama identified with the court. The grain parchers (bharbunja ) included Muslims who, when they married, called a Hindu pandit first, then a Muslim mawlavi. 57 Indigent Muslims could not afford the services of the official qazis and ulama, resorting instead to the unofficial "mawlavis" of the Dafali caste. Muslim beggars and musicians devoted to the cult of Salar Mascud Ghazi centered in Bahraich, they officiated at the weddings and funerals of the poor.[58]
A devotion to the family of the Prophet existed among Muslim artisans and laborers, but this seldom involved a willingness to curse the caliphs. The nawabi high notables and the Shi'i clerics sought to play on pro-'Alid sentiments among the popular classes so as to mobilize them into a scripturalist Imami Shi'ism that did include ritual imprecations on the first three caliphs. The Shi'i notables' attempt to bring the popular classes into Imami Shi'ism
[57]
---
succeeded most fully when these artisans and laborers worked for a Shi'i patron. On the one hand, Imami religious ideas spread along patronage networks among the poorer classes; on the other, artisans and laborers clearly created their own religious culture, devoting themselves to the family of the Prophet for their own reasons. The sense of oppression and martyrdom that pervades Shi'i stories of the Imams no doubt aroused the sympathies of people themselves oppressed by North India's prebendal feudalism.
Sufism and Shi'ism
In addition to the Dafalis a huge. number of Muslim holy men wandered North India, many of them holding the Shi'i Imams in special reverence and helping spread Imami ideas among laborers and artisans. The holy men (faqirs ) of the largest of the mass orders, the Madariyyah, did not strictly follow the prescriptions of scriptural law. The 150,000 holy men of the Madariyyah in late-nineteenth-century North India constituted 2.3 percent of the Muslim population. The number of lay devotees must have run into the millions. The Madariyyah cult centered on the shrine of Shah Madar at Makanpur, a saint who arrived in India from Aleppo, Syria, in the fifteenth century. The Madari holy men imitated the Hindu holy men (sanyasis ), seldom prayed or fasted, and used bhang (akin to hashish) freely. Some were settled family men; others wandered about. They revered in particular four sacred personages: Muhammad, Imams 'Ali and Husayn, and Hasan al-Basri.[59] The emphasis on 'Ali and Husayn, rather than on Abu Bakr and 'Umar, represented a proto-Shi'i devotion to the family of the Prophet.
Other, much smaller unorthodox (bi-sharc ) orders included the Qalandar, Azad, Bi-Nava, and Sain groups. The literate, urban orders of the Qadiriyyah, Chishtiyyah, and Jalaliyyah Suhravardiyyah averaged only four or five thousand faqirs each. Although almost all historiography of Islam in eighteenth- and nineteenth-century North India has been locked into a fascination with the Delhi-based Naqshbandiyyah order, it was clearly not very important in the North-Western Provinces and Oudh, where census enumerators found only 658 Naqshbandi faqirs.[60] If one takes the number of faqirs enumerated as an indicator of popular support, it is clear that only the Madariyyah was a truly mass order. As such, it was most influential, though it has been greatly neglected in the historical literature. Among the literate
---
orders, the Chishtiyyah often showed a tolerance of Shi'ism.[61] Shirvani, who visited India early in the nineteenth century, found that members of the Jalali Suhravardi order considered themselves Shi'is and cursed the Sunni caliphs. Many of these dervishes, he reported, neglected orthodox rituals and used drugs.[62] The thousands of members of the Jalali order in North India no doubt helped spread Shi'i ideas among the popular classes.
Conclusion
Imami Shi'ism existed in Awadh as a popular and not just a ruling-class cultural force. Admittedly, its most powerful proponents were the ethnic Iranians in the upper echelons of government administration and the middle landholding Sayyids. Among some other groups, including the semiurban and urban artisans and laborers, a cult of the Prophet's family existed, although the status of some of these persons as Shi'is remains unclear. Early in the eighteenth century most of these popular-class believers probably saw no contradiction between devotion to 'Ali, his wife Fatimah, and their descendants, on the one hand, and honoring the first three caliphs, on the other. As the nawabi state and its clerical clients began promoting Shi'ism as an exclusivist ideology, some artisans and laborers made a choice for the family of the Prophet and against the caliphs. The group that was mobilized into exclusivist Shi'ism grew throughout the first half of the nineteenth century. The majority of the Muslim population, however, continued to honor both the family of the Prophet and the caliphs.
The centers of Shi'i population, as revealed by the 1881 census, show a barbell stretched across the North-Western Provinces and Oudh from Muzaffarnagar to Ghazipur.[63] Ironically, aside from those in Lucknow and Faizabad districts, most Shi'is lived in the upper Doab and in Banaras division. Nawab Shujacu'd-Dawlah had controlled these areas, but the nawabs gradually ceded them to the East India Company in 1775-1801. In the north, the number of declared (and therefore probably only the literate) Shi'is approached or exceeded 10,000 in Muzaffarnagar, Bulandshahr, and Moradabad, with Bijnor at nearly 6,000. In the southeast the districts with about 10,000 included Allahabad, Jaunpur, and Azamgarh. At the center of the Shi'i demographic map stood Lucknow district, with 34,550 Imamis, the only district where they exceeded or even approached 5 percent of the population, being 30 percent of the Muslims there. Faizabad had over 11,000 Shi'is, and Bara Banki over 5,000. The rest of Awadh proper had few Shi'is.
---
This pattern suggests that, although the nawabi court encouraged conversion in, and attracted Shi'is to, its administrative centers, in several districts outside their dominions in the nineteenth century Shi'ism formed a popular movement independent of the nawabs. The great numbers of Imamis in Lucknow and Faizabad also represent to some extent the amount of talent attracted to the nawabi centers, not only from Awadh, but from the upper Doab and Banaras and Allahabad divisions. Although the census revealed a relatively small number of Imami Shi'is in northern India, about 3 percent of the Muslims, the movement extended over large areas geographically and attracted adherents from all social classes and status groups. For the reasons discussed above, the census probably undercounted Shi'is. Whatever their numbers, the Imamis represented a vigorous and influential subculture in eighteenth- and nineteenth-century northern India.
---