Hindu Religion—the Śiva-Śākta Complex
As elsewhere in India, there arose in Bengal a need to harmonize Vedic religion, which focused on male deities, with indigenous Indian cults, in which female deities dominated. One way this was accomplished was in the context of the orthodox śaiva cult, which before the Turkish conquest had been presided over by Brahmans and lavishly patronized by Hindu kings such as the early Senas, for whom śiva was the kingdom's cosmic overlord. The cosmic reunion of śiva and śakti—that is, pure consciousness, corresponding to the male principle; and pure energy, corresponding to the female principle—was typically concretized in aniconic symbols placed in temples, access to which was controlled by Brahman priests. However, this state-supported cult declined when Indo-Turkish conquerors withdrew the royal patronage on which such public cults depended.
Both before and after the conquest, numerous popular cults dedicated to various manifestations of the Goddess also flourished. Celebrated in a literary genre called maṅgala-kāvya, these cults thrived among those groups least touched by Indo-Aryan culture and least integrated into the hierarchic scheme of social organization as promoted by Brahmans. They were also among the oldest, the most vibrant, and the most authentically Bengali religious traditions in the delta. In their earliest form, Goddess cults seem to have sprung from ancient female domestic rites not presided over by Brahman priests, as in the cult of the snake goddess Manasa, whose core story was anciently recited by women and for women as a component of their domestic rites.[35] But throughout the period 1200–1600 and doubtless for some time earlier, Brahman ideologues sought to appropriate such cults by identifying female divine power in all its manifestations with the śakti, or pure energy, which is the counterpart of the Brahmanical god śiva. Thus śiva was understood as son to Dharma; husband to Chandi/Durga, Kali/Ganga, and śitala; father to Manasa and Neto; guru/father to various Nath saints; master/father to Daksin Ray; and father-in-law to Sasthi. Noting these relationships, W. L. Smith aptly describes śiva as "the hub around which the Bengali divine hierarchy revolves."[36] But these folk deities experienced varying degrees of accommodation with Brahmanical orthodoxy, ranging from a rather complete incorporation into the Hindu pantheon, with full benefits of Brahmanical patronage, to a more marginal place within that pantheon, with only hesitant acceptance by Brahmans.
Extending at least to A.D. 1000, with its core myths and rituals dating from the period 500–1000, if not earlier, the cult of the snake goddess Manasa was well established by the time of the Turkish conquest.[37] Yet this cult, having first emerged among low-ranked tribals of Burdwan, failed to achieve full acceptance in Brahmanic literature, and it was to some extent resisted by orthodox śaivas. Nor did Manasa enjoy a satisfactory connection with śiva. Like other folk deities, she had a kin tie with the great god—in her case as a daughter—but she could never compete with deities identified as śiva's wife, such as her principal rival, the goddess Chandi. The cult's struggle to gain full acceptance is evident in its central myth. Having already gained a following among ritually low-ranking communities like fishermen and cowherds, Manasa was convinced that she could win universal human devotion only through gaining the submission of Chando, an upper-caste merchant and fervent devotee of śiva. Although Chando initially despised Manasa and viewed her as one of inferior status, he ultimately (though reluctantly) recognized Manasa's popularity and submitted to her cult.[38] The story thus suggests a steadily widening circle of the cult's social basis: from cowherds to fishermen, to farmers, to upper-class women, to upper-class men, and finally to Brahman priests.[39]
If the Manasa cult enjoyed only a limited or reluctant acceptance among Bengal's upper castes in our period, it fared much better among the masses, especially in the delta's less-Aryanized east. In 1540 the poet Vrindavan Das, though himself not devoted to any of the Goddess cults, affirmed their popularity when he wrote:
All "religious" people know this only:
They sing the song of Maṅgal Caṇḍī at the jāgaran [the last night of the festival for the goddess Chandi],
With pomp some give pūjā to Viṣahari [Manasa],
And another puts on a puppet show at great expense.[40]
Relief images of stone preserved in the Chittagong University Museum can be confidently identified with the goddess Manasa. Two of these stand several feet in height and depict the deity with a hood of seven snakes over her head, her left hand holding another snake, and her principal iconographic symbol, a sacred pot, at her feet (figs.
16
and
17
).
[41]
The appearance of such votive images, evidently intended for installation in simple, thatched shrines dedicated to her worship, marked an important step in the progression of the Manasa cult from a domestic rite to an established cult, complete with officiating priests, even though these may not have been Brahmans.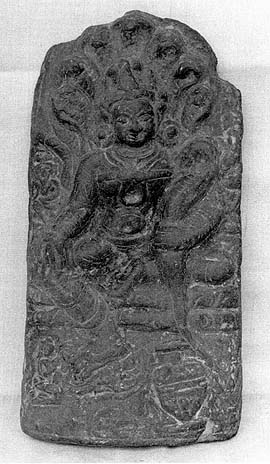 Fig. 16. Stone sculpture of the goddess Manasa . Chittagong University Museum, no. 657.
[
Full Size
]
Fig. 17. Stone sculpture of the goddess Manasa. Chittagong University Museum, no. 659.
[
Full Size
]
Enjoying far more support among Brahmans, and at the mass level perhaps the widest support of any cult in the premodern Bengali pantheon, was the cult of the goddess Chandi. Like her rival Manasa, Chandi was a forest goddess whose cult had sprung up from the delta's aboriginal society. But Chandi's identification as the wife of the great god śiva rendered her more mild and generous than the nasty, manipulative Manasa.[42] Moreover, though Chandi's cultic literature is also very ancient, it appeared in written form only in the late sultanate period, the best-known text being Mukundaram's Caṇḍī-Maṅgala (ca. 1590).[43] Perhaps because the written versions of the myth appeared so late in the cult's evolution, Chandi emerges in Mukundaram's work as rather well integrated into the Indo-Aryan pantheon and with Brahmanic values. She is portrayed, for example, as having put an end to the primordial chaos prevailing at a time before gods and Brahmans imposed order on earth. Furthermore, she not only protects all the animals of the woods, but presides over their hierarchic ranking in a scheme exactly mirroring the ideal human society as seen from the Brahmanical perspective. And finally, her protection of the animals is conditioned on their renunciation of mutual violence, for society is to accord with the norms of dharma, or righteous law.
The myth's story line also illustrates the post-eighth-century Hindu conception of the interrelationship of religion and politics. In a world where both deities and kings seek to enlarge their circles of authority, a deity "entrusts" earthly sovereignty to an appointed king on condition that he propagate and promote that deity's cult in human society. Craving human devotion like most Indian deities, Chandi embarks on a project designed to establish a royal kingdom on earth. Here the narrative focuses on a low-caste hunter named Kalaketu, to whom the goddess assigns the sovereignty of her forest kingdom. In return for this, the hunter must renounce the hunt, build and populate a city in the forest, and construct a glorious temple dedicated to her, in this way propagating Chandi's cult among humans. All this underscores the goddess's fundamentally political role, seen in the dual sovereignty that she and her human protégé exercise over the forest kingdom. As Chandi's earthly representative, Kalaketu rules on behalf of that goddess, behind whom stands the kingdom's cosmic overlord—her spouse, śiva.[44] Yet, for all her dharmic trappings and her trucking with the highest gods of the Indo-Aryan pantheon, Chandi remains of the forest—that dark domain of jungle beasts and non-Aryan tribes—and not of the city, the proper domain of Brahmans and their ritual performances.[45] Moreover, Chandi's protégé Kalaketu is a hunter who pursues a violent and unclean livelihood typical of Bengal's indigenous tribes, amongst whom the myth had originally evolved. No amount of Brahmanical revision could disguise the underlying association of both goddess and king with non-Aryan, indigenous Bengali culture.[46]
It is worth recalling that the only known nativist rebellion mounted against the sultanate was waged in the name of Chandi, this thoroughly Bengali goddess and protectress of the forest. Dated A.D. 1417—18 and minted in Chittagong, Sonargaon, and Chhota Pandua—that is, the delta's forested southern and eastern hinterland—the coins of Danuja Marddana Deva and his son Mahendra Deva bore the Sanskrit legend śrī Caṇḍī Caraṇa Parāyaṇa, "devoted to the feet of Goddess Chandi." Inasmuch as armed insurrection against established political authority is always serious business, we may be sure that rebel leaders would have invoked only such supernatural assistance as was judged most powerful and most likely to respond to human entreaties. Chandi's appearance on the Deva kings' coins during this rebellion clearly attests to her widespread popularity, and to belief in her protective power.